Face Scrubs for Oily Skin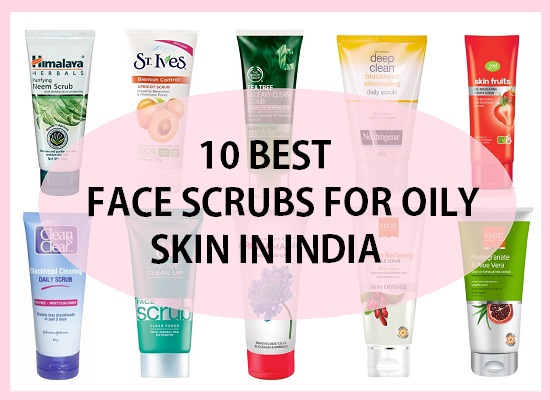 Oily and combination skin with over active sebaceous glands is more likely to get blocked pores. When the pores are clogged with sebum and dead skin cells then, there can be skin problems like blackheads, pimples, acne etc. Therefore scrubbing is an easy way to make the skin clearer, smoother and free from the impurities which are deep set. Oily skin tends to attract dirt and dust during the day so, scrubbing the oily skin 2-3 times in a week is important. Regular scrubbing keeps the oily acne prone skin in good condition and free from skin problems. A scrub when used regularly removes blackheads, whiteheads, and hardened sebum from the face. You can apply some light moisturiser after scrubbing to keep the skin smooth and lovely. Make sure to scrub at night so that the newly exposed skin don't get the harsh rays of sun immediately after the scrubbing. You can also see our post on Night skin care routine for all the skin types
10 Best Face Scrubs for Oily Skin Combination skin

1. Himalaya Purifying Neem Scrub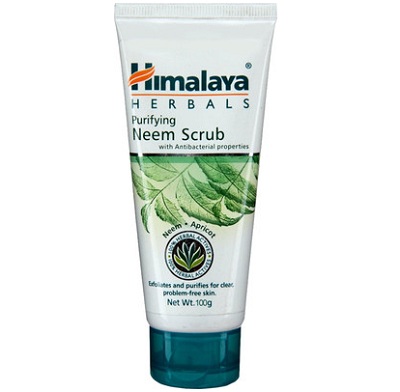 Neem is highly beneficial for oily and acne prone skin. The anti bacterial nature of Neem is good to scrub the face and to keep the pimples away. Even the skin with acne problems, neem scrub can help in minimizing the pimples from the facial skin. This scrub is ideal for oily skin as the texture is creamy and the neem with the lemon extracts help to keep the skin clear. This Himalaya neem scrub is for 130 rupees for 100 g tube pack. A small pack is also available.
See: Natural Beauty Tips to keep Oliy skin beautiful
2. Clean & Clear Blackhead Clearing Daily Scrub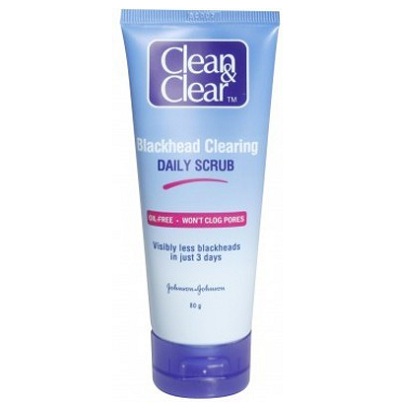 This is a daily blackhead clearing scrub. Most of the times, the blackheads will not leave the skin unless the treatment is used for continuously 2-3 days. Therefore this is an ideal to be used daily. As this is a daily use product, the texture is not very granular to harm the skin by over exfoliating rather this has small mild crystals like the salt crystals which scrubs the skin gently. This is ideal for extremely oily skin that tends to gets hardened sebum on nose chin cheek easily. This Blackhead clearing face scrub for oily skin types is for 120 rupees for 80 g pack and a small 20 g pack is also available for trial purpose. This face scrub can be used by men as well.
See: Effective Home remedies for oily skin
3. Lakme Clean-up Clear Pores Face Scrub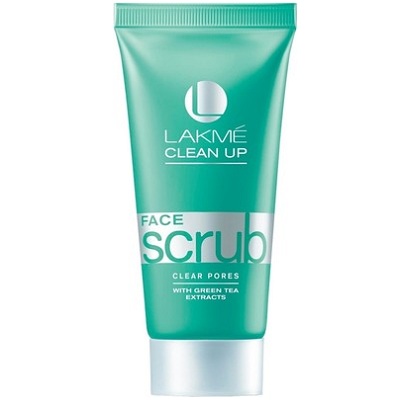 This is also one of the best face scrubs for oily skin and combination skin in India. The reason why this Lakme clear pores scrub is beneficial for the oily acne prone skin is that this has green tea extracts. Green tea is has powerful antioxidant and makes this a good face scrub for oily acne prone skin. The texture of this facial scrub is mild and not too abrasive hence this gently exfoliates the skin. This can be easily used 3 times in a week by oily skin to keep the skin smoother. After using this skin feels refreshed and subtle cooling sensation. This also has salicylic acid to treat pimples. This facial scrub for oily skin is for 110 rupees for 50 g pack. A little bit is enough for entire face so take only a pea sized amount of this scrub.
4. The Body Shop Tea Tree Squeaky-clean Scrub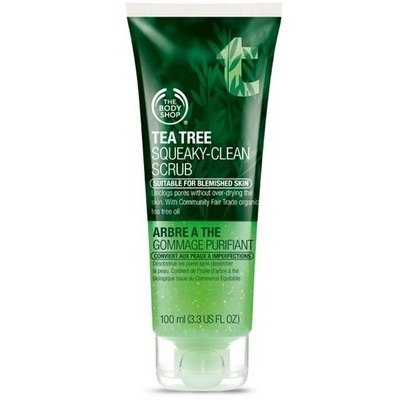 This is also one of the best face scrubs for oily skin because of the presence of tea tree in it. Tea tree is anti bacterial and fights the acne. This face scrub off the dead skin layer gently and unblocks the pores so that the skin stays clean and clear. This facial scrub for oily skin is priced at 850 Rupees for 100 ml. This is expensive but works well, so if you don't mind spending that much then you can try this. In fact The Body Shop's tea tree range is also good facial cleanser for oily skin.

5. Neutrogena Deep Clean Blackhead Eliminating Daily Scrub
This is also a daily blackhead removing face scrub. When the skin is very oily then the chances of blackheads and whiteheads increases therefore daily scrubbing is a sure shot way to keep the blackheads away. This scrub is priced at 240 rupees in India for 100 g pack.
6. VLCC Indian Bearberry Face Scrub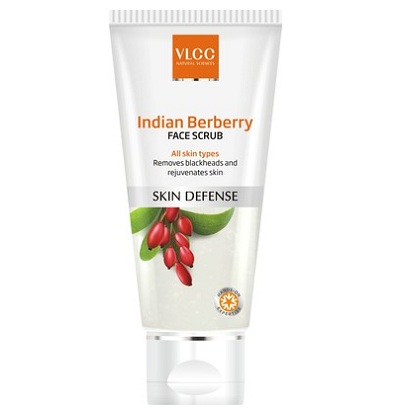 This VLCC Indian Bearberry Face Scrub gives a through exfoliation with the moisturization therefore for the skin type that is not very oily or is combination can try this scrub. This has the natural extracts of Indian Bearberry which cleanses, moisturizes and keeps the skin softer. This facial scrub for oily skin types is priced at 190 rupees for 80 g pack.
7. Joy Oil Regulating Scrub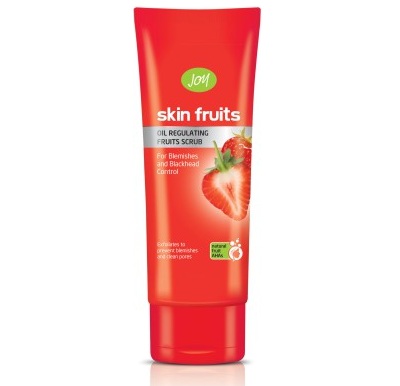 Joy scrubs have densely packed scrubbing walnut shell particles, therefore this can be ideal to be used once in a week. The scrub particles are very dense and the creamy base isn't much therefore this can be slightly abrasive but very good for very oily skin. Splash some water before using this so that the hand movements are soother and this does not scrubs too much. This oil regulating Joy scrub is for 90 rupees for 100 g and since the quantity taken will be less for this scrub. This will last very long.
8. VLCC Pomegranate & Aloe Vera Gentle Exfoliating Scrub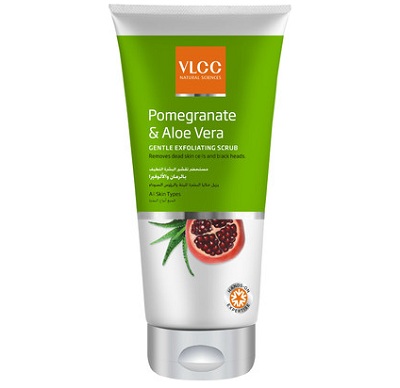 This is a facial scrub for the exfoliation but with the pomegranate extracts which purifies and deeply cleanses the skin. This also has aloe vera which keeps the skin moisturized. When we scrub, the dead skin cells are removed and it becomes very crucial to give moisture to the newly skin layer. Therefore the aloe vera in this is soothing and healing. This is for 180 rupees for 100 g pack.
9. St. Ives Blemish & Blackhead Control Apricot Scrub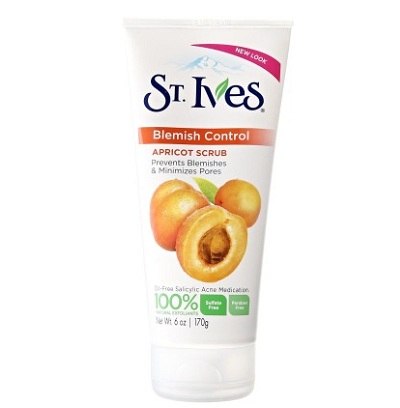 This scrub has the goodness of apricot and almonds. This is for 120 rupees in India. The crystals are of medium size therefore this is suitable for 2-3 times in a week for oily skin to keep the blackheads and skin problems away. This deeply cleanses the skin by eliminating the dead skin cells.
10. Aroma Magic Mineral Glow Scrub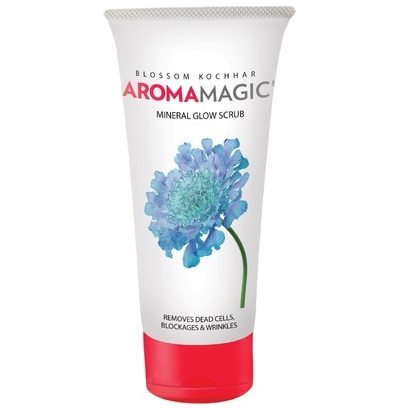 This is a mineral glow scrub with the richness of mineral which gentle exfoliates the facial skin to keep it clean and free from dead skin debris. This scrub costs 160 rupees for 100g.