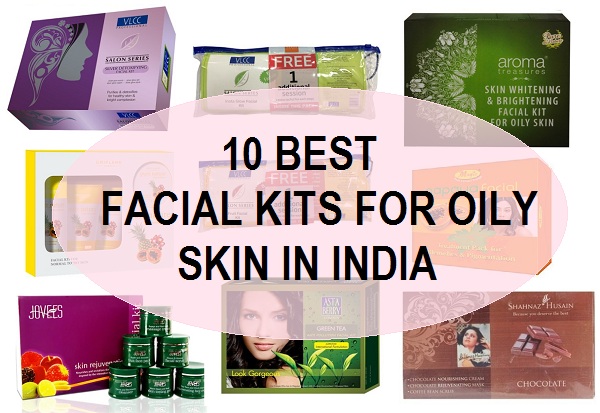 10 Best Facial Kits for Oily Skin, Acne Prone Skin in India. Oily skin is characterized by the appearance of shine and greasiness when you wake up. This generally happens when the sebum glands on your face become over secretive. Too much sebum release will make the skin look oily and greasy to touch. So, what is the way to take care of the oily skin type. Proper cleansing, scrubbing once in while and face pack is the key to attain a good healthy looking facial skin. There are numerous facial kits that are there but we should choose the facial as per the skin type. This is because the ingredients in facial kits are not for every skin type. Though there are facials available that every skin type can use. But still it is advisable to use facial as per the skin type. In this post, we will share the best facial kits for oily skin. These facial kits have ingredients which are suitable for oily and combination skin.By the way, we had earlier share the Best facial kits for wrinkled mature skin
Benefits of doing facials with home facial kits for oily skin
Also these facials will help to combat the oiliness, shine and acne. We can also minimize the chances of acne by using the facial. Moreover the blemishes, dark spots and pimple marks that we face due to oiliness can also be reduced by using these facials for oily acne prone skin types.
Mostly these facials will have fruit enzymes that heal the blemishes and recover the skin's luminosity. Skin looks glowing but not greasy.
These are easy to use kits that can be done at home so that you will save money as well as time
You will have to follow the 4-6 steps that are there in these facial and it take around 30-45 minutes in to all which is ideal for even the busy working women as well. When you have responsibility of kids and home the too kits can be beneficial for home facial for your oily skin or any skin type for that matter.
Best Home Facial Kits for Oily Skin and Acne Prone skin in India
Here are the list of the worth using facial kits that are considering good for the oily combination skin and for acne prone skin as well.
1. VLCC Fruit Facial Kit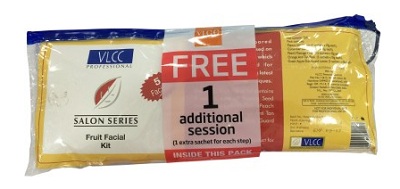 VLCC Fruit Facial Kit comes with 5 steps in these five steps you can do fruit facial on your own at home. You can do the steps as per the procedure that is there on the pack. The sachets will have number so you will not face any difficulties. This kit has the power of fruits. Fruits are enriched in the AHAs which lighten, whiten and brighten the skin. Fruits will also does gentle chemical peeling on the facial skin. This process lightens the marks and spots on the face. Therefore, when you have blemishes due to pimples, try fruit facial kit. Even for men and women, who wish to have fairer skin can try fruit facial kits. Also check out why fruit facials are beneficial. 
2. Oriflame Sweden Pure Nature Tropical Fruits Facial Kit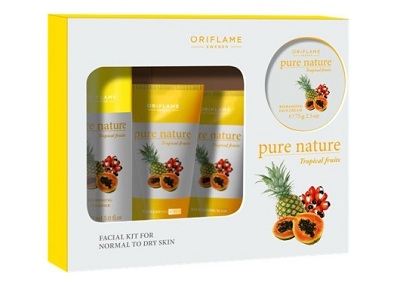 Now, that you know how beneficial fruit facial kits can be for oily skin, here is one more kit from the Oriflame. Oriflame also makes some very natural products and this kit comprises of 4 steps only. So this is quick and saves time. The facial kit includes products like a skin cleanser, facial scrub, facial massage cream and a face Mask. This facial kit has the fruits like papaya, guava and pineapple. For your oily skin, you can also see the best homemade face packs for black spots and dark spots.
3. Aroma Treasures Pearl Facial Kit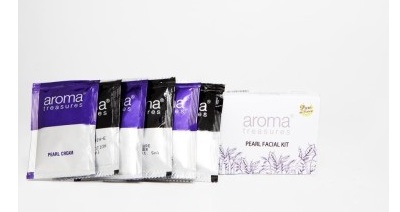 Pearl is ideal for the promotion of the cells and skin's elasticity. Hence, we can also say that pearl facial kits are good for mature skin with wrinkle. But we should also remember that pearls also give skin a beautiful glow and removes the oiliness. It also decreases the melanin in the skin layers so, that the skin appears fairer. Pearl facial kit will also reduce the appearance of fine lines and wrinkles which arises when we get oilier.
4. VLCC Insta Glow Facial Kit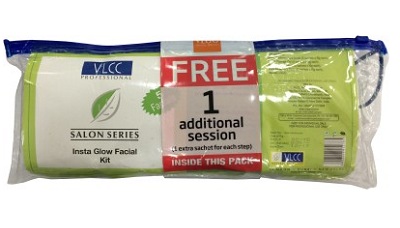 VLCC home facial kits are very popular and efficient as well. I have seen that many facial kits will have very high smell etc which means they may have too many chemicals but VLCC kits are still better considering the other kits. In this list, we have included good brands only. This Insta Glow Facial Kit is mainly for the glow but it also revives the oily skin. This comes with a cleanser that cleanses the skin deeply. The face scrub in this kit will scrub off the dark dull skin layer. Along with the dead skin the marks and dark spots are also lightened. The fairness gel will enhance the fairness and beauty of the skin. While the glow pack will bring a luminous glow.
5. Aroma Treasures Skin Whitening & Brightening Facial Kit for Oily Skin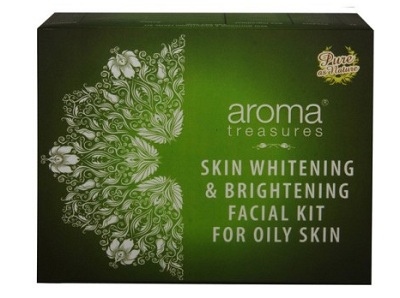 Aroma Treasures also makes some very good facial kit that can be use at home. This is a whitening kit for oily skin. It's like you get rid of the excessive oil and also get fairer skin. So you get benefits of booth. But like I said fruit facial kits are also good for fairness and oily skin. Skin Whitening & Brightening Facial Kit for Oily Skin has the following contents.
Lavender Face Wash which detoxifies and purifies skin. 
Skin Pure Cleanser: Deeply cleanses to remove excess oil and impurities from the skin.
Vegetable Peel: This is anatural Papaya extract enzyme peel that removes blackheads and dead skin thoroughly.
Neroli Water Skin Toner: Tightens the skin and reduces the pores.
White Glow Serum: Penetrates into the tissues to lighten skin tone.
Bearberry AHA Gel: Helps fade dark spots and enhances the complexion.
Milky White Mask: Whitening Mask to balance skin texture and lighten skin tone
Therefore, the marks, spots and acne scars on the oily skin will also be lightened.
6. VLCC Silver Facial Kit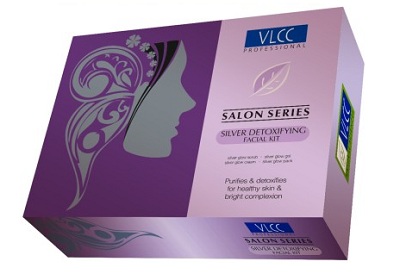 Silver is also a potential naturally occurring metal that is considered good for oily skin. Silver purifies the skin just like gold.  This facial kit is ideal for men and women of all age groups. But it is good that we start facial after 20s. This kit has the Silver Glow Scrub with Winter cherry extracts that helps in oil control and is an antiseptic and healing scrub. The Silver Glow Gel helps the prevention of blocked pores. Silver Glow Cream has Liquorice extracts and Silver powder that promotes fairness and the Silver Glow Pack to refine the skin pores for clear skin look.

7. Jovees Fruit Facial Kit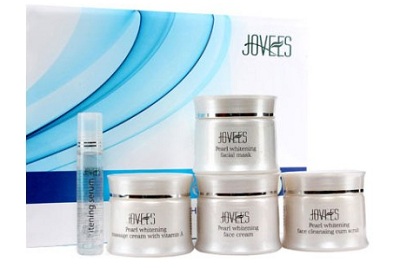 If you wish to try a fruit facial kit for some other good brand then Jovees fruit facial kit is beneficial and is a good choice. This kit has 6 steps like a cleanser, honey and almond face scrub, pine apple and papaya massaging cream, Witch hazel and basil skin toning gel, Apple and avocado fruit face pack and lastly there is tea tree and witch hazel rejuvenating face cream that is to be done at the end of the facial. If you will see this kit have all the ingredients which are widely used for oily skin care beauty products? Thus, this can be an excellent facial kit for oily skin men and women.
8. Nature's Essence Papaya Facial Kit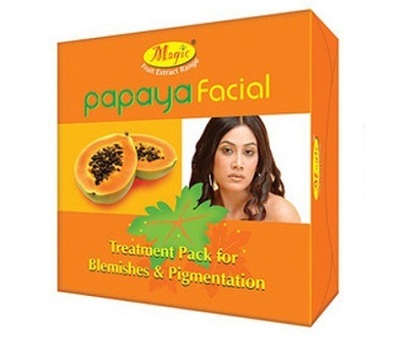 Papaya is truly is a gem of a fruit that is great for dry skin and oily skin alike. This Papaya facial kit has the papaya enzyme that works on oily skin and gives the following benefits:
Cleanses the oily face and cleanse the pores. When the pores are clean less acne are formed

This controls the oil.

This also removes the scars, marks on oily skin.

Papaya gently removes dead dull skin so that the oily skin appears bright.
9. Astaberry Green Tea Facial Kit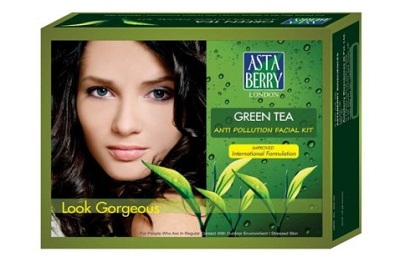 Green tea is excellent for oily skin. It is because green tea tones the oily skin. It also controls the sebum by its astringent properties and gives antioxidant benefit to the skin. You will get 6 facial steps in this green tea facial kit.
10. Shahnaz Husain Chocolate Kit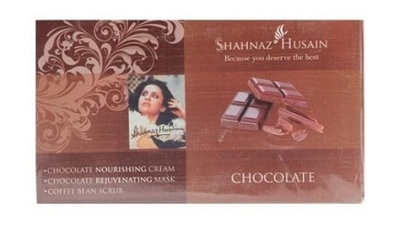 Chocolate is said to be a good product for dry skin since this face fatty acid content but you should also know that chocolate is best for oily skin with pimples marks, spots, dullness etc. This facial kit regenerates the skin cell and skin look better. This procedure will impart glow and increase the skin's appearance.
Do  check our 5 Best Facial kits for oily skin in this video and please subscribe.
So, these were the best facial kits for oily Skin and acne prone skin in India. Have you used any of these? Which is your favorite facial kit for your oily skin? Also read our collection of best anti tan facial kits for dark spots in India.