Best Lotus Herbals Products in India
Lotus Herbals is a herbal beauty products brand that is very popular in India. Lotus Herbals makes products for skin care, hair care, makeup and other products. The first ever products that I used from this brand was Lotus Herbal Sunscreen which was best for my skin. I always get fascinated by the sunscreens of Lotus Herbals, they have so many sunscreens and for every skin type and even for kids. Here I have compiled a list of best Lotus Herbals products in India.
10 Popular and Best Lotus Herbals Products in India
1. Lotus Herbals Safe Sun Matte Gel sunscreen SPF 50 ++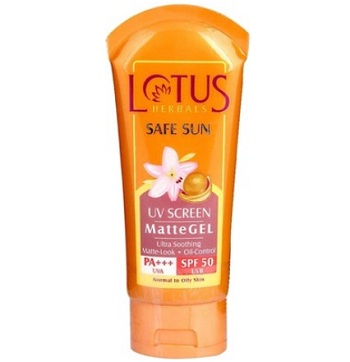 This sunscreen is a matte gel formula which has oil control feature for a non greasy matte skin. As it is gel based it gets absorbed by the skin really quick and prevents the skin against the sun rays. This is for 295 Rupees for 50 g.
2. Lotus Herbals Whiteglow Skin Whitening and Brightening Gel crème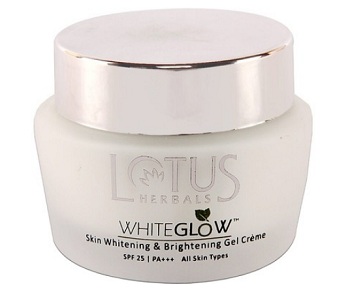 This is a whitening skin cream which has a gel crème like texture. It has SPF 25 and suitable for all the skin types. The active ingredients in this gel crème helps in enhancing the complexion and give a promising radiant. This is for 125 rupees for small tube.

3. Lotus Herbals Safe Sun 3 in 1 Matte Look Daily Sun Block SPF 40++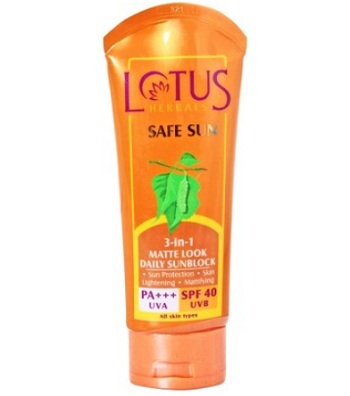 This is one of the most popular sunscreen in India which has a non greasy formula and mattyfying feel. It is for all skin types and adds glow on the skin without making it sweaty or greasy. This sunscreen surprisingly also claims to lighten the skin. It deeply penetrates the skin and gives a glow on the face. This Lotus sunscreen costs 235 Rupees for 50 g.
4. Lotus Herbals Neem and Clove Purifying Face Wash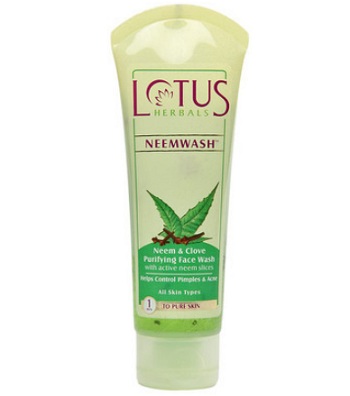 This is a Lotus herbals face wash for oily acne prone skin for men and women. It has the extracts of neem and clove which are both antiseptic and antibacterial. These 2 ingredients helps to clear out the pimples and keeps the skin oil free. This is priced at 175 rupees for 125 g. People with combination skin can also use this to prevent acne.
5. Lotus Herbals White Glow 3 in 1 Deep Cleansing Facial Foam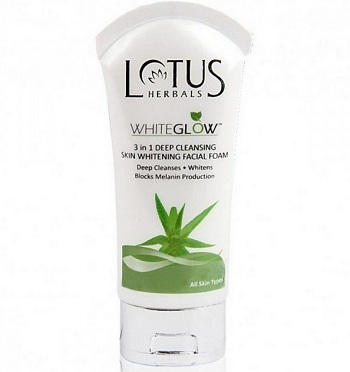 This facial cleanser is from the white glow range and has a foaming nature. Do you know that most of the foaming face wash are good for the oily skin. Some of them are also for the dry skin, I mean the creamier ones. This has milk enzymes which whiten the skin and lower downs the production of melanin in skin thus the skin looks fairer. This face foam comes for rupees 240 for 100 g.
6. Lotus Herbals Cocoa Moist Moisturizing Body Lotion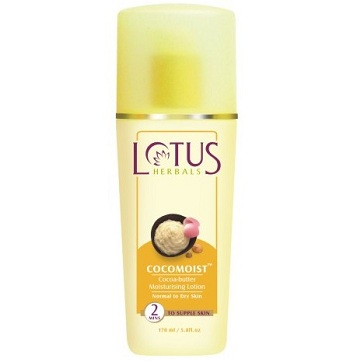 This is a very hydrating body lotion for dry skin types from Lotus Herbals. This has cocoa butter which deeply gets into the skin and keeps it well moisturized. This is an all purpose body lotion that maintains the pH balance of the skin and increases the moisture retention capacity. It also contains rose water and honey which further softens the skin and gives its anti-septic properties. This Lotus Herbals body lotion costs rupees 225 for 80 Rupees and is for men and women.
7. Lotus Herbals Safe Sun De Tan Face Pack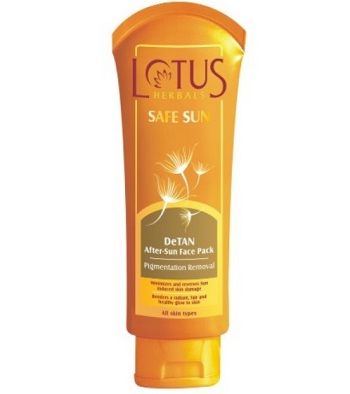 Lotus herbal detanning face pack is ideal to remove the harmful effects of sun damage. This herbal formula has liquorice, carrot etc which helps to reduce the tanning after the sun exposure. This is for all skin types and for men and women. Carrot also makes the skin radiant and glowing. This detan face pack from Lotus costs 265 INR for 100 g. This I recommended to be applied twice in a week.
8. Lotus Herbals Fresh Apricot Scrub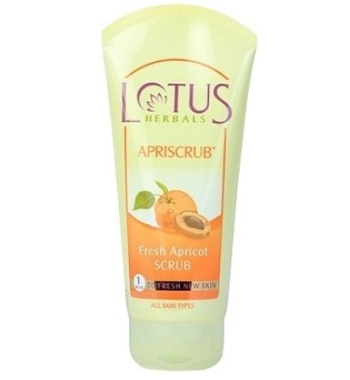 This is one of my favorite Lotus herbals products. This apricot facial scrub thoroughly cleans the skin and exfoliates it to help remove the dull and dead layer of skin. This costs 125 Rupees for 100 g and comes in a tube pack. The particles of apricot and walnut will improve the skin complexion by gently exfoliating the skin.
9. Lotus Herbals Lip Therapy Lip Balms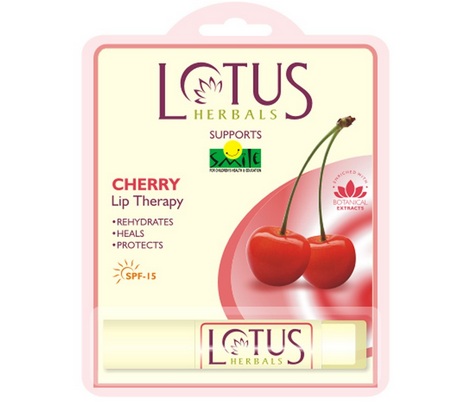 These lip balms are one of the best Lotus Herbals products which are amazing. They are very moisturizing and keeps the chapped lips softer for a lot longer. I have used 3-4 variants and everyone was great. Strawberry is my favorite variant and gives a soft tint on the lips as well. These have Shea butter and kokum butter which gives this tinted lip balm lip healing properties. They also have SPF 15 which is really good and costs 125 Rupees.
10. Lotus Herbals Kera Veda Grow Hair Oil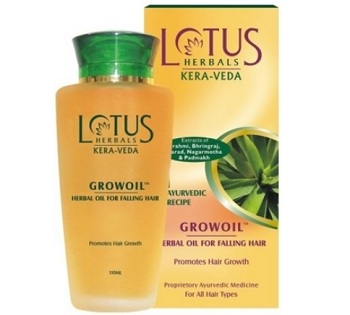 This hair grow oil has organic ingredients like Bhringraj, Brahmi, amla and harad that are known to boost the hair growth. These ingredients soothe the scalp and open up the pores and deeply penetrate the scalp to stimulate the supply of blood. This hair oil also claims to give relief in migraine, headache etc. Lotus herbals Kera Veda hair oil is priced at 375 rupees for 110 ml.