12 Best Patanjali Beauty Soaps in India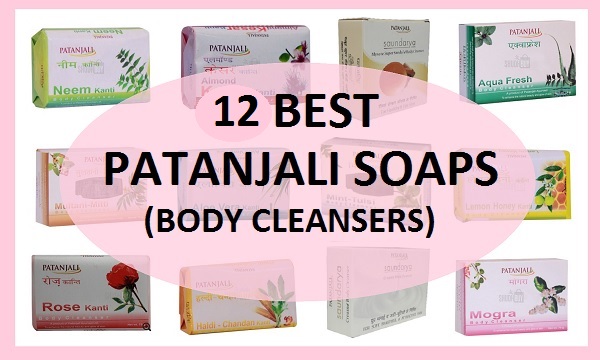 Patanjali beauty products are getting a lot in demand. I have used a  lot of Patanjali products by Baba Ramdev. They are god mostly but there were some that I did not liked as much. In this post, I will share this list of Best Patanjali beauty soaps available in the market. I have seen that there were a total of 14 Patanjali soaps or body cleansers out of which I have listed 12 of them here.

12 Best Patanjali Beauty Soap in India with Price
Patanjali Lemon Honey Kanti Body Cleanser
This body soap is very effective and has the goodness of natural honey and lemon. This is beneficial in rejuvenating the skin. It also nourishes and glorifies the skin. It minimizes the dryness of the skin and also prevents the skin from getting rough. This Patanjali body cleanser soap is for 19 rupees for 75g bar.
Patanjali Kanti Almond Kesar Bathing Soap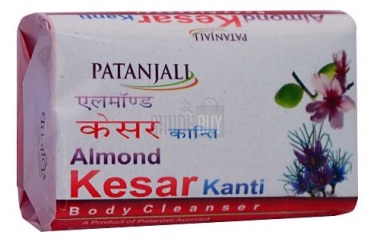 Kesar and almonds are known to brighten the skin complexion. In fact, saffron and almonds are beneficial in spots and blemishes on the skin. This Patanjali beauty soap is for 19 rupees. This too is a body soap which is glycerin based. See: Patanjali swarn kanti fairness cream review

Patanjali Rose Kanti Body Cleanser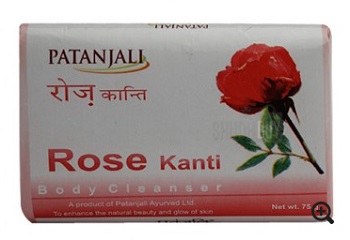 I just love this soap as this soap has the essence and pleasant fragrance of roses. This gets melted a little fast due to its glycerin base but is very good to use for the bathing. This soap is for 19 rupees.
Patanjali Mogra Bathing Soap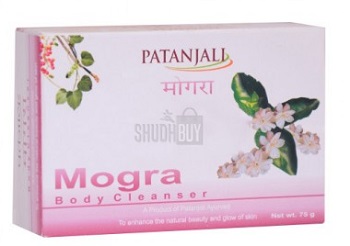 Patanjali Ojas Mogra Bathing Soap is very nice in smell and has the smell of fresh jasmine flowers. This is great body soap to get a refreshing floral scent. This may not linger a lot longer but still can be a good option for the summers. It is dark olive green in color and is devoid of the harmful chemicals. Even when I have used this soap there will be pleasant fragrance in the shower. This is a glycerin based soap thus is very hydrating for dry skin. This is for 25 rupees.
Patanjali Aquafresh Body Cleanser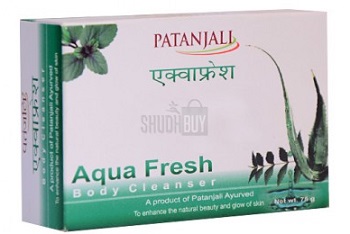 Aquafresh body soap by Patanjali is great to use in eradicating the skin problems and dryness. This also prevents the roughness of the skin in winters. This is enriched with the neem, turmeric and aloe vera.
Patanjali Saundarya Cream Body Cleanser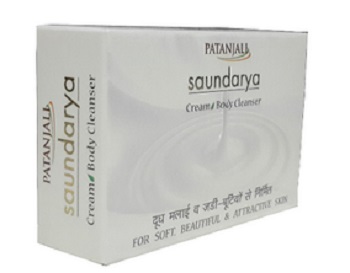 This saundrya cream body cleanser is made using the natural oils, milk cream, aloe vera and zinc oxide. This revitalizes the skin cells and makes the skin complexion fresh and glowing. This cleanses the skin gently and reveals a brighter complexion. This is for 40 rupees.
Patanjali Saundarya Mysore Super Sandal Body Cleanser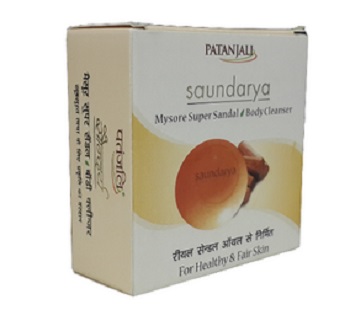 Patanjali beauty soap is enriched with mysore sandal. Earlier Mysore sandal soap were very popular and now Patnajlai ahs introduced this mysore sandal soap. This is made from the sandalwood oil and aloe vera extracts which will cleanse the skin on a deeper level and skin looks nourished and healthier. This is for 19 rupees.

Patanjali Beauty Soap with Antiseptic ingredients
Patanjali Haldi Chandan Kanti Soap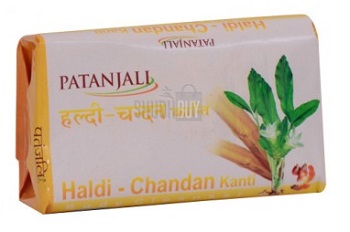 Patanjali haldi and sandalwood soap is a natural body cleanser which is all natural. This keeps the skin glowing and moisturized. Haldi which is known as turmeric is an anti bacterial product that helps to kill germs that cause skin infections and skin odor. It cures the skin itching and inflammation when used on regular basis for shower. This Patanjali body cleanser for 19 rupees.
Patanjali Mint Tulsi Body Cleanser Soap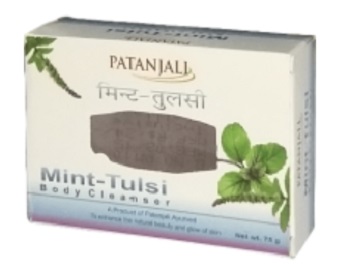 Patanjali Mint Tulsi body cleanser body soap is for 24 rupees and is an excellent soap for acne and pimple prone body skin. In summers when the skin gets itchy, scaly and with boils then this soap can beneficial. Since this Patanjali soap is with laced with mint and tulsi. These natural products give a natural looking beautiful skin. In addition, this soap also has turmeric and aloe vera.
Patanjali Aloe vera Kanti Body Cleanser
Aloe Vera is a widely used natural product in hair care and skin care product. This aloe Vera based soap is rich in moisturizing properties. This also heals the dry, rough skin. In fact, aloe Vera is also good for the oily skin. This is for 25 rupees.
Patanjali Multani Mitti Body Cleanser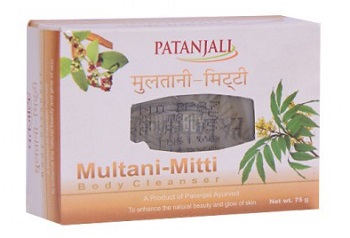 Multani mitti is a great skin healing and prickly heat preventing product. This soap absorbs the excessive oils and is for 35 rupees