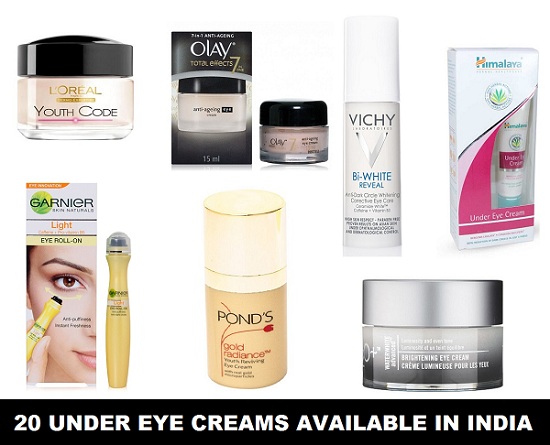 At times, we think under eye creams or products are just yet another thing that you can safely ignore but that is just not true. Benefits of under eye creams are numerous, they provide extra moisture to the under eye delicate skin that lacks skin lubricating glands, moreover, using under eye creams also make sure that the lesser lines and wrinkles are formed, eyes look as bright as they are. Here we have compiled a list of 20 under eye creams that will suit every budget whether you have a limited budget or would like to splurge on high end skin care brands; the list consists of all the popular under eye creams found in India.
Under Eye creams available in India
Olay Total Effects 7-In-1 Anti-Ageing under eye Cream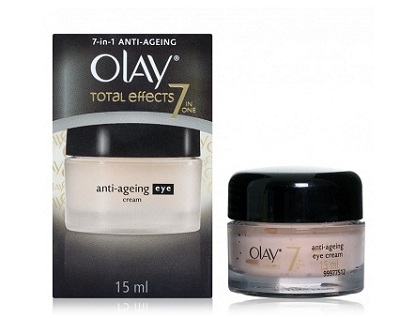 Total Effects under Eye Cream targets the visible appearance of aging signs under the eyes as dark circles, around the eyes as crow's feet and fine lines and wrinkles. It has a formula that is a mix of skin moisturiser with the vital vitamins, minerals and extracts of cucumber that helps lighten the dark circles effectively. It improves the texture and fights the 7 signs of aging.
H2O+ Waterwhite Advanced Brightening Eye Cream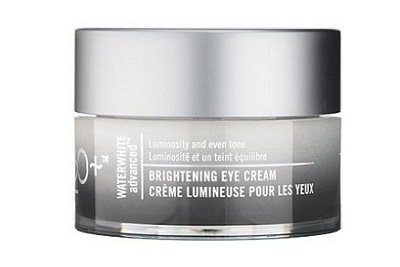 H2O+ Waterwhite Advanced Brightening under Eye Cream is found online and in the store in India has rich hydration and infused with the shea butter which helps rejuvenating the eye contour and smoothens out the fine lines and wrinkles. This eye cream contains the Marine Brightening Technology with knotted sea kelp along with Asian plant extracts that visibly diminishes fine lines and discoloration under the eyes to illuminate tired-looking under eyes.

Lakme Youth Infinity Skin Firming under Eye Creme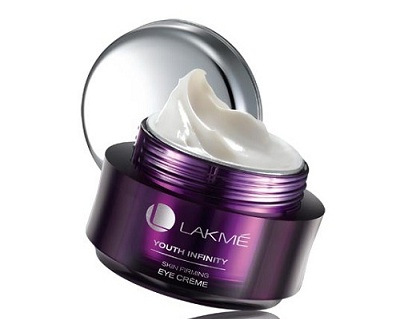 Lakme Youth Infinity Skin Firming under Eye Cream is very easily available in India. It has Insta-collagen boosters that help in reducing puffiness and freshen ups tired eyes. It is ideal to get rid of the Dark circles, fine lines, puffiness and sagging skin under eyes. As per the claims this cream is also good for contact lense wearers and is dermatologically tested.
Kaya Lighten And Smooth Under Eye Gel
Kaya Lighten and Smooth under Eye Gel is enriched with the advanced active HALOXYL. This eye cream/gel helps visibly reduce the under eye dark circles by diminishing the pigments that cause the darkening under the eyes. It also helps promote firmness and even tone the under delicate eye skin.
Votre Under Eye Cream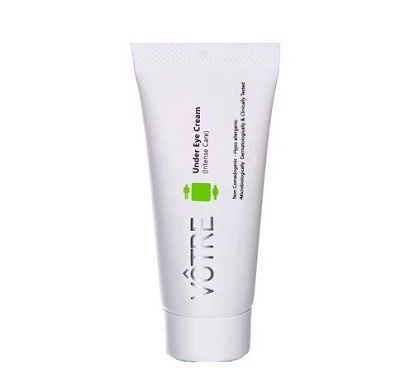 Votre under Eye Cream, is enriched with essential oils that keeps the skin hydrated and reduces the puffiness. It provides nourishment to your eye contour and also fights against dark circles, wrinkles and puffiness. It is a dermatologically tested and completely safe to sue product for both men and women for all skin types.
Neutrogena Fine Fairness Under Eye Cream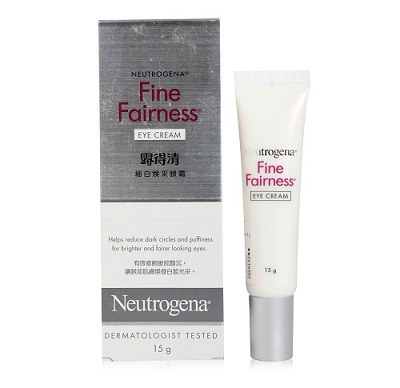 Neutrogena Fine Fairness under Eye Cream is a daily use eye cream which helps revive the dull under eye skin and makes the eye area brighter. It has yeast extract which helps reduce under eye puffiness whereas natural minerals help condition and hydrate the skin. It also contains mica which visibly brightens the appearance of the eye contour area.
Biotique Bio Almond Soothing & Nourishing Eye Cream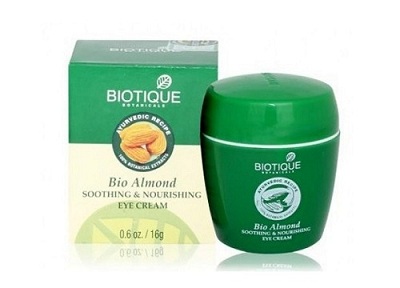 Biotique Bio Almond Soothing & Nourishing Under Eye Cream description is a luxurious eye cream lightens and brightens eye contours. This is a herbal Indian brand. It diminishes away dry lines, dark circles and puffiness.
Himalaya Herbals Under Eye Cream
Himalaya Herbals is a well known herbal brand in India. Himalaya Under Eye Cream is affordable and claims to lighten and tighten the dull, tired skin under the eye and eye contour. This cream is enriched with natural ingredients due to which it helps target the fine lines, lighten dark circles, even the skin tone under eye area. It claims to show the visible results in four weeks.
Aroma Magic Almond Under Eye Cream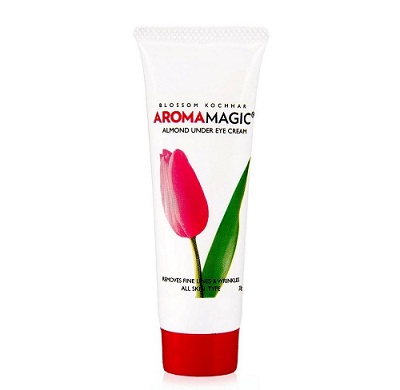 Aroma Magic Almond Under Eye Cream contains Vitamin A and vitamin C for excellent tone of eyes, nourishment and suppleness. It also minimizes wrinkles and dark rings around the eyes.
Garnier Skin Natural White Complete Eye Roll On
Garnier Complete Eye Roll, is not a regular under eye cream but a serum like product that comes with a roller ball at the top that makes it use this easily and due to that it gives a mini massage under the eyes. It takes away eye puffiness and dark circles. Eye Roll has caffeine which reduces the eye puffiness, lighten s the under eye circles and helps rejuvenating the eyes. The massaging that the roller ball does stimulates the circulation to brighten up the eyes.
Lotus Herbals Nutraeye Rejuvenating & Correcting Eye Gel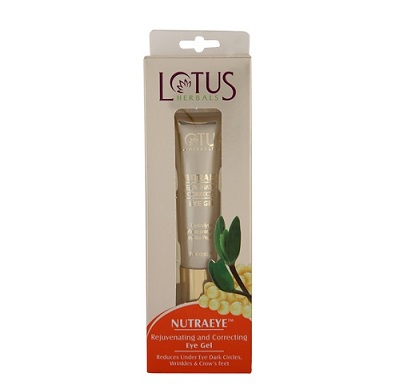 Lotus Herbals Correcting under Eye Gel is a product designed to gently care for the skin under the eyes and replenishes the moisture. It's herbal ingredients which reduces under eye dark circles, fine lines and wrinkles and crow's feet along with the puffiness under the tired eyes.
Vichy Bi-White Reveal Anti Dark Circles Whitening Corrective Eye Care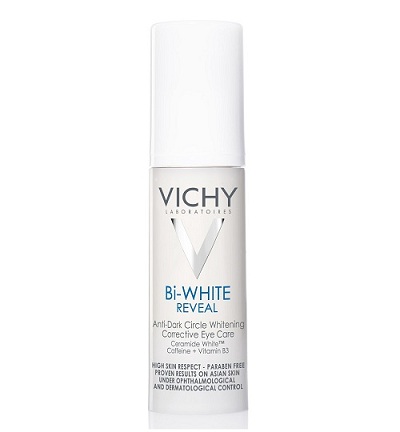 Vichy Bi-White Reveal Anti Dark Circles Whitening Corrective Under Eye cream is a high end product that claims to maintain the hydration under the eyes and stimulates the blood circulation simultaneously to drain off the haemic blood pigments that causes the under eye darkness. Eyes look radiant and brighter. It claims to show good results in just 4 weeks.
Sesderma K-Vit Anti Dark Circles Cream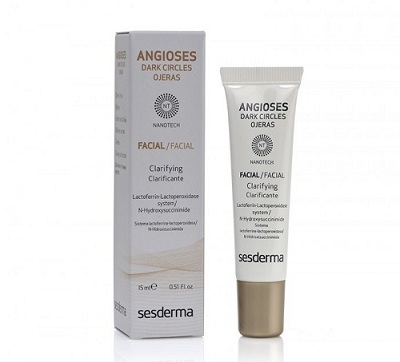 Sesderma K-Vit Anti Dark Circles under eye cream works on the prevention and correction of signs of aging and the dark circles around the eye contour skin. The eye cream has a non-greasy, quick absorbing light texture with vitamin A. All these active ingredients prevent and correct the appearance of dark circles, maintain the skin's elasticity and eliminating wrinkles. It contains restructuring action of hyaluronate organic silicon which is capable of erasing signs of fatigue, dullness and sagging.
Fair & Lovely Under eye serum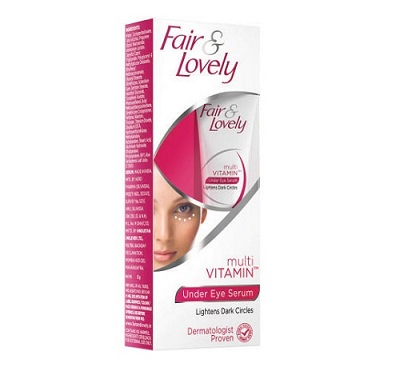 Fair and lovely under eye serum is a very inexpensive eye cream with a serum like consistency that claims to get rid of dark circles and makes the under eye skin texture better.
L'Oreal Paris Youth Code Eye Cream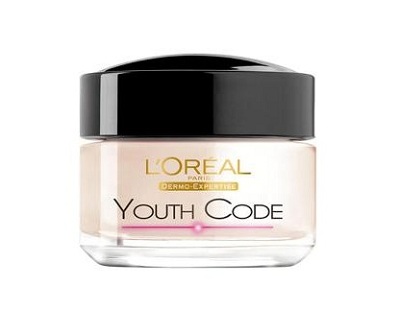 L'Oreal Paris Youth Code under eye cream is formulated and inspired by gene science. It has the breakthrough GenActiv Technology in eye cream that boosts natural powers of skin's regeneration for a younger, better looking radiant under eye area and brighter younger eyes. It comes with a unique metal tip applicator that de-puffs under eye bags. It also has light diffusing micro luminescent pearls to illuminate dark circles. It is fragrance free, ophthalmologist and dermatologist tested.
VLCC Almond under Eye Cream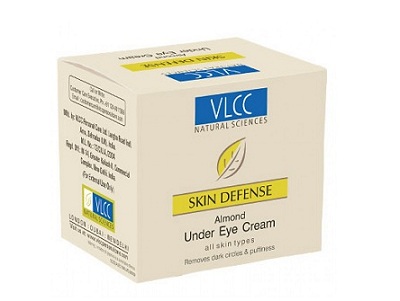 VLCC under eye cream is formulated with the goodness and the extracts of almond and wheat germ. Both of which nourishes and moisturizes the under eye area. This under eye cream helps reduce dark circles and puffiness, firms and tones skin. The natural active ingredients in this cream help in reducing signs of fatigue and stress.
Lancome Renergie Eye Cream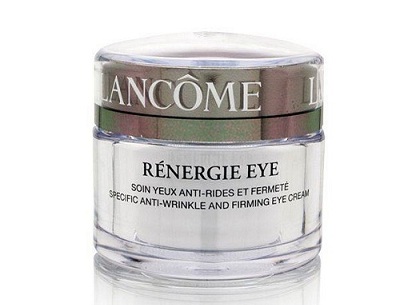 This ultra-fine under eye creme works to correct the signs of aging around the delicate eye area. Formulated with powerful hydrating agents to visibly reduce the appearance of fine lines, plus plant extracts to restore firmness. The result: With continued use, this fortifying crème leaves eyes looking younger.
Clinique all about eyes Eye cream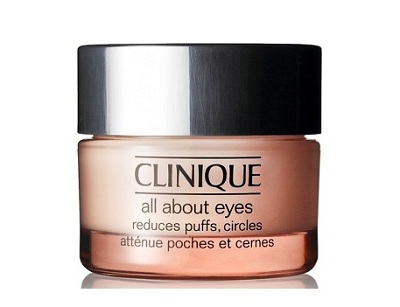 This under eye cream is a lightweight, ready to get absorbed formula that diminishes the appearance of puffs, under eye dark circles.
Forest essentials Intensive eye cream
Forest Essentials Under Eye Cream is an innovative specially created for the delicate eye area. It reduces dark circles, diminishes puffiness, and firms and tones area around the eyes. The active extracts of ingredients like Papaya and Potato restores hydration and moisture to the delicate eye area. Along with that, it also has Aloe Vera and Cucumber that provides necessary moisture and help to smooth skin, fades the appearance of dry, dehydrated fine lines.
Ponds gold radiance under eye cream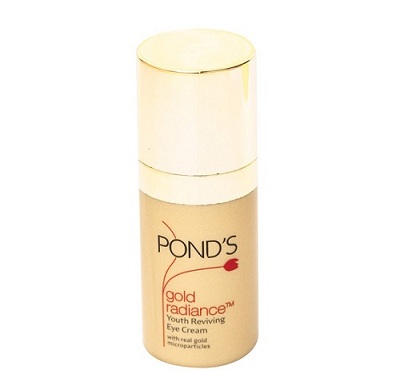 Pond's Gold Radiance Youth Reviving Under Eye Cream helps soothe your eyes and reduces puffiness. It is suitable for men and women. This is enriched with gold micro particles to rejuvenate and revive the dull, tired eyes. It's anti-ageing properties firms the eye area for younger look. This Reviving Eye Cream gives you that youthful glow and makes the skin around your eyes firm. It enhances the collagen production around the eye area to improve the skin's natural elasticity.

Dermalogica Total Eye Care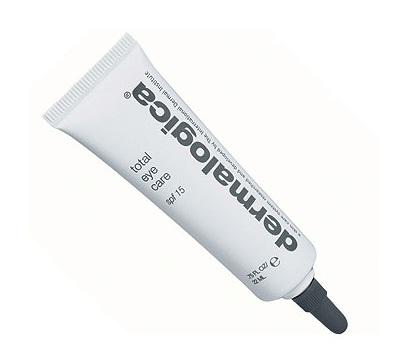 Dermalogica Total Eye Care eye cream is specially formulated to be worn during the day time with its SPF and skin-smoothing alpha-hydroxy acids. It helps hide and conceal the dark circles, and retexturizes the delicate under eye skin to help reduce the appearance of puffiness and fine lines.