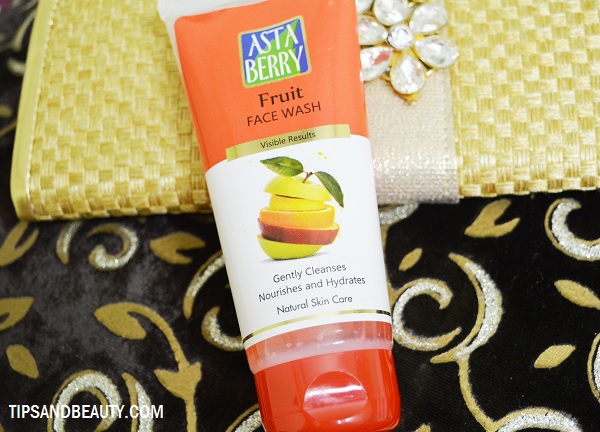 Hi everyone!! Fruits are good for or the skin. Fruits give our skin nourishment and also mean the skin smoother. I have this new fruit face wash with me. This is the Astaberry fruit face wash. I have used this face wash for the past so many days and today, I am going to share the review of Astaberry Fruit Face wash
Price: Astaberry Fruit Face wash is for 90 rupees for 100 ml pack.
Experience with Astaberry Fruit Face wash
The product is packaged in a nice bright red packaging which looks enticing and good. The cap of this face wash huts tightly so that there is no spillage of the product. I have already messed up my handbags few times by keeping face wash packs which had lose caps, so this is quite tight. Therefore, if you are travelling then this can be easily kept in the bag.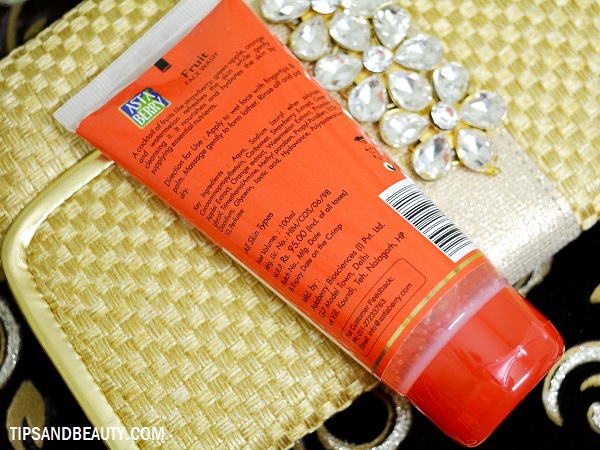 The face wash is a fruit face wash which contains fruits like strawberry, apple, watermelon, orange extracts. I like fruits for the skin and this face wash is quite frutilicious treat that way. This has a very delicious smell, I love the way this smells. I mean the tangy citrusy notes are refreshing.  The texture and consistency too is fine. It is not very watery but more like a thick gel.  Yes, it is a gel face wash. I like gel face wash for my oily skin, but some can be quite stretchy so, let's see how this fares.
How I use this face wash:
To use this face wash, I will first of all take a small dot of this face wash. Then I would splash my face with water to wet the face. I take the face wash on the finger pads and then rub to create foam. The foaming lathers are adequate to take away the oils and dirt off the facial skin. I will rub the foams on my face so that the skin impurities can be removed thoroughly. I then rinse the face with clear water. So, after using this Astaberry Fruit Face wash, I feel that the skin is quite clear and free of the dead skin debris, dirt, sebum, facial oils etc. This has not made the skin to get slimy, stretchy or feel uneasy post the wash.
Fruits like orange, watermelon, strawberry have enzymes that make the skin clear and spotless. Though I feel that while washing the face these fruits enzymes stays hardly for couple of minute hence it may not be able to give miraculous results. But this is also true that citrus fruits help to exfoliate the top most layer of the skin to make the skin pores cleaner. I liked this face wash for its smell, gel texture and the way this will produces foaming lathers.
Good about Astaberry Fruit Face wash
Very inexpensive and pack like this will last for over a month in my opinion.
The packaging is good, hygiene and also has a tight cap.
The gel texture is appropriate for oily to combination skin through dry to normal skin type people too can try this.
It removes the skin impurities, dirt, dust etc very well.
Creates good foaming lathers
Non-drying for the skin
Cons of Astaberry Fruit Face wash
None as such
Rating: 4.5 out of 5
If you are looking for an inexpensive and good fruit wash for your oily to combination skin then Astaberry Fruit Face wash can be tried. I am sure you guys will like it too. The face wash create enough foams and does not need too much product as well. Hence, it is very economical.