Astaberry Papaya Sunscreen Creme SPF 18 Review: Hi everyone, Today, I will review one more sunscreen which is from this brand called Astaberry. This is a good brand that makes skin care products and now I have tried couple of their products so liked this brand now. I will review Astaberry Papaya Sun Screen Creme with SPF 18 in this post. As when summers comes to prevent the skin from aging and sun tan it is best to use sunscreens and sun gels. So, let's check friends, if this sunscreen is really good or not?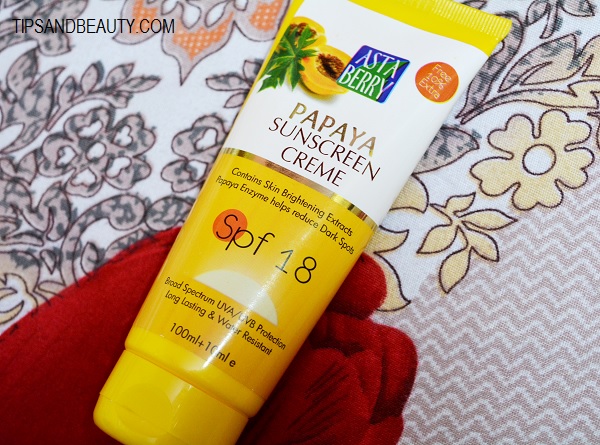 Price: 132 rupees for 110 ml.
Experience with Astaberry Papaya Sun Screen Creme with SPF 18
This sunscreen is packaged in a tube with flip top cap. I liked it. This is travel friendly like you can take this along with you when you go to college work or on a trip.  The texture is creamy smooth and slightly runny. This has a nice smell which is soft and nor very strong unlike few products that has very strong perfume like strong smell. It is also formulated with papaya extracts that gives this more efficiency to prevent the skin darkness and also to remove the blemishes.
This can be used on the face, neck and body like the exposed body parts when you go out. But I use this on the body only this is because the sunscreen is lotion like and is slightly greasy for my oily skin. So, if you have normal to dry skin then this will be good for the face as well. I liked this a lot for the body as this leaves a mild scent after using this moreover protects the skin from UV rays. It is also water and sweat resistant which again is a good thing. For the body this will act as a body moisturizer plus sunscreen so, very good for me in summers.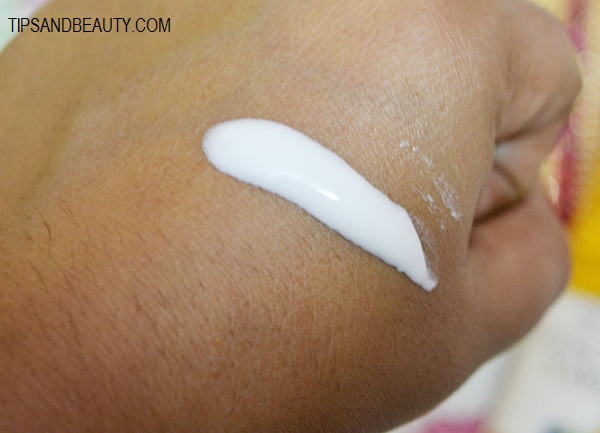 I will recommend this if you have dry to normal skin for the face and otherwise for the body. Astaberry sunscreen is affordable  inexpensive and is efficient to take away the skin dryness without feeling greasy or sticky. This sunscreen gives just the right amount of moisture in summers
To use this on the face, take a little dot sized sunscreen on the palm and dot this all over the face. Then massage gently to make the dots gets absorbed into the skin. This also brings a subtle glow on the dry skin as my mum uses this and she has dry skin.She liked that this gives her hydration for the dry skin and also gives sun protection. So, now she will not use sunscreen and a day cream but just this when she goes out of the home.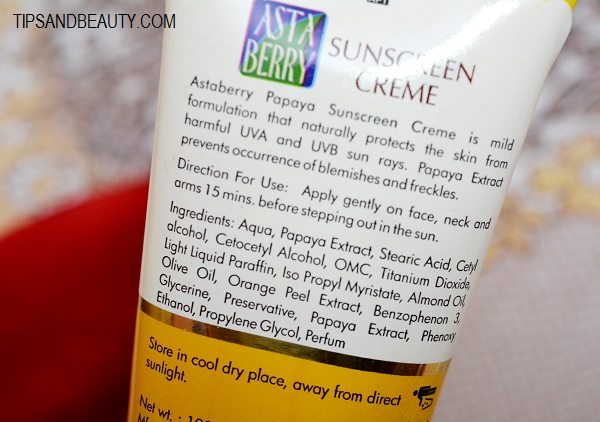 Pros of Astaberry Papaya Sunscreen Creme SPF 18
Very affordable
Easy to apply and massage on the skin
Will not need too much of this sunscreen
Good for the face and body
Dry to normal skinned ones can use this on the face and neck too
Can act as a good base for makeup in summers when the skin is dry
The smell is decent and subtle not strong or nauseating
This is water resistant
Has got papaya extracts that helps to reduce the appearances of the dark spots
Cons of Astaberry Papaya Sunscreen Creme with SPF 18
Little oily for the oily skinned one like me  
Rating: 4 out of 5
Astaberry papaya sunscreen has the SPF 18 which is ideal for daily use. The lotion like texture is good for the skin and everyone can try this one the face and body except for the oily skinned people who can try this on their bodies. This can also makeup you sweat a bit if the skin is oily else the sunscreen is good for dry skin.