Astaberry Pearl Facial kit Review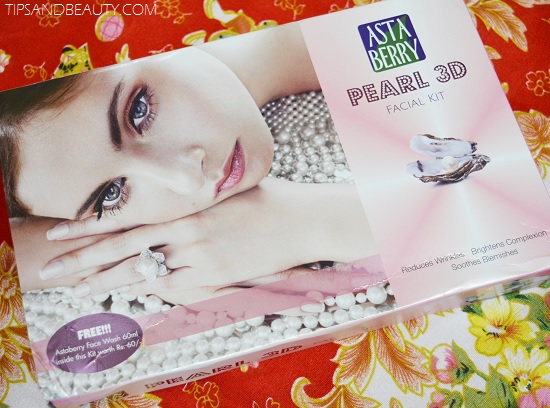 Astaberry makes several facial kits and out of that friends, I will be reviewing this pearl facial kit.  Pearl cleanses the skin and detoxifies the skin from the toxins that we accumulate over the time. Te benefits of pearls are numerous and we can easily get the benefits by using home facial kits. In this cost, I will be reviewing the New Astaberry Pearl Facial kit. Let's check the review of Astaberry Pearl Facial kit.
Price of Astaberry Pearl Facial kit: This is for 225 rupees.
Experience with Astaberry Pearl Facial kit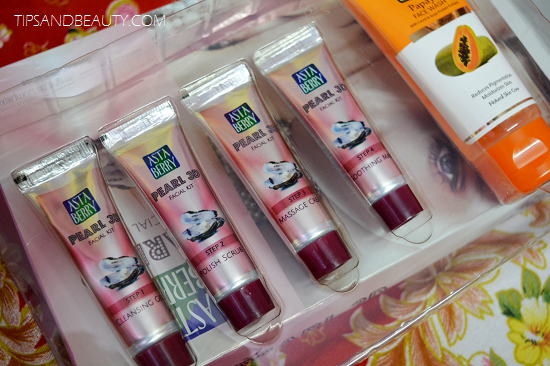 Astaberry facial kit is packaged in a slim rectangular box which is good as this can be easily carried and used when required. Moreover this pack also contain an Astaberry Papaya face wash. The pack contain products for facial steps like pearl cleanser, Pearl scrub, Pearl massage cream and Pearl pack. The products are enclosed in a tube pack so that they can be used without digging your fingers in. So, let me tell you friends, how I will be using this pearl facial kit.
To start any facial I will first of all tie my hair up in a bun. Then I will take a band and put that so that the baby hair on the hairline or the fringes can also be pulled back. I also like to keep a towel to wash or clean the face.
Pearl Cleanser: I will take around a spoon of this cleanser and then apply this all over the face using my finger tips. Then I will massage the cleanser so that this gets absorbed in the face and takes off all the impurities, dust, dirt etc. After massaging this cleanser I will take the towel and wash all the face off. I mean to say that I will remove the cleanser off my face. Moreover, this step will cleanse the face so that the next step works better.
Pearl Scrub: After the cleanser, I will use the pearl scrub which has minute scrubbing particles. To sue this I will take around a coin sized product and would apply this all over the face. Then using the finger pads, I will massage the face with this. I tend to focus more on the nose, chin etc which are oilier than rest of the face. After scrubbing for 3-5 minutes, I will go and rinse my face. Scrubs should be rinsed as wiping with towel will leave minute crystals etc hence, washing is better.
Pearl Massage Cream: This massage cream has the pearl ash which will penetrate in the skin and will help the skin to rejuvenate and revive. I will use this massaging cream for around 7-10 minutes so that the micro circulation of the skin is also increased. Once I massage the cream then I will wipe the excess cream off the face, then I will move on to the next step that is face mask.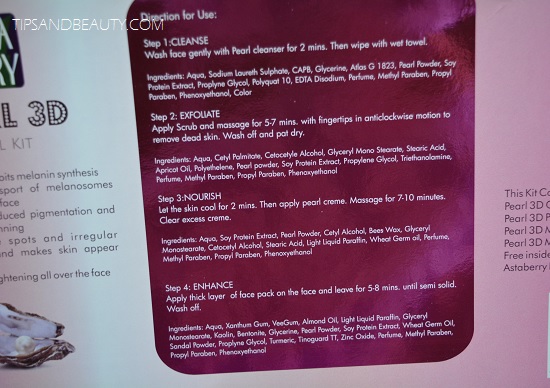 Pearl Face mask: This face mask is pearly white in color. I will apply a thick layer and use this entire tube. Then I will wait for 20 minutes then would wash my face with clear water.
After I am done with this pearl facial kit, I can feel that my skin looks a lot clearer and better but there is no immense glow or anything, I think this is okay for those 1-2 days glow when you are heading for weddings, parties etc. This pearl kit is good but I like gold facial kit and diamond, fruit kits more.
Rating: 3.5 out of 5
This is a good facial kit which can be used just before an event to get the glow but sadly the glow that this gives is not long lasting. I have not used pearl facial kits other than the VLCC pearl facial kit but this was just decent.
Have you used this kit how was your experience?