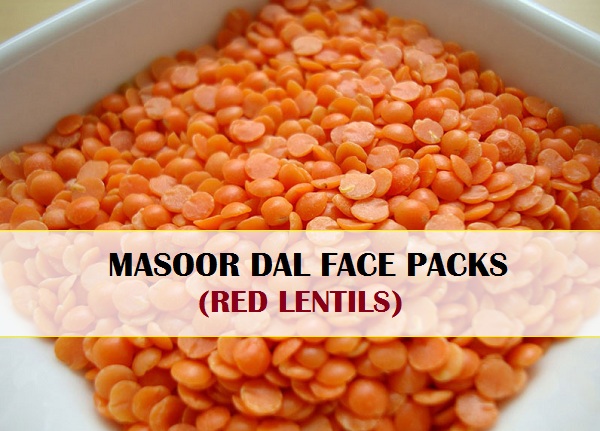 Masoor dal or red lentil is a protein rich dal. Do you know that you can also use this masoor dal for preparing face packs which are rich in proteins, slough off the dead skin cells, makes skin texture smoother and skin looks brighter than before? When red lentil is mixed with some other herbal ingredients, its efficiency is enhanced and makes this masoor dal face pack excellent for the all skin types. Read on to know some face packs with masoor dal to combat skin problems like pimples, acne, scars, marks on oily skin, get rid of the flakiness from dry skin and to achieve healthier skin.
How to prepare Masoor dal powder

Take some red lentils in whatever amount you need and put it in the grinder. Grind it till you have noticed that the dal has been grinded into fine powder. When you are planning to use this dal for the body pack, the powder can be kept slightly granular.
Masoor Dal Face packs Recipes at home
1. Masoor Dal face pack with honey for glow

Those of us who have dry flaky skin can seek help with this masoor dal face pack along with some honey which takes off the flakes and dryness. Skin appears youthful and softer. Mix a teaspoonful of Masoor dal powder and 1 teaspoonful of honey. Mix the two thoroughly and apply on the clean face. Rinse the mask after 15 minutes with gentle mashing which will remove dead skin cells as well. Masoor dal packs are also protein rich hence wonderful for the skin fairness. This also even tones the skin.

2. Masoor Dal Face Pack with besan, yoghurt

Masoor dal can also be used as an ubtan for the brides or bride's family. By the way, even if you aren't the bride then too you can use the masoor dal ubtan to keep the skin brighter and glowing. Mix 1 teaspoon of red lentil powder and add mix equal quantities of besan and yoghurt with 2-3 pinches of turmeric. Ubtan is ready. Apply this on the face and once it dries completely. Moist your hands and scrub it off gently. It scrapes off the dead skin layer, removes acne, sun tan from the face and skin looks plump. This pack can also be tried for the body.
3. Masoor Dal Face Pack with Marigold flowers
Marigold flowers or genda flowers are also good to be used along with masoor dal. Mix masoor dal powder with crushed marigold flower paste and use this on the face for glowing softer since. Let it be on the face for 15 minutes and then wash the face with tepid water. This can be used by all skin types and all round the year. You may also use rose petals to make skin fairer with this protein and flower face pack.
4. Masoor Dal Face Pack for exfoliation
A simple exfoliating masoor dal face pack can be made by mixing masoor dal powder with some milk and applying on the face. Scrub it off the face once this gets dried. It exfoliates and removes the dead skin cells to expose the newer younger, smoother skin. This dal pack is good for mature skin and to lighten blemishes.
5. Masoor dal for hair removal from face
Take 1 teaspoonful of masoor dal power and 1 teaspoonful of rinse flour, chawal powder. Add Besan one teaspoonful and milk to make paste along with 2-3 drops of almond oil. Mix this well and use on the face keep it for 5 minutes once it dried slightly remove it with scrubbing in circular motion. It doesn't show the results instantly but when done regular this masoor dal face pack will thin out the facial hair. Soon the hair will get fine and will not be too obvious to notice. The same masoor dal recipe can be used to get rid of the unwanted hair on the body.
Read: Home remedies for unwanted hair removal

Benefits of home made Masoor dal face packs
They are protein rich hence give nutrients to the skin.

These dal packs will also induces fairness and glow.= on the skin.


These face packs mildly exfoliates and removes dead skin.

This dal protein rich pack also removes sun tan. lighten the skin, blemishes and unwanted facial hair.
Do try these face packs to improve your skin's texture and beauty. Also read our tips on skin care for winters.