Lemon Juice for Acne Scars Pimple Marks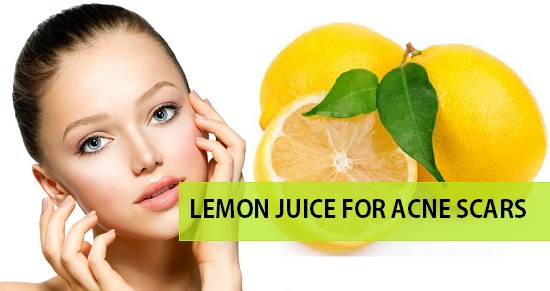 Acne and pimple eruption is a major beauty related problem that teenagers, young adults and even mature individuals may face. Acne scars are worrisome for beauty conscious people and the redness and inflammation of acne is also painful. So even when the acne has healed the dark or reddish marks that are left behind makes us conscious of our appearance. The scars can be like red, black spots, deep dark marks etc. But do you know that you can minimize the appearance of marks or fade the acne marks just by using lemons! Yes, that is completely true. Lemon is a great scar healing product which removes the scars and marks from the face.
How lemon helps in fading and treating scars and marks
Lemon juice is anti inflammatory which help to reduce the inflammation and swelling.
It has bleaching properties thus will lighten the dark spots of acne scars and pimple marks.
Lemon juice is high in Vitamin C thus this will make the skin texture better.
It also kills the acne causing bacteria as well by reducing the pH balance of the skin thus makes difficult for the bacteria to breed.
This also helps in controlling the oil from the skin.
So, now that we have learnt how lemon juice can help to fade the marks and scars. Let know some quick and easy ways to use Lemon for lightening of acne scars.
See: How to use Yoghurt for Acne Scars and pimple Marks
How to apply lemon juice on the acne scars to fade them
1. Take some lemon juice and using a cotton pad. Apply all over the marks and scars of pimples. Try this at night and leave for overnight. Try this every night and marks will be faded soon.
2. Mix some honey with lemon juice and apply that over the acne scars. You can also apply that all over the face. Rinse your face after 30 minutes. Do this daily for healthy glowing skin.
3. You can also mix some lemon juice along with some orange juice to make a mixture. Then use over the marks and scars then leave for overnight. This can be done daily to keep the marks go away soon.
4. You may also try this recipe. Take half teaspoonful of milk and mix that with half teaspoonful of lemon juice. Mix them well and apply on the face. Wash after 30 minutes. This has to be tried 3 times in a week.
5. Mix a teaspoonful of lemon juice with 1 teaspoonful of cucumber juice. This is good for very oily skin since cucumber also tightens the open skin pores, thus will give 2 benefits, marks removal and tightening of facial skin pores.
6. Egg white also works well when combined with lemon juice. Take some egg white and add some lemon juice in that. This will be slippery so make sure that you evenly mix this well. Then apply on the face. Wash the face after 30 minutes. This too can be tried daily to get blemish free and spotless facial skin.