Oshea Herbals Rose Moist Winter Care Cream Review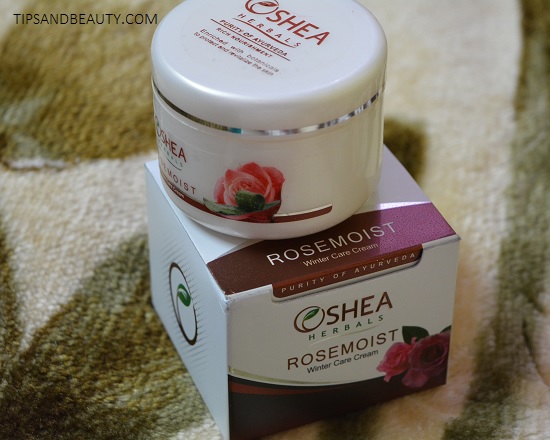 Hi girls, when winters are there, we seek skin care products which are loaded with skin moisturizing ingredients. I will review this Oshea Herbals Rose Moist Winter Care Cream in this post. This is the cream, that I had received 2 weeks ago and I am using this at night. I would also like to say one thing that I liked the Oshea coco white fairness cream a lot since for oily skin that does not feel oily and brings a bright glow on the face. So, let's see dearies, how this winter care cream fared for me.
Price: Oshea Herbals Rose Moist Winter Care Cream is 165 rupees for 50 g pack.
Experience with Oshea Herbals Rose Moist Winter Care Cream
This ream for winters is packaged in a very simple looking beige colored tub pack. The packaging is simple, decent and user friendly, moreover, one can easily keep this in the bag. The cream is not very thick but has this medium consistency and feels light when massaged on the skin. By light, I do not mean that this is non greasy. As per winters, skin creams are concerned they generally are greasy and very hydrating so does this cream here. This is creamy and moisturizes the skin very well.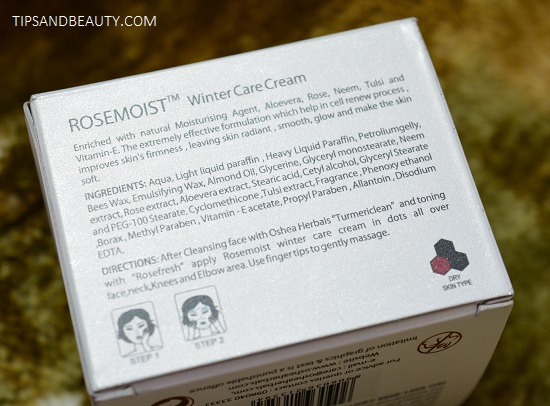 My skin is combination so, I would take a tiny pea sized amount. By the way, this also acts as a wonderful massage cream for winters. My mum would massage her face with this at night and this actually helps to get rid of the dryness and peeling skin. I too used this at night and liked the way this moisturizes the face. As per the skin type, the quantity can be adjusted.
This rose moist cream is enriched with natural Moisturizing Agent, Aloe Vera, Rose, Neem, Tulsi and Vitamin-E. The extremely effective formulation which help in cell renew process, improves skin's firmness, leaving skin radiant, smooth, glowing and soft. I liked that this has neem which is anti bacterial hence this will help to combat the acne and pimples on the skin.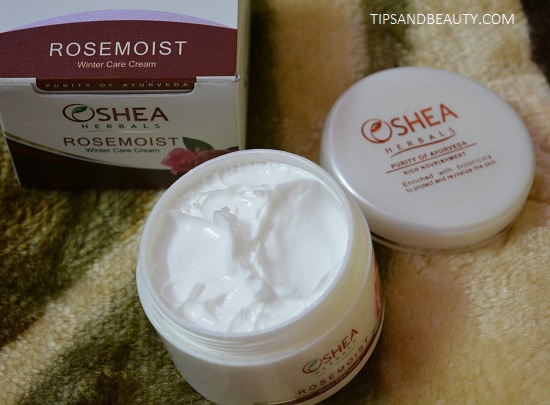 I would also like to tell you one thing that so far, I have tried so any Oshea Herbals products and most of them have worked really well and the price is also affordable. So, if you wish to use an affordable and in budget cream for winters then I will suggest you to try this and if you have oily skin then do try the Coco white fairness cream for the day time, Like I do.
Rating: 5 out of 5 (I seriously could not find any cons in this product since this does what a winter cream should do)