Patanjali Aloe Vera Gel Review and how to use Patanjali aloe vera gel for beauty of skin and hair
Hi everyone!! Aloe vera gel has so many uses. It soothes, cools and gives hydration. This is why aloe vera is being used in so many of the beauty products these days. Today's post is Patanjali aloe vera gel review. I have already done this review on my other blog but since readers of this blog are interested in this product so, here is the review of Patanjali aloe vera gel by Baba Ramdev. I have liked almost of the patanjali products and recently did a post on some of the best patanjali products that we have. Earlier, it was very hard to get this Patanjali aloe vera gel as I could not find a shop and this was not available online. But now Patanjali trust has their own website where you can buy all the Baba Ramdev's patanjali products.
Aloe vera is one of the most used herbal ingredients that many companies use in their herbal skin care products. It has amazing skin healing properties and it also helps in getting rid of the pimples. You can also use aloe vera for skin lightening. For rashed skin which has redness and patchiness, there too aloe vera gel works wonders. Even when you have dark circles or puffy under eyes, then too aloe vera can immensely help you. Moreover, this product is not very expensive. You can either put an aloe vera plant at home or try this gel from Patanjali. Anyways, so friends let's know more about this aloe vera gel from Patanjali brand and how we can use this.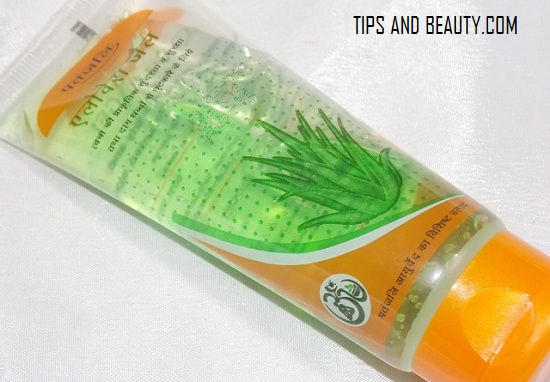 Price of Patanjali Aloe Vera gel
This Patanjali aloe vera gel comes in a tube which is transparent and costs 35 rupees only for this 60 ml tube pack. I would say that this is very cheap product which can be tried by men too. I will tell that later on. 
Ingredients of Patanjali Aloe vera gel :
This products says that it contains 90 % of the pure aloe vera gel and then there is some color and preservatives. Preservatives are added to increase the shelf life so that products can be used for longer. Else you may have seen that the recipes that we make at home gets bad within a week right? But still I like fresh and natural products these days more.

Experience with Patanjali Aloe Vera Gel
Aloe vera gel has become quite popular in the recent times and there are so many aloe vera gel brands. I have used aloe gel from a couple of brands but Patanjali aloe vera gel is the best out of them. This comes in a squeezable tube which is transparent. This is good as one can see how much the gel is left while using this. This gel is like a regular gel which is transparent and clear water like in color. It has a consistency of water too. I mean to say that this is gel but when I rub and apply this on my skin then it feels very light and like water, not at all like a cream. In the tube, it looks greenish but actually when taken on the palm it appears clear.
While I massage this on my face, it gets some time to get inside the skin. When I am rubbing this on the face skin it feels sticky. But soon within few seconds, it gets completely absorbed in my skin and my skin feels very soft and satiny. But I also feel that this will not give too much moisturization to the dry skin. Now, I will tell you what are the ways, I use this Patanjali aloe vera gel.
Use Aloe Vera Gel for glowing skin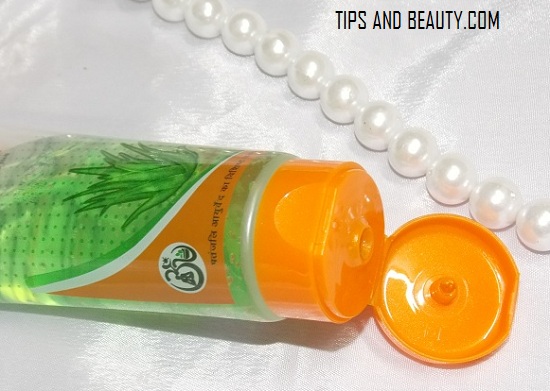 11 Ways to use Patanjali Aloe Vera Gel
Now, I am going to tell you all those different methods and tips, you can use this aloe gel for. This aloe vera gel can be used for several beauty uses like for  your skin, hair and otherwise. This is why there are so many of those aloe vera gel products in the market. So, let's check out. 
1. Face Primer
We can also use this aloe vera gel like face primer to smoothen the skin and to make the makeup last longer. I would just apply a thin layer of this on my face and leave for 5 minutes. Then I will apply my foundation or the BB cream. This simple step helps me combat the excessive oiliness and then apply my foundation so that the face looks matte and softer.
2. BB cream
At time, I also like to mix little bit of my foundation with some of this aloe gel. This makes this a very mousse like in texture and help in the flawless application. This is like a homemade quick Bb cream as well.
3. Face Packs
The powder face packs that we use can also be mixed with the help of this gel. You can take the packs in a bowl and add some of this aloe gel. This also makes the skin smooth further so that the skin glows. Like if you are making a face pack with neem then mixing this will only help you get rid of the pimples faster. You can also use this to make a paste of patanjali kanti lep and use that on the face.
4. Dry skin
If you have dry skin then mix some vitamin E oil and this aloe vera gel. Apply on the face at night to keep the skin nourished. Vitamin E is available in the capsule form on medical stores. This will be an excellent remedy to treat the dryness of skin naturally. You will be amazed to see the results.
5. Dark Circles
I can also use this aloe vera gel from Patanjali under and over my eyes to give them some cooling sensation and to get rid of the eye darkness. You can daily apply this at night to fade the dark circles and puffiness.
6. Dark Spots
Aloe is also wonderful in healing the dark spots which are due to pimples and acne on the face. You can mix some of this gel with little bit of the lemon juice and turmeric powder. Apply with a cotton bud or with your clean finger. Leave overnight. Next day wash with plain clear water. It will soon lighten the dark spots and blemishes off the skin.
I sometimes will apply this aloe vera gel to massage and then apply some more like a face mask. I leave this for 20 minutes, then, I will wash my face. This soothes the face and gives relief in sun burn.
8. Detanning Face pack
I also add some turmeric powder and make a paste with some of this Patanjali aloe vera gel. Then use that on the face. I will wash this pack after 20 minutes. This makes a good detanning face pack that lightens the skin.
9. Blemish Control
When I have too many pimple marks, I will use some lemon juice and mix this with aloe vera gel from patanjali. Then, I will apply this mixture on the blemishes. This removes the marks faster.
10. Oil Control
For oil control, you can mix this gel with some witch hazel and apply lightly on the face like we apply a toner. This will control your acne as well. You may wash this after 20 minutes or keep at night.
11. Dandruff and Hair Growth
Regular application of aloe gel on the scalp cures the itchy scalp and dandruff problem. Just mix with some lemon juice or orange juice and apply. For hair growth too, aloe benefits are remarkable. It initiate the hair growth and induces the dormant follicles to produce new hair. You can apply the gel on the scalp and leave for overnight. Wash the hair the next day with mild shampoo.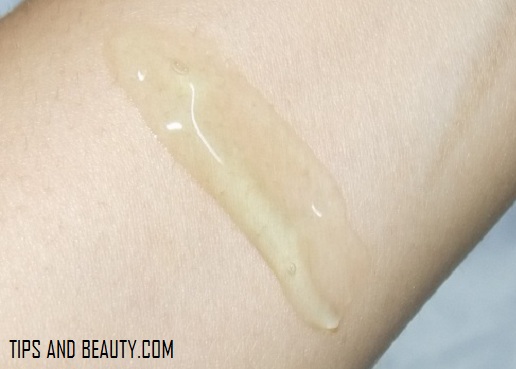 So, there are so many ways, I use this Baba Ramdev Patanjali aloe vera gel except for the dry skin remedy which I have not used. But my cousin uses because, she has dry skin. yaay!! But no yaay I have oily skin and pimples. 🙁
Aloe vera gel can also be used on the stretch marks but I have not used that so can't say. Aloe vera gel also makes the hair smoother and good for hair growth. Use pure aloe vera gel that we extract at home, for that you can buy an aloe vera gel plant and use that freshly extracted aloe vera gel on the hair.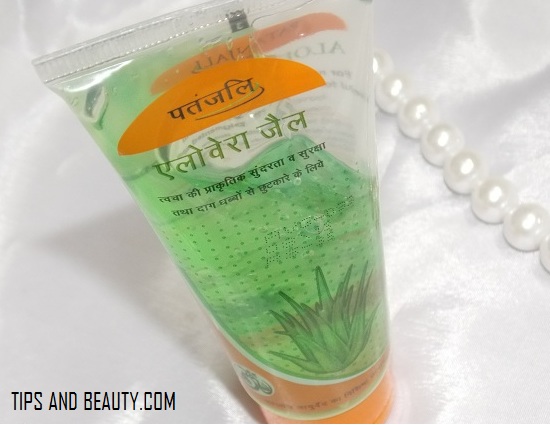 Good about Patanjali Aloe Vera Gel
Price is good and it is a very inexpensive product

Packaging is easy to use and tube pack also makes this hygine and safe

Aloe vera gel has so many uses for skin and hair

This is pure and free from the harmful chemicals

It can be used for curing dryness of skin

It is good for dark circles and pigmentation on the skin too

Aloe vera works wonders for people with oily skin with pimples

It can be mixed with lemon juice to brighten the skin complexion

Aloe gel can also be applied on the sun burns and rashes

You can also apply this on insect bites, prickly heat etc

It makes the skin glowing and attractive

Can be bought online now and on the Patanjali stores
Not so good about Patanjali Aloe Vera Gel
Some preservatives and colorants are there in this.

Does not give too much nourishment to dry skin
Rating for patanjali aloe vera gel- 4.5 on 5
Take- Patanjali aloe vera gel can serve so many purposes and this can be used for preparing many beauty recipes that I have mentioned above. This is very inexpensive so, I will highly recommend this. Read this article, if you want to know more homemade uses and benefits of Aloe Vera Gel.
So, this was the Patanjali aloe vera gel review and some beauty recipes stating how I use this gel. Have you used this gel? How did you like this?
Do read some more aloe vera beauty tips: