Pond's White Beauty daily Anti Spot Fairness Cream Review: I will review this newly launched Pond's White daily Anti Spot Fairness Cream with the UVA/UVB protection sunscreens and the Genwhite complex for the fairness. This new version has lightweight and non oily. So, is this Pond's White daily Anti Spot Fairness Cream lives up to the claims and does it really lightens the skin and lightens the spots. Read on to know more about this cream.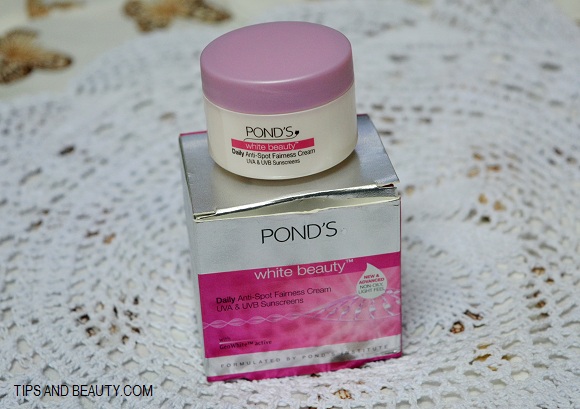 Price of Pond's White Beauty daily Anti Spot Fairness Cream: This cream is for rupees 69 for this small 25 gram pack and bigger pack is also available.

Review of Pond's White Beauty Daily Anti Spot Fairness Cream
Ponds makes so many white beauty creams and keeps on launching more which is why I find it quite confusing so, I did some googling and this is what I came to know. Earlier there was Ponds White Beauty Daily Spot-less Lightening Cream SPF 15, then came this Ponds Flawless White Visible Lightening Daily Cream with the corresponding night cream called as Flawless White Brightening Night Cream and here comes this Pond's White daily Anti Spot Fairness Cream, okay so first one was lightening, then brightening and recently one is fairness cream. I got it now. Wait I have seen a green one as well, which is natural white having the herbal ingredients, oh that is so confusing. Moving on with the review.
See: Fair and Lovely BB cream Price and Review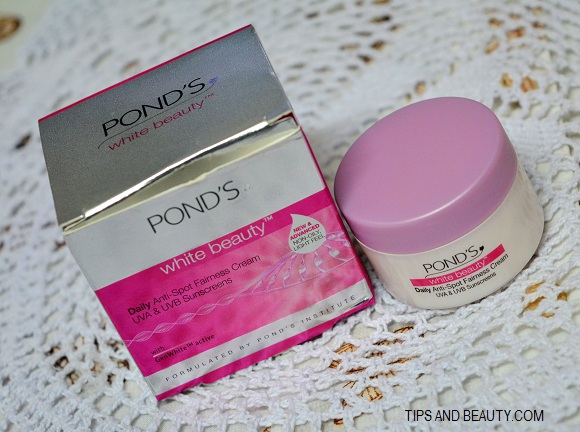 This cream comes in a tub packaging. The cream is like the other ponds creams, a baby pink cream which doesn't have a smooth consistency. It is more on the thicker side so I was thinking that it will be difficult to blend this cream on the face and neck but the good thing is that it gets blended very easily and doesn't leave ashy or white cast on the face. It is good on the moisturization as I thought like the previous versions, it will be very drying which is not the case with this cream here. [White tone face powder]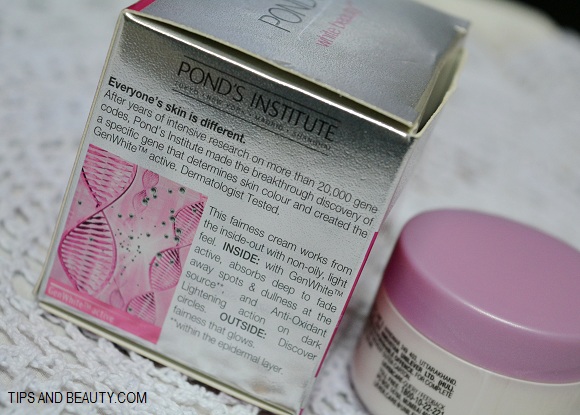 This is very creamy and gives light moisture. I would agree with the claim that it is light weight compared with the previous versions. Once applied this cream gives a soft glow on the face and skin feel moisturized. It doesn't make the skin oil or shiny but definitely skin looks slightly even toned and better. I mean it forms a layer on the skin and skin look better with the texture and softer.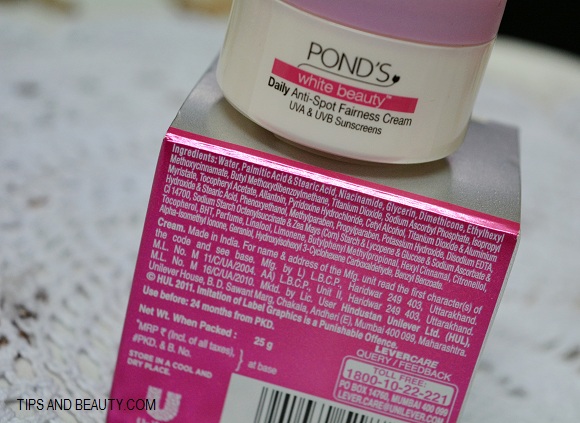 This cream has lightened some of the pimple marks on the chin and cheeks and also gives some glow but the fairness is not yet noticeable. I would day it is more like a good day cream with sunscreen protection which doesn't feel heavy on the face. For dry skin this cream will need some extra moisturization before using this as this cream doesn't have moisturization to that extent that will keep the dry skin hydrated.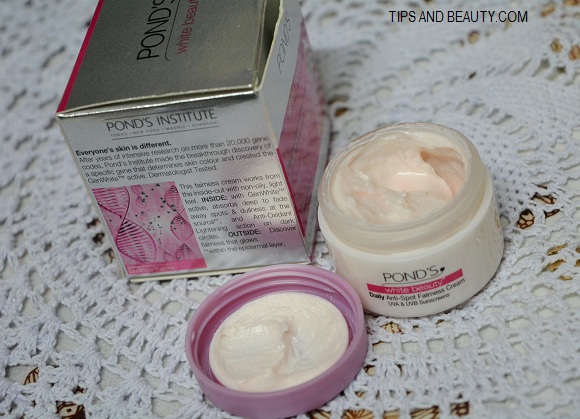 Good about Pond's White Beauty daily Anti Spot Fairness Cream
It is inexpensive

Good packaging

Nice smell

Does not leave ashyness or white cast

It doesn't feel heavy on the face

Makes skin glowing but not shiny

Gives adequate moisture

Skin looks better with softness and improved tone

Good for normal to oily skin

Has sunscreen protection

List of ingredients is there
Not so good on Pond's White Beauty daily Anti Spot Fairness Cream
It is not for very dry skin

Does not give miraculous fairness but clarity
Rating for Pond's White Beauty daily Anti Spot Fairness Cream: 3.75 out of 5