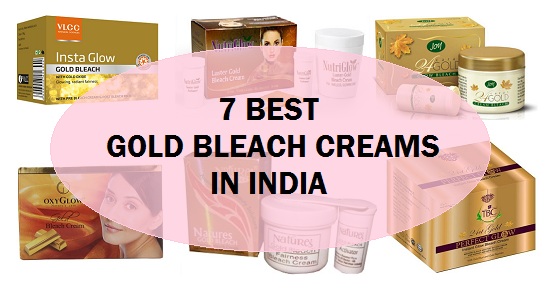 Gold Bleach or Gold facials are the most loved beauty treatments that women would love to go for. Whether it is party, wedding or a function skin bleaching is the quick way to give instant fairness and glow to the skin as we have mentioned how to do bleach at home, skin bleach can help match the hair with that of the facial skin color thus your skin looks whiter. Gold has these properties to give a natural glow and radiance to your skin. It also enhances the skin color. So, we have compiled a list of Gold bleach creams in India with their price. The good thing is that the onetime usage packs are very inexpensive or below 100 rupees but if you buy the bigger packs then you will save money as they will last longer for 6- 10 uses. I have the bigger pack of gold bleach  cream which will last for 32 uses (yeah! that is quite huge :)) So, me and my mum and cousins would use that else the product will get expire before I could finish it off. Haha.
Gold Bleach Creams in India
Fem Herbals Gold Bleach Cream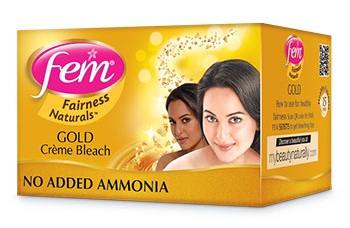 I have this, this is the one I am talking about. It is good for sensitive skin and does removes the tanning as well other than matching the facial hair with the skin color. The smallest one time usage pack comes for rupees 36. The bigger one is for about 200 rupees.
Diamond bleach creams in India
VLCC Insta Glow Gold Bleach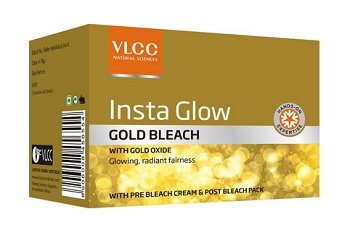 This bleach has turmeric and saffron extracts which nourishes and purifies the skin other than the facial hair lightening that the bleach creams do. This Gold bleach has a pre bleach cream that you have to apply first then apply the bleach cream and a glow pack that should be sued after the bleaching session. This is just for 30 Rupees for the single time usage pack.
OxyGlow Gold Bleach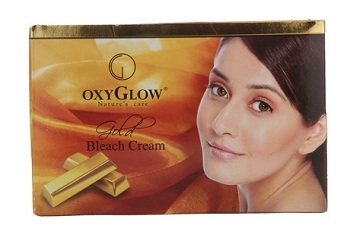 This gold bleach cream is enriched with the gold particles along with lemon extracts for further skin refining and glycerin for moisturization. This is for 59 Rupees for the single usage pack that is a little more than the single usage.
Nature's Essence Gold Bleach cream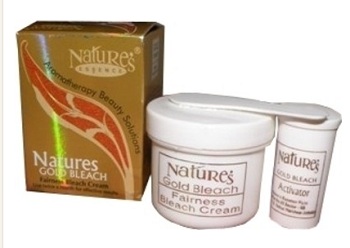 This bleach has a gold powder activator and the cream base. This has to be used on the clean face and doesn't come with any pre or post bleach pack. I have used this too and it was okay for all skin types though don't forget to get the patch test first by applying some bleach cream near the ear. This is for 49 rupees for the smallest pack.
NutriGlow Gold Bleach cream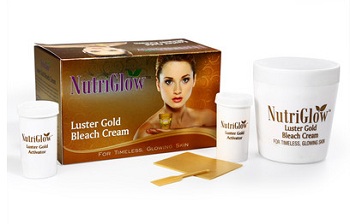 This cream also comes with a powder activator and the cream base. You will have to mix the cream and the activator in the mentioned amount and apply on the face. For fair skin, wait for 15 minutes while for dark skin 10 minutes are enough. This gold bleach cream comes for 50 Rupees.
Joy 24 carat natural Gold Bleach cream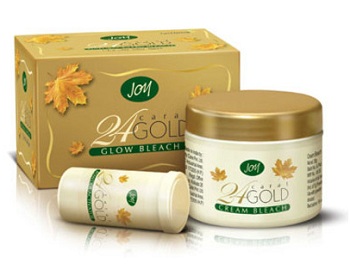 This bleach cream has the Gold ash with natural botanical extracts to further sooth and nourish the skin. This has only the cream and powder activator which has to be applied by mixing them. Joy is the same brand that makes creams, face washes and packs that Anushka Sharma endorses. This gold bleach cream is for 55 rupees.
TBC by Nature perfect glow 24 Carat Gold Bleach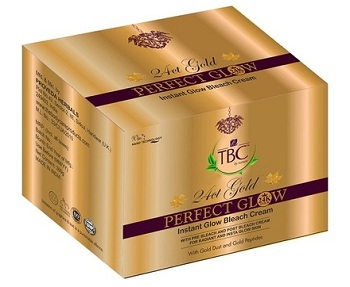 I have recently used one of the products from this brand which was very good. This cream can also be sued by men. This bleaching kit has a pre bleach cream and a post bleach cream for good results. The smallest pack is for 65 Rupees.