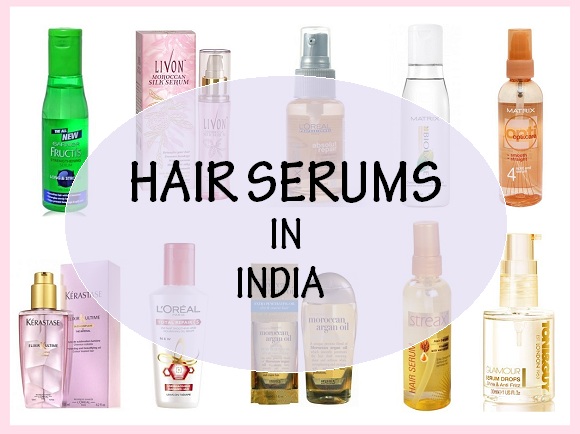 Best Hair Serums available in India For Dry, Frizzy and Damaged Hair
Hair serums have become the much needed product these days as they can keep down the frizz, detangles the hair after the wash so that the breakage is reduced. These hair serums also add a glossy shine to the hair for a more finished and polished look. But what precisely they are? Hair serum is a hair care or a hair styling product that is slightly thick and slippery in texture unlike the regular hair oils. They are made with the chemical like the silicones, amino acids and some ceramides that repairs and prevent the damage to the cuticle. Moreover, the silicones in these hair serums give them a very slippery and smooth texture. So, when we apply that on the hair. it feels as if the hair have become super smooth.
Hair serums can make the hair smoother and silkier which also tames the frizzy and the baby flyaways. So, when you are thinking of trying hair serums you must know that they can be used on wet hair post washing or shampooing or when they are in dry or semi dry state. We have compiled this list of hair serums in India with the price. You can buy these online, in stores and in salons.
List of 10 Best Hair serums available in India with Prices
Here is the list of the best hair serums that we have compiled, which are available in the Indian market. Most of them are suitable for all hair types but some can be extremely helpful for the dry damaged hair while some may not do much for the dryness. There are few serums in this list that can be helpful in the cure of frizz, dryness etc.
1. Matrix Biolage Deep Smoothing Serum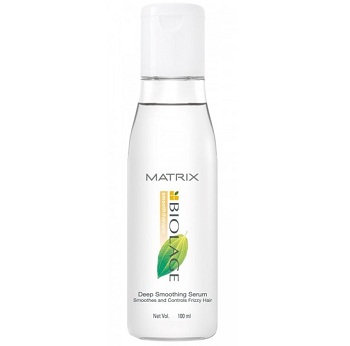 Matrix Biolage Deep Smoothing Serum targets the frizzy hair and makes hair smooth and shinier. It also helps detangle and gives a glossy finish to the hair. This serum is for 260 rupees and comes in a plastic flip top cap bottle. 
10 Best Amla Hair oils in India
2. L'Oreal Professionnel Serie Expert Absolut Repairing Treatment Serum
This hair serum is infused with the Unifibrine which is a smart complex of smoothing polymers which seals in the rough and dry cuticle to give hair a silkier shine and bounce. This is mainly formulated for the damaged hair. the unique formulation helps to shield the hair while you are under the sun and also prevents the damage.
Price: 600 rupees.
10 Best Coconut Hair Oils in India
3. Matrix OptiCare Smooth Serum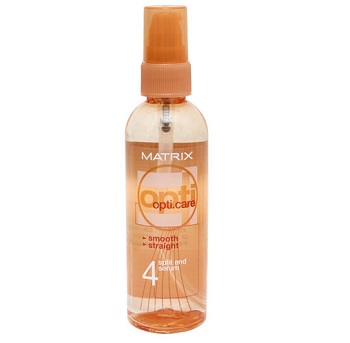 Matrix opticare serum is a light weight formula which is formulated to repair the hair shaft & cuticle from the split ends. It claims that the regular use of this hair serum repairs the frayed tips and helps prevent further split ends. It also treats the frizzy hair to keep the fly-aways managed.
Price: This serum cost rupees 385 in India.
9 Best Anti hair fall Shampoos in India
4. L'Oreal Paris Total Repair 5 Serum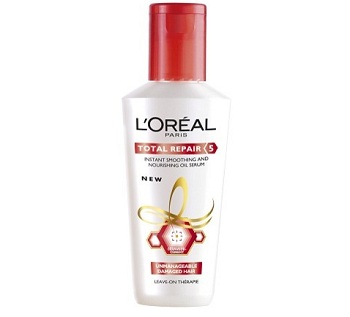 L'Oreal total repair 5 smoothening and nourishing oil serum is very easily available in India for rupees 225. It helps detangles the rough and dry hair after the wash and manages the dry hair very well. Its unique formula creates a protective film over the hair and prevents them from damage.
5. Garnier Fructis Long and Strong Strengthening Serum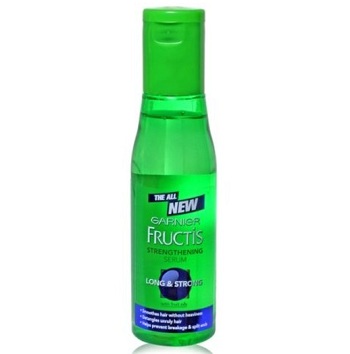 This is another cheap hair serum that is available in India for rupees 179. It is good to be used on dried or semi dried hair to smooth out the hair and reduces hair breakage. It is also good for unruly hair but not for extremely dry hair. The serum has the goodness of avocado and grape seed oil.
Emami 7 Oils in 1 Damage Control Hair oil Review
6. Organix Moroccan Argan Oil Penetrating Serum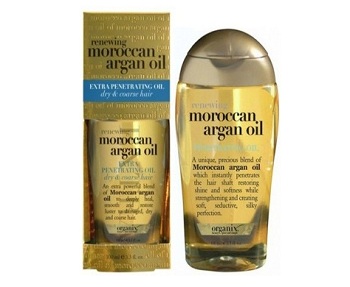 Organix Argan oil hair serum has an ultra light formula. Enriched with the Argan oil, this serum penetrates the hair shaft and rejuvenates them from within. It nourishes and makes them smoother. This serum for hair also fights the frizzy hair and makes them manageable.  Hence, it can be said as an effective hair serum for frizzy dry hair.
Price: It is for 725 rupees.
7. Toni & Guy Glamour Serum Drops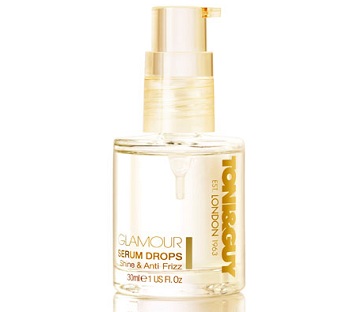 Toni & Guy Glamour Serum Drops gives high shine and glossy finish to the hair. Just 2-3 drops of this serum is enough for the hair to give them a manageable look. This is good to tame down fly aways.
Price: This hair serum is priced at 550 rupees.
8. Kerastase Elixir Ultime Oleo Complex + The Imperial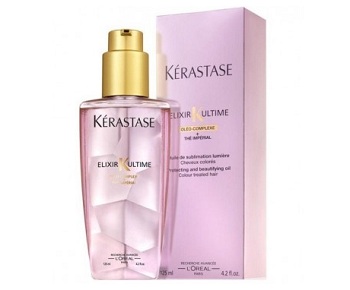 Kerastase Elixir K Ultime the Imperial claims to impart an ultimate shine. This is enriched with Oleo-Complexe that reveals the true hair color thus making this an ideal product for color treated hair. It also prevents sun damage and keeps the hair healthier.
Price: It is priced at 1050 in India.
Best Hair Growth hair Oils in India
9. Livon Moroccan Silk Serum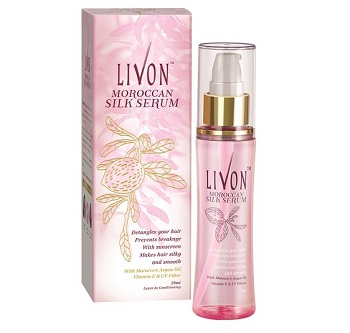 This is the latest product from Livon and is enriched with the goodness of Moroccan Argan oil. Argan oil is beneficial for the hair and it nourishes, strengthens and fortifies. This serum helps detangle and tame down the rough frizzy hair to prevent breakage.
Price: 260 rupees.
10. Streax Hair Serum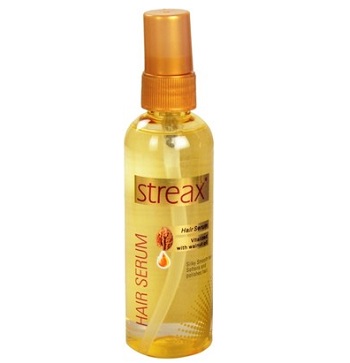 Streax hair serum is a budget friendly option like some of the other hair serums that we have mentioned above and is enriched with the Walnut Oil. It conditions the hair and smoothen the dry ends and rough cuticles for a smooth frizz free shiny hair.
Price: It is for 175 Rupees.
So, these were the best hair serums for dry hair, frizzy hair, normal hair and also for the hair that is damaged. You can try according to the hair type, concern and the price.
12 Best Hair Growth supplements in India
Dhathri Herbal hair Oil Review