10 Ayurvedic Ways to Cure Dark Circles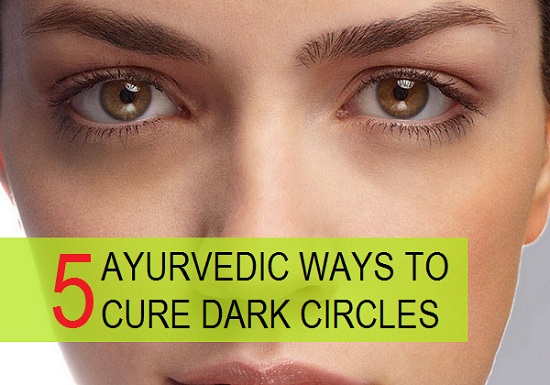 Dark circles can be caused due to hereditary, smoking, stress, prolonged diseases etc. Sleep and fatique can also be a primary cause for darkness under the eyes these days so what can be done to reduce the darkness and brighten the eyes. Nutrition or poor diet, sinus problem, pregnancy is also to be blamed for the condition. If you are looking for the ways to heal the dark circles under your eyes then Ayurveda has answers to this dark circle problem. There are several Ayurvedic cures for dark circles that can be easily tired at the comfort of your home. Natural remedies and treatments are always better since these do not have any side effects.
Ayurvedic Remedies for Dark Circles
1. Cucumber Ayurvedic Remedy
Cucumber is one of the best treatments to cure the darkness and blueness under the eyes. Ayurveda has mentioned multiple treatments using cucumber for fair skin and to lighten any sought of darkness and pigmentation. So, in dark circles too cucumber is highly effective.
Grate a cucumber piece and put that in the refrigerator. When this gets cool, you need to take 2 cotton pads.

Soak the cotton pads in the cucumber juice or the grated pulp, then apply that over the eyes.

Lie down and relax. Keep that for 20 minutes, then go for the regular sleep.

This remedy needs to be done when the eyes feels tired or just before you are about to sleep for better results.
2. Potato Treatment for Dark Circles

Take a small sized potato and grate it. Apply the paste lightly under the eyes and lie down.
Let the potato juice soak the under eye area for 15-20 minutes, then wash it off.
Follow this quick and easy treatment and notice the brighter eyes in just 2-3 weeks but this has to be done daily. Also See: More Treatments for Dark circles with Potato

3. Rose Water Treatment

Rose water or gulab jal has been mentioned as a multipurpose and miraculous product that heals, soothes and tones the skin. Rose water is high on rose essence due to which this lightens the skin tone.
Put rose water in the refrigerator and let it cool.

Then take 2 cotton balls and soak that in the rose water. Put that over the eyes and relax.

Take out after 20 minutes. See: Honey for dark circles

4. Tomato for Dark Circles
Tomato has the skin bleaching properties. This takes off the darkness. Take a slice of tomato and rub it over the eyes and let it soak up. Then wash it off after 20 minutes. Or you can also keep it overnight.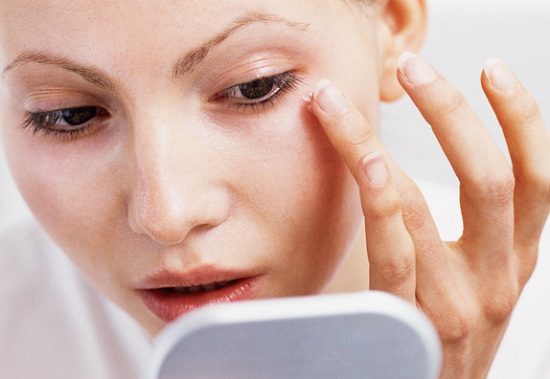 5. Almond Oil or Badam Oil
Vitamin E is highly potential in treating the texture of the under eye area. Vitamin E is present in the almond oil in ample amount.
Take 2-3 drops of pure almond oil and rub it over the eyes and massage gently. This can be left overnight.
6. Masoor Dal
Mix ½ teaspoonful of masoor dal powder. Mix that with some milk to make a loose paste.
Put that under the eyes and then keep this for 20 minutes. Wash if off with plain water.
This takes care of the dark circles and to smoothen the skin.Masoor dal treatment is an efficient Ayurvedic way to cure dark circles.

See: Natural Treatments for Under Eye Dark Circles

Other Care and Precautions for Dark Circles
Take a protein rich diet that includes milk, soyabean, lentils, curd etc. Milk has calcium and protein which is essential when you wish to get brighter looking eyes. Drink plenty of water and exercise daily. This will improvise the body fitness.
Do Pranayam and yoga. Pose like Surya Namaskar is also beneficial. Also make sure that you take 7-8 hours of sleep to keep the dark circles away.