Latest Bridal Mehendi Designs Images for Feet
Henna application is an integral part of Indian and Pakistani weddings. Heena brings good luck and prosperity. The mehendi adorned hands are good luck symbol for the brides. In fact, in hindus, an entire ceremony is dedicated to this Mehendi application ritual. So, brides will experiment with the beautiful design to make their hands and feet look beautiful. Mehendi is applied on the hands and feet. The mehendi design and patterns can be chosen out of the several designs and it can be simple till the hands and feet only but some brides prefer the application till the arms and calves as well. Here we have compiled some beautiful feet mehendi designs for the brides and their female family members.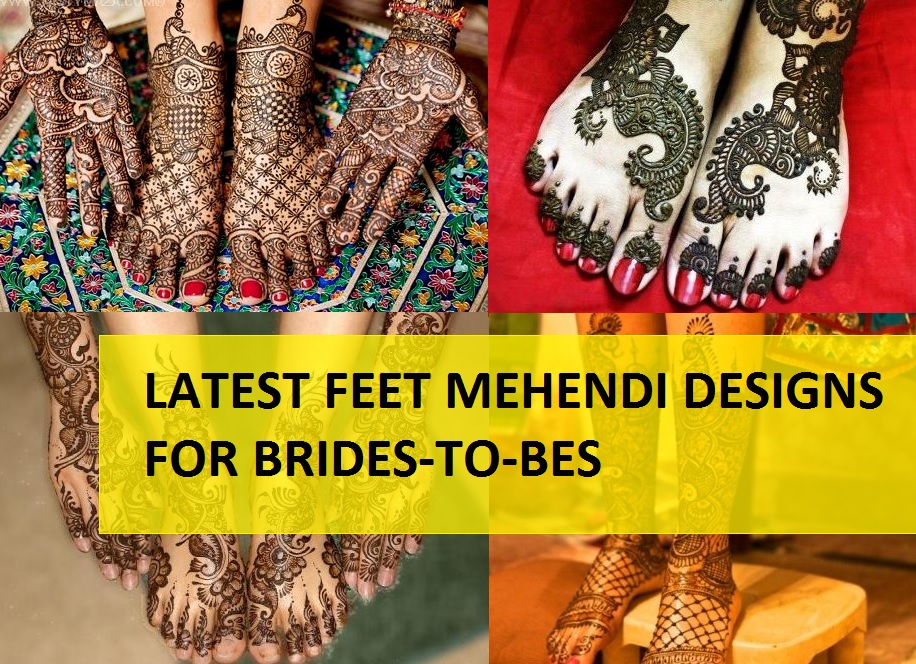 10 Best Latest Mehendi Designs for Feet for Brides-To-Be
Here are some really interesting mehendi designs that brides will love to apply. These bridal feet mehendi designs will help you look stunning and girls gasping at your mehendi.
1. Rajasthani Mehendi for Feet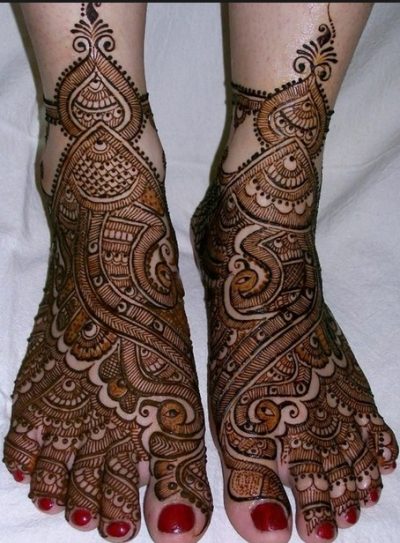 This foot mehendi design is adorned with the Rajasthani designs which is quite intricate and looks alluring The leafy and peacock loaded pattern is over the toes and goes till the ankle. This is a very beautiful feet mehendi design that looks great on brides.
2. Intricate Feet Mehndi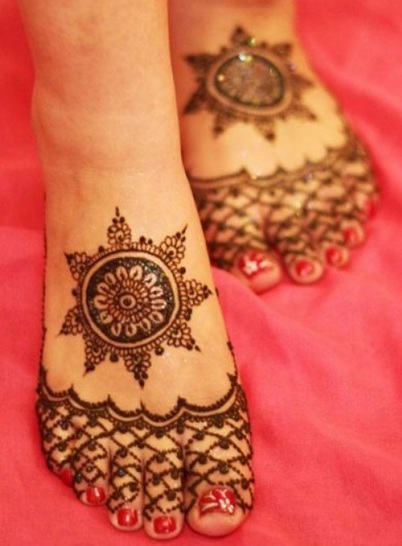 This design is not covering the entire feet but only the toes and the centre circle which sits on the top part of the foot. The beauty lies in the intricate tiny dotted designs that look gorgeous on brides.
3. Side Mehendi for Bride's Feet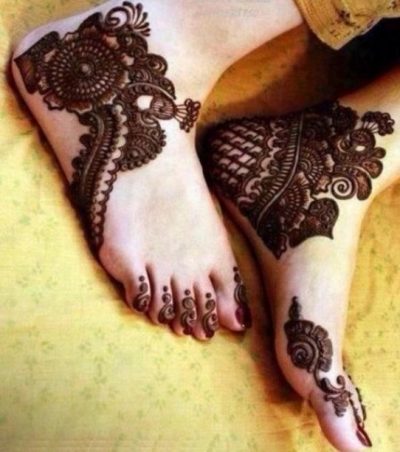 This design is far from the regular design but looks amazing. The pattern on the side of the feet and the tiny motifs on the toes makes this look stunning. This design can be used by the bridesmaid as well.
4. Slanted Feet Mehndi Design for Brides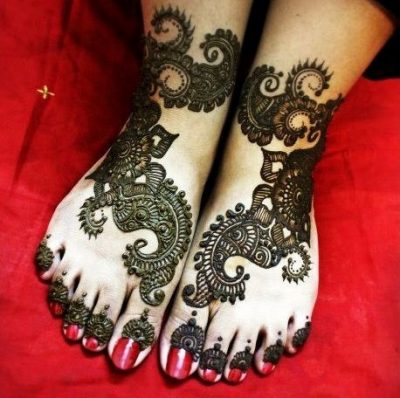 This is a design that is not spread all over the feet but a bit slanted like it starts from the first toes and goes till the other side. The ankle is adorned with a band like design so, this is one of the best design who brides who wishes to get something different than the regular design. See the best 30 Arabic Mehendi designs
5. Bridal Feet Mehndi Design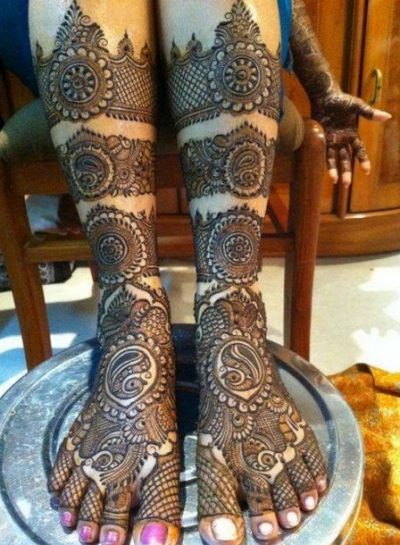 This design is spread all the way across till the calves. This is a very beautiful bridal design that is for brides who want to get an elaborate design that should cover a lot of skin. The circular designs in the middle look alluring.
6. Simple Bridal mehendi For Feet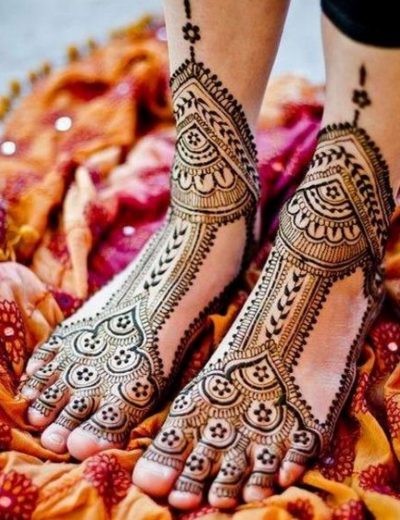 This is a simple design that is for bride and bridesmaid. The semicircular motifs are designed with dots and lines. The leafy pattern has a quite spacy design.
7. Floral Hands and Feet Mehndi Design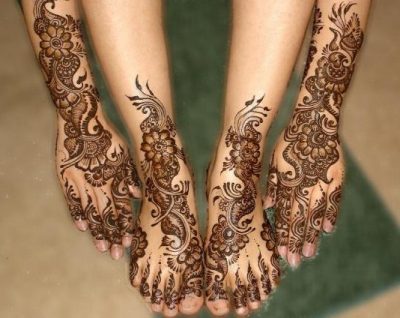 The design above is a very floral design which is very appropriate for the modern Indian Brides. The floral motifs are appealing. The captivating small designs on the toes make it even more delicate and pretty.
8. Marwadi Feet Mehndi Design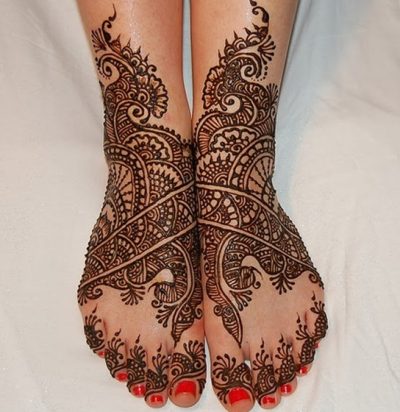 This is a marwadi inspired feet mehendi design. The middle area has geometric design filled with floral pattern. The top part on the anklet is adorned with the paisley designed.
9. Latest Hands and Feet Bridal Mehndi Pattern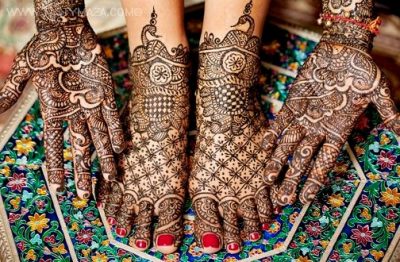 This feet mehendi pattern is adorned with the geometric pattern on the front of the feet and after that floral design is used. The top of the part has the peacock design.
10. Pailsey and Floral Mehndi For Feet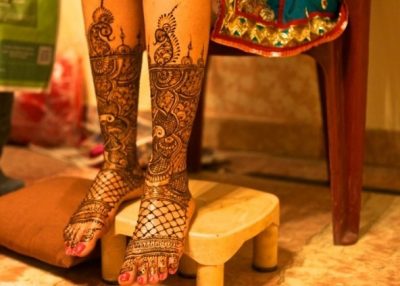 This is rich in paisleys and floral pattern. The top part is rich with the small paisley and peacock motifs. This goes till half the ankles which makes this very bridal appropriate.
In India, the Hindu and Muslim weddings are not fulfilled unless mehendi is not applied. It also signifies the bond between husband and wife. Moreover, even after the wedding for several ceremonies, married women will apply mehendi as a symbol and sign of goodwill and good health of her husband.
11. Cross Pattern Foot Mehndi Design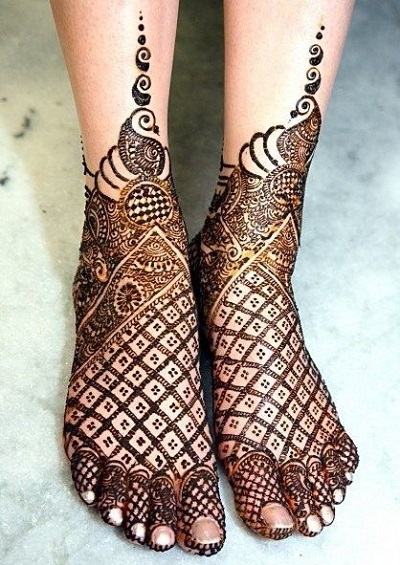 12. Stylish And Simple Mehndi For Brides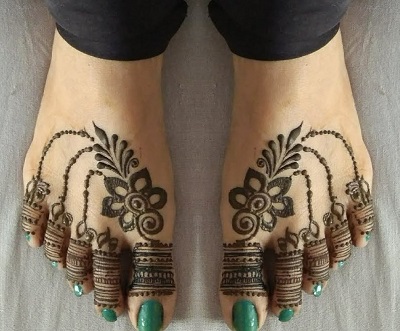 13. Beautiful Dotted Feet Mehndi Design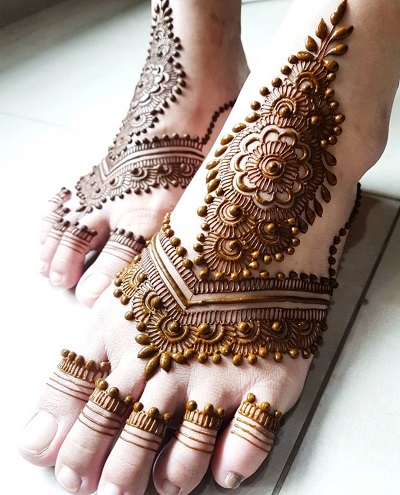 14. Elegant Foot Mehndi Design With Round Tikki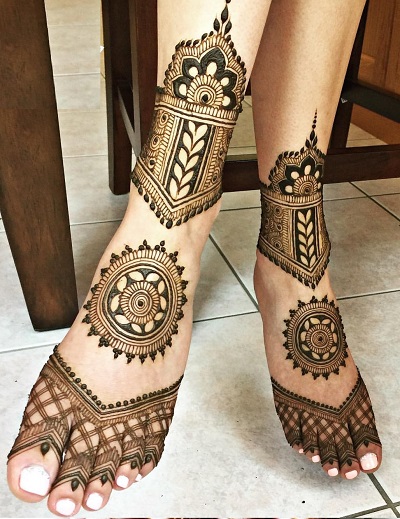 15. Stylish Matching Foot Bridal Mehndi Design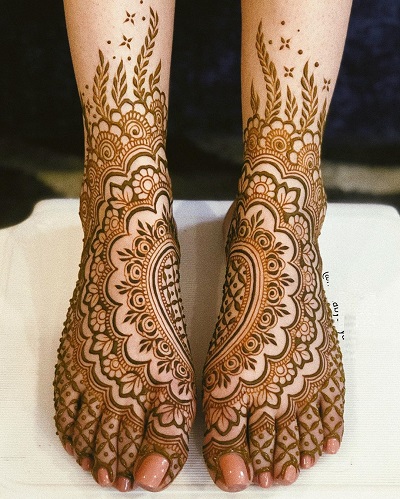 16. Floral Pattern For Feet Mehndi For Brides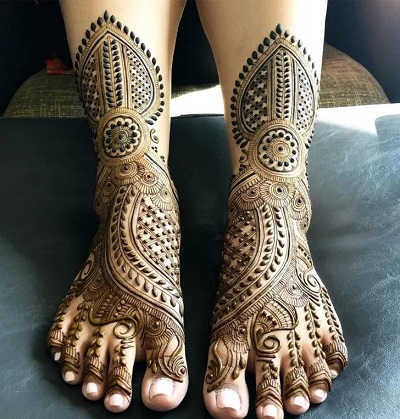 17. Neat and Stylish Feet Mehndi Design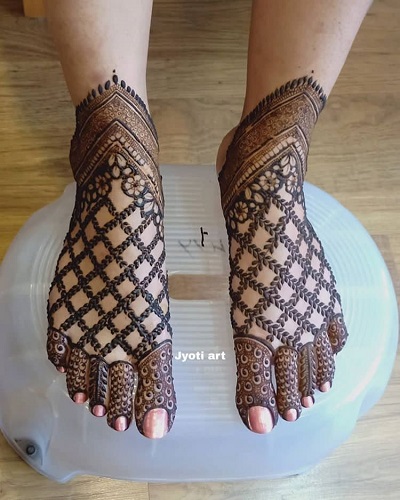 18. Simple And Elegant Bridal Foot Mehndi Pattern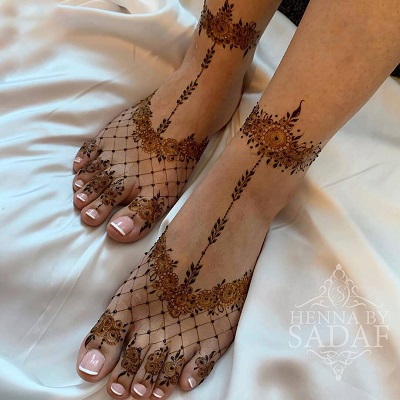 19. Designer Unique Foot Mehndi Pattern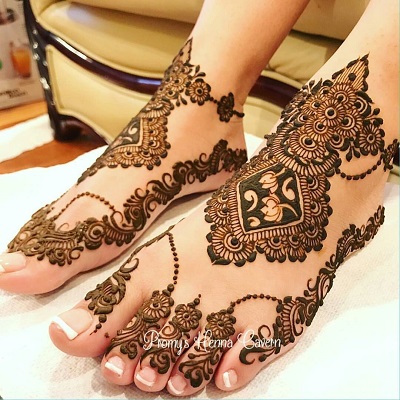 20. Elephant Pattern Bridal Foot Mehndi Design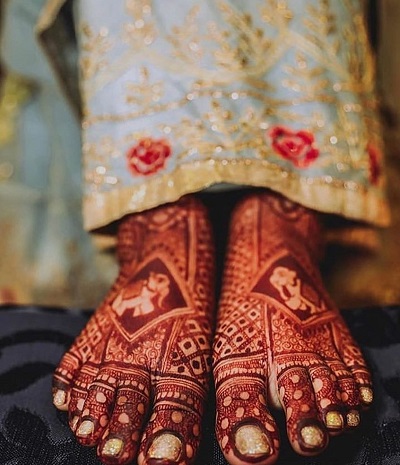 21. Stylish And Delicate Design For Brides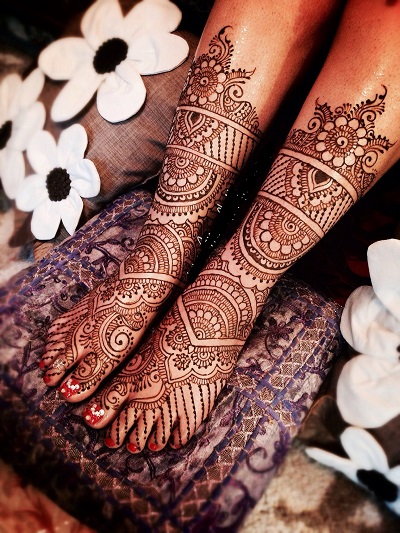 22. Matching Foot And Hand Mehndi Design For Brides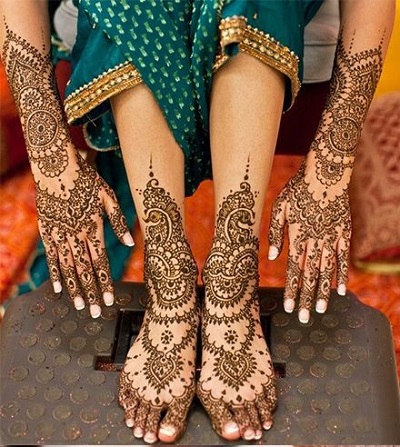 23. Criss Cross Pattern Feet Mehandi Pattern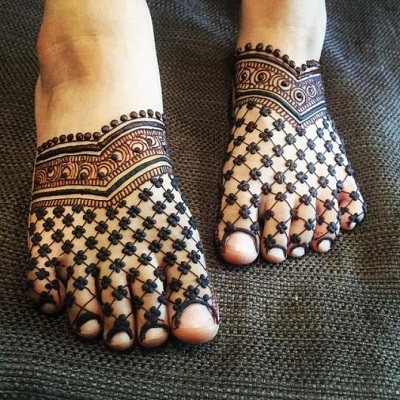 24. Stylish Extended Mehndi Design For Brides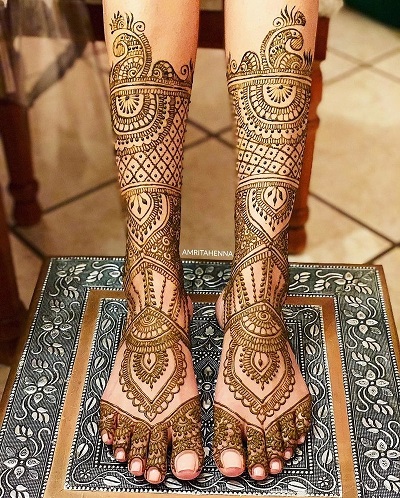 25. Stylish Pakistani Inspired Mehndi Design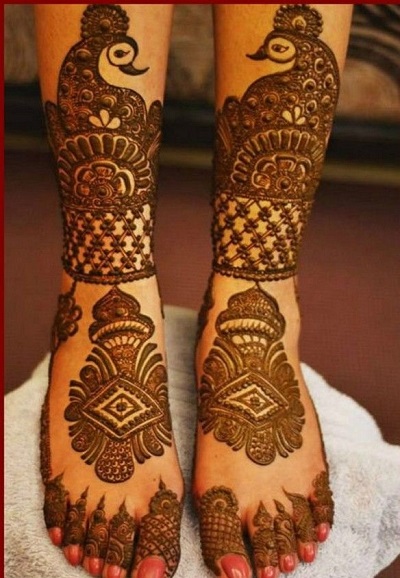 26. Intricate Arabic Bridal Foot Mehndi Design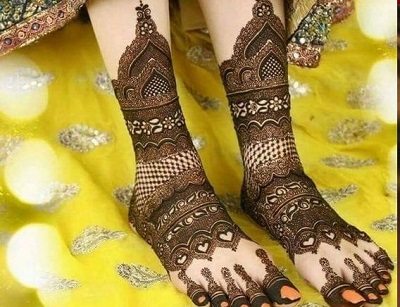 27. Pakistani Bridal Foot Mehndi Design
28. Floral Inspired Bridal Mehandi Pattern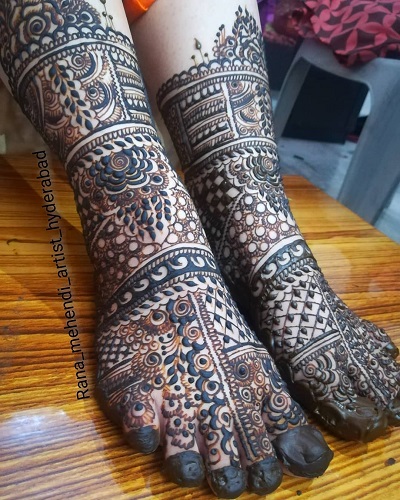 29. Stylish Circular Pattern Mehndi Design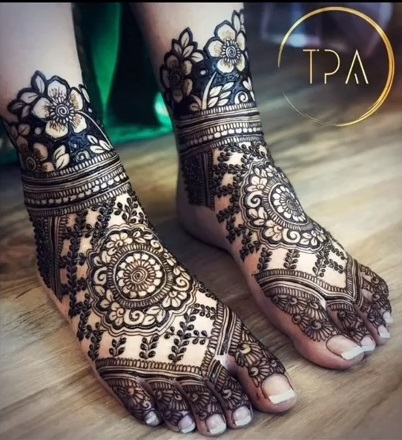 30. Centre Floral Pattern Foot Mehndi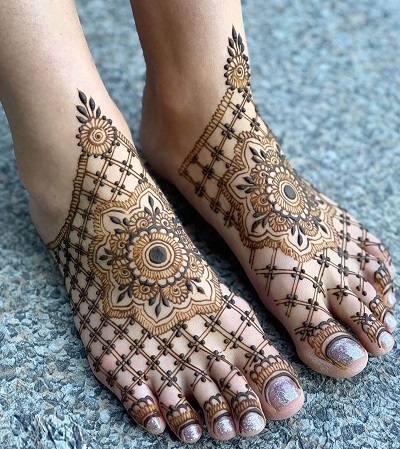 31. Bridal Feet Mehndi With Elegant Jewellery Pattern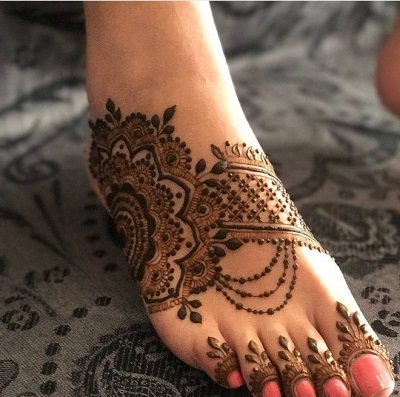 32. Bridal Foot Mehndi With Name Initials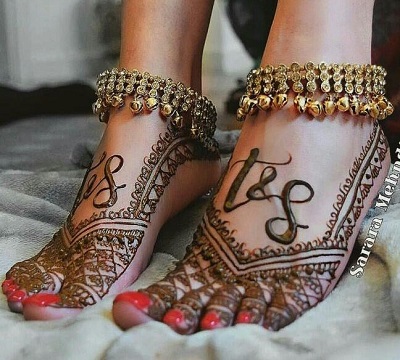 33. Foot Mehndi Design With Single Row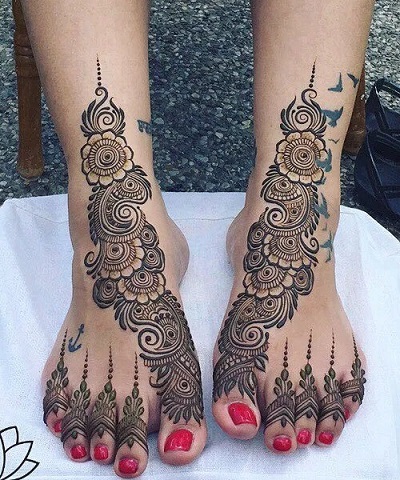 34. Simple And Beautiful Mehndi For Feet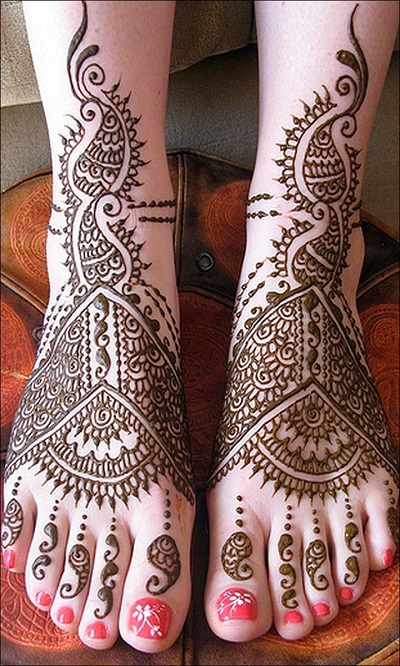 35. Intricate Parallel Lined Foot Mehndi Design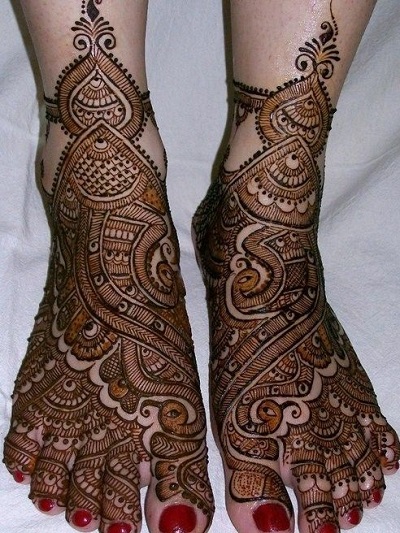 36.Round Mehandi With Diagonal Patterns
37. Stylish Peacock Mehndi Design For Brides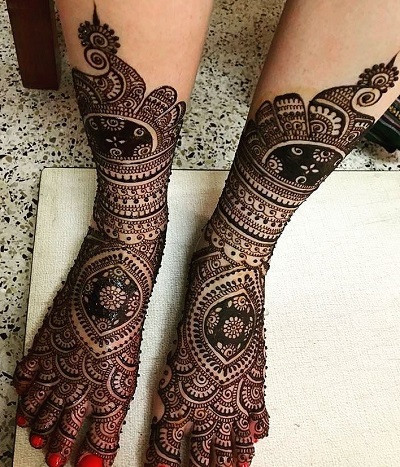 38. Foot Mehndi Design With Peacock Motif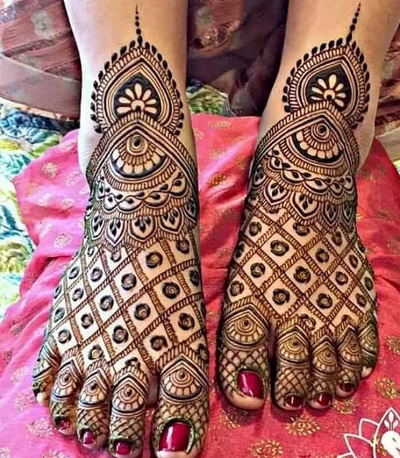 40. Double Circular Simple Foot Mehndi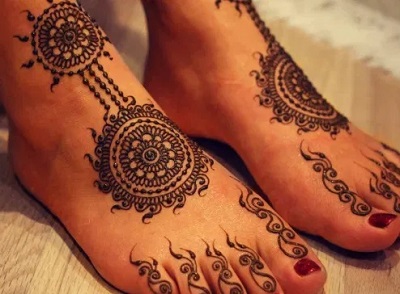 41. Circular Mehndi Design For Feet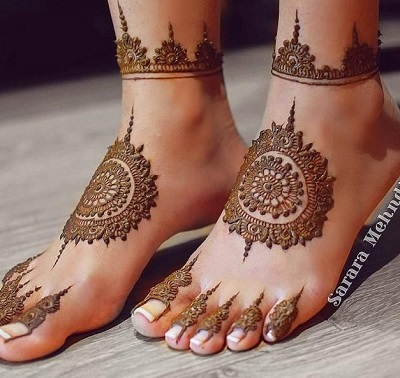 42. Round Circular Design For Feet Mehndi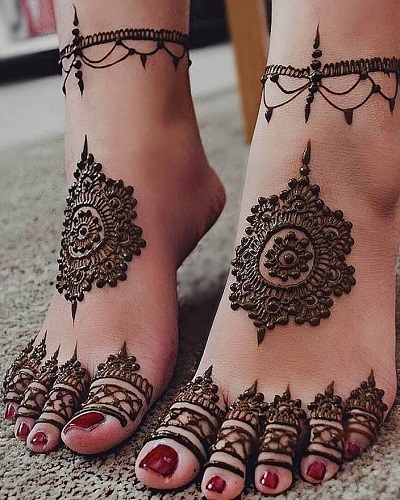 43. Heart Inspired Mehndi Pattern For Bride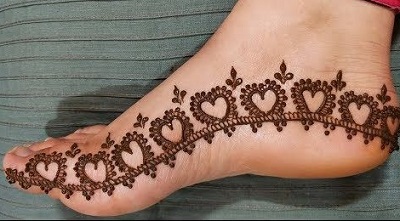 44. Floral Diagonal Feet Mehndi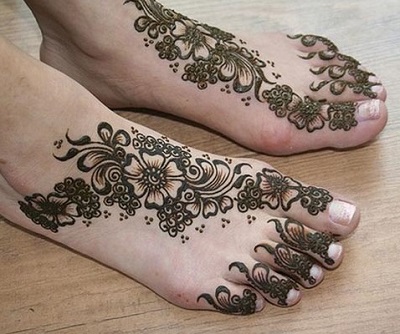 45. Dulhan Mehandi Design For Legs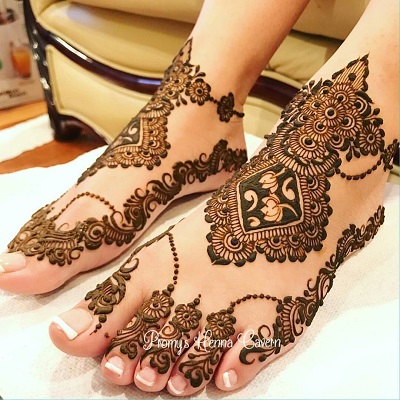 46. Change Style Engagement Mehndi Foot Design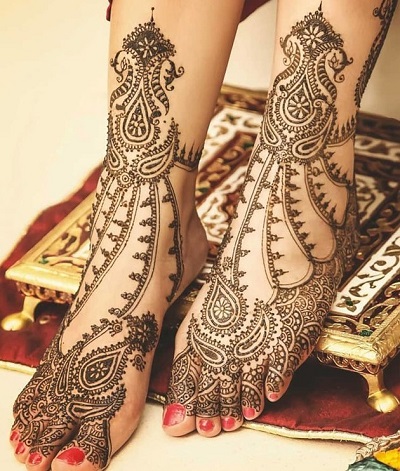 47. Mehandi Design With Bail Pattern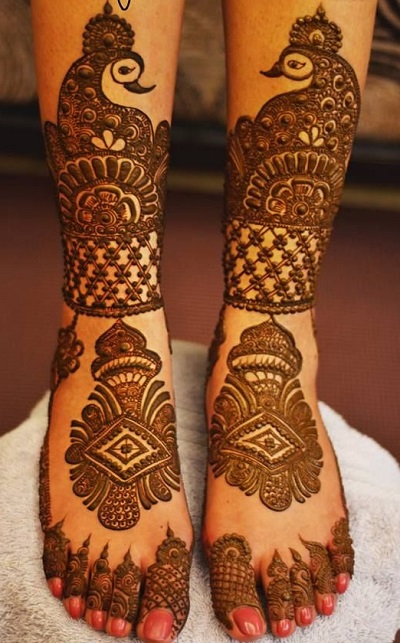 48. Foot Mehndi With Elephant And Doli Pattern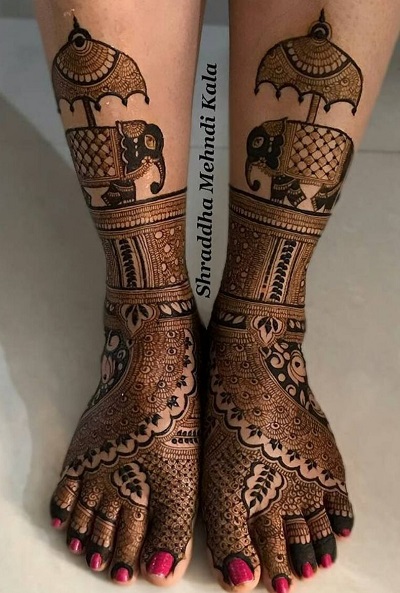 49. Foot Mehndi Design With Rose Flower And Geometric Pattern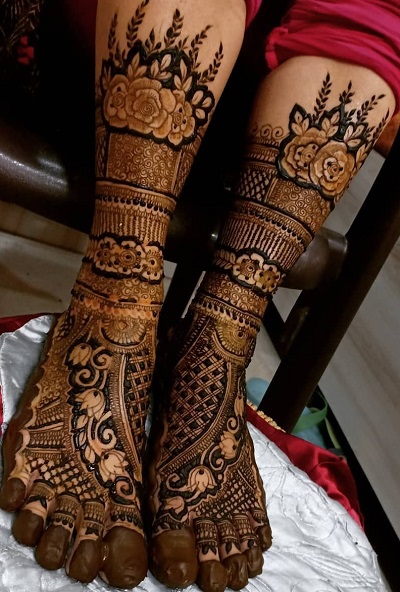 50. Peacock Inspired Full Foot Mehndi Design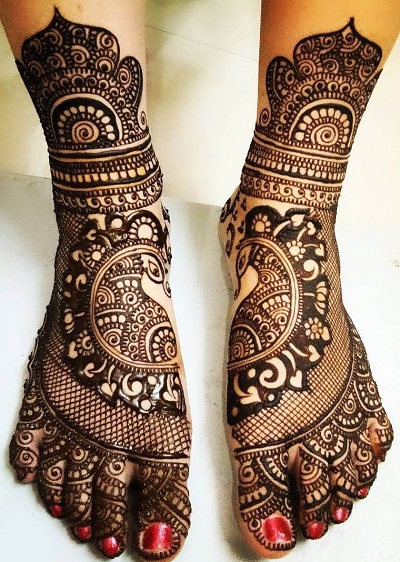 51. Jewellery Pattern Foot Mehndi For Brides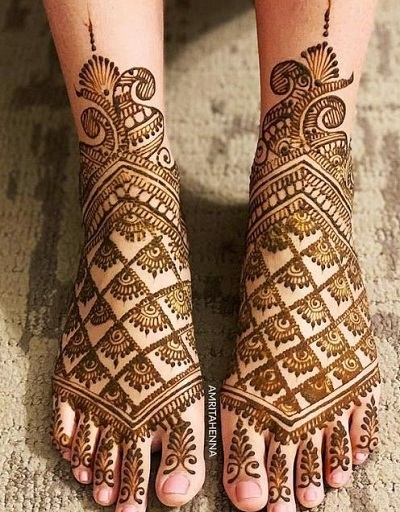 52. Bridal Foot Mehndi Pattern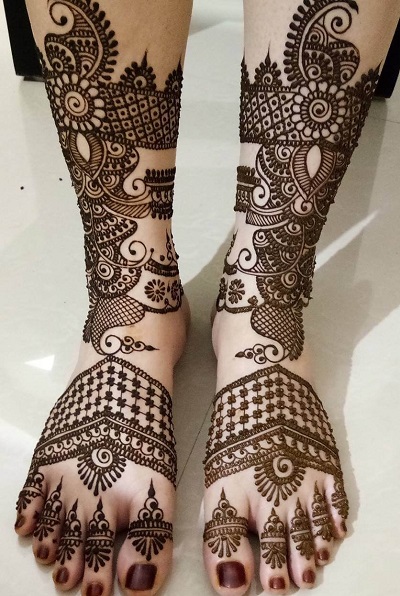 53. Ball Chain Inspired Ram Circular Leg Mehndi Design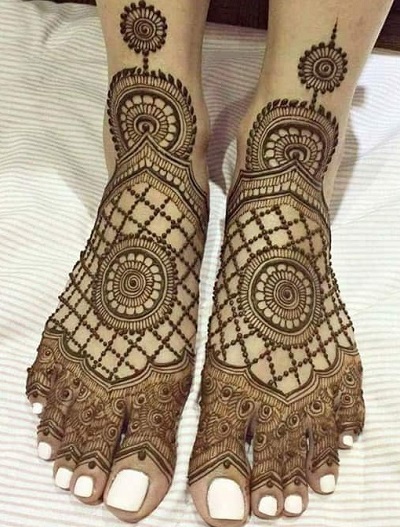 54. Stylish Indian Bridal Mehndi Foot Design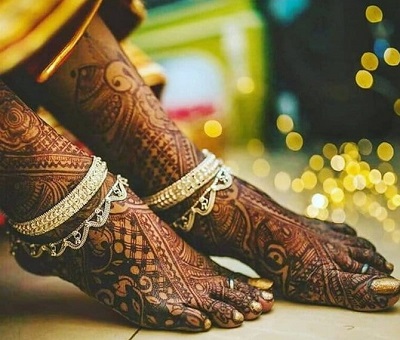 55. Floral And Heart Shape Mehndi Design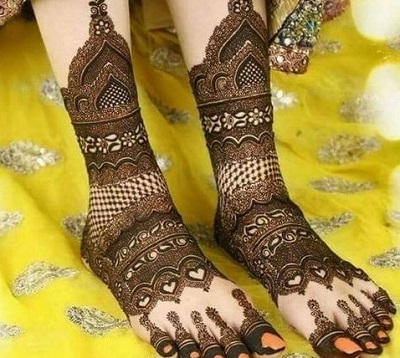 56. Simple And Easy Mehndi Design For Fee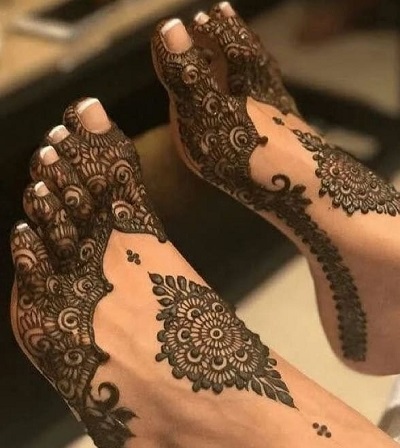 57. Simple Leg Bridal Mehndi Design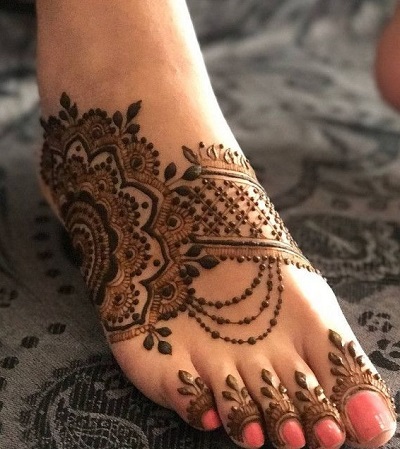 58. Stylish Spiral Lines Single Line Mehandi Pattern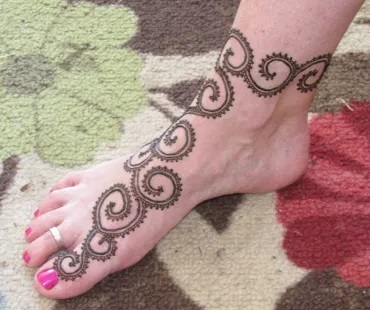 59. Foot Mehndi Pattern With Simple Design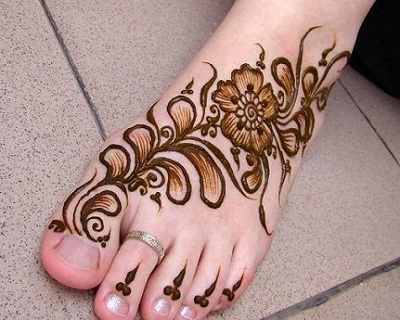 60. Lotus Flower Simple Bridal Leg Mehndi Design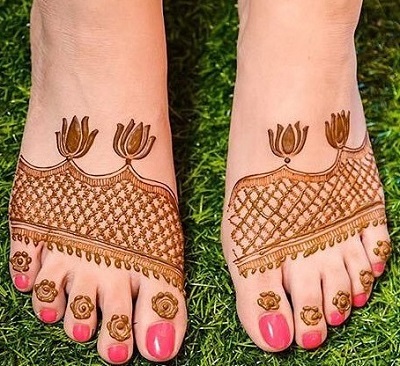 61. Stylish Circular Leg Mehandi For Brides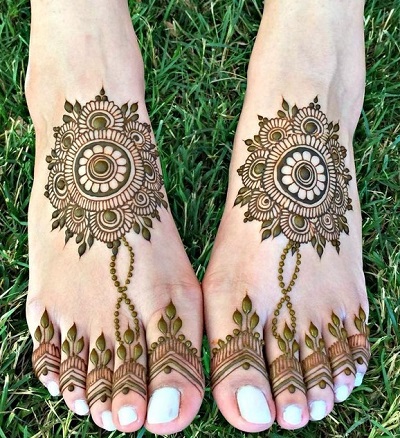 62. Very Elegant Straight Line Mehandi Forefeet For Brides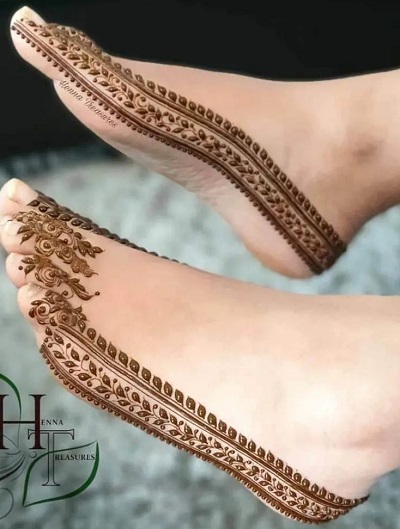 63. Circular Band Inspired Bridal Leg Mehendi Pattern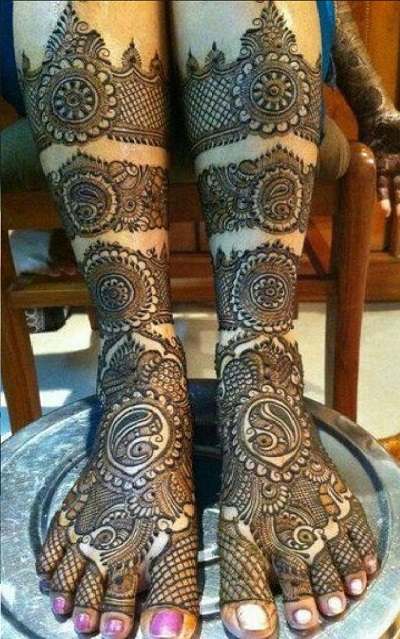 64. Unique Foot Mehndi Pattern For Brides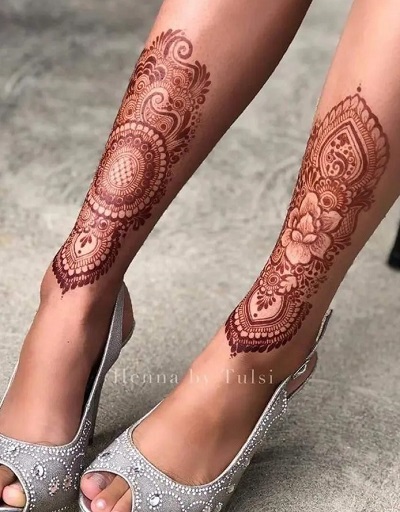 65. Very Intricate Diagonal Single-Row Mehndi Pattern For Brides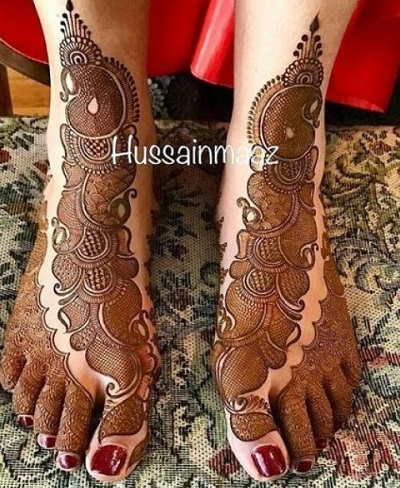 66. Simple Dulhan Mehndi Pattern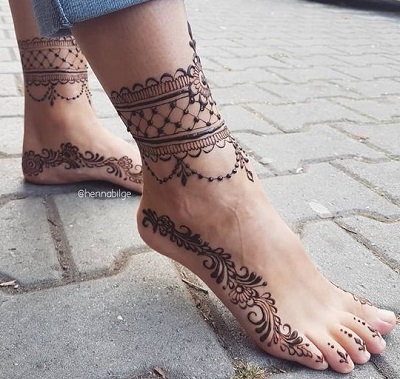 67. Stylish And Easy Foot Mehndi For Engagement
68. Brooch Style Foot Mehndi Pattern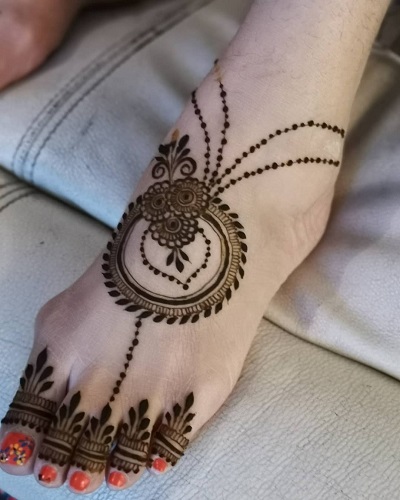 69. Simple Bail Style Foot Mehndi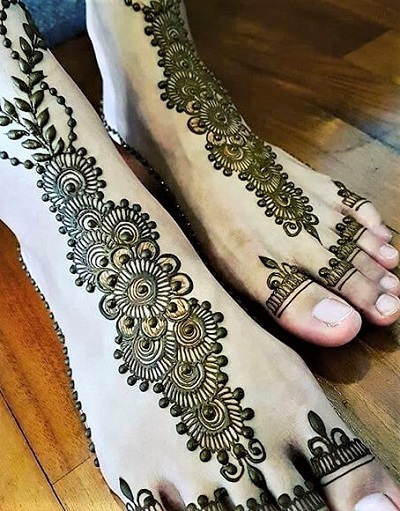 70. Stylish Circular Bail Mehndi For Feet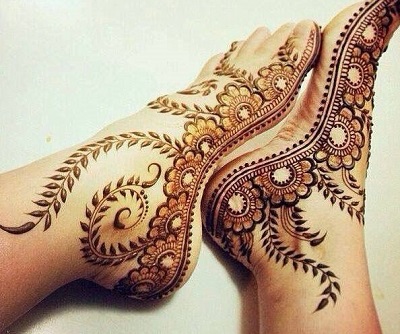 71. Very Beautiful Mehandi Design For Foot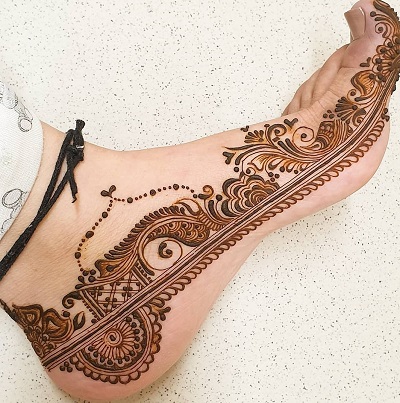 72. Easy And Beginner Leg Mehndi Design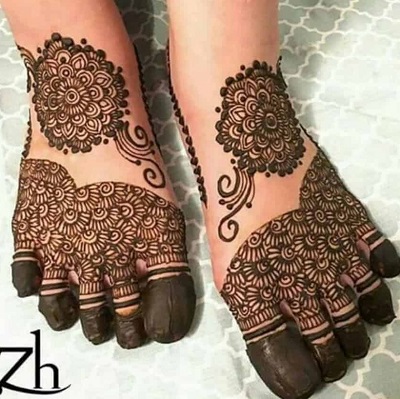 73. Beginner Foot Mehndi Design For Brides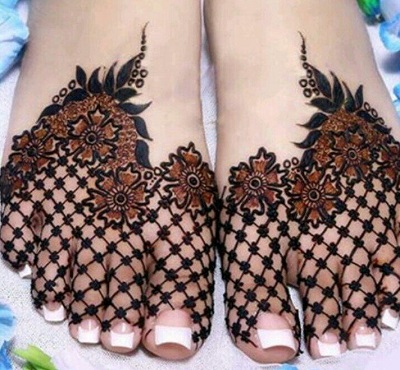 74. Simple And Easy Geometric Pattern Leg Mehndi Design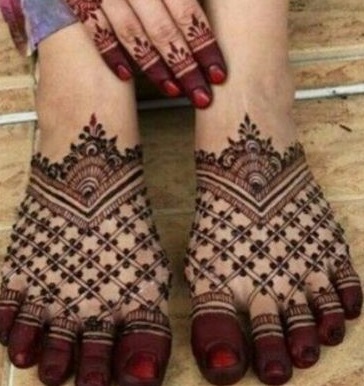 75. Professional Leg Mehndi Design For Brides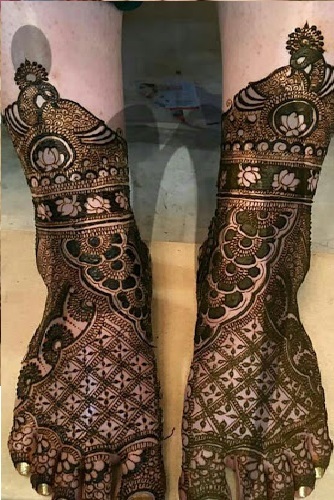 76. New Model Lotus Flower Build-In Mehndi Pattern For Feet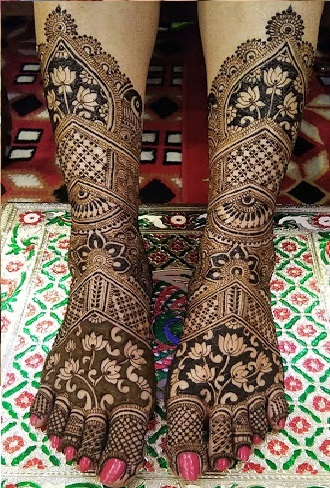 77. Stylish Medal In Bharva Mehandi Pattern For Feet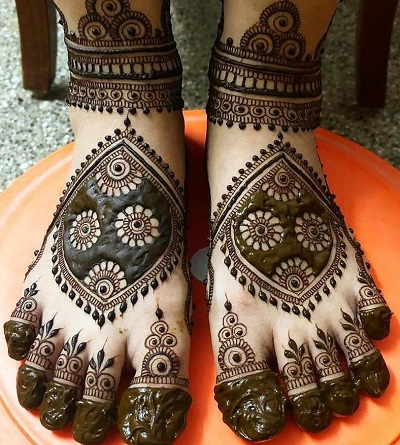 78. Peacock And Floral Foot Mehndi Pattern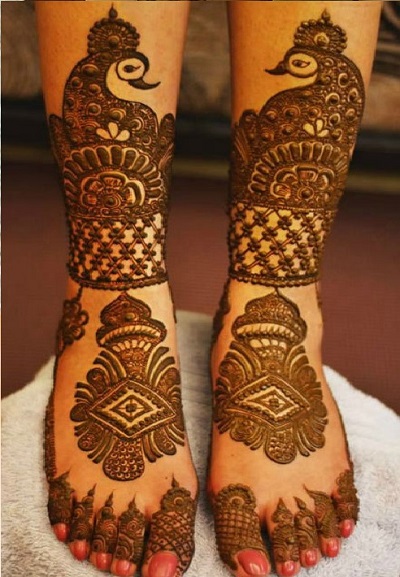 79. Floral Simple Beginner Mehndi For Leg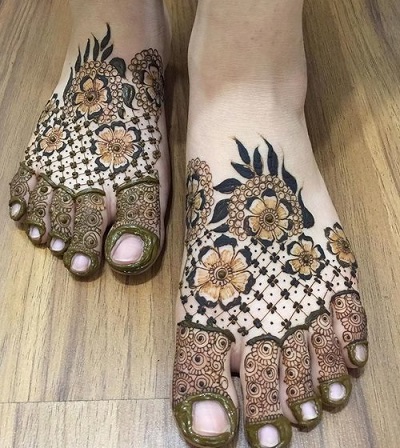 80. Simple Toe Ring Inspired Foot Mehndi For Brides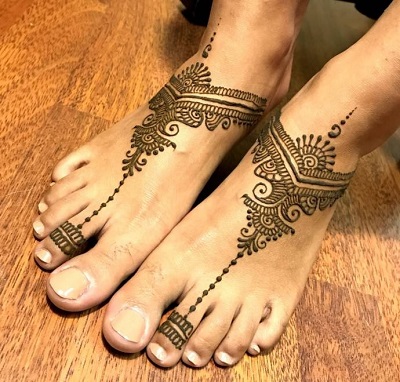 How to Darken your Mehendi
Here are few steps about darkening the mehendi designs on your feet that you can follow.
Always put mehendi on clean hands and once the designs is completed and dried, use few drops of clove oil.

Clove oil will help to darken your mehendi and make it stay longer.

At least keep the mehendi on the hands for 7-8 hours, After which you can remove it or the dried flakes gets scrubbed off on its own.

Do not wash the feet to remove the dried mehendi.

Once the dried mehendi is scrapped off, use some mustard or mehendi oil on the palms and feet to darken it further.
Mehendi looks great with the lehenga, salwar suits and sarees. Even if you are not the bride still you can apply these gorgeous designs to adorn you feet.
So, do you like like these mehendi designs for feet? If yes,which is the one you liked?