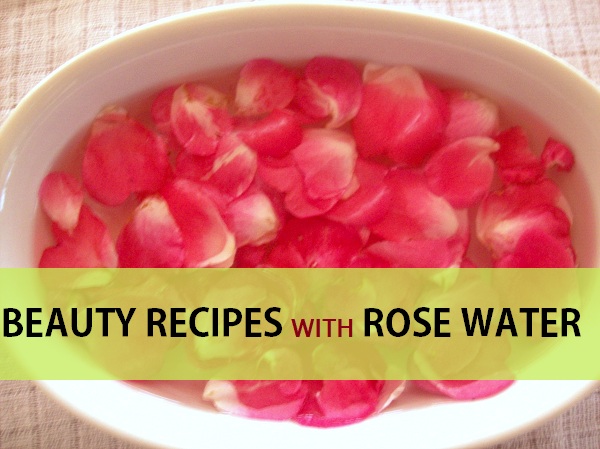 Beauty Recipes using Rose water at home and uses of Rose water

Rose water is one such product that has been used since centuries to keep the skin beautiful but all these years, we have used the chemical loaded products like creams and lotions thing that they will make the skin what they claim to be. We may not completely boycott the products but there are certain products like the natural Rose water which can eliminate the usage of a couple of chemical products used for the skin. Rose water is an amazing product which has brilliant skin brightening, repairing, toning and cleansing properties. When rose water can do all these for you then why invest in expensive products. Today at Tips and Beauty we will share some beauty recipes using Rose water which will benefit your skin in positive way.
Homemade beauty tips and beauty recipes with rose water for beautiful skin
1. Face pack: Mix some sandalwood powder with some rose water to make a paste. Apply on the face for a brighter, fairer skin tone. This rose water infused face pack is good for summers and oily skin.
2. Dry skin care: Winters brings dryness for the skin. Hence here's a beauty recipe with rose water to tackle dryness of the skin, make a lotion with Glycerine and rose water in equal parts. Apply this on the face and body to get a glowing smoother skin even in winters.
3. Sugar Scrub: When you want to scrub your skin but don't have a facial scrubber with you, then rose water can be helpful. Take some rose water and some sugar. Mix them and gently use this rosewater scrub to exfoliate. Your skin will be softer and radiant.
4. Glowing skin: Another beauty recipe with rose water can be tried by mixing equal quantities of rose water with honey. Use this to massage the face for 5 minutes and leave it after as a face pack for 10 minutes. Wash the face to see an instant glowing effect on the skin. It is ideal for sensitive skin or with acne.
5. Face pack for oily skin: When the skin is oily, it is more prone to acne. You can keep the excess oil away by making a face pack with Multani mitti and some rose water. This natural face pack removes extra oil and keeps skin pimple free.
Fair Skin Beauty Recipes with Rose Water
6. Mix some rose water with some turmeric and apply on the face for 15 minutes. This powerful combination is great for removing the sun tan from face and body. It will also lighten the skin complexion.
7. A powerful and excellent way to lighten the skin to get fair is using this recipe with rose water and some lime juice. Mix one teaspoonful of rose water with one teaspoonful of lemon juice. Apply it at night with massaging motion and leave it overnight. Do this daily to get fair skin naturally. [Also Read: Sandalwood face packs to get fair skin ]
Beauty Recipes with Rose Water as Toner for skin
8. Make a natural toner with rose water and cucumber juice. Mix equal quantities of rose water and cucumber juice. Store that in a bottle. Apply on the face with a cotton pad. After using it, put that into refrigerator. Make this homemade face toner every 3-4 days.
9. Yet another recipe for natural face toner with rose water can be made by mixing rose water with some green tea. Boil some green tea. Mix both the green tea water and rose water in equal amount. Store in a small bottle and use when needed. Make this after every 3-4 days. It will beautifully one the skin.
10. Lastly, the easiest way to use rose water is just taking the pure rose water and using it on a cotton pad to tone and clean the face. This can be tried throughout the day whenever the skin feels oily or not clean.
Rose water is wonderful product to have with you. It gives so many benefits for the skin. You can keep a bottle of rose water when you travel and use it to clean the face when you need to. The best thing is it is good for all skin types.
Image Courtesy: 1