Best Sweet Almond Oils in India
Almond oil is one of the best oils to make the skin supple, glowing and radiant. For the hair care almond oil is immensely beneficial as it gives the strength to the hair. Almond oil is also beneficial in hair loss and to effectively control the hair fall. It aids in the hair growth too. Almond oil is enriched with vitamin E and antioxidants. Vitamin E is extremely important for good skin and hair. You may have noticed that Vitamin E is used in a lot of skin and hair products. Vitamin E oil is also good for body massaging to make the skin texture even. Almond oil helps to detoxifies the skin. Almond oil gets rid of the fine lines on the skin. Almond oil is not extremely greasy therefore after massage, the facial or body skin doesn't feel extremely heavy. So, now that we have shared some benefits of almond oil, let's have a look at the almond oil brands or manufacturers in India.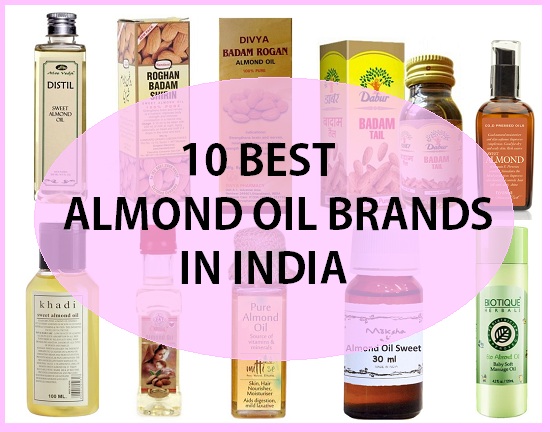 10 Best Sweet Almond Oil in India with Price with Reviews
Here is the list of the best almond oils brands in Indian market. For applying almond oil on the face, make sure you sue extra virgin oil which is not prone to blocking pores.
1. Aloe Veda Distil Sweet Almond Oil
Aloe Veda Sweet Almond Oil is ideal for body massaging. This is infused with the richness of almond extracts and vitamin E. This also proves to be an effective anti bacterial which forms a layer on the skin. Almond Oil is rich in antioxidants which prevents the oxidative cell damage of the skin. This almond oil is extra virgin and is ideal to be used for hair and facial skin especially the dry skin types. 
Buy Aloe Veda Sweet Almond Oil brand in India 
2. Khadi Sweet Almond Oil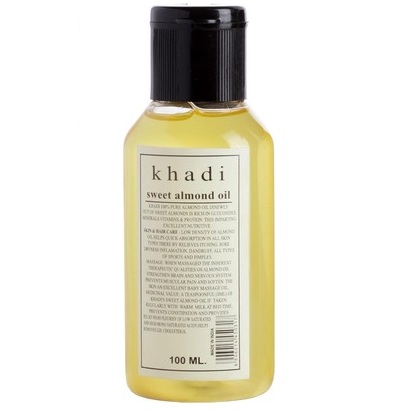 Khadi sweet almond oil is rich with the almond extracts. It can be used to massage the hair for improving the blood circulation so that the hair strength is enhanced. This oil also helps to regenerate the cells for a beautiful skin. Post shower apply this oil to make the skin glowing in winters and to make it wrinkle free.
3. WishCare Pure Cold Pressed Sweet Almond Oil for Hair and Skin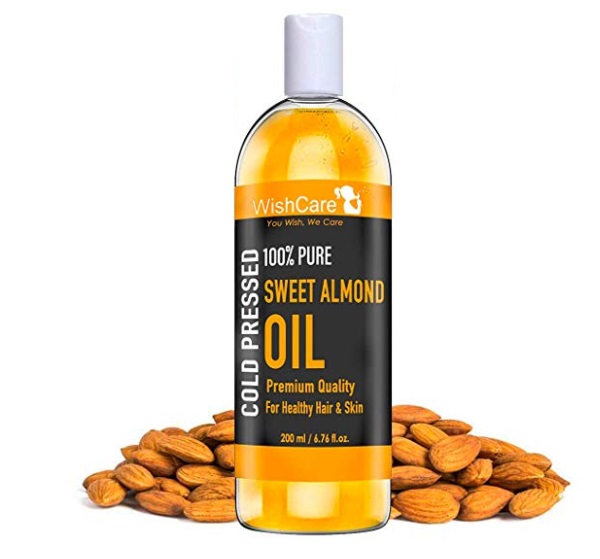 Moksha is a cold pressed almond oil which is also extra virgin almond oil, therefore this is used for skin, hair and body. Massaging with almond oil makes the skin lines fade and smoothen over the time. The premium quality oil is safe for skin uses. For dry face, apply it every night in winters to keep skin soft snd glowing.
4. Morpheme Remedies Cold Pressed Sweet Almond Oil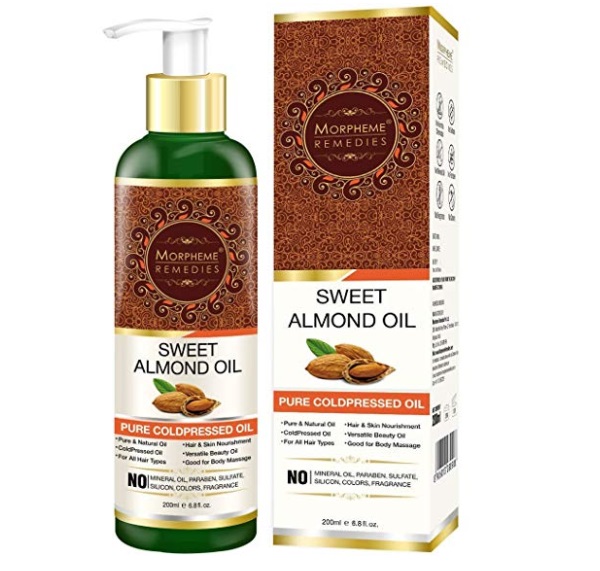 This almond oil is for all skin types and can be used as a skin serum for face for the dry skin types for beautiful skin. Almond oil is also applied on babies for their massage. Apply this on the face and leave for the entire night. It cures the dry patches and dry spots o the face. It is free of mineral oil, sulphates, paraben and harmful chemicals. There are no artificial colors in this product hence, it is suitable for skin and hair care.
5. Indus Valley Cold Pressed Sweet Almond Oil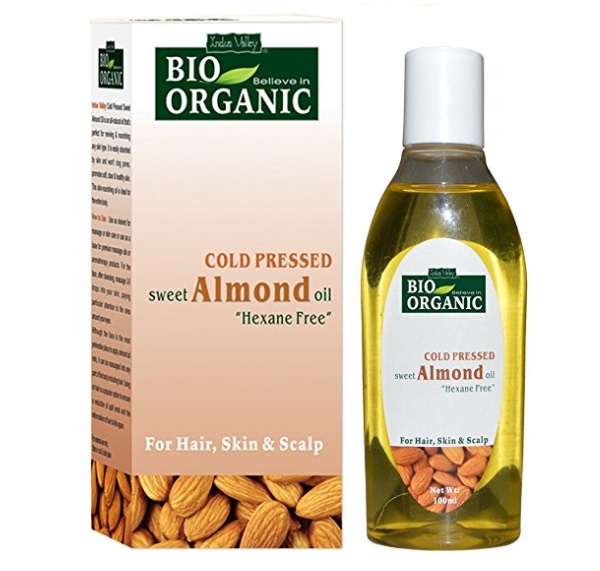 This is a cold pressed almond oil which is free of hexane and other adulterants. It can also be used for the baby massaging.  Everyday application helps to softer and radiant.
Check Price of Indus Valley Cold Pressed Sweet Almond Oil
6. Mitti Se Pure Almond Oil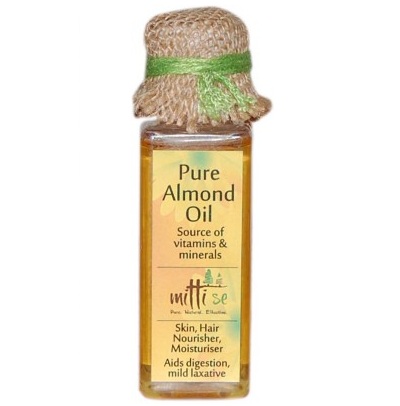 This Mittise almond oil is extracted using a cold-press technique therefore, this is an extra virgin almond oil. This is suitable to be used on the facial skin, body skin and for the hair care. Almond oil is rich in vitamin E, vitamin A, Vitamin B1, B2, B6 which boosts the skin's texture and elasticity. This helps to keep the skin moisturized and younger looking. Price is very affordable.
Get this almond oil brand or check its price.
7. Seagulls Olivon Almond Oil
Seagulls almond oil is a pure almond oil which is available online easily. This is also a pure almond oil that can be even used to get rid of the makeup and to make stronger, thicker hair. Almond oil is used to strengthen the bones, muscles and repair the damaged skin.
8. Hamdard Roghan Badam Shirin Sweet Almond Hair Oil
Hamdard badam oil is one of the most recommend almond oil which is easily available in the shops. This is safe and 100% natural. This is made from the sweet almond and used for skin, hair and for health pursues as well. Hamdard almond oil can also be used to relive the constipation and is also good for heart.
9. Patanjali Badam Hair Oil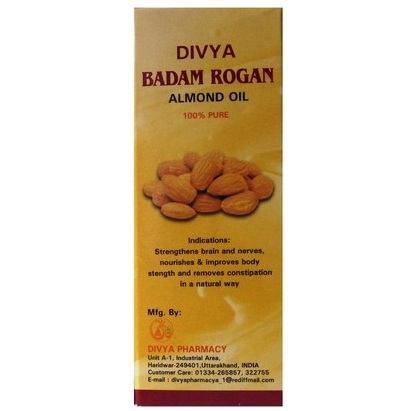 Divya Badam Rogan basically a hair oil which you can used for hair care and body massaging but do not use this oil for facial skin purpose since this is not extra virgin. This is ideal for making the dry hair softer. Daily massaging with oil like this on the body can make the skin glowing and fairer as well.
10. Dabur Badam Tail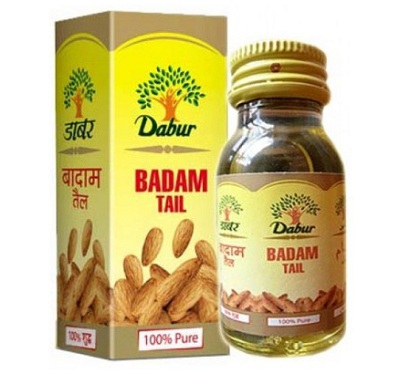 Dabur Badam Oil is a pure almond oil which is beneficial in sharpening brain & strengthening the nerves, besides improving body strength. This is also a mild laxative, which helps in constipation. Almond oil is rich in vitamin E, which makes the skin soft, smoother, radiant and glowing. '
These are the best almond oil brands in India that men and women can try for various purposes like skin care, hair care and other uses. It also aids in the faster growth of your dry brittle.