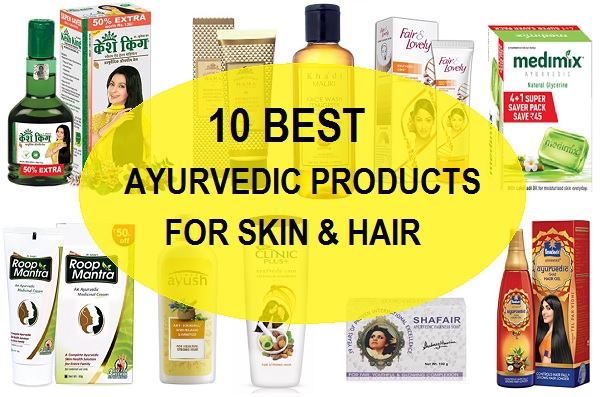 Best Ayurvedic Products for Skin and Hair in Indian Market
India is known as the land of Ayurveda, where there is a solution of every skin and hair related problem using the Ayurvedic ingredients. By this it does not mean that every Ayurvedic elements is hard to get but in you day today life you use several of such products. In this post, we bring this list of the Ayurvedic products in the market. The list includes product which are hair care, skin care and general hygienic like soaps.
While using Ayurvedic products, you not just feel secure and worry-free about the side effects, which are rare when using such herbal products. Products like turmeric, amla, reetha, manjistha, mulethi etc are very few to name, which are used extensively in the Ayurveda inspired products. 
Best Ayurvedic Hair and Skin Care Products in India (2021)
Most of these products are made using the knowledge shared in the ancient texts like Charak  Samhita. So, let's have a look which are these products that can help you get beautiful skin and luscious hair.
1. Clinic Plus Ayurveda Care Triphala Shampoo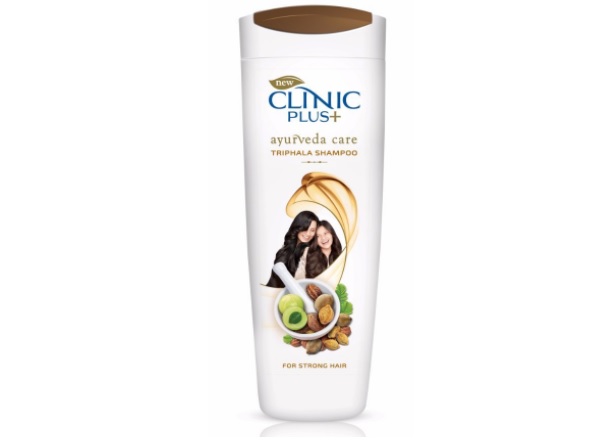 Ayurveda in a shampoo! Sounds really good! Clinic Plus shampoo is made using the authentic Ayurvedic ingredients like Triphala, Bhringraj, Amla, Reetha, Shikakai  and few others. Most of the popular brands are far away from such ingredients and they use sulphates but this shampoo contains the elements that can turn the dull and dry hair into soft smooth strands. The shampoo claims to make the hair 30 times stronger. Price is very affordable hence everyone can try it. By the way, the Ayurvedic shampoo is also mild enough to be used every day.
2. Lever Ayush Anti Hair Fall Bhringaraj Shampoo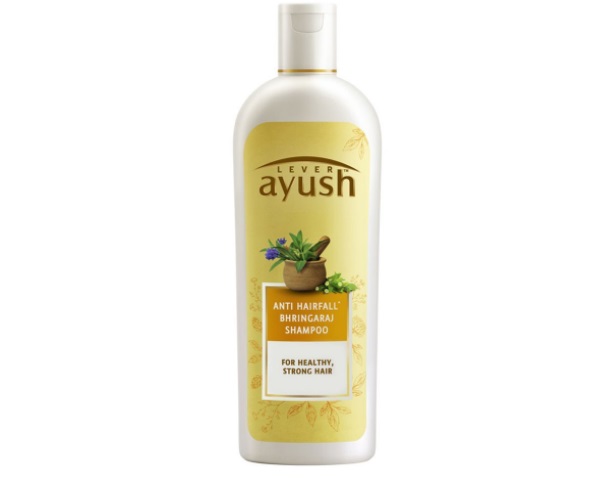 Lever Ayush is a new brand of the Hindustan Lever Company that uses the Ayurvedic knowledge to formulate their products. The Ayurvedic anti-hair fall shampoo is rich in the Bhringraj. You may have noticed that Bhringraj being a hair fall controlling herb, is used a lot in shampoo made to combat hair loss. Presence of the Bhringamalakadi tailam strengthens the hair from the roots which also promotes healthy hair growth.
3. Shahnaz Husain Shafair Ayurvedic Fairness Soap

Shahnaz Husain is a well known personality in the beauty and wellness industry. Here products too are quite promising but to be honest, her products are expensive. The Shahnaz Husain Shafair Ayurvedic Fairness Soap is made using the ingredients that lighten the skin tone and also diminishes the blemishes off the facial skin.
4. Medimix Ayurvedic Glycerine Soap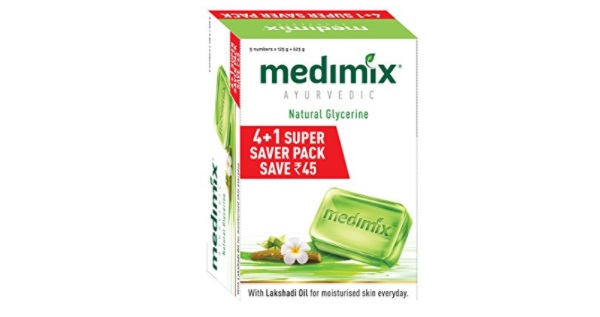 Medimix glycerin moisturizing luxury bathing bar is not just the regular glycerin rich soap but the soap also contains the lakshadi oil to nourish and moisturize the dry dehydrated facial skin. It's just that the soap melts pretty fast hence, make sure you keep it in a dry place so that soap lasts longer.
5. Fair & Lovely Ayurvedic Care Face Cream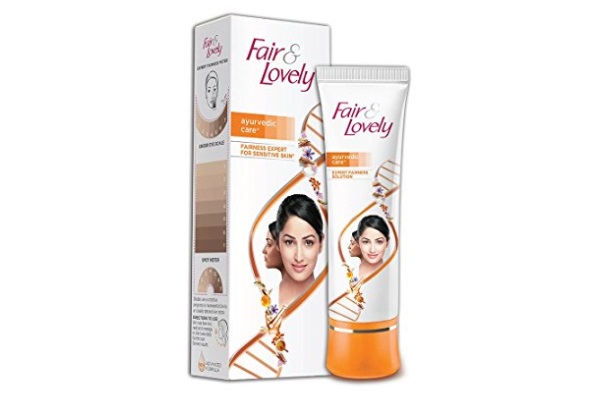 The Ayurvedic Face cream for fairness is suitable for the girls of dark and dusky skin. This is a fairness cream which is ideal for sensitive skin. It is infused with the goodness of KumKumadi Tailam and 16 ingredients. Milk, Bargad and wheat germ oil clears uneven skin tone. Fair & Lovely Ayurvedic cream gives a glow and can be used by the people of all skin types.
6. Parachute Advansed Ayurvedic Gold Hair Oil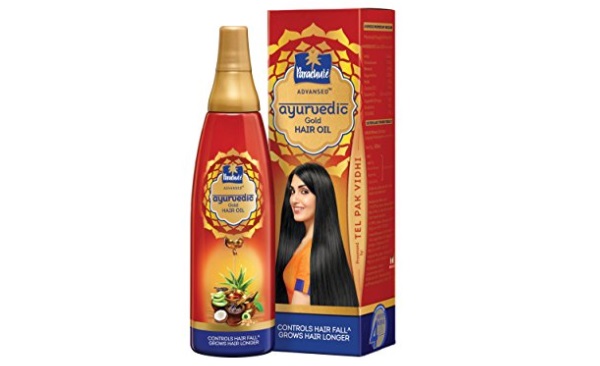 Parachute Advansed Ayurvedic Gold Hair Oil gives a reduction in the hair fall and to promote hair growth. It gives a deep nourishment of coconut oil along with essence of amla, methi, henna, aloe vera, nagarmotha and bhringraj. It controls the hair fall promotes hair growth keep hair healthy, long and thick reduces dandruff prevents dryness of scalp improves blood circulation to follicles prevent premature greying.
7. Roop Mantra Face Cream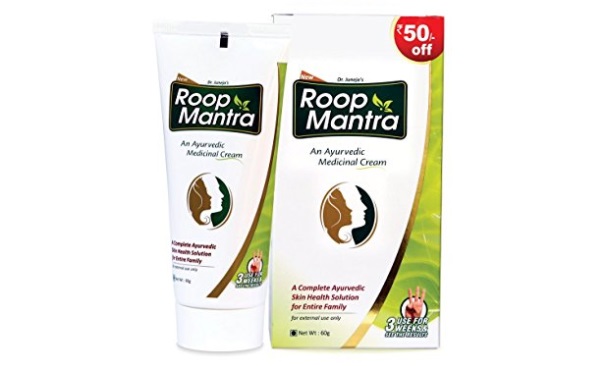 Ayurvedic Skin Cream by Roop Mantra is Ayurvedic face cream with the blend of unique and highly effective herbs. This natural cream aids in giving the fairness and glow to the skin. The cream is suitable for all skin types but when the skin is oily and combination then the sebum shows up after few hours only. The cream is a chemical free product that can be applied for the sensitive skin as well. It ahs 12 natural herbs like as Aloe Vera, Basil, Turmeric, Carrot, Grapes, Lemon, Almonds, Apple, Mulethi, Sandal, Neem and Cucumber.
8. Khadi Mauri Herbal Fenugreek (Methi) Face Wash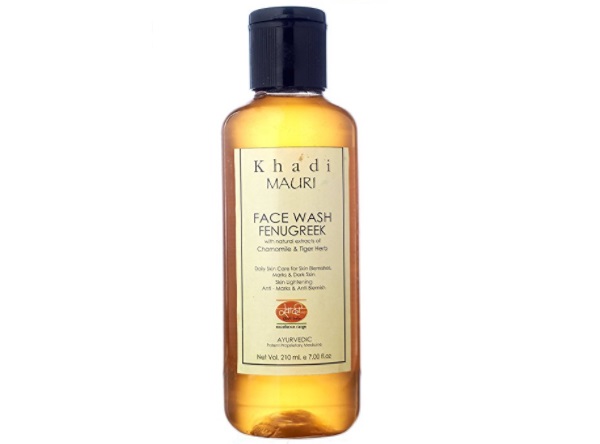 The face wash is a quite unique in itself with the methi or fenugreek seed extracts. You may have known about the Ayurvedic recipes of methi for hair but in skin acre too, this ingredient is quite helpful especially in reducing the hyper-pigmentation and skin darkening. The Ayurvedic skin product is a naturally made product. It gives radiance to the skin.
9. Kesh King Ayurvedic Medicinal Oil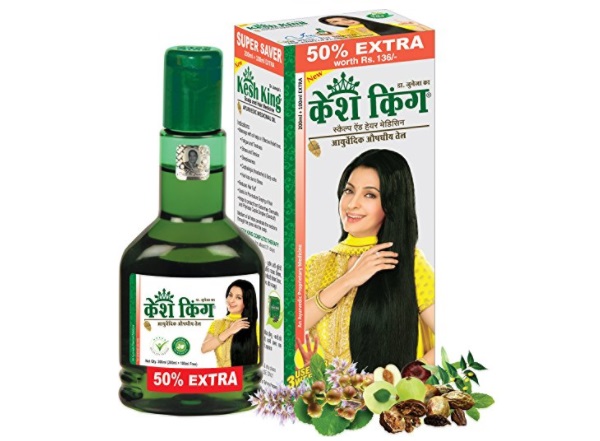 Kesh King Ayurvedic Oil is known to put a stop on the hair loss due to excessive hair fall and receding hair line. While it does that, it also keeps a check on your premature whitening of the hair. This Hair Oil is made using the knowledge shared in the ancient books like Charaka Samhita, Panchkarma and Siddha Medicine. You can apply the oil once or twice in a week to get the benefits of this herbal hair oil.
10. Kama Ayurveda Hydrating Ayurvedic Face Cream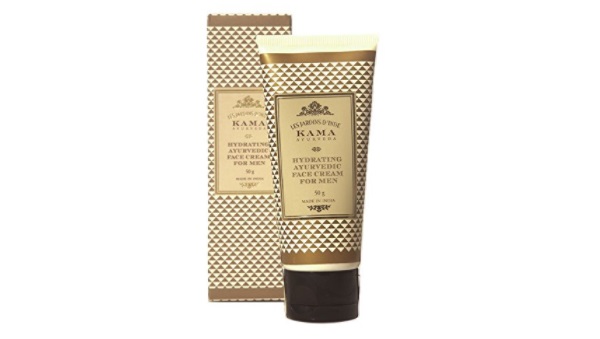 Kama Ayurveda Hydrating Ayurvedic face cream is meant for the people o dry skin and shallow complexion. The cream improves the skin complexion and also aids in making the skin hydrated and supple. This nourishing face cream is made using the blend of natural ingredients and is processed in pure coconut milk and sesame oil as mentioned in the Ashtanga Hridayam Ayurveda text as an ideal treatment for smooth, soft and clear skin. The cream is expensive for a 50g pack.
So, these are the best Ayurvedic products in Indian market that can be tried. Have you used any of these?Herbals preparation and products do take time, therefore you have to be patient. 
Recommended Articles: