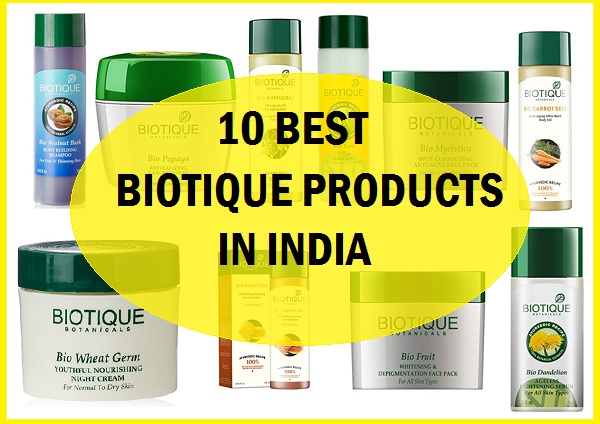 Best Biotique Products for Skin and Hair with Prices and Reviews
Biotique is a well known brand that offers skin care, hair care and some wellness products. There are products for men as well as kids. For any brand while some of the products can be total duds on the other hand certain products can be best-sellers and be a complete worth trying types. So, in today's post at TipsandBeauty Blog, we created this exclusive list that has all the best selling products from Biotique. The list also include products for skin care like face and body while some of them are for hair care related. So, what are we waiting for? Let's check out.
10 Best Biotique products in India
So, here are the top rated products from Biotique. These are for different skin types and for the hair as well.
1. Biotique Walnut Bark Body Building Shampoo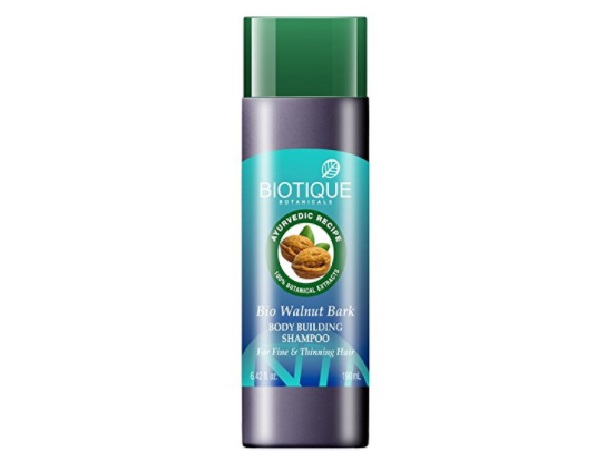 The brand calls this shampoo is a volume building shampoo. It is because the shampoo is made for the oily and thin hair. The extracts of the walnut bark aids in giving that much need volume and bounce to the limpy thin hair. Moreover, when the hair swells and feels like thicker than before than you just before. It is made of the ingredients like pure walnut bark, musk root, amla, soap nut and black malya flowers that give thicker hair and lifted roots. This is an affordable an effective Biotique product or the thin hair.
2. Bio Carrot Seed Anti-Aging After-Bath Body Oil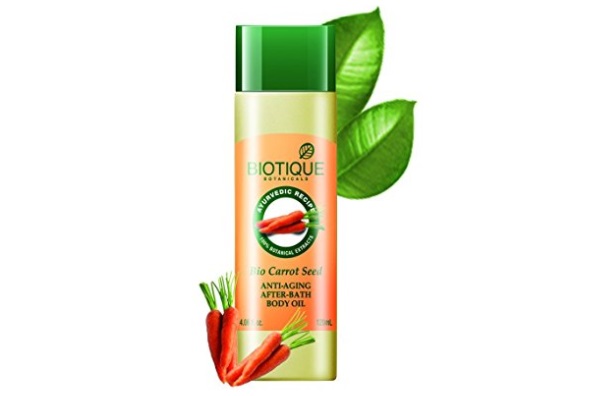 Why would anyone should try an after bath body oil for dry skin? This is simply because when you have dry skin then an after bath body oil can make the skin moisturized and supple. And most importantly, it heals the skin's fine liens and wrinkles. Won't you just love when your skin just shines and looks glowy. Yes, this luxurious after bath oil has the elements like pure carrot seed, almond and ground nut oil, mixed with walnut and Indian butter. This is one of the best Biotique product for dry skin.
3. Biotique Bio Aloe Vera Face & Body Sun Lotion SPF 75+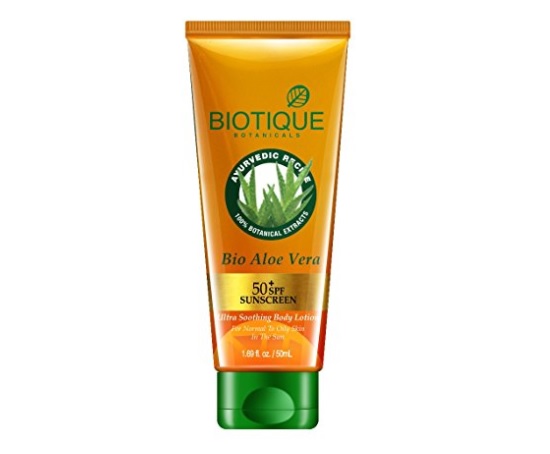 How about SPF 75? Yes, this Biotique sunscreen lotion is suitable product for dry skin and has the SPF 75 power. It has the goodness of the aloe vera gel and neem leaves and hence it can be sued by the combination and acne prone skin too but as the texture is a tad greasy therefore not for the extreme oily face. It is a Natural Ayurvedic Sun Screen.
4. Biotique Wheatgerm Youthful Nourishing Night Cream for Normal to Dry Skin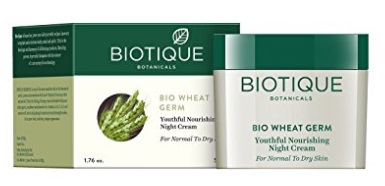 When your skin is dry then definitely you want something that can be healing in nature and also keeps the skin look supple. This night firming cream for dry skin is made with pure wheat germ, sunflower and almond oils, and extracts of carrot and galangal. All such stuff certainly improvise the skin's texture and makes your dry skin look smoother, nourished and younger. One of the best night cream for dry skin.
5. Biotique Bio Papaya Revitalizing Tan-Removal Scrub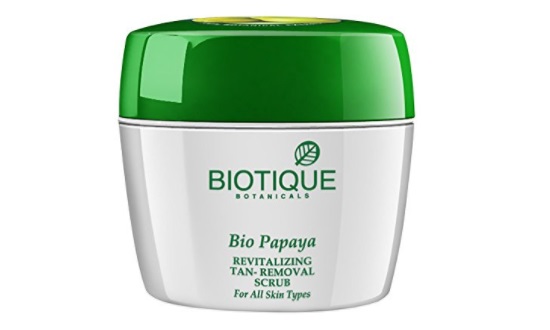 Sun tan is the biggest issue for summers that we Indian experience. Biotique Revitalizing Tan-Removal scrub is made with pure papaya fruits which help to get rid of the uppermost dark skin which is also tanned. Therefore, the papaya enzymes and the exfoliating beads helps to get a clear glowing skin. This show effect right from the first use. You can apply this 3 times in a week to remove the tan faster.
6. Biotique Bio Bhringraj Fresh Growth Therapeutic Oil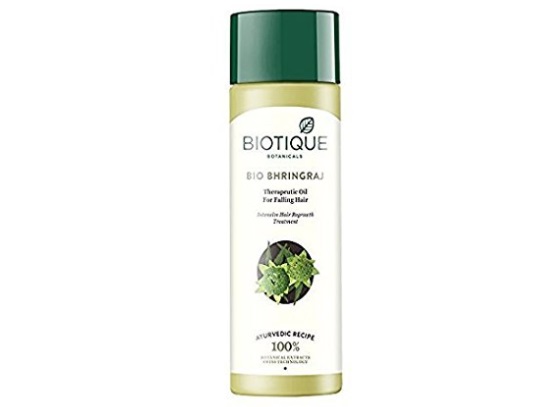 You must have heard that Bhringraj is effective for white hair, falling hair and to initiate the hair growth when one faces bald spots. So, the goodness of the Bhringraj along with Bhrami in this hair oil transforms the hair. It is known to reduce the premature graying of hair, while Brahmi is known to stimulate the hair growth. You need to apply this oil at least 2-3 time sin a week to get good results.
Ingredients: Bhringraj, Amla, Tesu, Mulethi, Brahmi, Cow's Milk, Goat Milk
7.  Biotique Bio Fruit Whitening and Depigmentation Face Pack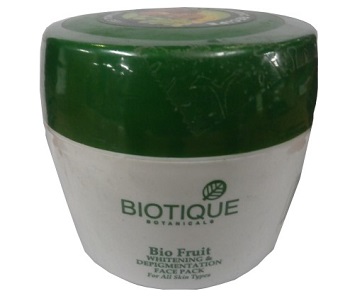 When pigmentation is you major concern then using this Whitening and Depigmentation Face Pack will be good. This Biotique de-pigmentation pack is made using the juices of fruits like pineapple, tomato, lemon and papaya fruit. It can effectively lighten the skin for fair and flawless look. It can be applied every other day to get maximum benefits in lightening the pigmentation on face and also the dark spots and marks.
8. Biotique Bio Dandelion Ageless Lightening Serum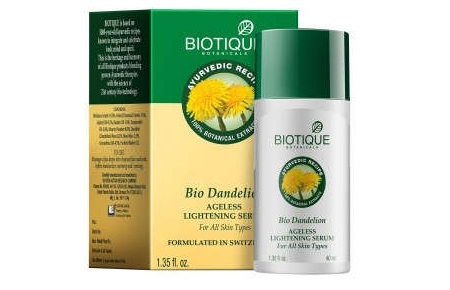 Biotique Bio Dandelion Ageless Lightening Serum has the water like consistency and gets inside the skin layer effortlessly and with gentle massaging. So, while you apply a light serum like this you get skin moisturization without that greasiness. It is an excellent whitening serum for oily skin and the best Biotique product for oily to combination skin. It is one of the best fairness serums in India. 
9. Biotique Bio Honey Gel Refreshing Foaming Face Cleanser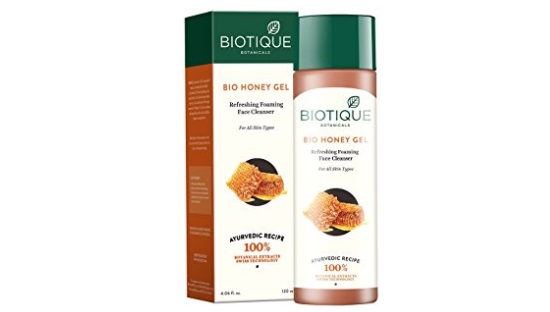 A foaming cleanser is suitable or the all skin types when it has ingredients like honey. Honey is a moisture retainer hence the cleanser does not dry the skin. Biotique foaming cleanser is a 100 percent soap-free gel which has the pure honey and extracts from the bark of the Arjun tree, euphorbia plant and wild turmeric. It gently cleanses the deep seated impurities on the skin layers and brightens the skin complexion.
Ingredients: Arjun (Terminalia arjuna), Chhoti Duddhi (Ephorbia thymofolia), Banhaldi (Curcuma aromatics), Ritha (Sapindus trifoliatus), Honey, Himalayan Water Q.S.
10. Biotique Bio Myristica Spot Correcting Anti-Acne Face Pack For Oily & Acne Prone Skin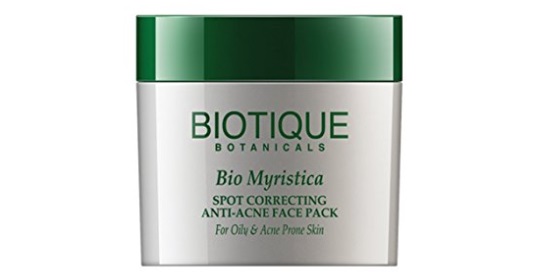 The last Biotique product is not at all the least. This Biotique product is best for the oily to acne prone skin, It is a face pack that is made suing the ingredients like turmeric, Jaiphal which is nutmeg, sandalwood, Fuller's earth etc. It gives the protection from the pimples and makes the skin tone pimple free. It lightens the dark spots and cures pimples.
Ingredients: Jaiphal (Myristica fragrans), Pippli (Piper longum), Haldi (Cumuma longa), Chandan (Santalum album), Geru (Red ochre), Multani mitti (Fuller's earth), Kikkar gaund (Acacia Arabica), Himalayan Water
So, these are the best Biotique products for skin and hair for different skin types like oily, dry and combination skin. Have you sued any of these Biotique products? Which one is your favorite?