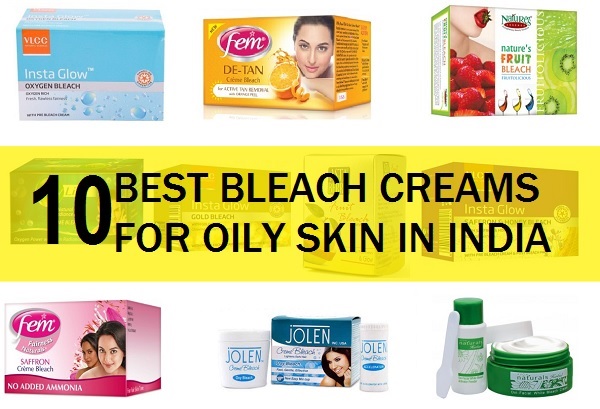 Best Skin Bleach Creams for Oily and Acne prone skin types available in India
Bleach creams are used to lighten the dark unwanted facial hair. By lightening the facial hair, they get matched with the skin tone, hence looks almost invisible. Skin bleaching is age old when lemon, orange juice etc were used to naturally bleach the facial hair color to look fairer. There are so many face bleach cream in India that we can try depending upon the skin type.   
Skin bleaching is also considered good for the oily skin and acne prone or even for the sensitive skin. This is because when your skin is oily, bleaching will unclog the clogged skin pores and removes the dead skin layer. It kills the bacteria that are responsible for acne problems.
Let's see some of the benefits of bleach creams for oily skin and sensitive skin. Herbal bleach creams are generally suitable for most of the skin types.
Why bleaching is good for oily skin 
Bleaching the facial skin regulates the oil balance and helps control the sebum

It gets rid of the uppermost dead dull skin layer

Bleach cream on the facial skin also removes the dullness and dark skin

Gradually, this also purifies the skin and unclogs the facial skin pores on the nose, cheeks etc

Clean facial pores are less prone to acne and pimples

Bleaching loosen up the blackheads and whiteheads o that they can be uprooted easily

The activator powder is rich in hydrogen peroxide which kills the microbes causing the pimples

Face Bleach creams also removes the pigmentation and fades the dark spots

It sloughs off the oily skin layer and it will also brighten the skin

As an added benefit, skin bleach will also de-tans the skin and fades sun tanning on the face and other boy parts.
You can apply face bleach at home also. But there are some precautions and steps that you have to follow. Later in the post we will share how to apply the bleaching cream on your own. But first let's have a look at the best face bleach creams for oily skin that are available in Indian market.
Top 10 Best Bleach Creams for Oily Skin in India (2022)
These bleaching cream kits are not very expensive rather are very cheaply priced and once you get knowledge of this procedure, this process becomes very easy. It will eventually save you some extra money. Here, is the list of best face bleaching creams suitable for oily skin, combination skin and also for acne prone skin in Indian market.
1. VLCC Insta Glow Gold Bleach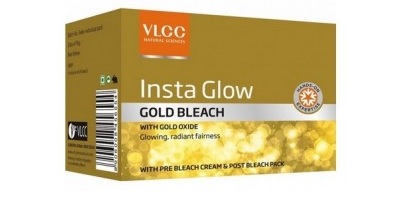 VLCC is one of the best brand that makes amazing facial kits and bleach creams. You must have seen salon people using VLCC products. This VLCC gold bleach cream bleaches the dark thick facial hair to match with the skin complexion. It will make the skin look fairer as well. Gold is an ideal product which helps to purify the oily skin and it also deep cleans the clogged oily skin.
Pros
Works in the three step function

Makes the skin look radiating and glowing

Has pre bleach gel and post bleach cream for better experience

Pre bleach gel is suitable for acne prone skin

Good availability

Gets rid of the uneven skin tone
Cons
Best Gold Bleach cream brands in India
2. OxyLife Natural Radiance 5 Creme Bleach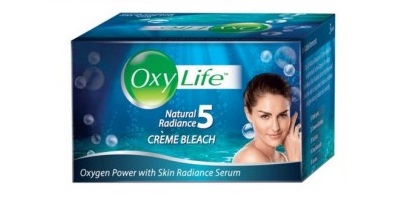 OxyLife Natural Radiance 5 Creme Bleach is enriched with active oxygen and a suitable post bleach serum which helps to impart glow. The post bleach serum also enhances the efficiency of the bleach cream. The oxy rich bleach is perfect for the oily skin and skin which is prone to acne and pimples.
Pros
Eliminates the dark spots and uneven skin tone

Lightens the facial skin hair

Radiance serum helps to get the glow

Helps to attain even skin tone

Remove sun tan

Brightens the dull skin

Slough off the dead skin cells

Suitable for sensitive skin
Cons
Best Diamond Bleach Creams in India
3. VLCC Insta Glow Oxygen Bleach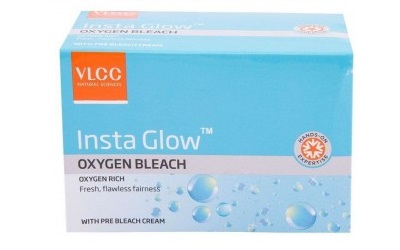 VLCC Insta Glow Oxy Bleach is a natural bleach which makes skin look fairer, glowy, radiant and healthy within 10-15 minutes. It has the nascent oxygen that gets released while the bleach works to lighten the facial hair. While the oxygen makes the skin facial hair light, it also unclogs the clogged pores. It also comes with a pre-bleach cream which conditions the skin and also protects the sensitive skin from getting irritated and red. Oxy bleach creams have proven to be advantageous for oily skin, dull skin which lacks radiance and also for the sensitive skin in summers.
Pros
Mild bleach cream

Nascent oxygen which works gently and efficiently

Floral scent

Suitable for sensitive skin

Works well for dull and lifeless skin

Ideal for oily skin

Easily available
Cons
4. Fem De-Tan Creme Bleach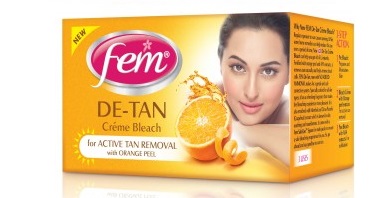 Sun exposure makes the skin tanned and dull. With the harmful sun rays the skin gets dark looking hence when we use skin bleach cream. Application of bleach aids in making the skin looks fairer and brighter. It's a tan removal bleach cream. Moreover, it is enriched with the orange peel extracts. Orange peel is wonderful for the oily skin and acne prone facial skin which struggles with constant break outs. Orange peel will help to regulate the oil production and clarifies the skin pores. It is a good bleach cream not just for the oily skin but also for the skin whitening purpose.
Pros
Has orange peel extracts

Ammonia-free Cream Bleach

Gentle for all skin types

Enriched with Menthol and Grape Fruit extracts

Removes sun tan

Very easily available

Brightens the skin tone
Cons
Nature's Essence Tan Removal Bleach Cream
5. Nature's Essence Fruit Fun Fairness Bleach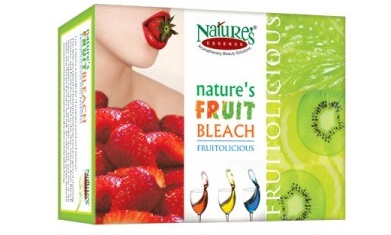 Nature's Essence fruit bleach cream has the natural blend of the fruits that lightens the skin tone. Moreover, the bleach itself makes skin facial hair lighter. The unwanted facial hair is matched with the skin's natural complexion, therefore skin looks brighter and a couple of shades white.
Pros
Power of the fruits and natural botanicals

Has strawberry and Kiwi that also lightens the skin

Good for oil regulation

Suitable for sensitive skin

Appropriate for oily combination skin
Cons
10 Best Skin Lightening Creams in India
6. Avon Naturals Herbal Bleach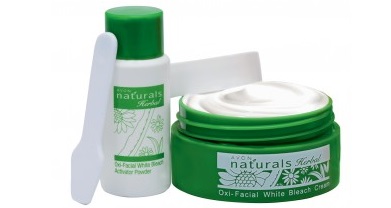 Avon Naturals Herbal Bleach is perfect for all skin types and is infused with herbal ingredients. Its oxy rich formula bleaches the excess dark thick hair within 7 minutes. It works gently and works for sensitive skin.
Pros
Works in just 7 minutes to lighten the hair

Infused with herbal ingredients

Lightens excess dark hair

Soothes and calms skin

Beneficial and safe for sensitive skin

Has Aloe Vera

Chamomile to sooth the skin

Jojoba oil and sunflower oil to moisturize and nourish the skin
Cons
7. Astaberry Fruit Mild Bleach Cream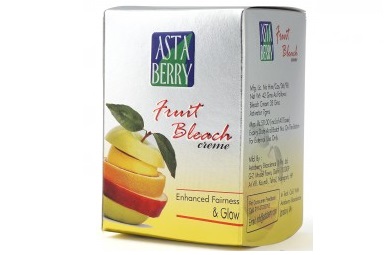 Astaberry Fruit Bleach Cream has the freshness of fruits which bleaches the skin and gives fairness to the skin. It helps in the lightening the unwanted facial hair. The Fruit Bleach Cream for oily face has the fruit ingredients. Astaberry bleach cream is made from Natural Ayurvedic ingredients. It is hypo-allergenic than chemical-based options. Fruit Bleach Creams has the freshness of fruits and fairness properties of bleach.
Pros
Have fruits in them

Good for sensitive skin

Suitable for all skin types

Lightens the facial skin hair

Mild skin bleach cream
Cons
Best Fruit Bleach Creams in India
8. Fem Fairness Naturals Saffron Cream Bleach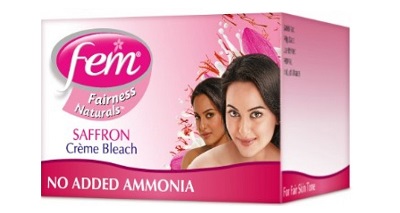 This Fem Fairness Naturals Saffron Cream bleach has no added Ammonia. This has vitamin E for the skin nourishment and rejuvenating fragrance. It will nourish the oily skin and regulates the facial skin. It will get rid of those stubborn blackheads that teenagers and adults face.
Pros
Has saffron for skin lightening

Has no Added ammonia

Good for all skin types
Cons
9. Jolen Oxy Creme Bleach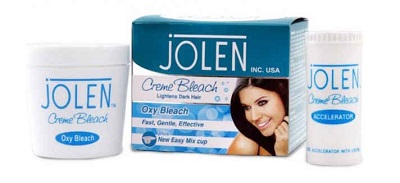 Jolen Oxy Crème Bleach is formula that infuses active oxygen in to the skin. This unique formula helps to get rid of the dullness, sun tan and dead skin cells. It will fade the hyper pigmentation to give the flawless fair skin. This bleach is suitable for all skin types including oily, sensitive, problem prone skin type. It comes with a pre-activator cream that helps to cleanse the skin and open the pores from the skin. This bleach for oily skin also prevents the rashes on the skin. Oxy Sphere Technology ensures the pure oxygen molecules which gives long lasting glow and skin lightening.
Pros
Comes with Pre activator bleach cream which cleanses the skin pores.

Oxy Sphere Technology

Good for sensitive skin

Suitable for oily skin

Gives great bleaching experience

Easy availability
Cons
10. VLCC Insta Glow Saffron & Honey Bleach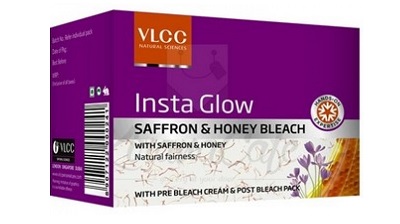 It is a great bleach cream with honey and it is has the bleach. This rejuvenates the facial hair by lightening the facial skin hair. It deeply cleanses the skin and also matches the skin tone. It is enriched with herbal extracts of Honey and Saffron that acts as vital nutrients for the skin and gives it topical nutrition.
Pros
Comes with pre and post bleach cream

Evens the skin out

Reduces the skin pigmentation

Fades dark spots

Honey moisturizes the skin

Saffron makes the skin softer
Cons
Best VLCC Bleach Creams in India
How to Use Face Bleach Creams?
First of all, you have to choose the suitable cream bleach. When you have chosen the proper bleach for your oily face then it's time to know how to use them safely at home.
Take around 2 scoop of the bleach cream and mix 2 pinches of activator.

Mix that well by either clean finger or with a spatula provided in the bleaching kit.

There will be Pre-bleach and post-bleach cream as well. But they are optional. So, if you have pre-bleach cream, apply that beforehand and wait for few minutes.

Now, you can apply the cream mixture on the face evenly. For the application too, your finger or the spatula will work well.

Leave this for 15 minutes when your skin color is light and for only 10 minutes if the color is dark and dusky.

Wipe off the bleach cream and then wash the face

Do not use soap or cleanser for at least 5-6 hours

Do not go in the sun for 7-8 hours as that can make the skin red and rashes can come up if your skin is sensitive.
So, this is how you apply bleaching cream and these were the best bleach creams for oily skin. Which is your favorite? Have you used any of these?
There are various formulations like gold, Pearl, diamond, fruit bleach etc. Popular brands like VLCC, Oxylife, Astaberry etc have bleaching creams of all the variants. These days oxy-bleach creams are also very popular which infuses the oxygen in the skin layers.
Recommended Articles: