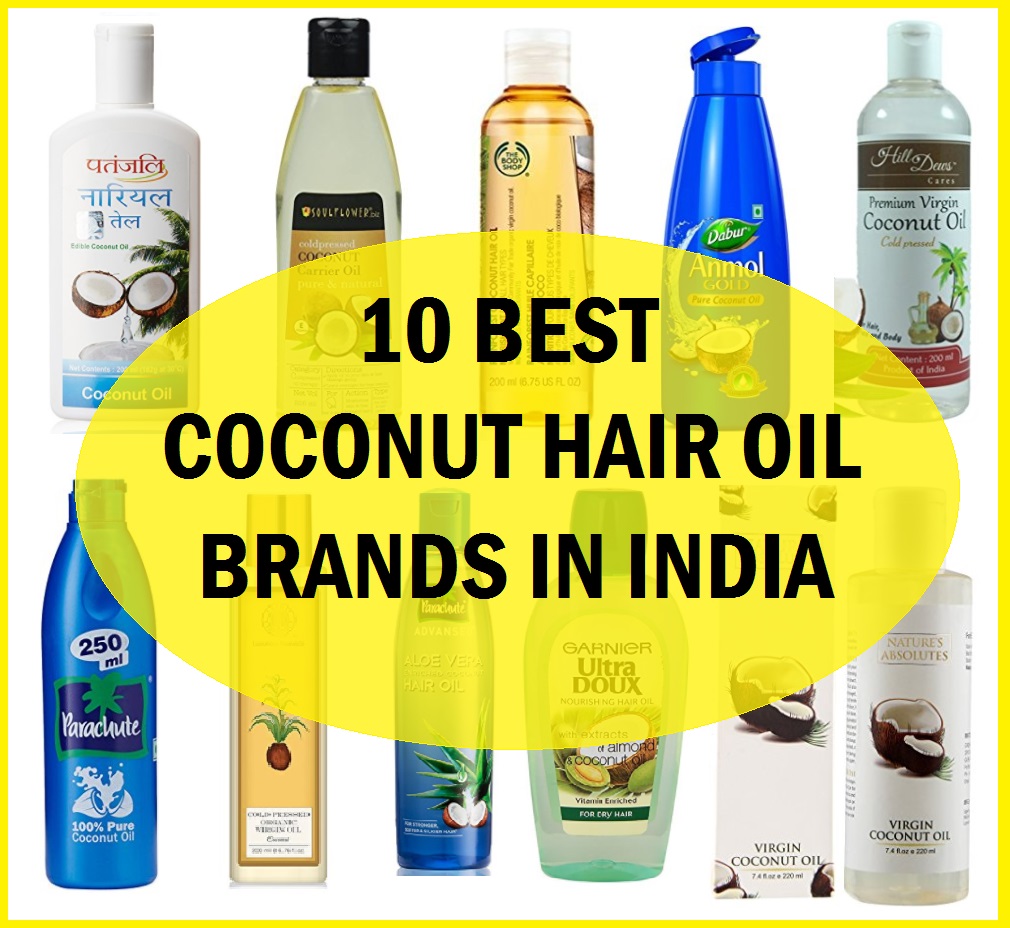 10 Best Coconut Hair Oils in India for Hair Growth and Long Hair. Coconut oils are considered highly beneficial for the scalp, hair and skin. The coconut oil is also rich in vitamins, proteins and minerals which give extra nourishment. Moreover, the oil is rich in the Vitamin E that is known to impart deeper nourishment to your dry and damaged hair. This magical hair oil is just wonderful to cure the dryness of the locks and to replenish the lost moisture to the sun damage cuticle. 
Benefits of Coconut Hair Oils:
Coconut oils nourish the dry itchy scalp and hair so that they hair can glorify in the strength and shine.

It strengthens the hair roots so that they get stronger and do not fall.

Night massaging with coconut oil also provides extreme nourishment and smoothness which helps to cure the dryness and split ends.

Damage caused by heat and UV rays is also treated extremely well by coconut oil application regularly.
10 Best Coconut Hair Oils Available in India for Hair Growth 
In this, we have shared this list of the best coconut hair oils in India that are available at different prices. So, you can try these as per your choice. Like if you are willing to try from a high end brand like Forest Essentials or The Body Shop then why not, Other than that inexpensive or cheap coconut hair oils are available in Patanjali, Dabur etc.
1. The Body Shop Rainforest Coconut Hair Oil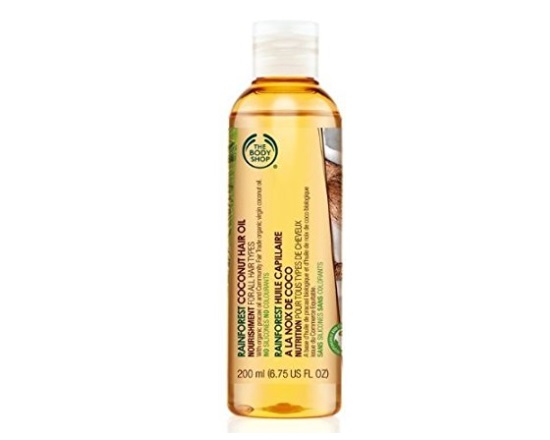 The Body Shop Rainforest Coconut Hair Oil is luxuriously silky oil that claims to melt effortlessly on to the hair's cuticle and makes super manageable. It can be used to massage the scalp and hair at night and get smooth hair the next day when you wash your hair. It says that the coconut oil is not just the regular oil but it is also silicone free, colorant free and paraben free. Now, won't be interested in products which are paraben free!!
2. Parachute Coconut Hair Oil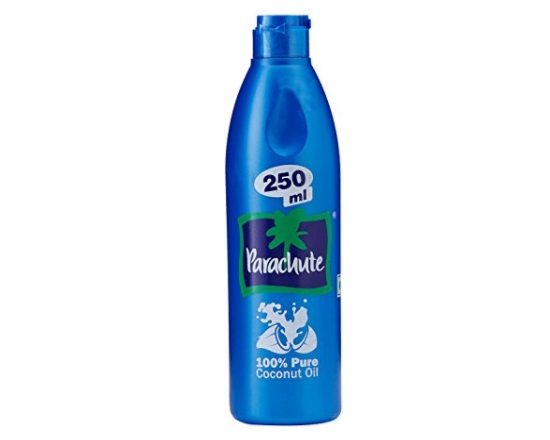 Parachute is a very old brand that makes this pure coconut oil. I still remember that when we used to apply this hair oil, it used to get hardened in winters, so my grandmother used to put the tin container in the sunlight to get it melt. Now the packaging has changed and the oil comes in a plastic container which are easy to use. It is very pure and it is good for the hair massage and regular daily application. A premium quality 100% pure edible oil made from the finest coconuts.
Emami 7 Oils in 1 Damage Control Hair oil  Review
3. Patanjali Coconut Oil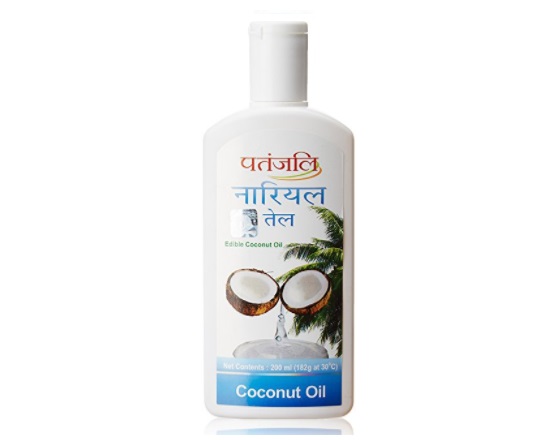 Patanjali is my favorite coconut oil. I use this to give a head massage to myself at night with this hair oil. This can be mixed with any other oil like the castor oil, jojoba oil, almond oil or even the olive oil. This deeply invigorates the scalp and gives a nice smooth hair. I like the oil's pure smell and it is 100% pure natural coconut oil. The pack of 200 ml is only for 65 rupees, hence, this is also very cost effective. One can also try this to massage the body and trust me during winters when you massage with this coconut oil and then take a bath, it makes skin extremely smooth. It is by far one of the best Patanjali hair care products in India. 
Best Patanjali Hair Oils in India
4. Dabur Anmol Gold Pure Coconut Oil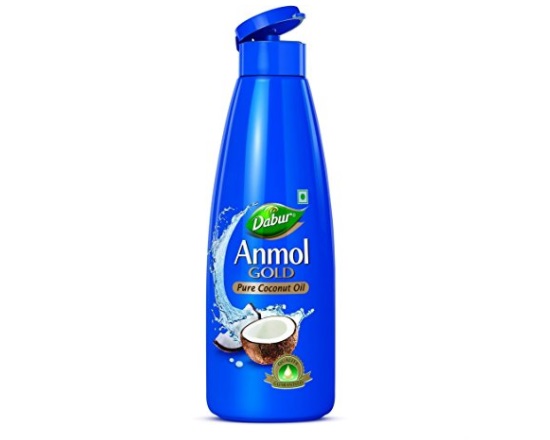 Dabur is also a very old brand. This is a pure coconut oil which is also extracted from the pure technique. This is rich in the goodness of coconut oil extracts and vitamin E. Regular application of the oil can minimize the graying of hair and also the hair fall and thinning of the hair line.
5. Parachute Advansed Aloe Vera Enriched Coconut Hair Oil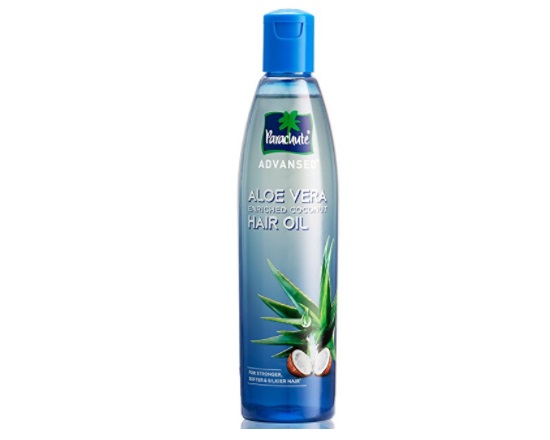 Parachute also makes this advanced hair oil which is made with the combination of pure coconut oil and aloe vera so when you try an oil like this, your can get the benefits of both coconut oil and aloe vera. I have used this and it was light. Coconut oils in general are sticky in nature and are also heavy therefore, night time application with such oils are better. But this aloe vera and coconut oil combination is light weight and suitable for everyone. Men too can use this oil. Aloe vera boosts the length of the hair and also promotes the blood circulation.
Dhathri Herbals Hair Oils in India
6. HillDews Virgin Coconut Oil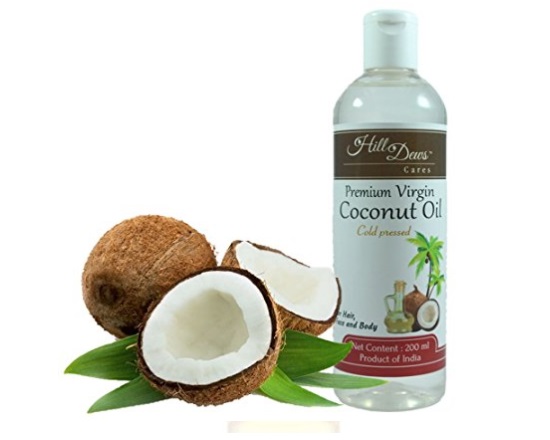 HillDews Virgin Coconut Oil is made from the cold pressed technique and it ensures the purity of the oil. The oil may be a bit expensive that the regular brands like Patanjali, Dabur etc but it is free of anything bad. Hence, if some of you have dry skin and would like to try the pure coconut oil on their face or skin then they can try it. It claims that it is extracted from the fresh coconut meat that is grated and pressed using hydraulic press to extract the fresh coconut milk. Then milk is then filtered and subjected to high speed centrifuge which eventually separates the coconut oil from the coconut milk.
7. Soulflower Coconut Carrier oil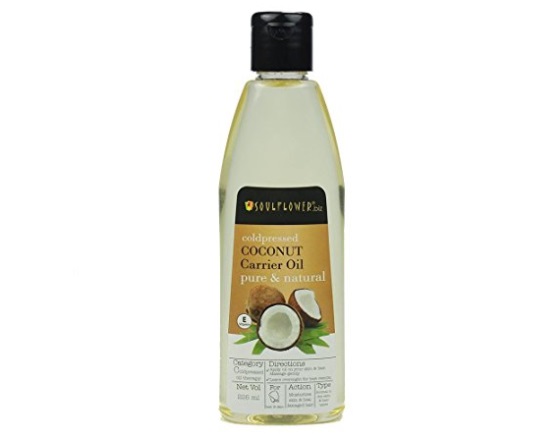 Soulflower coconut carrier oil is made for the body and hair. It helps to moisturize the scalp, hair and the skin. It also acts as a very good massage hair oil, The price is 300 rupees for a 225 ml pack which is again a bit higher but when the oils are 100% natural then you can try them, but if you are just using the coconut oil for or the hair and scalp then brands like Patanjali, parachute etc will also work. Ingredients: Soulflower cold pressed coconut pure natural carrier oil extracted from the kernel of mature coconuts.
8. Nature's Absolutes Virgin Coconut Hair Oil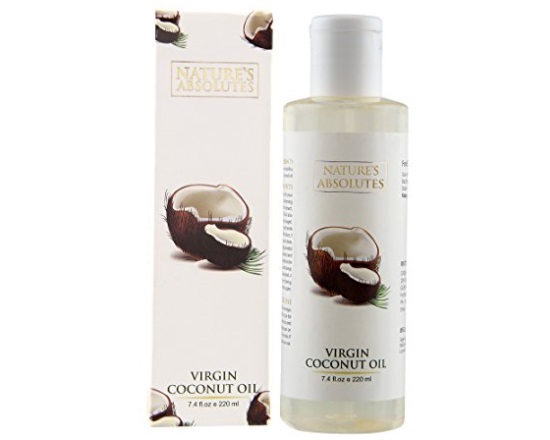 Nature's extra virgin coconut oil is made with organic coconut. The cold pressed coconut oil can help to get you thicker hair. This can condition the hair and also makes them thicker and fuller. When you massage with coconut oil then the hair gets thick in volume. It is a light, non-sticky oil that nourishes your head and scalp. It strengthens hair strands to make them vibrant, healthy and lustrous. This oil also helps improves the quality of damaged, lifeless hair.
9. Forest Essentials Organic Cold Pressed Coconut Virgin Oil
Forest Essentials Organic Cold Pressed Coconut Virgin Oil is extracted by crushing dried coconuts by the cold pressed method. The oil is pure cold pressed oil which is light weight and has a delicate flavor. This can be certainly used post-shower or pre-shower for massaging or for the scalp nourishment as well. Coconut oil is slightly heavy and a lot greaser hence you should wash your hair with herbal shampoos so that the effects last longer.
10. Rey's Natural Virgin Coconut Hair Oil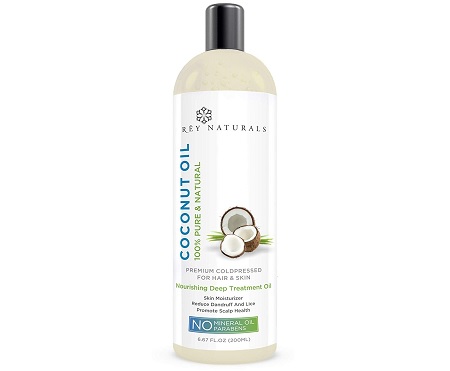 It's a natural coconut hair oil is rich in the extra virgin coconut oil. So, this It's a pure oil that infuses the hair with vitality and strength. You can definitely try this coconut hair oil stronger hair and itching free scalp.
These are the best coconut oils in India which you can try according to your preference friends. You can also improvise the hair health by knowing about the best onion remedies for hair growth.