Best Eye Shadow Palettes and Kits in India
Eye shadow are an integral part of the eye makeup. Eyes look more dramatic and beautiful when eye colors are applied. Are you looking for a decent, affordable and high quality eye shadow palette? then this post is for you. Eye shadows are available in singles, doubles and multiples which are called as palettes. It is always better to invest in a palette as they are economical and you get most of the colors of your choice in a single place. Get mono eye shadows when you really need a particular color. Else palettes and quads are good. Here we have compiled a list of best eye shadow kits and palettes in the Indian market.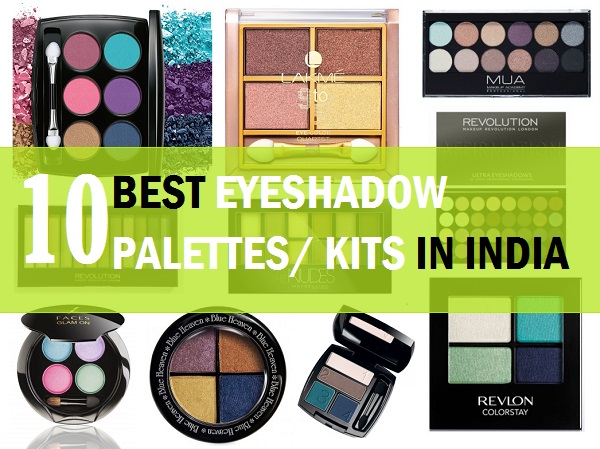 How to apply Eye Shadow for long lasting wear?
Applying eye shadow is not difficult if you follow certain tricks and rules that helps to make the eye shadow in place the entire day. Moreover, eye makeup looks great. 
Step 1: Always use an eye primer before using eye shadow, it will help to increase the lasting power of the eye makeup.
Step 2: It is better to apply a little bit of foundation, concealer etc over the lids to even them out and hide the pigmentation like redness, darkness, bluish-ness etc.
Step 3: Apply the base eye shadow color using a  flat applicator brush and pressing the color on to the lids. If using shimmery color or loose pigments, it will be good if you apply some loose powder underneath the eyes, So, that once the makeup is complete you can just dust off the fall outs.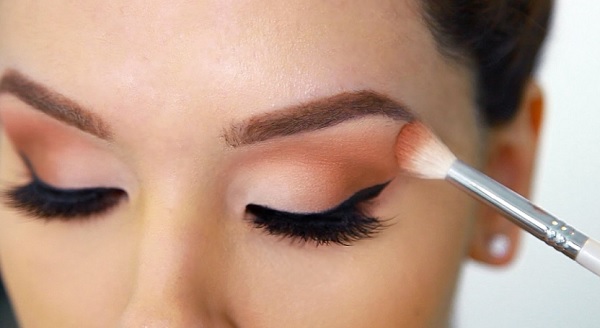 Step 4: To blend the eye shadows use fluffy blending brushes which makes the process easier. Like when we are working with 2-3 eye shadows in the eye makeup look.
Top 10 Best Eye Shadow Palettes and Eye Color Kits in India 
1. Lakme 9 To 5 Eye Quartet Eyeshadow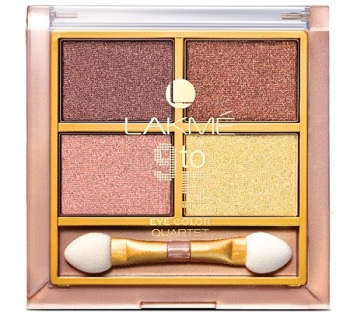 Lakme 9 to 5 eye shadow quart is one of the best we would say. There are three different shades that you can choose from like the One in Desert Rose, Tanjore rush and Smokey Glam. The price just 500 rupees and for that you get satiny, silky and easy to blend colors. The shades are shimmery hence, is good for night time.
We would like to place this on the top spot but if you like matte shades then do try some other matte eye shadow kit. This is affordable and inexpensive for beginners in makeup too. The colors are also good for bridal wear and for Indian wedding ceremonies. The shades in Desert Rose quad are good eyecolors for Indian skin tones.
2. Maybelline New York The Nvdes Eye shadow Palette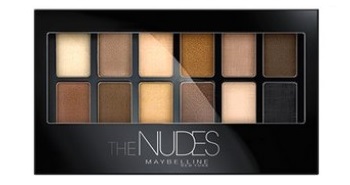 This eye shadow palette from Maybelline is their first 12-shade eye shadow palette that has shimmery satiny colors to enhance the eyes. The neutral shades are lovely and girls with fair to dusky skin will love it. There are gold, light copper, browns, sultry sandy colors and taupy colors in this eye palette. The price is 899 rupees and for so many shades the price can be justified. Before applying the shimmery shades. The texture is super blend-able and staying span is also good but we will still advice you to use some eye primer.
Fall outs can be a problems so try putting some loose powder underneath the eyes. So, that you can then dust away the fall outs. The powder texture is perfect and the neutral shades are universally flattering for all skin types. The palette also comes with a dual-tip applicator though the brushes works well.
3. Lakme Absolute Illuminating Eye Shadow Palette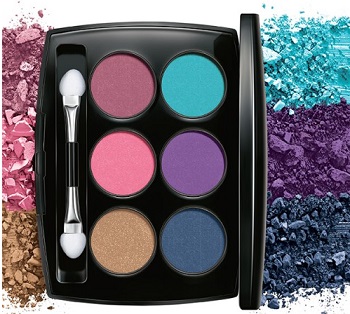 Another good and inexpensive eye palette for makeup lover by Lakme. This palette has 6 colors and comes with an applicator and a full sized mirror. These kits are designed in 3 different shades like, Gold, Silver and Royal Persia. The colors are light weight and pigmented. Though the shades are not matte, but they are shimmery, some like gold, browns are very shimmery while some can be low on the shimmer factor.
We liked that Lakme has created this palette keeping in mind the beautiful Indian complexion like medium to dusky skin tones. These shades are the ones that suit Indian skin. This palette is for 995 rupees though you can get this for discount on some online sites.
4. Avon True Color Eyeshadow Quad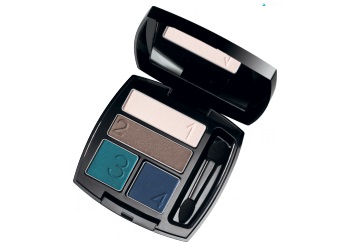 This Avon palette looks really nice and luxurious. The packaging is sturdy and good. There are 4 colors inside. It is launched in 5 different variants like Metal Eyes, Glow teal, Emerald Cut, Vibrant Spice and Purple Pop.
The formula is gliding and quick to get bended but these too are shimmery eye shadow palettes so, be careful if you are in need of matte eye shadow. They are not matte. Avon True Color Eye shadow Quad is priced at 799 rupees.
5. MUA Eye Shadow Palette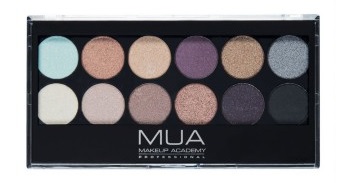 MUA eye shadow kits and palettes are very popular. In India even though the availability is an issues but these eye shadow palettes are still in huge demands. The palettes are launched in some 12-15 shades out of which some are matte, neutral, shimmery, pop of colored ones and some are subtle everyday wear colors. So, if you are a makeup love then MUA eye kits should be in your vanity.
6. Makeup Revolution 32 Eyeshadow Palette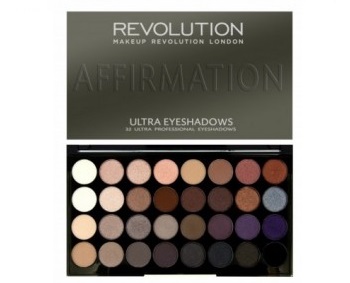 This palette has 32 colors so people who are high on eye makeup and wants their eye colors to be from a single kit, then try a kit like this. This palette is for 1500 rupees though the price may vary from different online shopping portals. There are 4 different variants like one would have cool colors, while other would have neutral earthy tones etc
7. Makeup Revolution Redemption Palette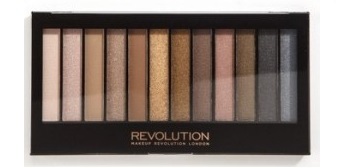 This too is a good eye makeup palette from the Makeup Revolution. This is for 800 rupees and has 12 colors. The kit is available in 14 different shades like bright colors, neutrals, earthy, everyday shades etc.
The shades are a mix of pearly, matte and shimmery texture. You should check this out properly before buying this kit. We like the earthy set of colors from this palette.
8. Faces Glam On Eye Shadow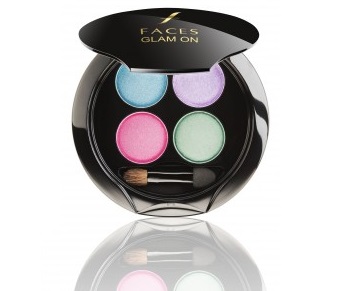 Faces glam on eye shadows are available in 4 shades and each kit has 4 colors in it. The shades available are in Fascinate, Smokey, captivate and Mesmerize. The packaging is beautiful and is quite sturdy. We liked the satiny and very soft texture of the colors of these eye shadows.
The formula is also quite long wearing which is a plus point. This kit is for 599 rupees which is very affordable for beginners as well. Another good thing is that this too can be kept easily in your bag.
9. Revlon Colorstay 16 Hour Eye Shadow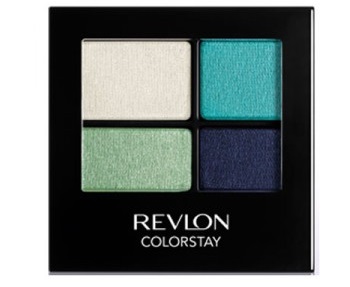 Revlon Colorstay eye shadows are also a good option, if you are looking for a decent everyday use eye palette in India. These kits are priced at 700 rupees. The colors in this palette are very silky smooth, and light on the eyes. There are some eye shadow colors that feel quite heavy on the lids but these eye shades just perfect for everyday usage.
They are crease and fade resistant but we will still advise not to go by the company claims rather use eye primers. These are available in 16 beautiful quads and are also ophthalmologist tested and safe for contact lenses users.
10. Blue Heaven 4×1 Eye Magic Eye Shadow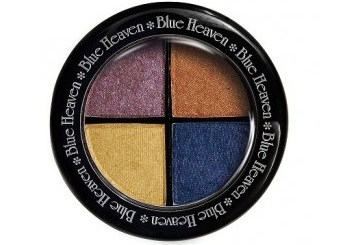 We are including this in the list since this is a very inexpensive and cheap eye shadow palette in India. The quality is not bad and it can be used every day. We liked the gold and silver shadow that can also be used for highlighting the brow bones. The colors are okay and the pigmentation is also good. For 125 rupees, the 4 colors are just too good. For the price, this is a decent eye palette.