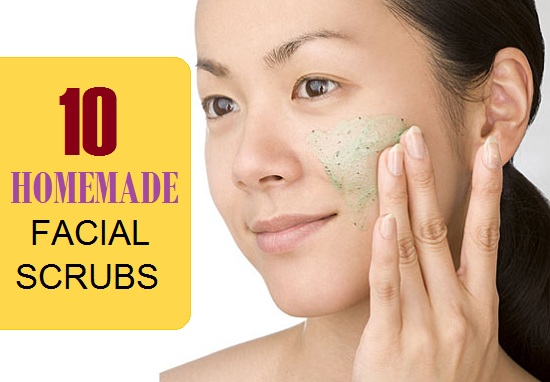 Homemade Facial Scrubs         
Facial scrubbing is one type of exfoliation which is very easy and can be done at home with some efficient kitchen products. Exfoliation is extremely important for healthy and glowing skin. Facial scrubbing helps to keep the face free of dirt, grime, dead skin and oils. Facial scrubs are used for facial scrubbing which also are beneficial in keeping the skin pores clean, fading the lines gradually and to help maintain the skin's smooth texture in natural manner. A good facial scrub can be bought from the market or can be prepared at home as well which will not cost anything rather these are all natural product. Therefore, no harm in trying them on your face. So, if you are thinking how to make facial scrubs at home then we will share homemade facial scrubs recipes that will benefit the skin in multiple ways. These natural facial scrubs are excellent for oily skin as they keeps the pores clean hence skin problems like whiteheads, blackhead etc will be minimized while for dry skin, these face scrubs will add glow.
Here are the methods to prepare these homemade facial scrubs.
10 Easy and Effective Homemade Facial Scrubs
1. Sugar, honey and lemon facial scrub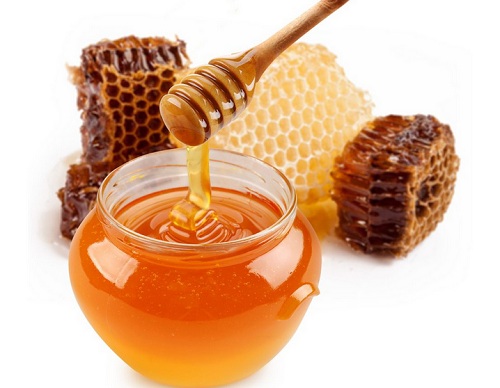 This facial scrub recipe is very easy to do and is very effective. Mix 2 teaspoonful of sugar with one teaspoonful of honey and one teaspoonful of lemon juice. Mix them and use it to scrub the face. It will mildly exfoliate the face and it removes the dead skin, oils etc. This scrubber is for all skin types. Lemon juice will make skin fairer and improves the skin tone.
Also Read: Face scrubs to remove the tanning
2. Rice flour facial scrub
This is yet another easy DIY facial scrub recipe that can b tried by every skin type except for sensitive skin. Mix one teaspoonful of rice flour and one teaspoonful of honey. Use this to gently scrub the face in upward circular motion. This motion also boosts up the circulation of blood in the face. Was this facial scrub after 2-3 minutes. It removes the dead skin from the clogged pores and decloggs them. This is one of the best facial scrubs for oily acne prone skin.
3. Tomato and Sugar facial scrub for tan



Now this one is my favorite as this scrub is not a facial scrub but a body polishing scrub as well. Take one tomato and cut it in half. Squeeze the juice and in that juice add some sugar. Now use this scrub to exfoliate the face. This face scrub is for all skin types and quite effective for skin lightening as well.
4. Baking Soda and water facial scrub for blackheads



Have you been thinking of trying an everyday gentle scrub for your oily skin or the skin with lots of blackheads? This facial scrub is appropriate to be used daily to get rid of the blackheads on the face which are formed due to pores blockage. Make a paste of some baking soda with water and use this facial scrub on the areas with blackheads. Just 30- 45 seconds massaging is enough since you'll be doing that everyday.
5. Coffee facial scrub for sensitive skin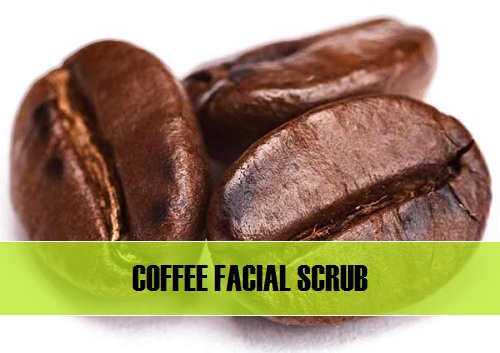 This is a very easy and gentle homemade facial scrub for sensitive skin. Mix coffee with some water to make paste. Half a teaspoonful of coffee would be sufficient for one usage. Apply the scrub on the face with light pressure and circular motions. Scrub for 2 minutes then wash the face with cold water. Men can too try this facial scrubbing tip.

6. Strawberries facial scrub



Strawberries are super food which has loads of beauty benefits and one of them is to make the skin gorgeous by exfoliating the dead skin off the face and to lighten the complexion in a natural way. This homemade facial scrub with strawberries is very easy. Just take a strawberry and cut it. Massage on the face and keep for 10 minutes. It will gentle exfoliate the face and lightens the acne scars.
7. Papaya and sugar scrub facial scrub



Who doesn't know about the goodness of papaya for skin? It is wonderful fruit to exfoliate and to improve the skin tone than ever. Take a thin slice of papaya and along with some sugar crush it to make paste. Use this paste which is your papaya facial scrub on the face to exfoliate. After the scrubbing you can leave it on the face for 10 minutes as a face mask to double its benefits. Regular use of this homemade face scrub will make the skin extremely beautiful and spot free. This can be used as a foot scrub too.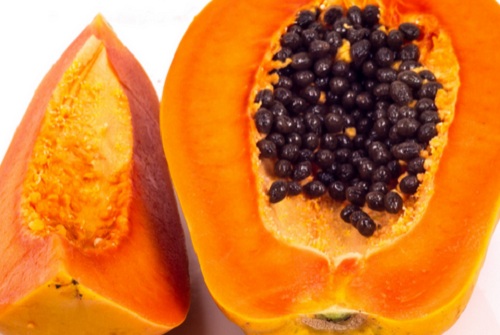 Also Read: Ways to get flawless skin
How to do Papaya facial at home
8. Facial scrub with Oatmeal and honey scrub
Oatmeal is one of my favorite products, which I recommend for dry skin. It gently hydrates and nourishes the dry skin to combat the dryness and add natural glow. Take 2 teaspoonful of oatmeal and mix them with 2 teaspoonful of honey. Use on the face to exfoliate gently. It gives a perfectly clean yet glowy skin. Thus, suitable for sensitive to dry skin. Boys too can try this.
Also Read: Tips for getting Perfect Skin
9. Almond Powder and milk facial scrub



If you want fairness with the exfoliation then is almond powder facial scrub is the suitable choice. Crush few almond to form almond powder and then mix it with some milk. For dry skin, use milk cream. Now, apply the scrub on the face and with light pressure of finger pads exfoliate the face. Wash with cold water for good results and try 2 times in a week. Soon skin will become spotless and smoother. Do you know that almonds are rich in Vitamin E hence this will also fade the fine line and prevents wrinkle formation?
Also Read: Almond fairness pack for all skin types
10. Yogurt and oatmeal facial scrubber



Yet another fantastic facial scrub made at home is with this yoghurt and oatmeal. It is suitable for all skin types and work wonderfully. In a bowl, mix one teaspoonful of yoghurt and one teaspoonful of oatmeal. Use this facial scrub to scrub the facial skin for 2 minutes than leave as a face pack for 15 minutes. You will be amazed to see the glowing skin once you wash the pack with cold water. It is best to do before going out for parties for that glow in the skin.
Now that you know the recipes of these natural facial scrubs with kitchen products you should not have an excuse for trying costly products. These will work wonderfully in enhancing your skin's natural texture and beauty. Try them and see yourself.