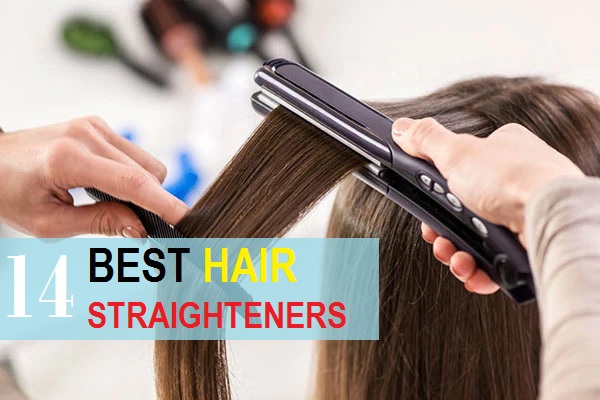 Hair straighteners are one of the most used hair styling products. Hair straightening is a styling technique that has been used since 1890s. With the growing need of the hair styling and those poker straight glossy hair, flat irons have become must have tools for the today's generation. Such tools are essential for ladies who want to look polished and fashionable. So, in this post, I will be sharing the best hair straighteners available in Indian market at quite affordable rates, though some of them have higher prices.
The list includes the top brands of hair straighteners popular in India like Philips, Vega, Panasonic etc. Some for the hair straighteners are under 1000 rupees while some are over 2k INR. Rest you can read in the post and decide yourself.
If you have made up your mind and want to get a good hair straightener asap then, I am sure this list post can be helpful for you. By the way, use of the straightening irons can save a lot for money that you splurge at parlours before going to an event or party.
So, let's check this list to get the answer on which is the best hair straighteners in India? But first of all, you should know about some of the basic features of hair straightening irons.
How to choose a good hair straightener?
For curly hair, you should choose the flat iron which has ceramic plating and should have temperature range of more than 240 degrees. It's seen that curly hair and thick hair need more heat but definitely with the protective plating.
For thin hair, the straightening iron can be used below the 180 degrees Celsius temperature. Thin hair are delicate can get heat damaged therefore, using iron with lower temperatures should be your main point. Other than that the temperature range works for most for the people's hair.
Other point to keep in mind is the plating, which is very important. The type of coating is crucial. It creates a barrier between the hair and the temperature plates. Go for material like titanium, ceramic or tourmaline. You can also use a straightener brush like Krea.
Also, the length of the cord is also to look for. Shorter cords can give you trouble while you are using it. While travelling then too, short cord can be troublesome.
Some tips to follow while using hair straighteners
Continuous use of hair straighteners can damage the hair cuticle. Therefore, it would be a wise decision to apply a heat protecting product like hair sprays, gels, hair mousse before using irons over the hair.
Always condition the hair after the shampoo. This simple step compensates moisture that gets reduced due to the use of such hair styling equipments.
Learn and make hair style which involves lesser heat. There are not many side effects of using straighteners till the time you use the protective products.
Alternately, you can try some natural remedies to get the straight hair.
Top Best Hair Straighteners in India 
1. Philips HP8318/00 Kerashine Temperature Control Hair Straightener

Philips hair straighteners are the best selling in India when it comes to flat irons. So, you're are looking for a budget friendly, long lasting and high quality product then think about Philips. Philips is the best hair straightener brand in India at the moment. It's not that they have one modal but have so many different devices that can suit your hair type, preferences and the budget. They even have the combo pack, in case you are interested. Let's check this straightener's specifications.
Features:
It has Ceramic Coating to prevent the delicate hair from the heat damage.

The design is very beautiful, attractive and feminine.

Can also be used to curl the hair by the twisting method

Gets heated fully within a minute

Has temperature setting from 210°C to 190°C

1.8metre Long cord for ease to use.

Thick plates for faster straightening
2. KREA 3D Tourmaline Ceramic Hair Straightener Brush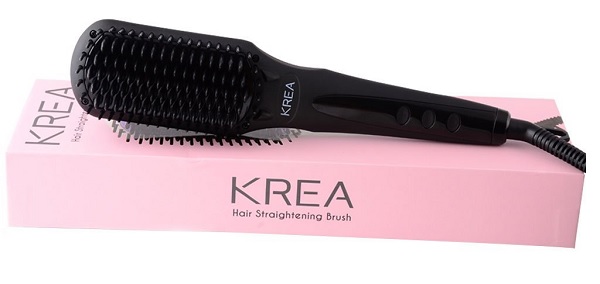 This is a hair straightening brush by the way. The brush gives hot air while the bristle smooth the hair and eventually straighten them up. KREA Hair Straightener Brush has a cutting-edge MCH (metal ceramic heater) 3D print circuit technology. This technology helps the fast heating of the ceramic brush up to 180 degrees celsius in less than 30 seconds. It gives you the parlour like straight hair easily. The inner modules of the brush are made of tungsten metal and molybdenum-manganese. These are withstand the high temperatures for a longer period. The plating is Korean tourmaline ceramic coating technology.
3. Philips HP8302 Essential Selfie Hair Straightener 

Here comes another gem from Philips. This hair straightener is one of the best-selling and is available in two colors like Black and Pink. This is the bestseller straightener on Amazon and you get also expect some discount.
Features:
It has SlikPro Care for less heat exposure and lesser cuticle damage

The ceramic coating on the plates ensures smooth gliding and no damage

The plates are not as thick so even the short haired people can try it

210°C professional temperature

Hair straightener fast heat up in 60 seconds

1.6 m heat safe cord with swivel end.
4. Philips BHS384 Selfie Hair Straightener

This is the affordable option of hair straightener from Philips under 1500 rupees price tag. The everyday use flat iron is a vibrant purple and has the attractive look. It is very user friendly plus can be taken while you travel.
Features:
SlikPro Care for less heat exposure to hair strands

Ceramic rich plates for smooth and quick glides over the hair

2 Professional temperature settings

Gets heated in 60 seconds

Long plates for fast straightening

1.6 m heat safe cord with swivel end
5. SYSKA HS6810 Hair Straightener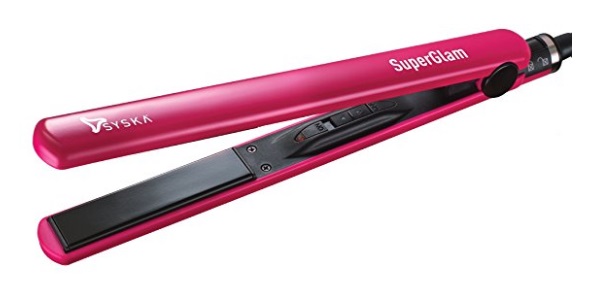 The light weight hair straightener is good for regular use. Its rapid heating system helps to get ready in no time. The ceramic plates give glossy shine to the hair and give you poker straight hair strands. To get the salon like hairstyle, getting hair straightening iron like this certainly helps. This is extremely affordable straightener though the plates are little narrow but does the job fine.
Features:
Ceramic plates for even heat flow and proper glide

Gets heated in less than a minute

Prevents over heating with Auto Off mode

Sleek and compact design

Travel friendly iron for getting straight hair
6. Panasonic EH-HV10VP62B Hair straightener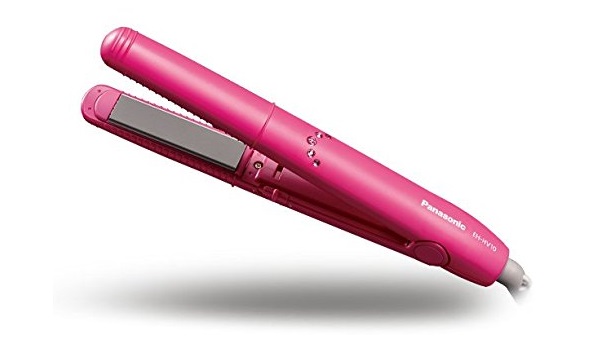 The beautiful and sleek looking flat iron is very attractive. Its design and the temperature control is good and is able to give perfectly salon straight hair. This affordable Panasonic straightener can also be used to curl the hair.
Features:
210* C Temperature setting

Auto off mode

Comes with Storage Cap (Heat Protective Cap) for easy storage

Photo-ceramic Coating

360 degree swivel cord of around 1.5 metres

Good for wavy or semi curly hair but not for very curly hair.
7. Panasonic EH-HV20-K62B Hair Straightener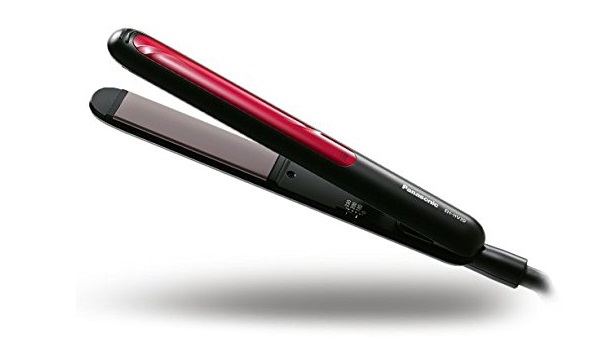 Panasonic EH-HV20-K62B Hair Straightener is also a good option and is in the affordable and one time investment kind of price. It has high quality with pretty color. Black and pink are available for this model and you can easily get some discount on online purchasing. The hair straightener is compact and light weight design makes to take this along with you when you need it.
Features:
230Degress C Temperature

Comes with 3 Temperature selection, i.e. 180, 210 and 230* C)

Photoceramic Coating on plates

Normal 1 inch wide plates

360 degree swivel cord
8. Vega Flair VHSH-01 Hair Straightener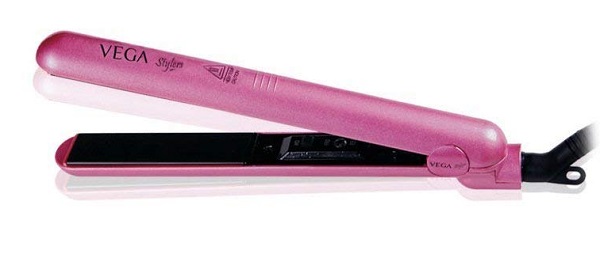 Another cheap hair straighter that in under the 1000 Rupees in India is from Vega. Vega Flair VHSH-01 Hair Straightener is a very user-friendly product with good features. This straightener comes from a well known and trusted brand that you can try. There is only one heat setting so it is suitable or normal hair but not for very thin hair.
Features:
One Heat setting up to 210 °C

Ceramic plates for high gloss shine

ON/OFF LED indicator light

Gives even heat and maintains stable temperature

The light weight and compact design

Easy to operate

360° swivel cord

Dual voltage 110-240V, 50/60 Hz
8. Remington S3500 Hair Straightener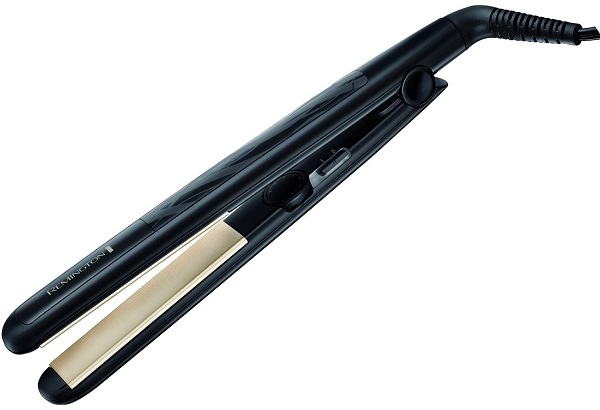 This is one of the best hair straightener brand in the world for sure. Remington S3500 Hair Straightener is a little expensive for most of us but it is worth every penny. It safeguards the hair from the heat styling. Thus, using it daily with the proper heat protectant can ensure damage free hair. It is perfect to get ready with celeb like hairstyles.
Features:
Comes with a heat-proof pouch

Heats up to 230 degrees and gets ready to use in 15 seconds

Longer length floating ceramic plates

Temperature selector wheel with 30 heat setting

Comes with 3 years guarantee

Input voltage range of 150-230 volts
9. Torlen Professional Hair Straightener with Mirror Titanium Plates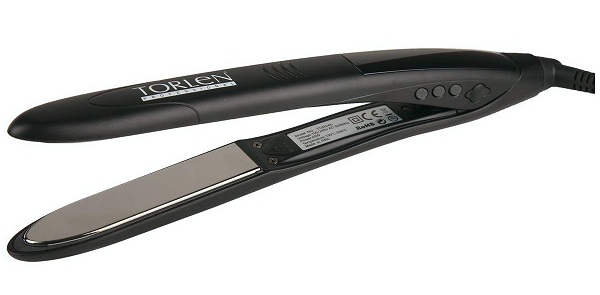 Torlen is another international brand that is well known and worth investing. It may be high end but one time investment that gives you quick results. It is designed to give you hassle free experience and usage. It has some very good reviews o Amazon.
Features:
Has the special Ion field technology with mirror titanium plates

360 swivel cord for easy use

MCH heater with adjustable temperature of 230 degree Celsius

Comes with Universal voltage of 100-240 V AC for worldwide use

1 hour auto shut off to prevent over heating
10. Vega I Shine Flat Hair Straightener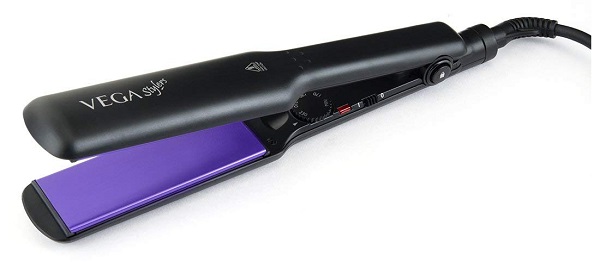 This is the best Vega flat iron and the points go to its sleek design and features. It comes with variety of temperatures setting so that you get the freedom to style as per your choice. Its amazing features make it one of the best hair straightening irons in India.
Features
Ceramic coating plates for healthier hair and high gloss shine

Heats up in less than 60 seconds

1 hour auto shut-off protection

Wide floating plates

Adjustable temperature setting up to 150° C to 230° C for easy use

Easy lock system

360° swivel cord to prevent tangling
11. Havells HS4151 Electric Hair Straightener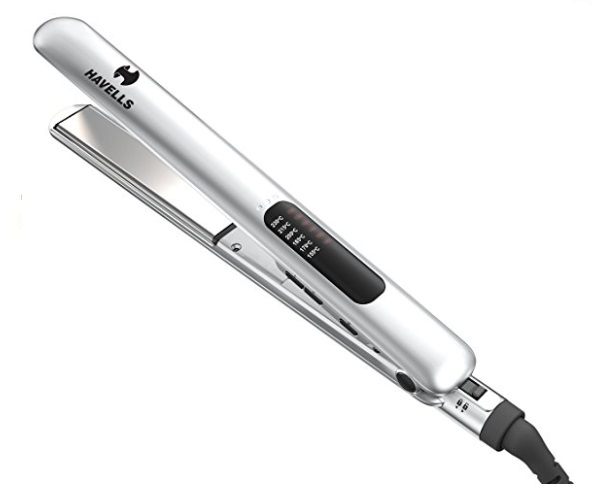 The beautiful Silver color of Havells HS4151 Electric Hair Straightener makes it a hit amongst the women in India but wait, it is not just for its design but it is one of the best seller with good ratings and reviews of the customers. The 1 inch wide plates are not of ceramic but they are of titanium which is better than ceramic. This is our most recommended hair straightener in India by the professionals.
Features:
Comes with the 2 years guarantee with 24 hour home service.

Titanium coated plates for better gloss on the hair

Adjustable temperature settings from155 degree Celsius to 230 degree Celsius

LED digital display for ON and OFF

Switch based on/off mechanism

Floating plates for ease and better functionality

Auto shut-off after 60 min
Buy Here
12. Braun ST710 MN Black Box Hairstyler Hair Straightener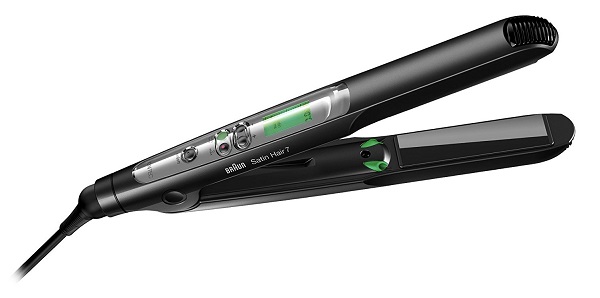 You would agree that this Braun ST710 MN Black Box Hairstyler is extremely sophisticated and beautiful to look at. But don't just go by its looks, it is a beast when come to the performance. It is excellent with the heat setting and functions. It's advanced technology works like a charm and you would definitely love to use a hair straightener like this for frizzy and curly hair.
Features:
Iontec technology for frizzy hair for healthy smoothness and shine

Moisture level balance to restore moisture

Nanoglide ceramic floating plates with even heat distributing

Heat up time: 40 seconds

Cable 2meters long

Additional Features

Temperature range (130°-200°)

°C max function / boost button

Anti-static styling and 

Anti-hair breakage plates

Precise temperature regulation according to hair type
13. Ikonic S3 Hair Straightener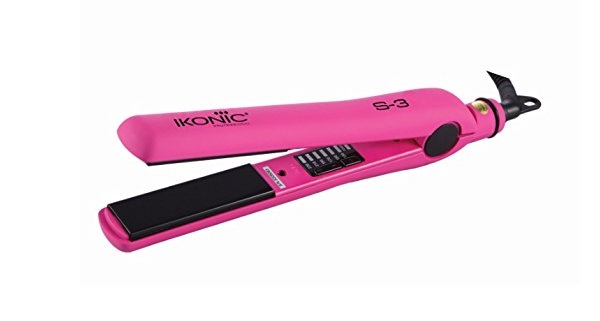 The pretty Pink hair straightener  is from Ikonic which is also a popular brand of styling devices. It has a  Slikpro for less heat exposure. It is easy to use ergonomically designed.
Features:
Mini Flattening iron ideal for travel

3/4'slim plates especially for short hair and bangs.

Ceramic Plates

Eliminates Frizz

Single Voltage

6.5 Feet PVC Power Cord

360º Swivel Tangle-Free Cord
14. Ikonic ProTitanium Shine Hair Straightener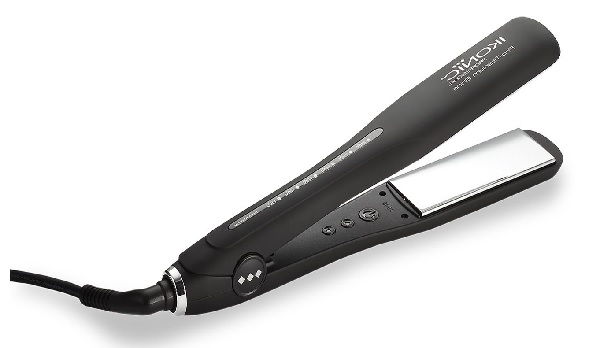 Ikonic ProTitanium Shine Hair Straightener is a good choice for girls with thick and long hair. The ultimate and the most advanced Hair Iron goes from 0 to 230 degrees in 10 seconds. That is just wonderful. It has wide plates suitable for styling long and thicker hair. The advanced floating Titanium Plates to heat the hair from the inside out, producing a long-lasting, glossy shiny finish. Ikonic straightener comes with a rubberized body and a long cord with swivel end.
Things to Consider While Buying the hair straightener that suits you!
Now, before you leave let me tell you about some of the key features that you can take into considerations. Read on to know the tips to buying a hair straightener:
Plating Type
You can consider the type of plates in your iron. There are narrow 1 inch wide and 1.5 inch and some can even have 2 inch wide pates. Plating helps to get the job done faster.
Coating
As stated earlier type of coating matters. The coating can also lead to super glossy hair.  Titanium and ceramic are the best. Do not go for the cheap hair straighteners that can make the hair strands damaged and dry. Even Teflon coating is considered excellent. These Iconic Plates generates the negative ions which reduces the frizz
Heat Up Time
This can be good for the efficiency as you do not wash to wait endlessly. There should be 60 minutes or less than that heating up time.
Auto off
Auto off feature makes sure that even if you accidently leave the device on, it won't get damaged.
Temperature
Different temperature control gives you the ease and total control while you get the hair styled.
These are the best hair straighteners available in India under different price tags. So, if you still have any questions then do comment below?:) Before you leave, do watch the video on How to use hair straighteners.