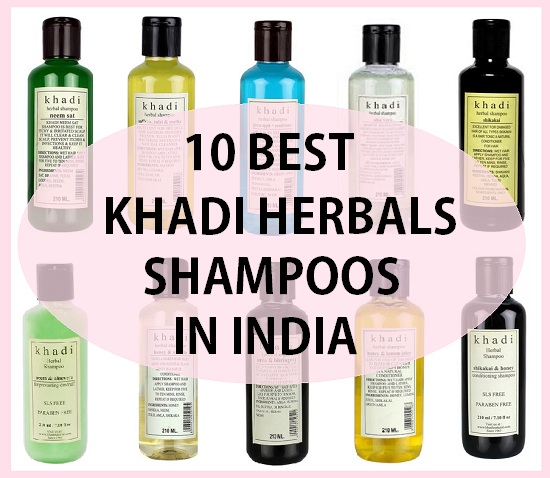 Khadi Herbals Shampoos in India with Prices
Khadi is a brand that makes the natural and herbal ingredient based products that makes the skin and hair healthy. Khadi brand has so many Ayurvedic inspired shampoos and out of them we have compiled a list of 10 best or worth trying khadi shampoos. Some of them are enriched with amla, shikakai, or neem or aloe vera and even vanilla and honey. Moreover, khadi shampoos are paraben and sulphate free shampoos are paraben and sulphate free. So let's have a look.
Best Khadi Herbal Shampoos in India (2021) For Men and Women
here is a list that gives you the best options for the herbal cleansers from Khadi. They are multiple variants that you can pick depending on your hair issue.
1. Khadi Herbals Amla and Bhringraj Shampoo
This Khadi shampoo is enriched with the extracts of amla or Indian gooseberry and bhringraj. Bhringraj is the best remedy for premature graying of hair. Along with amla this shampoo gives prevention against the white hair problem and to strengthen the hair from the roots. This Khadi shampoo leaves the hair softer and manageable. It is also an good herbal made shampoo suitable that can be used daily. It's a khadi shampoo for hair growth. Do read this post on how to use Bhringraj for hair growth, that will tell you exactly how you can try it.
Recommended For: All hair types and thinning hair
2. Khadi Neem and Aloe vera Shampoo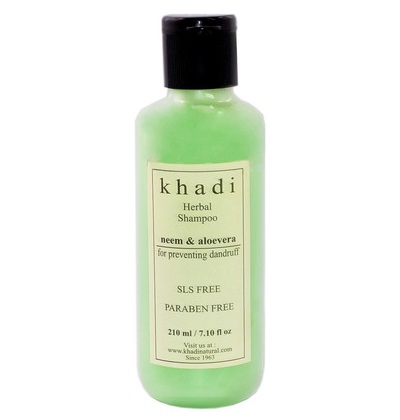 This Khadi shampoo is said to be a paraben free and SLS free shampoo. This has the natural herbs like neem and aloe vera. Neem targets the dandruff the itchy scalp problem while aloe vera soothes the dryness therefore gives extra relief in itchiness. Aloe vera is also good for dry scalp and dry hair since aloe vera is a very healing ingredient.  By the way all of their shampoos are of the same price so, we are not repeating the price now. If you are looking for more herbal shampoos, then you must check the best aloe vera shampoos available in India.
Recommended For: All hair types especially dry and itchy scalp with dandruff
3. Khadi Honey and Vanilla Shampoo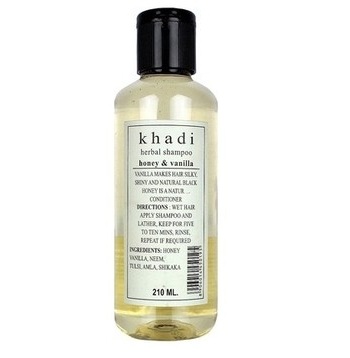 Honey and vanilla both of these products in this Khadi shampoo makes this smell very nice and soothing. Vanilla and honey naturally conditions the hair. Along with the honey and vanilla this Khadi shampoo has amla, reetha as well which makes this extra nourishing for the dry hair. This one is an effective Khadi shampoo for frizzy and dry hair.
Recommended For: All hair types especially for dry hair and for shine
4. Khadi Herbals Green Apple Shampoo + Conditioner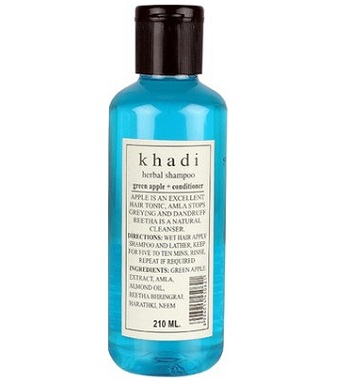 Green apple is good to hydrate the dry hair and is also good for oily scalp. This will naturally lift the oily roots and hair feels bouncier and voluminous. This also helps to seal in the cuticle of the hair to make the rough hair manageable. It is a mild everyday use shampoo that even men can apply. You can also use Apple Cider Vinegar Shampoos for oily hair
Recommended For: Suitable Khadi shampoo for oily hair and scalp
5. Khadi Saffron, Tulsi and Reetha Shampoo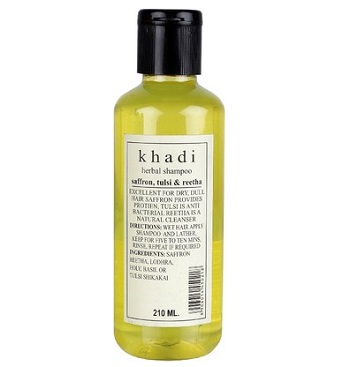 This Khadi shampoo is excellent for the dry and damaged hair. The dull hair that looks lifeless and lack luster. Saffron gives strength and nourishment while Tulsi is good for treating itchy scalp problems. This is because Tulsi or holy basil is anti bacterial. Reetha cleanses the hair mildly. 
Recommended For: All hair types for deep cleansing for dull hair
6. Khadi Herbals Neem Sat Shampoo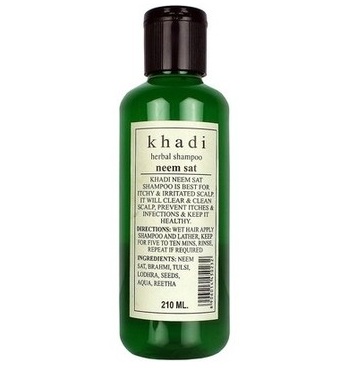 Neem sat shampoo is recommend for any scalp infections like dryness, flakiness, dandruff and any other infection of scalp. This Khadi shampoo is good for the dandruff for both men and women.
Recommended For: Dandruff and itchy scalp
7. Khadi Herbals Shikakai Shampoo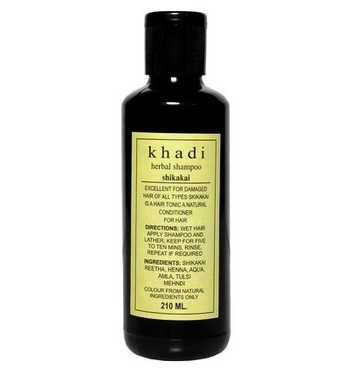 Shikakai is excellent for dry hair. Actually shikkakai is good to naturally condition the hair and to repair the damage. This is deep conditioning and yet a mild cleanser. Shikakai is also considered effective for the hair growth The khadi shampoo is suitable for hair thinning.
Recommended For: All hair types
8. Khadi Herbals Shikakai and Honey SLS free Shampoo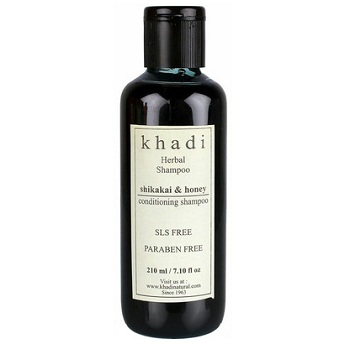 Shikkakai and honey is suitable to cure the rough hair and split ends. Honey is highly nourishing and keeps the split ends in check. Honey repairs the splits ends and the dryness of hair. This khadi shampoo is perfect to cure those dryness and damage that makes hair brittle.
Recommended For: All hair types
9. Khadi Herbals Aloe vera Shampoo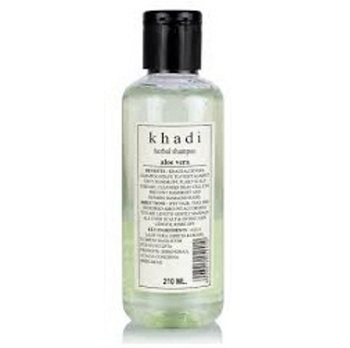 Another very good Khadi shampoo is khadi aloe vera shampoo which will is suitable for all the hair types. Aloe vera is such a miraculous ingredients to treat the roughness, dryness, dandruff, splits ends and frizziness. This can treat all and is very mild.
Recommended For: Damaged hair and for repairing
10. Khadi Herbals Honey and Lemon Juice Shampoo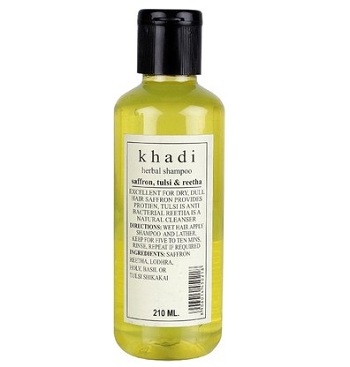 This Khadi shampoo is ideal to detoxify the hair and to remove the product build up. It removes the oiliness and greasiness of the hair. This also treats the dandruff, improves the hair growth and to give shine to lack luster hair.
Recommended For: All hair types
This was the list of the best khadi shampoo in India for different hair types. Have you tried any of these shampoos? Do share in the comments below.
Recommended Articles: