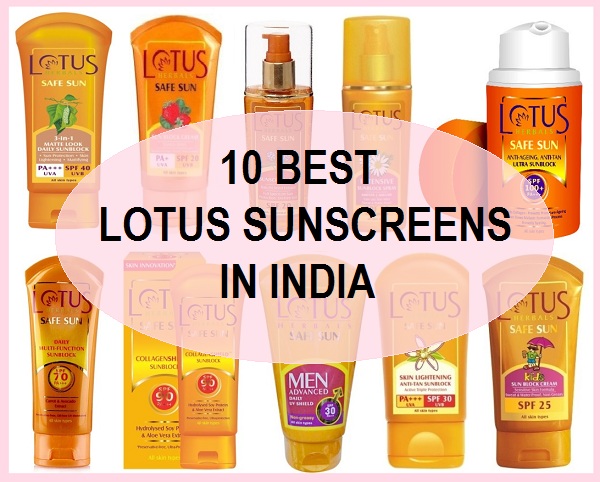 10 Best Lotus Herbals Sunscreens in India for Oily, Dry Skin and Sensitive Skin (2021)
Sunscreens are there to protect the delicate skin from the ill effects of UV rays. There are several sunscreen available and in different brand but a very popular Indian brand Lotus herbals makes more than 20 types of sunscreens and related products which is why this brand is immensely popular in skin care. After Lakme, we think that Lotus Herbals is a good and affordable brand for skin care. So, if you have been thinking to get a pack of Lotus herbals sunscreen but confused which one to buy then this post is for you. Here we have compiled a list of best Lotus herbals sunscreens with their prices. It is always important to choose the right sunscreen as per the skin type hence these sunscreens will help you.
Top 10 Best Lotus Sunscreens in India (2021)
1. Lotus Herbals Safe Sunscreen Gel SPF 20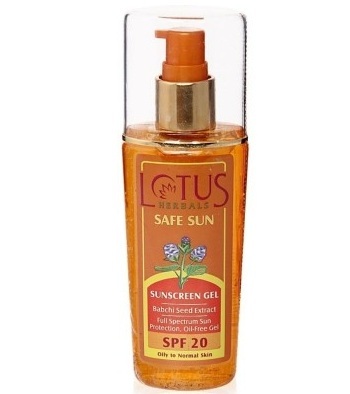 If you have problem with your oily skin and most of the sunscreens would make the skin oilier then this Lotus herbals gel sunscreen would be your best mate. The formula of this sunscreen is not lotion like but has gel texture hence this won't make your face greasier. Not only that you will be happy to know that this gel sunscreen also has aloe vera, seaweed and aquatic plant extracts which makes the skin feel nourished and glowing. This Lotus sunscreen is with SPF 20 and can be used by men and women. The pump pack make is very easy to use and keep it your bag for later application. This Lotus Herbals sunscreen is very affordable.
2. Lotus Herbals Safe Sun Intensive Sunblock Spray SPF 50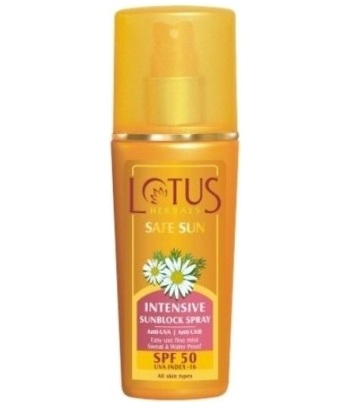 Do you feel uncomfortable when you have to reapply the sunscreen when you stay a lot in sun exposure? Yes, we all had that time. The solution to this problem can be using spray sunscreens. Lotus herbals safe sun sunscreen spray with SPF 50. The easy to use spray sunscreen makes the life much easier as this can also be applied on the area where the hands hardly reach especially when you wish to hit the beach. This Lotus Herbals sunscreen is for 320 rupees and for all the skin types. This too is a unisex product so, men, you too can try it. :) The formula is quite waterproof hence will not budge off when you sweat you get drenched in the pool. It's a good option for waterproof sunscreen in India.
3. Lotus Herbals Safe Sun Block Cream SPF 20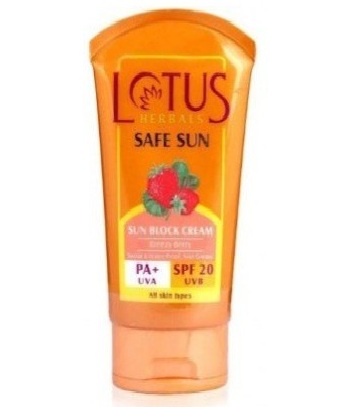 This sun block cream is with SPF 20 and is suitable or normal to dry skin. The lotion based sunscreen will give moisture to the dry skin and keeps the skin protected from the sun. This says that this is for all the skin types though I feel that this will be slightly greasy for the oily skin. It has berry extracts and also inhibits the melanin production.
4. Lotus Herbals Safe Sun Men Advanced UV Shield SPF 30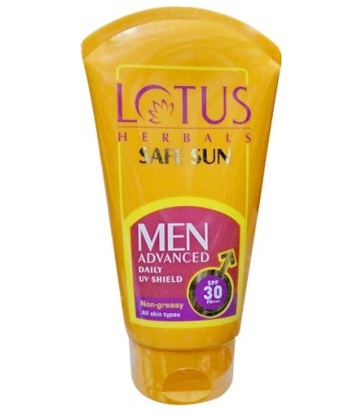 Men too need suns protection just like women do since their skin too is sensitive to photo damage. The skin aging and sun darkening and the worst results of sun damage hence men can try this Safe sun men advanced sunscreen with SPF 30. This has an oil free formula and can be used after the shave to give protection to the shaved face.  This also has anti septic properties which help against the infection and rashes on the skin. All this comes in a nice masculine fragrance and costs 335 rupees.
5. Lotus Herbals Safe Sun Skin Lightening Anti Tan Sunblock SPF 30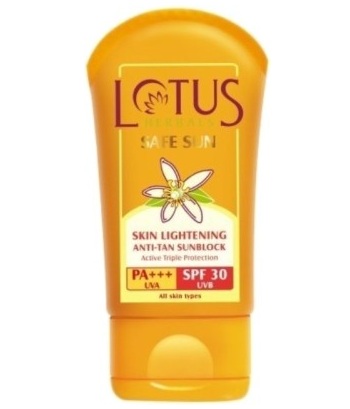 Tanning is a dreaded word for those who like their skin to be fairer and brighter looking. This sunscreen with skin lightening and anti tan features is just perfect for people with tanning. This Lotus herbals sunscreen improvises the skin complexion in addition to giving you sun protection with its SPF 30. This sunscreen has triple benefits like this prevents sun tanning, wrinkles and premature skin aging.
6. Lotus Herbals Daily Multi-function Sunblock SPF 70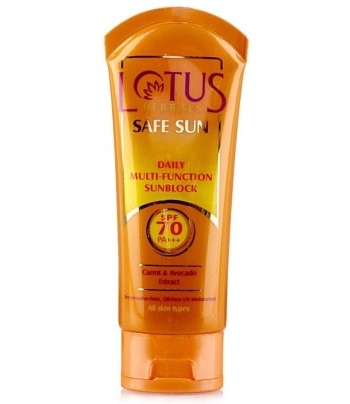 This is a multi functional sunscreen which has high SPF 70. This protects from freckles which are in anyways less seen on Indian skin types. This sunscreen can be used by everyone and all skin types. This costs 515 rupees and prevents hyper pigmentation by giving protection against a broad spectrum of sunscreen. This sunscreen also has anti aging and anti wrinkle properties that greatly benefits the skin.
7. Lotus Herbals Collagen shield Sunblock – SPF 90 PA+++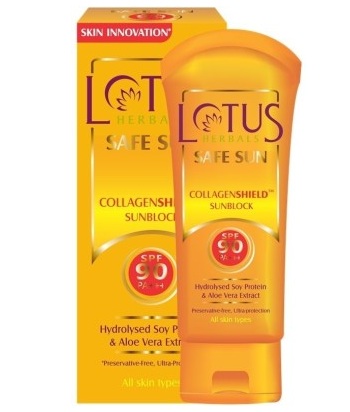 This Lotus Herbals sunscreen is also great with high SPF 90. ST times when we spent time in sun like in beach or for outdoor activities then using a sunscreen with adequate SPF like this Lotus Collagen shield sunscreen which has SPF 90. This protects the skin from sun harmful and skin damaging rays. This sunscreen is preservative free and safe to be used on the skin. What makes this sunscreen great is the fact that this protects the collagen. Do you know that collagen is the substance that keeps your skin tight and firm? Hence this prevents premature skin aging.
8. Lotus Herbals Safe Sun Kids Sun Block Cream SPF 25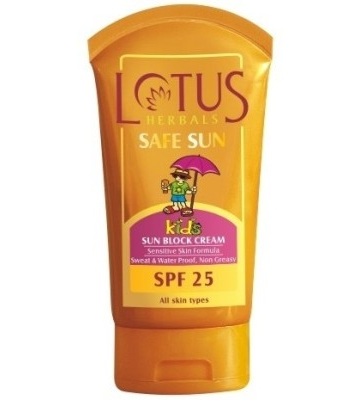 Men and women need sunscreen right? But what about the kids delicate skin. Kids too need sun protection and their delicate skin gets sun burnt and red easily therefore this Lotus Herbals Sunscreen for kids with SPF 25 is ideal.
9. Lotus Herbals Safe Sun Anti-ageing Anti-Tan Ultra Sun Block SPF 100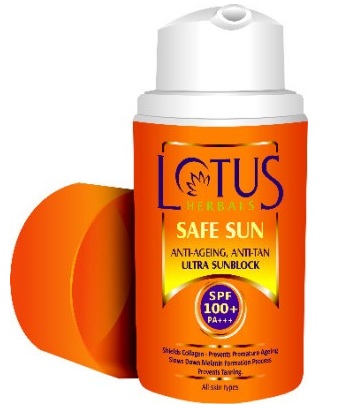 If you are looking for a sunscreen with anti aging benefits then Lotus Herbals Safe Sun Anti-ageing Anti-tan Ultra Sun Block with SPF 100 is ideal. This can be used on the face and body parts. Reapply after 3-4 hours for timely protection and maximum UV protection. This Lotus herbals sunscreen has soy proteins, thyme and licorice which enhances the skin's elasticity and increases the collagen production. Collagen production will make the skin appear firmer.
10. Lotus Herbals Safe Sun 3-in-1 Matte Look Daily Sunblock SPF 40
This is a matte sun block which 3 in 1 benefits. This sunscreen mattifies the skin hence ideal for normal to oily skin and combination skin as well. This sunscreen from Lotus Herbals is non greasy and ensures that the skin stays shine free and clean. This gets absorbed faster not like certain sunscreen that you will have to massage a lot to get them fully absorbed in the skin.
These are the best Lotus herbals sunscreen in India that you can apply. Always apply your sun lotions at least 20 minutes before going out under the sun rays for better protection.