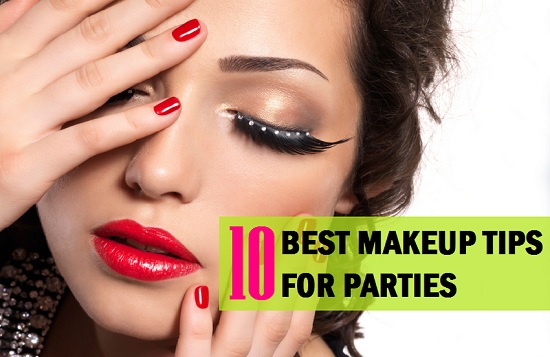 When you go out for a party, you want that all eyes should be on you. You may be a beautiful girl naturally but the right amount of makeup applied in the right way can make you no less than a princess. Party makeup is different than the regular makeup that we do normally as for parties which are in the evening we want some extra shimmers, glitters and glow which can help us to look attractive and gorgeous. So, read on to know these worth knowing best makeup tips for your party makeup.
10 Best Makeup Tips to Make your Evening Makeup look amazing

Makeup Tips for eyes for parties
1. Eyes: Eyes are the highlight in every face. Beautiful set of eyes can make you look attractive and beautiful. You can beautify your eyes by applying a dash of golden eye shadow. Gold, copper are colors which look extremely pretty during the night time. Just apply a pale gold eye shadow on the centre of the eyelids and see the magic unfold.
2. Eye brows: During the day time, we can have our natural eyebrows but when you are getting ready for the party you should make sure that you have fill in your eye brows using an eyebrow pencil or eyebrow powder. Darker eyebrows look great for the night makeup.
3. Brow bone: If seductive looking eyes. Put some highlighter over the brow bone to give them some extra highlight and glow. It will also make the eyes look deep seated and bigger.
4. Lower Lids: Lower lids, the area under the waterline where you lower lashes are there this area is the best place to make the eyes look bigger and wider. Just sue the eye shadow you have used on the eye lid on this are well. This will create a bigger eye effect. If you don't want to use the same eye shadow then use a bronzey, coppery or even a brown eye shadow this definitely do magic. Just try it the next time you get ready.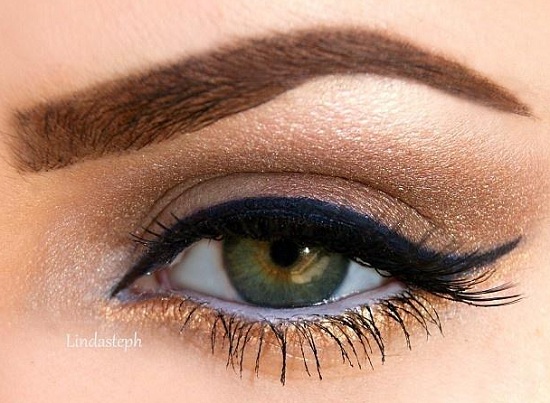 Image Credit: Lindasteph
Make up Tips for cheeks
5. Cheeks: Use a blush and add a soft touch of a highlighter. This will make the cheeks glow and looks radiant at night.
6. Contouring: for the party makeup when you do cheek contouring then it will make your cheekbones look chiseled and face thinner. Make a fish face and apply some contouring powder under the hollows of the cheeks. His will also slim down the face.
Makeup Tips with highlighters
7. Highlighters: Use highlighter over the forehead and tip of the nose so that when light falls your face looking naturally glowing.
8. Foundation: For a naturally glowing skin add some beige gold shimmer or highlighter powder into your foundation this will give the face a glow as when the lights fall on the face the shimmer particle will reflect light and your skin appears glowy.
Makeup Tips for Lips
9. Lip liner: Use lip liners before you apply lipstick this will make the lipstick last longer. But don't just line the lips, always fill in lips with the lip liner as well then go ahead and apply your lipstick.
10. Pouty lips: Dip your finger in a gold eye shadow and dab on the lower lip in the centre. This will give an illusion of glossy pouty lips. This is the easiest and best trick to get fuller lips with makeup.
S, these were some makeup tips that can enhance your makeup look for the parties and make you look even prettier. But just a tip here: Try these one by one at home just for practice so that when you do them when going out then you will be able to do them quickly and you will also learn which tip works well for you.