Best Massage Oils in India with Price, Reviews and How to use massage oils
Massaging can help to make the body relaxed and rejuvenated. Massaging promotes the blood circulation which makes the bones, muscles and body stronger. Good blood circulation and the nutrients in the massage oils ensures a smoother and softer skin. Regular massaging therapy gives baby soft skin and also fades the lines and wrinkles on the skin. Here are 10 best massage oils from different brands and manufacturers that you can try to massage your body at home. Out of the numerous benefits of the oil massaging, one is that it maintains the smoothness of the skin and the lustre.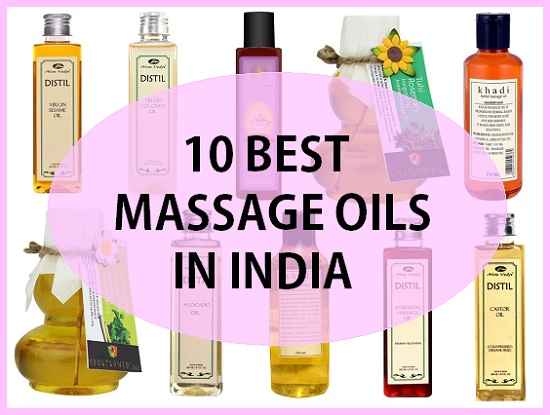 10 Best Massaging Oils in India 2022
So, this is the list of the nest oils suitable for the body massaging. These oils are quite affordable and they can also be utilized for the babies. Here's the list of the top rated baby massage oils in India.
1. Aloe Veda Distill Virgin Sesame Oil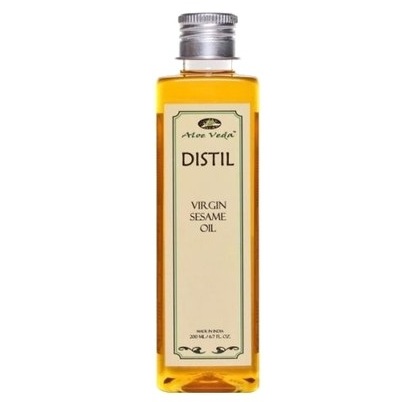 Sesame oil is excellent to massage the body. Sesame oil has been used since centuries to massage the body skin. The composition of sesame oil soothes your skin and prevents skin irritation, making it ideal for men and women. This oil detoxifies the skin when used to massage the skin.
2. Soulflower Refreshing Aroma Body Massage Oil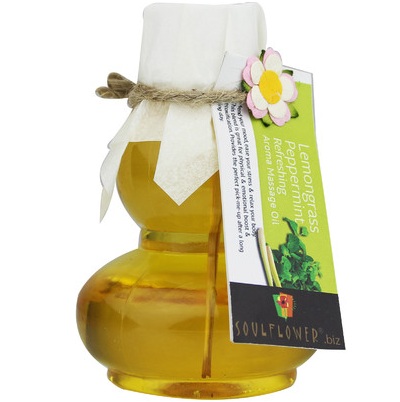 This is an Aroma massage body oil which helps to improvise the blood circulation which also enhance the natural elasticity. This also smoothen the skin. This oil enhances the natural healing process of the skin. This body massage oil is made from various oils like peppermint oil, sesame Oil, rosemary essential oil, lemongrass oil, orange essential oils, Vitamin E along with Jojoba essential oil, rice bran oil and olive oil. This is quite expensive since the essential oils in it are also very expensive. 
See: 10 Best almond oil brands in India
3. Khadi Herbal Massage Oil with Almond & Olive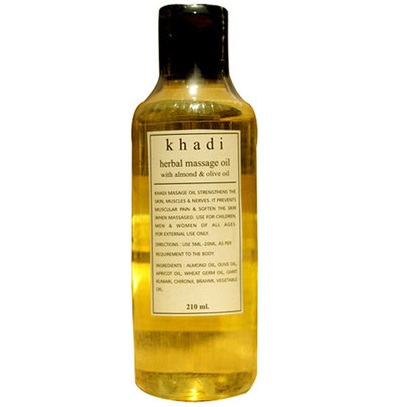 This khadi oil is a blend of 2 very beneficial oils like olive oil and almond oil. Both of these oils are excellent to improvise the skin texture and smoothness. This can be used to massage the skin before going for a bath or at night for very dry and rough skin. This is also rich in other herbal ingredients like chironji oil, wheat germ oil, aloe vera, brahmi which helps to calm the irritated skin.
4. Aloe Veda Distil Avocado Oil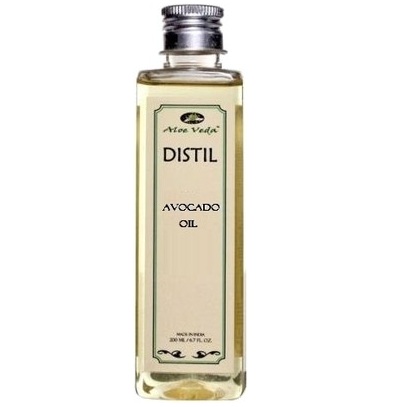 This massage oil is basically an avocado oil which is also rich in avocado fruit extracts, Vitamin A, Vitamin D, Vitamin E and Vitamin B6. Avocado oil is one of the best oils to massage the body since this oil's natural composition is very similar to that of the natural body oils, therefore this deeply penetrates the skin and makes the skin heal and glow.
5. Forest Essentials Balaswangandha Body Massage Oil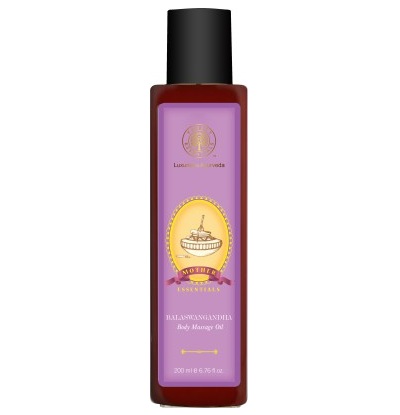 This massage oil has been formulated with the ingredients like ashwagandha root extracts, black sesame seed oil, kumud flower extracts, durva extracts, nagarmotha root extracts, licorice extracts and along with many other herbal ingredients extracts. All these natural extracts make this oil to get a firmer and toned skin. This also relaxes and rejuvenates the tired skin and heals this.
See: 10 Best Olive oil brands in India
6. Aloe Veda Distil Virgin Coconut Oil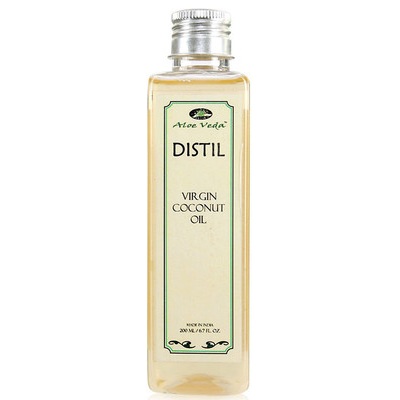 Coconut oil is highly used in India. This is extra virgin coconut oil therefore can be used for body and face massaging. But for oily skin type this is not the oil since that can clog the pores. But excellent for the body massaging. This oil is suitable for dry skin as this is high in fatty acids which gives immense moisture to the dry skin.
7. Soulflower Rosemary Tulsi Invigorating Aroma Massage Oil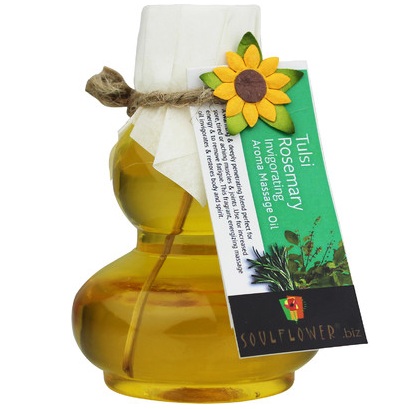 Soulflower's Tulsi massage oil is invigorating and penetrates the skin deeply to nourish, sooth, relax and revive the skin. This is also rich in the orange essential oil, jojoba oil, sesame oil, cinnamon oil and rose may oil which boost the power of this oil to further relax and sooth the tired body and aching joints.
8. Aloe Veda Distil Ayurvedic Massage Oil – Mahanarayana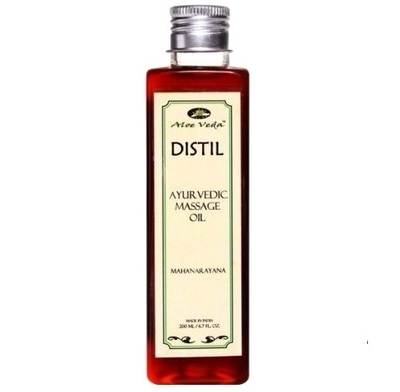 Mahanarayan oil has been used since centuries as this helps to make the aching joint get relief and to repair the wear and tear of the tissues. This miraculous body massage oil relaxes the muscles and joints to reduce the stiffness and any inflammation.
9. Khadi Sandalwood Massage Oil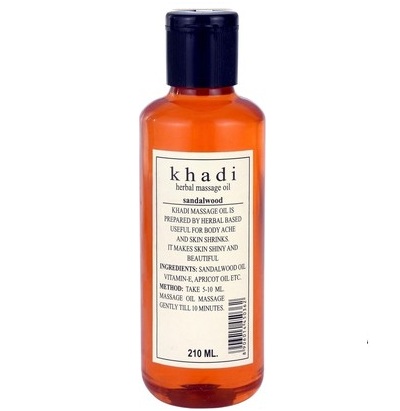 Sandalwood is ideal to sooth the skin and to make the skin radiant but this oil should not be used alone this should be diluted with some almond, castor, olive oil etc and then used for massaging the skin. This is useful in fading the blemishes on the body. This also heals the skin which is sun damaged and has spots.
10. Aloe Veda Distil Cold-Pressed Hexane Free Castor Oil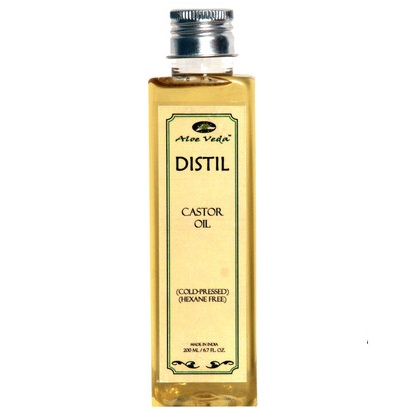 Castor oil is yet another oil which has anti inflammatory properties due to this castor oil is beneficial when used as a body massaging oil.
So, this was the exclusive list of the best massage oils available in Indian market. These are generally the Ayurvedic brands that are suitable and pure mix of oils. 
Recommended Articles:
Best Olive Oil Brands in India