Papaya Face Products in India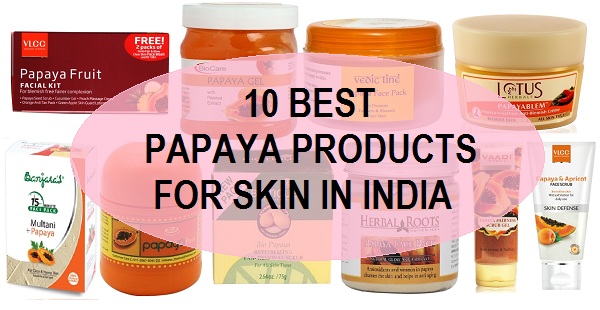 Papaya is rich in antioxidants and Alpha Hydroxy Acids that are good for gorgeous looking skin. These AHAs will removes the epithelial dead skin cell and also smoothen out the wrinkles. Papaya has enzyme called papain that will calm and soothe the skin. This enzyme is also reasonable for the increased cell turnover that makes the blemishes, spots, brown marks go away faster. Here are the best papaya based products in India along with their prices.
10 Best Papaya Face Products in India
1. VLCC Papaya Fruit Facial Kit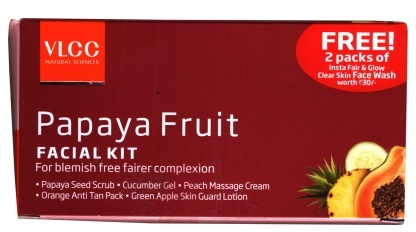 VLCC papaya facial kit has papaya extracts and other fruit extracts which makes this a good to try facial kit. This papaya facial kit includes a papaya seed fresh scrub, peach massage cream, orange anti-tan pack, cucumber gel and green apple skin guard lotion. This kit is for 185 rupees for 50 g one time use pack.
2. Nature's Papaya Pack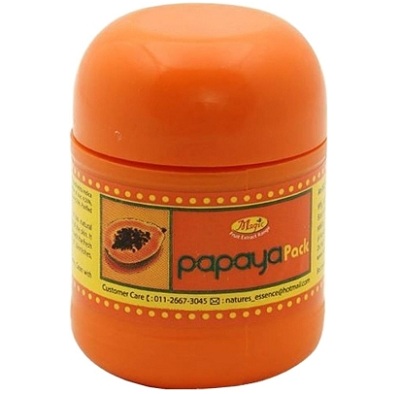 This papaya pack helps to eliminate all the toxins from your skin. This reduces and lessens the pigmentation and blemishes leaving the skin complexion clear and glowing. This papaya pack also removes the dead skin cells and lowers the melanin content of the skin that is responsible to give a darker skin appearance.
3. Biotique Bio Papaya Revitalizing Tan-removal Scrub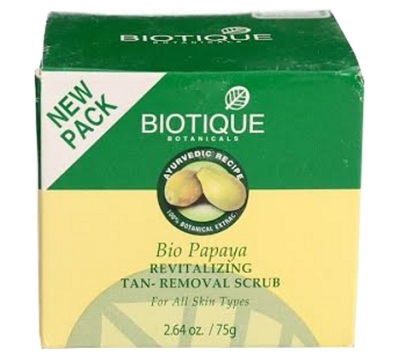 This Biotique tan removal scrub has the papaya extracts. Papaya is great to get rid of the tan on the skin by eliminating the darkness and reducing the melanin content. This natural scrub has the comes with a blend of organic ingredients like Papaya, Neem, Methi, Kela, Khajoor, Aam Beej and Bees Wax that revitalizes the skin. This also does a thorough exfoliation of the skin and makes the acne marks lighter in appearances.
4. Herbal Roots Skin Whitening Papaya Face Pack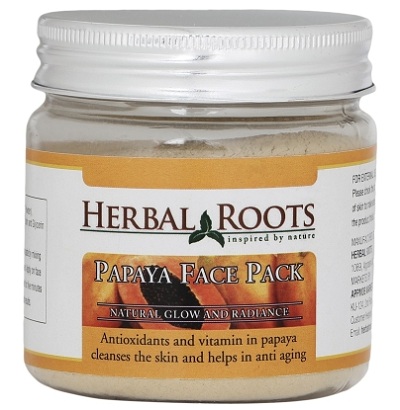 Papaya can also be used as a facial mask or face pack. This Herbal roots whitening papaya face pack has the natural papaya extracts and costs 329 rupees for 100 g pack. This has to be applied directly on the wet face and rinse after 20 minutes. This is also suitable or all the skin types.
5. Vaadi Herbals Papaya Fairness Scrub Gel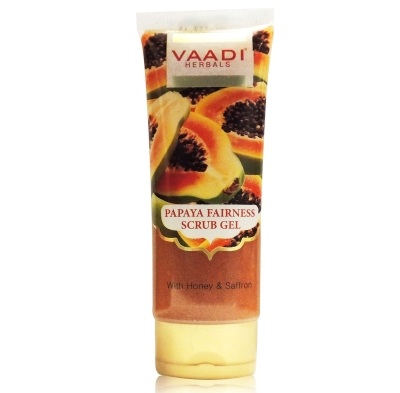 This is enriched with papaya top scrubs the skin in a gel base.The gel has mild papaya extracts and walnut shell particles that will scrub the face mildly.

6. Vedic Line Papaya Face Pack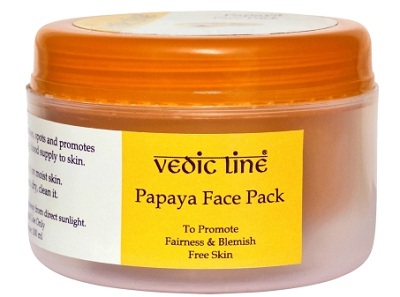 Another facial mask or pack that can be tried is from Vedic line. This is also a pre-made papaya pack that can be used either daily or 3 times in a week. This keeps the skin free from the dead skin cells and the skin looks glowing and better in texture. Papaya is rich in Alpha Hydroxy Acids that smoothens the skin texture and tone. This is for 190 rupees in India for 100 ml pack.
7. VLCC Papaya & Apricot Scrub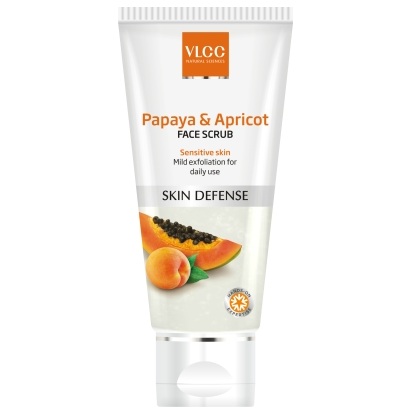 This VLCC papaya and Apricot scrub is ideal to remove the blackheads, whiteheads and skin impurities. This smoothens the skin and makes it healthy and glowing. This is not extremely abrasive therefore can be used daily by wetting the face with water first and then using a light moisturiser.
8. Biocare Papaya Gel
This Bio Care papaya gel has papaya extracts with active ingredients. These papaya extracts helps to tighten the sagging skin. This also clears the skin by eliminating the toxins and nourishing the skin.
9. Lotus Herbals Papayablem Papaya-N-Saffron Anti-Blemish Creme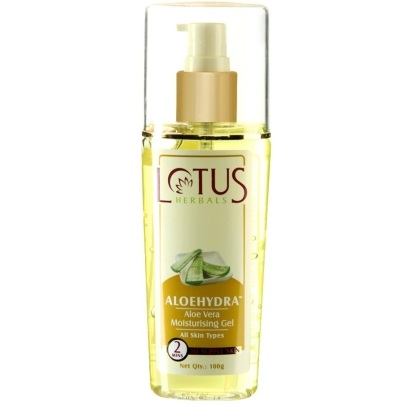 Lotus Herbals Papayablem Papaya-N-Saffron Anti-Blemish Creme has the perfect blend of essential oils le that of almond, clove oil, apricot kernel oil that makes the skin softer moisturized and acne free. This also contains saffron, lemon peel and papaya extracts those have antioxidants that rejuvenates the skin. This is for 395 rupees 50g.
10. Banjaras Multani with Papaya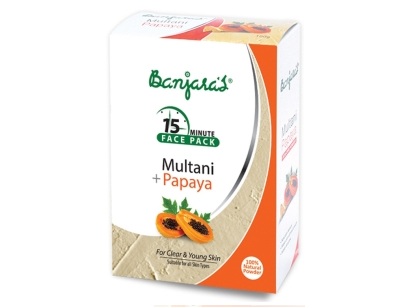 Banjara's Multani and Papaya face pack Powder is ideal for all the skin types including the oily acne prone as well. Multani removes the extra sebum and dirt while papaya extracts will give the nourishment, glow and gentle exfoliation. This is for 40 rupees for a 100 g pack.