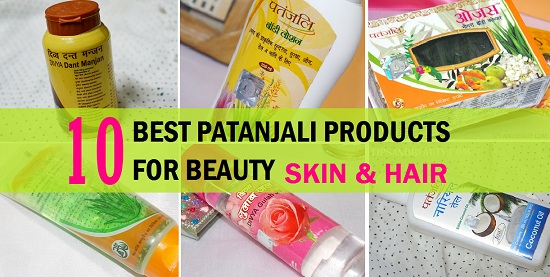 15 Best Patanjali Products in India for Skin and Hair: 2021
Patanjali is an Ayurvedic health, skin care and hair care brand that is from Swami Baba Ramdev. Patanjali products includes daily use products, food items, skin care products like soap, shampoo, skin cream, personal hygiene related product and health products like the medicines based on Ayurveda. The products are good quality and what attracts the consumers a lot is the affordable price. Just imagine Patanjali face wash for only rupees 45 and a face pack for 60 Rupees. Yes, this is why these products have become one of the most loved brand in Indian market currently. Apart from the grooming and personal hygiene products, Patanjali also has products like the grocery items and the edible items. It has become an immensely popular herbal brand now and a lot of people will use their products because they are natural and Ayurvedic. Many people try Patanjali food products too, but here we are interested in their beauty products only. Good skin care products are important to keep your skin good looking and to combat the skin problems. What exactly makes patanjali products so loved amongst the common Indian people. I guess, it is their organic nature and budget prices. So let see why and how Patanjali products are beneficial.
Why some one should choose Patanjali Products for beauty?
Our very own Made in India brand that has everything, you need like the body lotions, shower cream, soaps, face wash, moisturizing skin creams, anti wrinkle creams etc.
They have vast collection of hair care product that comprises of several shampoos, conditioners and oils. Yes, oils like amla, oil, coconut oil from Patanjali are try worthy!
Another good reason why the brand has gained all that popularity in recent times, is the way Patanjali has connected with the Indian people. Their advertisement displays honesty and no over the top claims or flimsy style.
But the major point would be the prices. Honestly, even if it is Ayurvedic, organic or Made in India then too people may not give so much attention to the products if the prices cost a bomb! Turely! this is right!
Patanjali beauty products are very affordable and normal middle class people do not have to burn a hole in their pockets to afford the Patanjali skin and hair related products unlike some of the High End brands in India.
Their products are designed keeping in mind the skin type, climate and other factors in India, so the much desi brand has products that suits the Indian masses in general.
The best part about Patanjali products is that all of them are made in India and for Indian skin types and hair types keeping in mind the climates and the lifestyles we lead here.
These products these days are very easy to procure as they are available in stores, online shops, supermarket and most importantly, in the Patanjali stores.
These days, I have seen that Patanjali stores have cropped up in every nook  and corner of the city and have become far more accessible.
Top Patanjali Beauty Products 
We have compiled a list of best products from Patanjali from the sections like the skin care, hair care and grooming.  These are some of the best Patanjali products that everyone can try. They are well suitable for most of the skin tones.  So. let's have a look at these products from Patanjali Ayurveda.
1. Patanjali Aloe Vera gel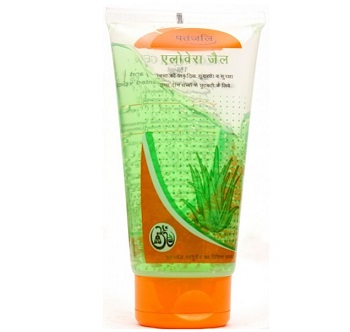 Patanjali Aloe Vera gel is only for 30 Rupees but it can be used for so many purpose. This is one of the best Patanjali products. I have used this for my skin when I had skin rashes due to sun exposure. It can be used as a face pack. For eg: Mix some Patanjali aloe vera gel with cucumber juice or milk and massage the face and wash after 30 minutes. This soothes the irritated dry skin and skin type that is sensitive. Even the redness that some people experience after usage of bleaching cream that too can be healed with patanjali aloe vera gel.
Features and Review
Highly affordable product

Easy to get from Patanjali stores and online

Multipurpose product

Can be used by both dry skin and oily skin

Suitable for acne prone skin types

Heals pimple marks and scars

Can be used on the insect bites and minor cuts and burns
Price: 35 Rupees
2. Patanjali Coconut oil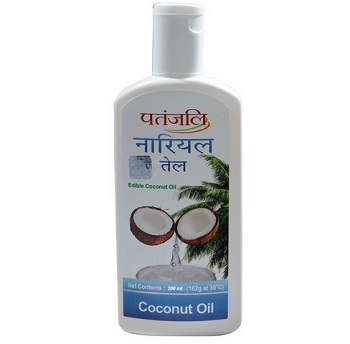 Patanjali coconut oil is is an amazing product from this Ayurveduc skin care brand.I like this Patanjali coconut oil since it is edible oil and is pure coconut oil. I like to use this to massage my body one hour before shower and it really has improved the texture of my skin. My mum has very dry skin so, she would apply this on her hands and legs at night before going to sleep. This makes her skin adequately moisturized. I have also noticed that in summers, when we use air conditioners while we sleep, AC takes the moisture away from skin, so that way too this coconut oil helps to lock the moisture in the skin. I will not advise you to use this on the face unless you have extremely dry skin.
Features and Review
Good for the moisturisation

Ideal for winters

Packaging is not user friendly for the winters as this solidifies

gets applied well

Dry skinned people will certainly like this

Purity is high for this coconut oil
Price: 
Read also: Best coconut oils in India

3. Patanjali Divya Tejas Tailam Oil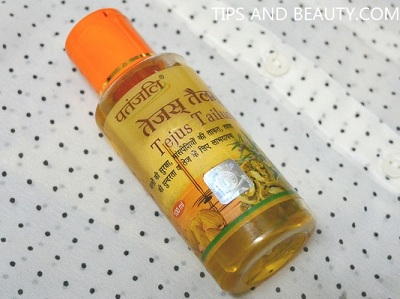 This Patanjali Divya Tejas tailam oil is wonderful. This comes just for rupees 60 and has multipurpose benefits. I use this as a body massage oil, hair oil or for dry areas like my feet, elbows etc. This Patanjali product smells amazing and has various oils like almond oil, walnut oil, sunflower oil etc that nourishes the skin and replenishes the texture.
Features and Review
Powerful oil that is blend of the several oils

There are oils like walnut oil, sunflower oil, almond oil etc

It deeply moisturizes the skin and can also be used on the hair

Can be used a a body moisturiser

Gives glow to the body skin

Smoothens the skin and improves skin complexion
Price: 60 Rupees
4. Patanjali Herbal kajal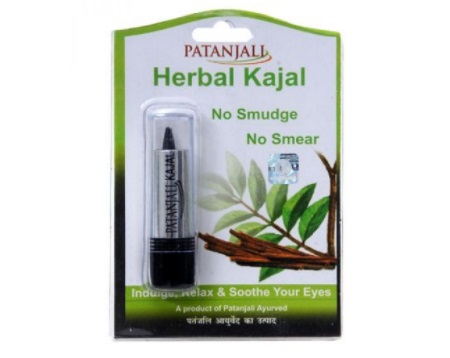 If you are looking for a good herbal kajal then do try Patanjali kajal. The kajal is made using the herbs and is pure organic. there are no harmful chemical. The kajal is amde with teh herbal ingredinst and oils like castor oil, amls, almond oil harad etc. So, people looking for a herbal kohl can definitely give it a shot. 
Features and Review
Very budget friendly

Not purely smudge-free but yes, it does stay longer

Jet black texture

Herbal concoction preparation

has castor oil, almond oil, amla, harad etc that soothes the eyes

Claims to improve the vision but can say much about that
Price: 90 Rupees
5. Haldi Chandan Soap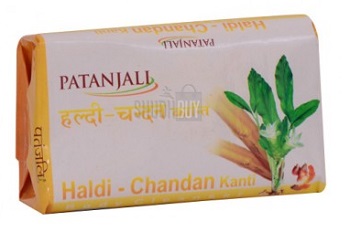 Patanjali's haldi chandan soap means it is a soap made with the sandalwood and turmeric extracts. Undoubtedly, the soap is one of the best budgets soaps in Indian from this brand. I like the smell of this soap. It is very pleasing and sweet. The faint whiff of the sandalwood is just refreshing. Imagine, a tiring day and you take bath with a soap like this. Or start your day with a bathing soap like haldi chandan. It soothes the skin and is appropriate for the summers and winters.
Features and Review
Price is very easy on the pockets

lathers so much that the soap actually lasts longer

Gives satiny lathers

Being a soap it is still non drying and moisturizing

Has pleasant smell of chandan or sandalwood

All skin types
Price: 13 Rupees
6. Patanjali Body lotion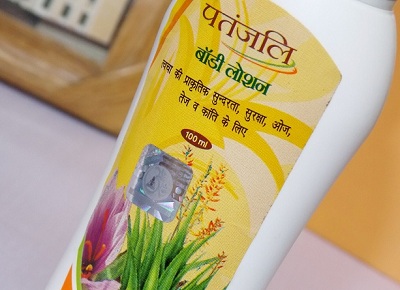 Patanjali body lotion is also one of the best Patanjali product as it is very nourishing and has natural extracts of cucumber, wheat germ oil etc. It was my best body lotion in the past winter season and is priced for 60 Rupees. I am not sure if they have increased the price but it was very nice for all skin types.
Features and Review
Wonderful body lotion which is rich in the natural active botanicals like wheatgerm, cucumber, almond, coconut oil etc. 

Immensely hydrates the dry skin

Suitable for summers and winters

Good for all skin types

Heals the dry skin and patches
Price: 60 Rupees
7. Patanjali Kesh Kanti Milk Protein Shampoo
Milk protein in shampoo sounds good! Isn't it? The milk protein shampoo is a moisturizing shampoo that lathers so much that within a teaspoonful, you can wash your hair. The hair feels so softer and shinier. I like the smoothness that it gives to my hair. I had dry hair earlier and this really helps me to get rid of the dryness. It has also cured my split ends. It is not stated in the claims for this product but it does help me wit my dry ends and split ends.
Features and Review
Has milk proteins that reinforces the hair strength
Gives amazing softness and shine to the hair
Also has herbal botanicals that aid in the the hair thickness
Hair also look shinier
Milk proteins boost the hair growth and heals the damage
Suitable for all hair types
Price: 80 Rupees
8. Divya Gulab Jal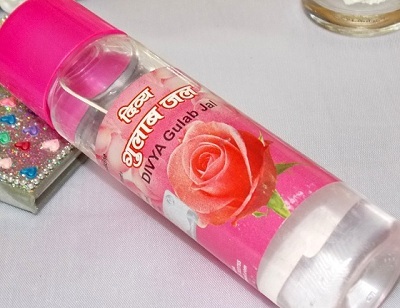 Patanjali rose water is also a great product. I have used rose water from Dabur Gulabari and this was as good as that. I can use it for cleansing the face, mixing my herbal face packs and also to calm my irritated or sun burnt skin. The bigger bottle is for 25 rupees only. Rose water has many uses other than these like you can put that over the sun burnt skin or make ice cubes from them so you too can try rose water to help calm the irritated dry skin and to combat the dryness. 
Features and Review
Pure rose water

Can be used for cleansing the skin

Used as a face pack medium 

Gives coolness to the skin

Can be mixed with cucumber juice to fade skin tanning and blemishes
Price: 25 Rupees
9. Patanjali Swarn Kanti Cream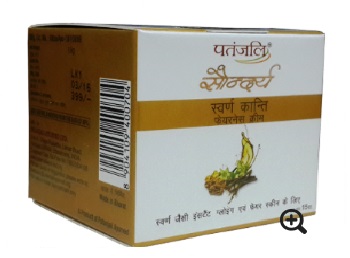 Swarn kanti fairness skin cream is a skin cream that can be termed as an expensive cream. Reason is pretty simple even though the Patanjali products are cheap, this cream turns out to be not-so-budget friendly. A small container costs 399 rupees and the pack lasts for 15 days at a max. The Ayurvedic fairness cream is ideal for the all skin types. While it boosts the skin's 
Features and Review
Blends well in the skin to give a glow

Has so many herbal ingredients that cures the skin issues

It lightens the skin but not drastically

Safe for the skin like sensitive skin

Does not break out the skin

Has mild pleasant smell
Price: 
10. Patanjali Multani Mitti Face Pack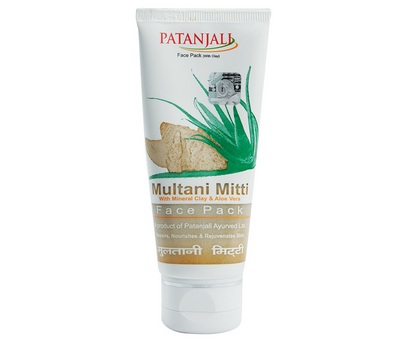 I am using this 2 times in a week and I must give credit to this product that there were few boils or rashes on my chin like 10-12 of them they were tiny and I knew that after few days, they will become full fledged pimples as I could feel slightly bump and pain when I touched that part of my face. I used this multani mitti pack and within 2 usage, my skin was clear like before. The smell is a bit too much due to sughandhit drivya but now I have started liking that coolness and I use it regularly even when my complexion has cleared. I will review this very soon and there you can found out more about this product.
Features and Review
Ideal for all skin types but those who have oily acne prone skin may reap the highest benefits

Easy to apply

Regulates the oils and sebum

Smells nice
Price: 70 Rupees
11. Patanjali Almond Hair Oil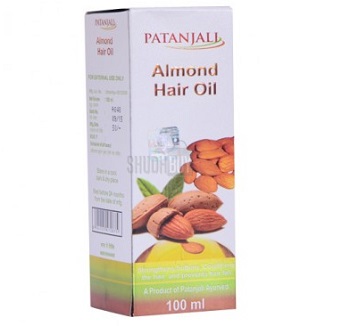 Almond hair oil is an effective oil for the hair growth and hair loss control, Regular application of almond or badam tel is recommended for people who have dry hair and also for men with balding. Baldness can be prevented when almond rich oils are used on continuous basis. So, get good fuller hair with almond oil. For added benefits, also add some coconut oil in it. This boosts the effectiveness and gives wonderful results. 
Price: 60 Rupees
12. Beauty Cream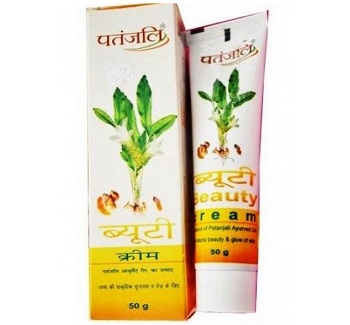 A beauty cream is for everyone as daily application of a good ski cream can ensure good skin. While our skin undergoes a lot through out the day, use of a suitable skin cream becomes essential. Besides being a herbal product for the skin the cream also has the organic ingredients. You can apply it twice in a day for healthy skin. This cream is not for fairness, spots etc, but is a daily use cream that men, women, college students, teenagers all can try.
Features and Review
Good for everyday use

Suitable for all skin types

feels light

Not that effective for very oily skin

Not much hydrating for winters
13. Patanjali Body Cleanser soap Mogra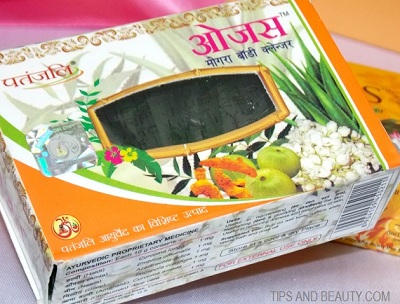 Patanjali has around 3-4 varieties of body cleanser glycerin based soaps. I have used 2 and they were fabulous. They are very moisturizing and gently clean the skin. Such soaps are great for winters. I am not suggesting any variant since all the variants are quite similar except for the fragrance and the key ingredients. My favorite is mogra one.
Features and Review
Great Mogra smell

Gets melted quickly

Has satiny lathers

Does not dry the skin
Price:  25 Rupees
14. Patanjali Saundrya Face wash
I have tried 2-3 Patanjali regular face wash but they were quite drying but Patanjali saundrya face wash was good with the orange, neem and Tulsi extracts. The face wash give good lathers that are not foaming but has the lathers that gives true skin cleaning. The cleansing properties of this facial cleanser is good and is suitable for the oily skin. This on the other hand is not a suitable face wash for dry skin. 
Features and Review:
Suitable for oily and acne prone skin

Not at all for the dry and sensitive skin

Fresh feel

Very budget friendly and affordable

Has natural ingredients and elements in it
Price: 60 Rupees
15. Patanjali Aloe Vera Shampoo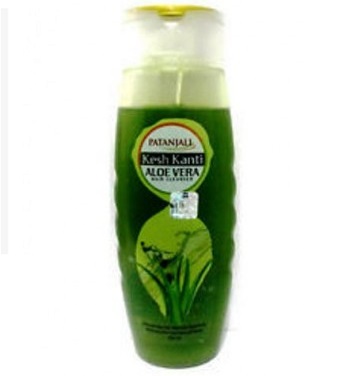 This Aloe vera shampoo is suitable for the dry and rough hair. The power of aloe vera in this helps in the cure of dryness and damage. The price is so inexpensive that you can easily try it. Availability of this shampoo is also very quick and easy. When you have dry hair ends and split ends then using a aloe vera rich shampoo that certainly tame the dryness and the split ends.
Features and Reviews
Affordable

Easy to use packaging

Single bottle lasts longer

Lathers a lot so that little quantity can be used for a single wash

Gives a smell that is extremely fresh and refreshing

Good for people with dandruff and itching
One of the best Aloe vera shampoos 
Price: 75 Rupees
So, these were the worth trying Patanjali Ayurveda products for skin and hair that you can try and if you like some other product do let me know about it too. :)
Recommended Articles: