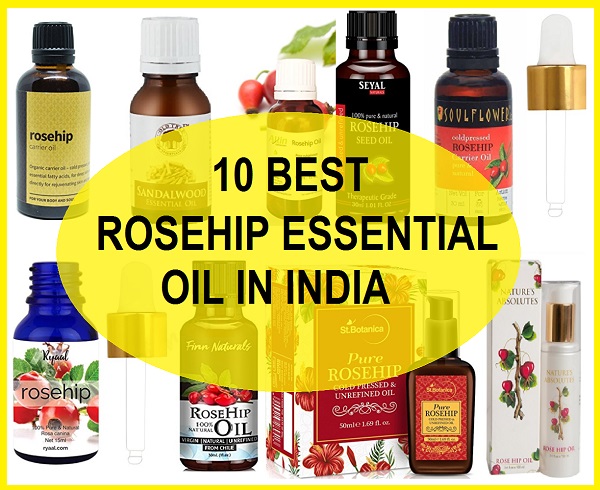 Best Rosehip Oil Brands in India
Rose hip oil is obtained from the seeds of Rosa Canina using the cold pressing technique. This process helps to get the purest form of Rosehip Carrier Oil. The oil is highly beneficial. It is rich in Vitamin A and C, along with these, rosehip oil that helps in regenerating skin cells. The skin cells get rejuvenated and skin looks younger. Moreover, the high fat content and the nourishing vitamins also give the sun protection. This oil shields the skin from the UV rays. Rosehip oil is a light weight oil that is excellent for the hair and skin. For massaging too, the oil can be applied along with the olive oil, castor oil etc. Not just that, the oil is also useful in making the dry and dull hair lustrous and softer. You can apply some of this oil on the hair and leave overnight. It can also be mixed with the Rosehip oil with coconut oil or almond oil,before applying this oil on your hair. This way, the efficiency can be boosted.
Rosehip Oil is enriched with Omega-3, Omega-6, and Other fatty acids that nourish the skin from inside. To get rid of the wrinkles and dullness as well, regular application of this wonderful oil can be extremely beneficial.
List of Top Rosehip Oil Brands
Let's look at the list of the best selling rosehip oil brands that are available in Indian market.
1. Soulflower Rosehip Oil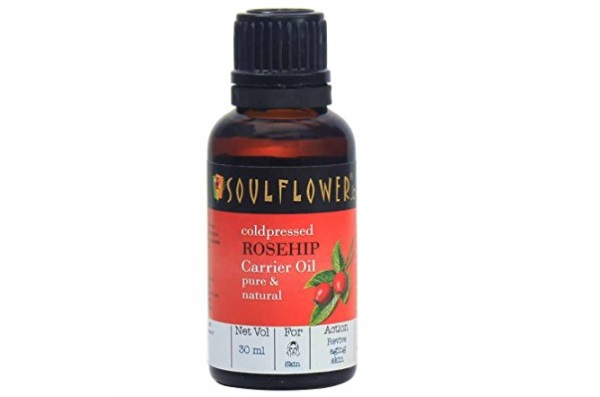 Soulflower Rosehip oil is very light in texture and has a non-greasy formula which can stop premature skin ageing. It has multiple vitamins that enhance the glow of the skin. Rosehip oil softens the skin and makes it moisturized and hydrated. It also protects their skin from free radicals and sun damage.
Price: 800 Rupees for 30ml, Get here
2. Nature's Absolutes Rosehip Carrier Oil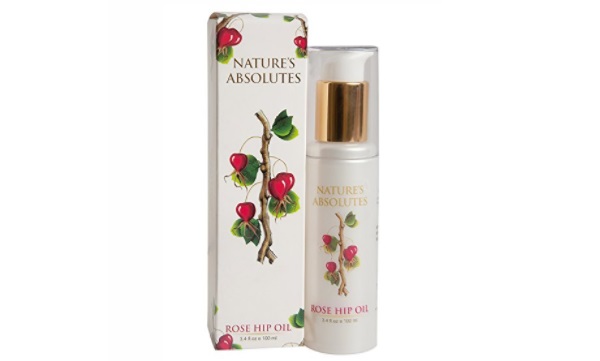 This oil is suitable for all skin types and can be applied in all seasons. The Rosehip oil adds radiance to the skin and makes it look more smooth. It can also be used on the hair as it treats dry and itchy scalp.
Price: 1299 Rupees for 100ml, Get here
3. St. Botanica Pure Rosehip Oil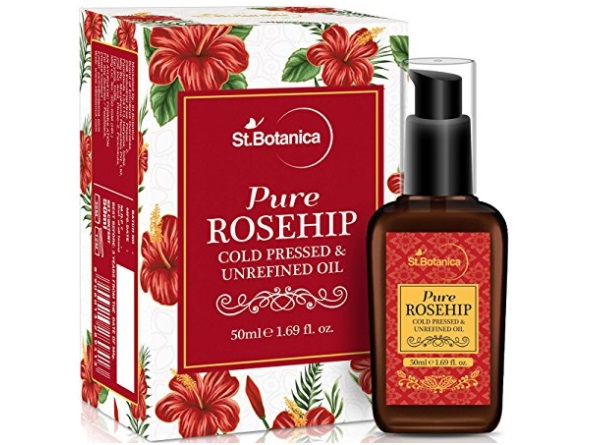 St. Botanica Rosehio oil is pure and natural and the benefits are so amazing. It slowly reduces the ageing process of the facial skin and make it full of life. It removes dark circles and pigmentation after a regular use. This Rosehip oil contains essential fatty acids and anti-oxidants which protect the skin from free radicals.
Price: 999 Rupees for 50 ml, Get here
4. Seyal Rosehip Seed Oil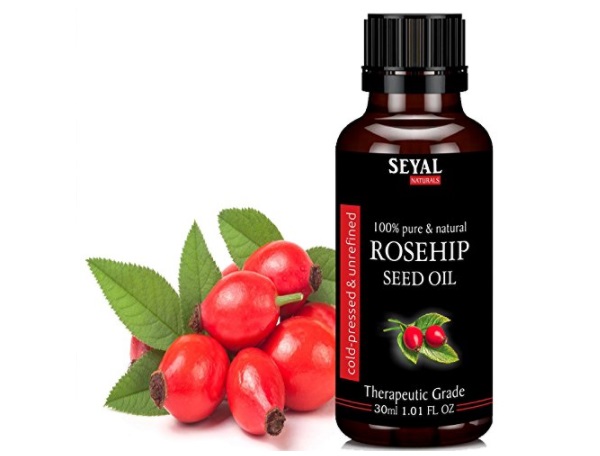 Seyal Rosehip oil is rich in vitamin-C that improves skin complexion and makes it free from pigmentation. It is unfiltered and pure natural oil that is not only effective on hair, skin and nails. This Rosehip oil is free from artificial fragrances and does not contain any additives.
Price: 699 Rupees for 30ml, Get here
5. Finn Naturals Rosehip Seed Oil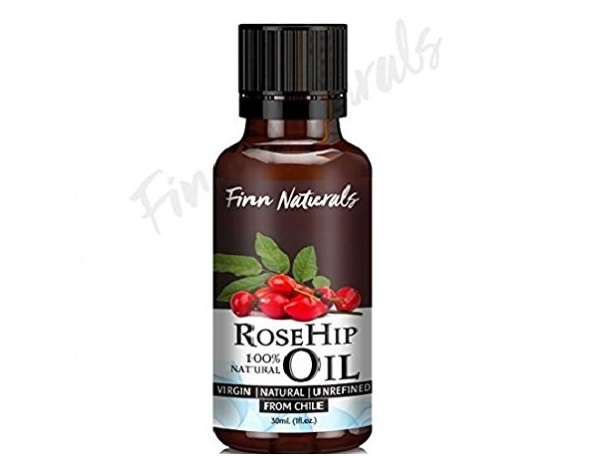 Finn naturals are brand from chile and is very popular in India. The packaging of this oil is very attractive and travel friendly. The Rosehip oil is very smooth in texture and absorbs easily in the facial skin. It reduces the scars caused by acne and removes fine lines from the face.
Price: 699 Rupees for 30ml, Get here
6. Ryaal Rosehip Seed Oil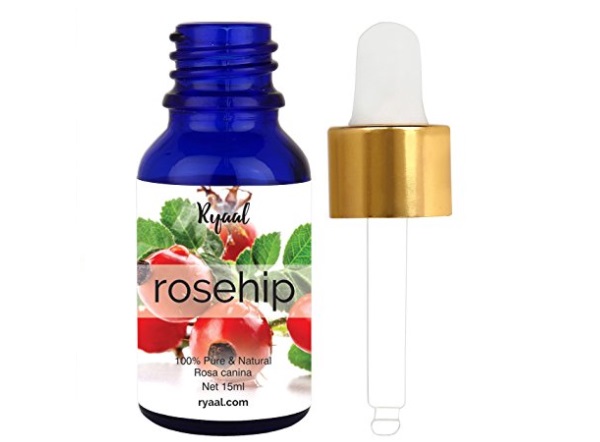 Rosehip oil consists vitamin-E and vitamin-C that induces skin color, makes it even and free of pigmentation. It also removes stretch marks and wrinkles from the skin. After a regular use, you will see a visible difference in your skin tone.
Price: 290 Rupees for 15ml, Get here
7. Allin Exporters Rosehip Carrier Oil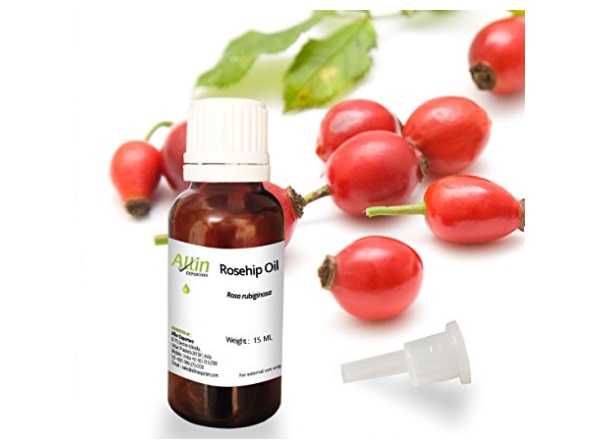 Allin exporters carrier oil is completely pure and natural. The brand states that it has a variety of benefits like removing acne and marks. The oil is completely undiluted that is very easy to use. It can be used with other oils like sweet orange oil.
Price: 346 Rupees for 15ml, Get here
8. Pure Rouh Essentials Rosehip Oil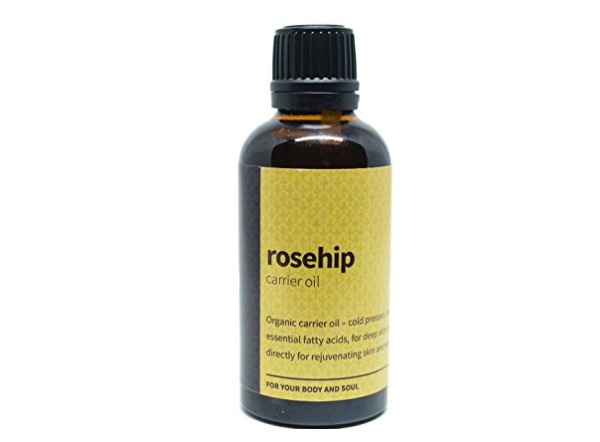 This oil is highly recommended for hair and acne prone skin. It has anti-bacterial properties which makes skin free from oiliness which is a major cause of acne production. This oil can also be applied directly onto the hair and massage well. It will remove dandruff and other dry scalp. It can also be applied on the pigmented skin as well.
Price: 799 Rupees for 30ml, Get here
9. HillDews Rosehip oil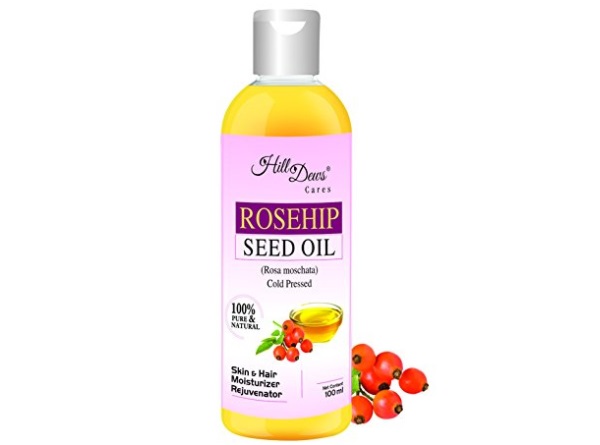 HillDew Rosehip oil nourishes the skin deeply and enhance its natural color. The oil is made with natural rosehip extracts. It has multiple benefits fir hair and skin. The quantity is quite enough and the product has long lasting effects.
Price: 550 Rupees for 100ml, Get here
10. Deve Herbes Pure Rosehip Seed Oil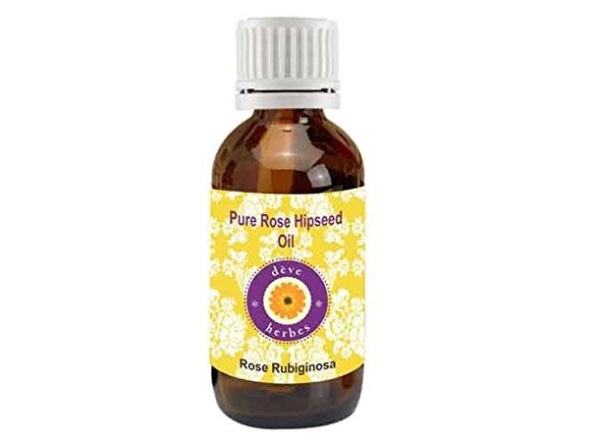 Cold pressed oil is extra virgin pure oil which is free from all artificial processes. It is undiluted which means it does not contain any other form of liquids. This brand has highly satisfied customers in whole country and has huge sale of essential oils in the world.
Price: 499 Rupees for 15ml, Get here
So this is the list of the best Rosehip essential oils in India. Have you used any of these?
Recommended Articles:
By Ratna Balani