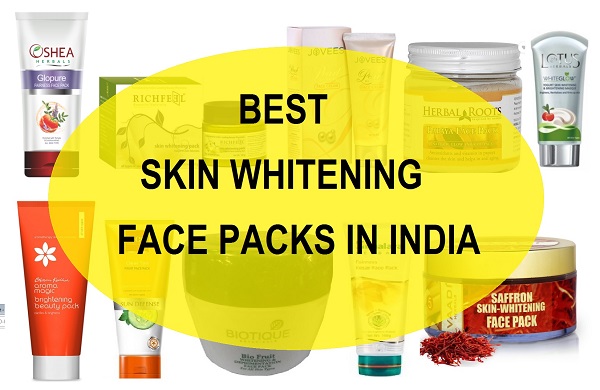 Best Ready-made Skin Whitening Face Packs in India
Your beauty is never determined by the skin color but yes, having a good skin and brighter complexion is always a plus point. So, how can be you get a fair skin tone by eliminating deep seated impurities? Well, one can try skin whitening face packs that can enhance the shallow tired complexion. Face packs are good when they are applied on regular basis. They can give relief in so many of the common skin problems that we experience on day today basis. What are those skin problems? The problems can be tan, darkening, dullness, dark spots etc. These fairness face packs are also important since they can make your skin look better than before. These packs and masks can also give the skin get ready for party and weddings. Here is the list of the best skin whitening face packs and mask that are available in Indian market. These can be for the dry skin or oily skin while some of them can be appropriate for the sensitive and combination skin.
Top rated Skin Whitening Face Packs in India with Reviews
The ready-made skin lightening face packs helps restore the complexion by fighting the tan and cells that make excessive melanin. So, get the real glow on the face by eliminating the wrinkles, lines and other problems that you never wish to show up on the skin.
1. Jovees Pearl Whitening Face Pack
Have you realized why Pearls are used in skin whitening products like facial wash, kits, creams etc. This is because the pearl has the properties to whiten the skin by manifolds. It refines the pores and makes the skin flawless. Other than that, pearl are also beneficial in reducing the dullness and skin darkening that is caused due to sun rays. This Jovees pearl face mask is formulated using the nano skin care technology that involves the inclusion of nano-particles which are in the range of 100-140 microns. So, this gets into the skin's deep layer to give benefits.
2. Biotique Bio Fruit Whitening And Depigmentation Face Pack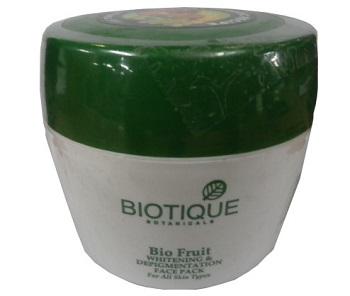 Biotique Bio Fruit Whitening And Depigmentation Face Pack is a pack that can be tried by all the skin types. The pack is rich in fruits. And guess what Fruits has been the most used product when one need to whiten their skin. Moreover, fruits are also suitable for the proper lightening of the skin by eliminating the dark spots and blemishes on the skin. Fruit packs are generally mild and are effective for all skin types. This is easy to apply and get rinsed off. It can be used 3 times in a week.
3. VLCC Clear Tan Fruits Face Pack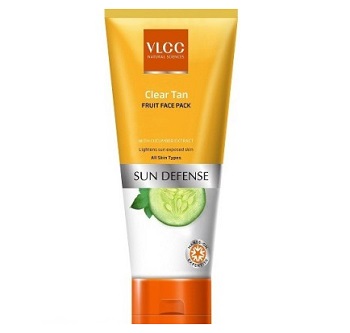 VLCC Clear Tan Fruits Face Pack is primarily is an ant-tanning pack which helps to get rid of the tanning that we pile up during the summer season. Summer is the time, when the skin becomes dark and tanned hence using a face pack that is rich in the fruit extracts can certainly lighten the tan. You must do something about the tan else when not made some advances, this tan can become permanent. We are sure that no one of us would wish to display a face that is patchy unnecessarily when you have products that can cure that. It is also good to whiten the skin. This skin whitening readymade pack helps clear deep seated impurities and tan. It contains the fruits like cucumber, pineapple and mulberry which removes the dull darkness and sun tanning.
4. Lotus Herbals WhiteGlow Yogurt Skin Whitening and Brightening Masque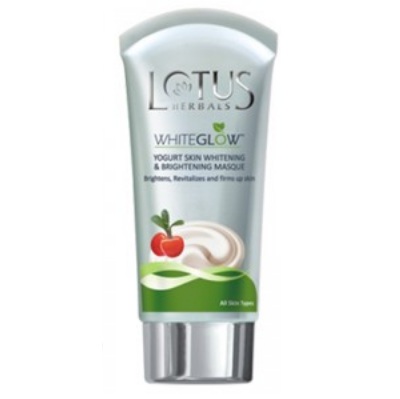 Lotus Herbals WhiteGlow Yogurt Skin Whitening and Brightening Masque aids in lightening the skin that improvise the skin tone It makes the skin firmer. Do you like yogurt in your face masks, If yes, then this yoghurt loaded face mask is for you as this has yogurt extracts long with the bearberry extracts. Why just the nourishment, yoghurt contains lactic acid that heals the dryness and makes skin glow. This is not only a ski whitening pack but also has the face glow properties.
5. Himalaya Herbals Fairness Kesar Face Pack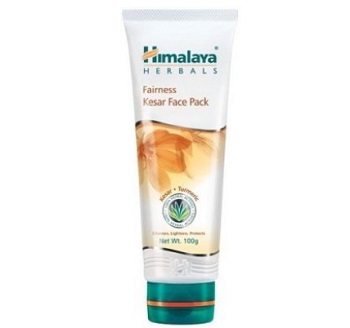 Imagine applying kesar on the face. It feels enticing when you apply ingredients that kesar or saffron on the face that actually heals the skin dryness and cares for the dark skin. This whitening ingredient is involved in several fairness products. This fairness kesar face pack has natural herbal extract which are not harmful otherwise use of products which are chemical rich can harm the skin in long run. Apart from kesar this also has the ingredients like walnut, Indian aloe that deeply cleanses the skin and let it free of the impurities.
6. Herbal Roots Papaya Face Pack for Skin Whitening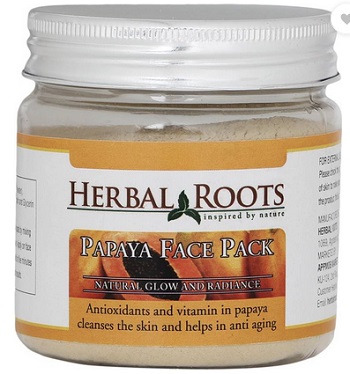 Herbal Roots is a brand that makes multiple facial packs and masks that are targeted for various skin issues. This face pack is made for whitening of the dull and dark skin. It is 100% herbal and made with all natural ingredients. Application of this face pack helps fade away pigmentation, spots and marks. The pack is easy to smear on the face and can be rinsed off easily. It quickly brighten the complexion with its papaya extracts that is rich in the enzyme papain.
How to prepare:
It is in the powder form, therefore you need to prepare, it and to prepare it you need to mix this with some rose water. Take just 2 teaspoonful of this powder and mix with rose water, It helps to create a paste that is easy to apply on the face and neck.
7. Vaadi Herbals Saffron Skin Whitening Face Pack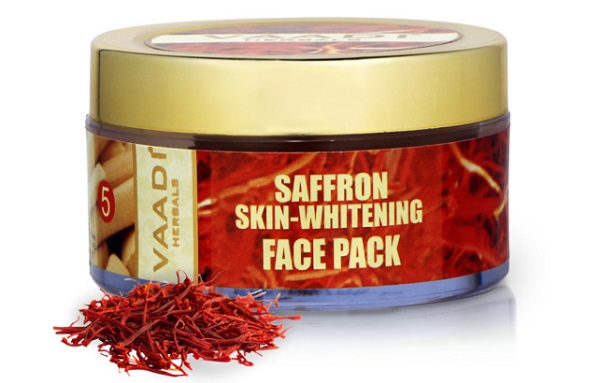 Vaadi Herbals Saffron Skin Whitening Face Pack is made using the rich ingredients like Saffron, Lemongrass oil and Manjistha. This skin whitening facial pack is in the tube form which is easy to carry an use like you are going for a outstation wedding where before the wedding, you wish to have a product like this for fairness and glow. The thick paste can be applied directly on the skin or just wet the face first. This smell good and there is no strong artificial chemical full for smell. This pack can be used by everyone and even by the men as well.
8. Aroma Magic Brightening Beauty Pack
Aroma Magic Brightening Beauty Pack is from a natural and herbal skin acre brand by Dr. Blossom Kochchar. This bran offers some very good products. This beauty pack is for glowing skin and skin lightening. It is made applying the power of the fresh ingredients like apple, lemon, kaolin, orange peel and other fruit enzymes. It firms the dry skin and also targets the sagging face.
9. Richfeel Skin Whitening Pack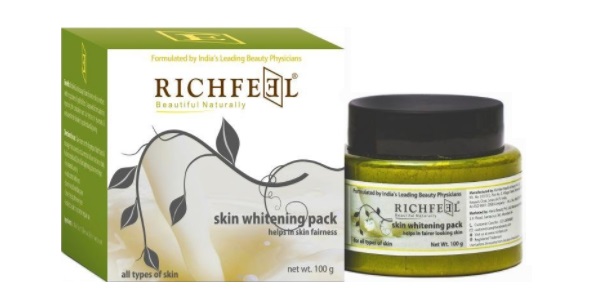 Richfeel Skin Whitening Pack is a unique and special formula that is made by applying the knowledge of herbs. It decreases the tan and makes the skin glow. The pack on application also lightens the dullness and skin pigmentation. This is in the tub form which may not be the best possible packaging but eyes, easy to use. Price is also affordable, slightly much when the other whitening packs are between 150-300 rupees range. This is not a paste which s readymade but has powder in the pack. Therefore just take 1-2 teaspoonfuls for this powder pack and mix with rose water or clear water. For dry skinned ones, it can also be used by mixing milk. Apply and wash after 20 minutes.
10. Oshea Glowpure Fairness Face Pack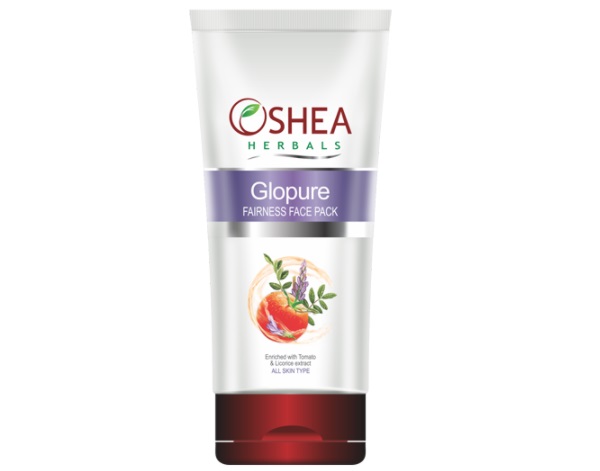 Oshea Glowpure Fairness Face Pack is one of the best since the pack is in a tube which is very easy to carry around and apply. Moreover, this is good for the all skin types. The pack is rich in some of the most sued natural products to white the skin. Like the extracts of Manjishtha, Nagkesar, Aloe Vera, Licorice, Lemon juice, Cucumber Juice and clay. This is just wonderful when a pack has the goodness of so many things. When we make homemade whitening packs then putting so many thing sis just not possible but with this it is possible. While it is able to minimize the melanin formulation which lightens the skin, it also ads in the removal of dullness and makes kin pure. It cleanses the pores and also firms the skin.
So, these face packs to lighten and whiten the skin and these can be applied by the dark and dull skinned people. Men too can try these packs. These whitening face packs also aids in the lightening of the sun tanning and in fading the blemishes and dark spots on the face.
How to apply the face packs
Applying face packs is pretty easy. If the pack is in powder form then take 1-2 teaspoonfuls of that powder and mix using some clear water. Take this paste and apply on the clean face. Clean face is suitable and if you apply pack on the dirty unwashed skin then it cannot work well due to the impurities settled on the uppermost skin layers.
Keep this on the face for 20 minutes and let this gets completely dried. Once the skin lightening pack gets dried you can then wash the face using clean water. The water should be normal and not hot.
What not to do after face pack application
After face pack application and removal, you should not directly step out in the sun and at that time, the skin is freshly exfoliated and it can get damaged. Therefore apply packs in the evening. Do not use hot water to wash the pack rather use tepid water. Never rub the face while taking the packs off but sue the gentle circular motions.
How often to apply packs and masks
For the face packs which are for whitening or acne. You can apply that 2-3 times in a week to get good and long lasting results.  Do try a patch test if you are using a pack for the first time. Patch test can be done below the chin or near the ear.
Recommended Articles:
Aloe Vera For skin whitening: How to use
How to use yoghurt for skin whitening
Best Skin whitening Night Creams in India
Best Skin whitening Body Lotions in India