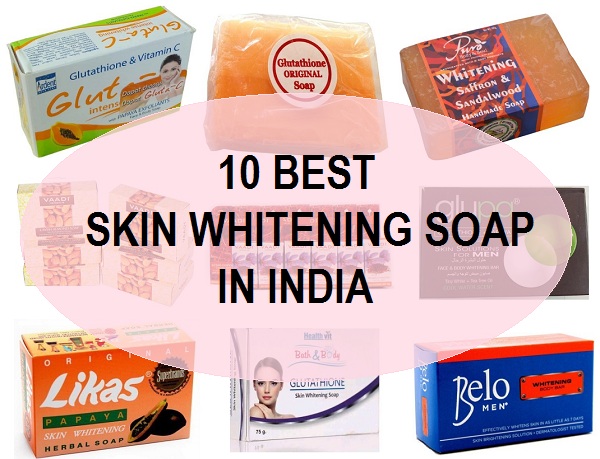 Skin Whitening Soap for Men and Women in India with reviews
Skin lightening is what many people would want these days. Fairer and bright skin is attractive according to men and women, who wish to have fairer skin tones. Nevertheless, all the skin colors can be beautiful. But if you have this desire of fair skin, then why not lighten it by a couple of shades. There are several fairness skin creams, cleansers, soaps, and lightening treatments that works to remove the dark skin layer and to decrease the sun tan. 
Benefits of Lightening soaps: Do they work?
Recently, our readers have asked us about the skin whitening soaps. Soaps can be good to whiten the skin. When we take bath, a soap can be applied on the entire body and face unlike the treatments which are used on the face only. In most of the skin lightening soaps, there can be of two types. First one, there will be herbal ingredients like papaya, saffron, sandalwood etc. Secondly, there are soaps that has glutathione, kojic acid etc. So, both of these types of whitening soaps works for your skin. You can also get rid of the facial skin tanning by the use of such soaps. For the skin darkening also they work well.
We have compiled this list of the best skin whitening soaps available in India. In the second part of the list, you will find the soaps with the kojic acid  and glutathione. Kojic acid and glutathione are very powerful in making the skin lighter by decreasing the melanin and by gently removing the dark skin cells.
10 Skin Whitening Soaps for Men and Women available in India (2022)
You can use fairness soaps to enhance skin color and to fade away the dull looking tan. So, which is the soap that you should use? Well, out of the several options, you can try the soaps that work to give you instant fairness. Moreover, the soaps should always be chosen according to the skin type.
We have compiled this list best selling whitening soaps that lighten your skin and aid in getting back the original skin complexion.
1. Fairbeat Skin Whitening Soap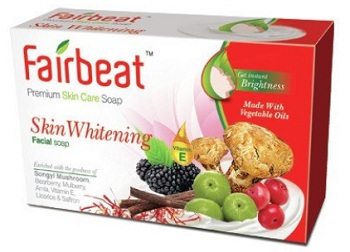 Fairbeat skin whitening soap has the goodness of Songyi mushroom, Mulberry, Amla (Indian Gooseberry), Vitamin E, Bearberry, Licorice and Saffron (kesar). All these whiten the skin and revives the dull and tired looking skin. This cleanser is also rich in natural antioxidants that reduces the oxidative stress and cell damage. The skin whitening  soap contains natural sunscreens for sun protection. While the soap also reduces the dark spots, it also gives flawless complexion. This lightening soap is one of the best soap for getting fair skin and can also be used by men and women. This fruit rich soap mildly exfoliates the skin and even tones it.
Features and Review:
Goodness of Songyi mushroom, Mulberry, Amla (Indian Gooseberry), Vitamin E, Bearberry, Licorice and Saffron (kesar)

Organic fairness inducing soap

Gentle exfoliation

Reduces dark spots and marks on the skin

Unisex soap for both men and women
2. Vaadi Herbals Lavish Almond Soap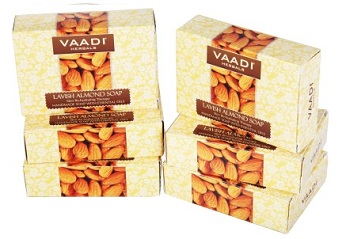 Vaadi herbals has this almond soap which is fortified with skin lightening almond extracts. Almond use in skin care is the secret to whiten the skin since ancient times. Like the almond fairness face packs. Almonds are rich in antioxidants and vitamin E in this soap. Both of these will support the skin to stay younger and flawless. This almond soap from Vaadi herbals will lighten the skin and removes the black, brown spots on the skin. The brightening soap also contains honey which is useful in rejuvenating and moisturizing the skin. This soap also minimizes the effects of sun damage and photo aging of skin.
Features and Review:
Minimizes the sun damage and makes skin glow

Lightens the complexion

Natural ingredients like almonds and honey in this soap

Suitable for everyday use

Lightens the black marks and spots on the skin
3. Vaadi Herbals Kesar-chandan Facial Soap with Orange Peel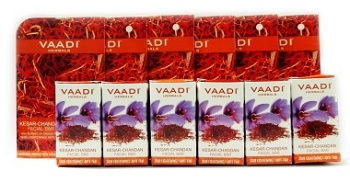 This Vaadi facial bar is rich in Kesar or saffron and orange peel. Vaadi skin whitening soap is ideal for oily to normal skin as orange peel is very good at controlling excessive oil production. Orange peel is also efficient in reducing the pore size though temporarily. The kesar in this soap, will help to lighten and whiten the skin complexion. You must have read, how beneficial saffron is for skin whitening. Men can also use this brightening facial soap or head on to our men's site to know more on fairness face wash for men in India.
Features and Review:
Goodness of Saffron (kesar)

Refreshing smell of the soap

Invigorating scent with satiny lathers

Makes skin softer and glowing

Organic fairness inducing soap

Also works on oily skin and combination skin
4. Puro Body & Soul Whitening Saffron & Sandalwood Handmade Soap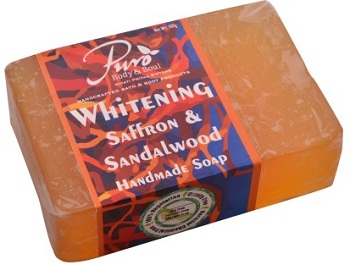 This handmade brightening saffron and sandalwood soap is the recipe for great younger skin. Puro skin whitening soap is handmade and contains licorice and turmeric extracts. You might have noticed that skin whitening creams, lotions etc have licorice. Licorice is effective in giving the fairness. The natural soap for dark skin also lightens the sun darkening, pigmentation, scars on face and marks due to acne breakouts. Turmeric in soap is also a potential skin lightening and complexion enhancing ingredient. Therefore, the soap can also be applied on the underarms to get rid of the darkness there.  It is an ideal soap to reduce the for dark tone of your skin.
Features and Review:
Goodness of Turmeric, sandalwood, Licorice and Saffron (kesar)

Pleasant sweet smell

Lathers adequately for deep cleansing

Does not make the skin dry

Lightens the sun spots and age spots too
5. Likas Papaya Soap Original Papaya Skin Whitening Herbal Soap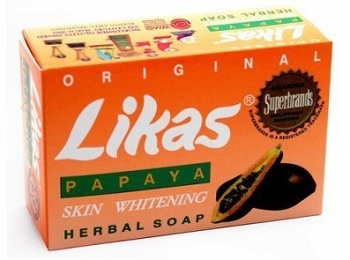 Likas soap is rich in papaya. As we have said, papaya is best natural ingredient to increase the skin's fairness in a gentle yet effective manner. The papaya enzyme and the tropical herbs in the soap will whiten the skin with regular usage of this fairness soap. See: Different fairness creams whitening creams in India
Features and Reviews
Has papaya extracts that whitens the skin effectively

Suitable for all skin types

Does not dry out the sensitive skin

Has no strong smell

Free of strong chemicals
Best Glutathione and Kojic Acid Skin Whitening Soap in India 
Now the list includes the fairness soaps that has the kojic acid as their main ingredient. Kojic acid when used in moderation helps to lighten and brighten the skin tone,  but what is most important that it also gives a beautiful spotless complexion. You must remember that use of such product takes time and you should definitely apply sunscreens while moving out in the sun else skin can get hyper sensitive.
6. Glupa Skin Whitening Soap
Glupa Glutathione soap is rich in glutathione that helps to improve the skin complexion. This also contains tea tree extracts. Tea tree shrinks the facial pores and give anti bacterial benefits. It also controls the oils. This skin whitening soap has the green papaya. Papaya has the power of glutathione that naturally lightens the skin. So, that the skin can look fairer than before, at least 2-3 shades lighter. Vitamin C in this fairness soap will enhance the skin's smoothness and texture.
Features and Review:
Goodness of Tiny white and tea tree oil

Anti bacterial action

Suitable for oily and acne prone skin as well

Natural fairness inducing soap

Contains glutathione

Vitamin C rich soap for extra skin lightening action
Price:
999 Rupees for 135g bar
7. Belo Men Whitening Body Bar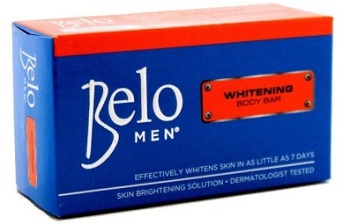 Belo Men Whitening Body Bar is only for the men and this is designed with the powerful ingredients to whiten the skin in a week. Honestly, this seems a little over the top but you can expect a shade lighter in a week. See friends, skin lightening takes time. So, don't gel fooled when a company claims that the product will do something miraculous in a week or so. You can see results but it needs time. This Belo soap is also a great combination of Glutathione, Kojic Acid and Gigawhite. As we said above Kojic acid is efficient in lightening the skin.
Features and Review:
Contains glutathione, kojic acid and giga-white which works on the excessive melanin production

Lightens the dull and dark look of the skin

Good smell and not strong

Melts faster so, be aware

Expensive for a soap
8. Healthvit Bath & Body Glutathione Skin Whitening Soap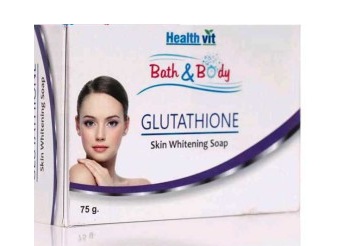 Healthvit Glutathione Skin Whitening soap is rich in the pigmentation reducing complex. This soap will lighten the spots and melanin. Melanin is the major cause for the dark skin complexion. Regular use of this fairness inducing soap will result in lighter and younger looking skin. The soap has all the benefits of melanin fighting Glutathione that helps in reducing skin pigmentation like freckles, age marks, acne spots, pigmented skin.
Features and Review:
Gives benefits of glutathione

Helps in reducing skin pigmentation

Lightens the freckles, age spots and sun spots effectively

Pleasant sweet smell

Affordable and reasonably priced

Fights melanin that darkens the skin

Not much drying for the skin
9. Gluta-C Intense Whitening with Papaya Exfoliants Herbal Soap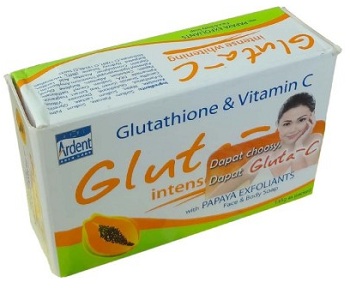 Gluta C lightning soap is rich in papaya extracts which also acts like a gentle skin exfoliant. This soap helps gently exfoliate the uppermost dead and dark skin layer. Papaya is one of the effective ingredients that can boost the fairness. Since papaya has natural enzymes and Alpha Hydroxy Acids. This soap can be tried by both men and women with all the skin types.
Features and Review:
Natural ingredients like glutathione and papaya extracts

Lightens the dark skin layers

100% safe for all skin types

Ensures maximum whitening action

Clears blemishes, dark spots for even skin tone

Papain enzymes gently exfoliates

Suits almost every skin types
10. Glutathione Original Kojic Acid Soap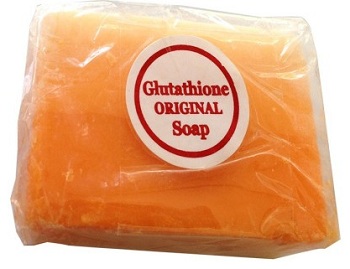 Glutathione Original Kojic Acid Soap is rich in Glutathione. Glutathione is beneficial in lightening the complexion by reducing the melanin levels. Due to low melanin skin appears fairer and lighter in appearance. This can also be good for getting blemish free flawless skin since, Glutathione is also helpful in lightening the blemishes and spots on the skin. On the other hand, Kojic acid is one of the most preferred skin lighter in Japan and South Korea. Kojic acid inhibits the enzyme tyrosinase which results in skin darkening. Moreover, it's also used in lightening the rashes, redness, pigmentation etc. This whitening soap is scientifically proven way to whitening the skin naturally.
Features and Review:
Suitable for all skin types and even the sensitive skin

Stronger than regular Glutathione soap

Gives peeling but gets healed faster

Nicely scented and has pleasant fragrance

Does not dry the skin too much

Minimizes the dark spots and dullness
So, these were the best skin whitening or fairness soaps available in Indian market but be aware that sunscreens are also crucial to keep the skin healthy looking. Here is the list of the best sunscreen in India, which you should look friends, if you're confused on which is the right sun lotion for you.