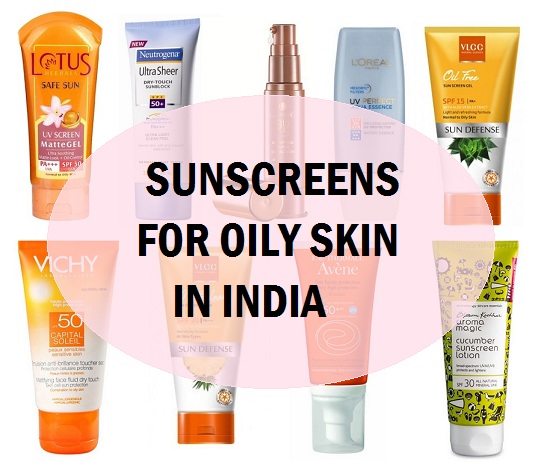 Sunscreens for oily skin, acne prone skin available in India
Sunscreens for Oily skin: Sunscreens are very important. It doesn't matter if the skin is oily, acne prone, sensitive or dry. We have compiled a list of best sunscreens for oily skin available in India. Sunscreens give sun protection and essential shielding against the sun rays, causing adverse effects on our skin in the form of skin darkness, tanned skin, pigmentation, premature aging and rashes. But the thing is finding or choosing the right sunscreen for oily to combination skin is bit tricky as most of the sunscreen are quite greasy. So, the list will help you choose the best sun lotion for you, if you are wondering which type of sunscreen is good for your oily skin?
In the last section, we have also shared how you can use these lotions.
List of Best Sunscreens in India For Oily skin, Acne prone skin (2022)
Let's check, which are the best suitable sunscreen for oily and acne prone skin in India with prices and buying options online. A lot of them can be affordable but some can be quite expensive, like those from the high end brands. One of our readers asked, if Patanjali sunscreen lotion is good? It is decent but definitely not for the oily and cane prone skin type as its texture is greasy and sticky which can make you sweat more. 
1. RE' EQUIL Oxybenzone and Zero-Omc Sunscreen Lotion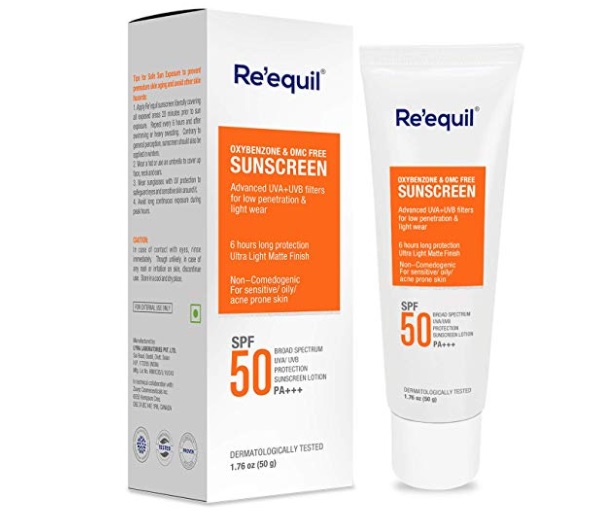 This is the best sunscreen lotion for the oily, acne prone and sensitive skin type. After using this, I never went back to any of the available options. Even those which used to be my favorite earlier. The non-comedogenic sunscreen is a non-greasy product which has advanced low UVB penetration which obstructs the UVB rays, known to darken the skin.
The very pocket friendly product is Oxybenzone and OMC Free which is light on skin. It would be better to call it as the best non-comedogenic sunscreen lotions n India. It's a gel like based sunscreen that comes with SPF 50. It gets absorbed into the skin by gentle massaging and its texture doesn't make the skin feel greasy at all. It also has oil controlling feature to certain extent this is a decent sunscreen for oily-combination skin in India. 
2. Neutrogena Ultra Sheer Dry Touch Sunblock SPF 50+ for Oily Skin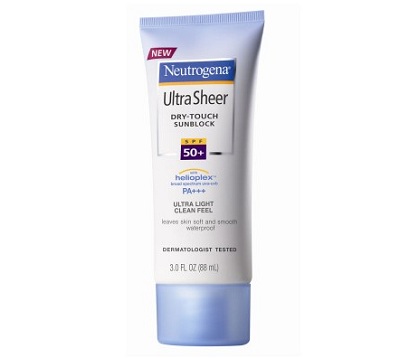 Neutrogena Dry Touch Sunscreen provides broad spectrum UV protection. It is waterproof and sweat proof for long lasting results and has SPF 50 +. The sunscreen has an oil-free formula that doesn't feel heavy on the skin. Neutrogena Sunscreen lotion for greasy skin. It should be used 15-20 minutes before going out in sun. It is one of the best dermatologist recommended sunscreen in India at affordable price. This sunscreen can also be used under makeup.
3. Lotus Herbals Safe Sun UV Screen Matte Gel SPF 50 For Oily Skin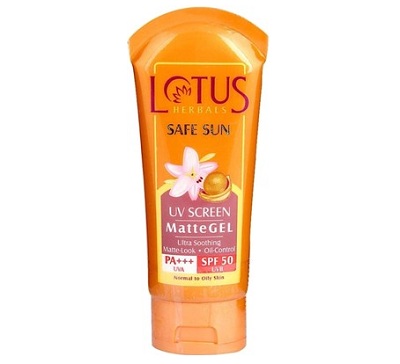 It is a matte gel based sunscreen with the SPF 50 that means high protection. This Lotus sunscreen lotion is an innovative formula that is totally oil free hence, great sunscreen lotion for oily skin in India by Lotus Herbals. The light texture makes sure that is does not break out the skin. It protects the skin from the sun burn, skin damage, UV rays and skin cancer. The Lotus sunblock cream is also recommended for the combination skin type and is suitable for sensitive skin. It is affordable and is under 500 rupees.
Also See: Must have Products for Oily Acne prone skin
4.

Lakme Sun Expert SPF 50 PA+++ Ultra Matte Gel For Oily Skin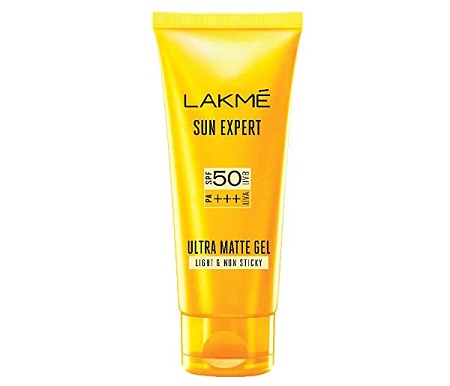 Lakme Gel Sunscreen is a Mattifying sunblock for oily skin which has a light gel texture. This UV protect product has vitamins and SPF 50 to protect from UV rays and also to lighten the skin complexion. This Matte Effect Lakme Sunscreen is suitable for oily skin as has a light matte formula which does not make your skin sticky or sweaty after few hours. Though after 4-5 hours the face looks oily. It does not have oil-control features, you see but is a non-comedogenic product for face. It is also easily available that is why it is undoubtedly one of the best lakme sunscreen for oily skin and sensitive skin.
5. VLCC Matte Look Sun Screen Gel Creame SPF 30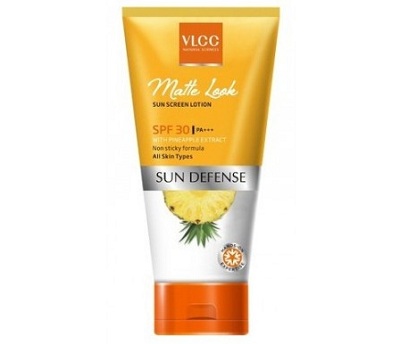 VLCC Matte Look sun lotion is a matte sunscreen for oily skin which has the essential Ayurvedic extracts which are completely safe for the skin. It gives broad UV protection and comes with SPF 30 and has a matte finish on the skin. This VLCC sunscreen is for oily skin and now its has a new version too which is the gel based. I have put the link that you can check. 
Also See: Foundations for oily skin in India
6. IPCA Acne-UV Oil Free Gel SPF 30 PA+++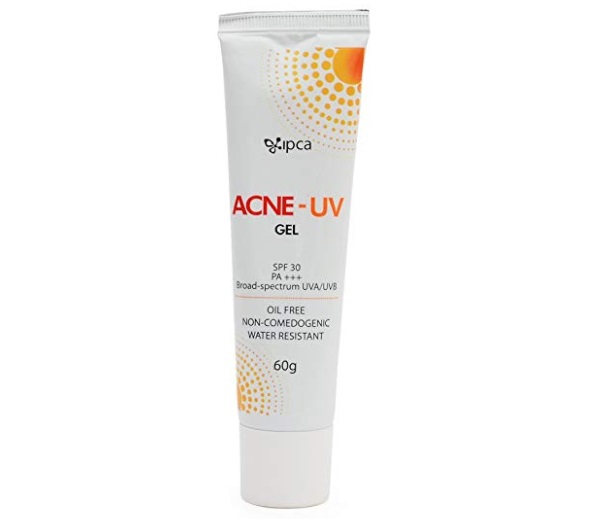 The non-irritant and non-comedogenic sunscreen gel is best when you've oily and acne prone skin. Even if you apply a lot of this product, it will not make the skin oily or sticky and yes, there is no white cast as such. For women, it can be worn under the makeup and it really controls the oil release for some hours. It's also a dermatologist recommend sun protection gel for acne proven skin type who are struggling with cystic acne.  Surely, it's the best daily use gel sunscreen for oily skin.
7. Plum Sheer Matte Day Cream SPF 50 For Oily Skin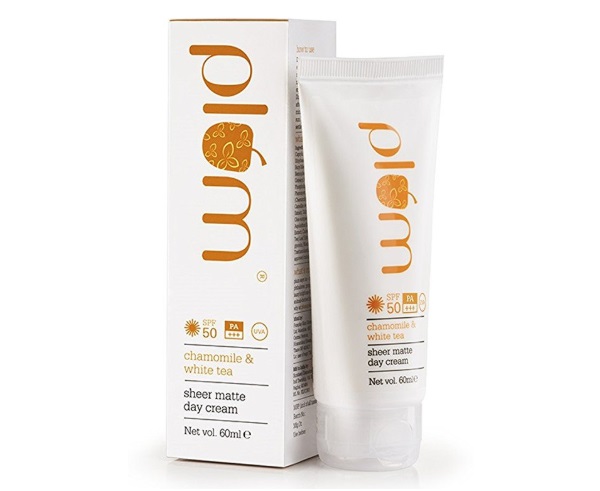 Rich in the Chamomile and White Tea, this Plum sunscreen is best for people who like chemical and paraben free products. The matte sunscreen has the light water based texture which doesn't make the skin look like a greasy pan. It gets into the skin easily and feels light. It contains SPF 50 with the UVA and UVA filters to give the skin a protection with broad spectrum. It fights oxidative stress of the cells and free radical damage with its anti-oxidant loaded formula. If you've combination skin, then it may feel bit drying on the dry parts.
8. WOW Anti Pollution SPF40 Water Resistant No Sunscreen Lotion
Free of the mineral oil and parabens, this is the anti-pollution product. It's one of the best sunscreen for sensitive skin and for combating the effects of the pollution on your skin. This sunscreen lotion is enriched with the goodness of licorice for skin whitening benefits as well. It shields your skin from PM 2.5 pollutants, resulting due to the pollution, smog and smoke in the environment. It's known that pm 2.5 level pollution is clinically proven to cause skin damage and dullness. The best sunscreen for oily and acne prone skin will protect you from all such things.
9.

Kaya Skin Clinic Sweat Proof Sunscreen SPF 30+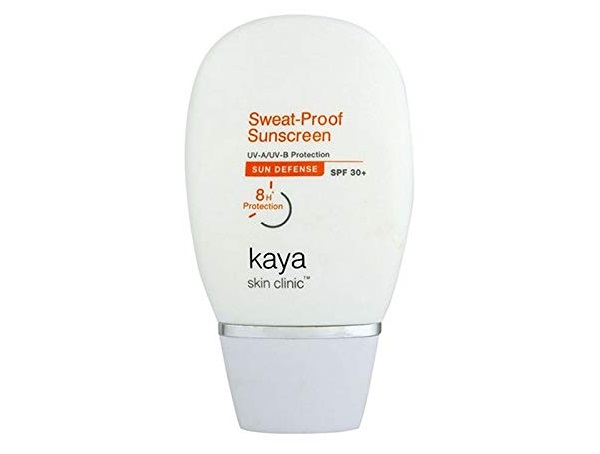 Kaya sweatproof sunscreen has the SPF 30+ and has a light, no greasy and non sticky texture which get absorbed into the skin and feels light. This sunscreen has broad spectrum protection to combat the photo damage like premature aging of the skin. It is one of the best sweat-proof sun lotions in India.
10. Avene Very High Protection Cream SPF 50+ for oily skin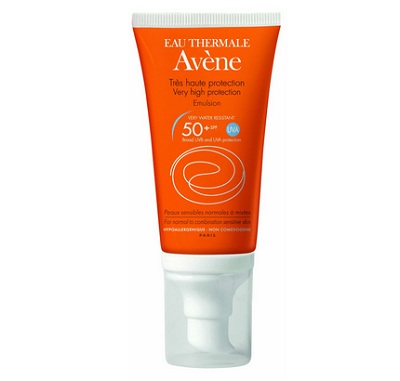 This Avene sunscreen emulsion with SPF 50 has the other variant too and this is for oily – acne prone skin or even the acne prone skin. This is a high protectant sunscreen which has SPF 50. Choosing an acne prone suitable sunscreen is difficult since who wants that their skin get clogged and filled with acne after using sun protection creams on face. It has a non-comedogenic and dermatologist tested formula.
Also see: Fairness creams for oily skin
How to Apply Sunscreen?
Once you're done applying the face creams and lotions, you can go ahead and use the sunscreen.
But the best idea is to follow this sequence.
Use a cleanser or face wash to cleanse the skin

Apply a toner, of you use them

Then, apply the sunscreen lotion

Then go ahead and use the skin cream like your day cream

Lastly, apply your foundation or BB or CC cream

Then follow the other makeup like compact, blush, bronzer etc.

This way you'll use sunscreen under the makeup which gives better sun protection

It would be better if you apply a sunscreen at least 20 minutes before stepping out of your home.

Doing so, will ensure that you get the maximum protection.
Moreover, once the sunscreen gets absorbed fully then this gives the enough shielding to protect your skin from aging and photo damage due to UV rays. You should also apply sunscreen under your makeup for a better protection. 
So, friends, these were the best sunscreens for oily, acne prone skin that are available in Indian Market. You can use them as per the preference and price. Affordability and availability is a factor in choosing a good sunscreen, so, now that we have given the choices, you can try them everyday!
Also check these out: