List of top 10 Best Sunscreens over SPF 50 in India
Sunscreens help us shield our skin from the bad effects of the sun rays. Prolonged sun exposure can cause aging prematurely, skin pigmentation, tanning etc. hence using sunscreen sis utmost important to prevent the skin from all these problem. A lot of our readers ask us about the best sunscreens over SPF 50 from various brands. Now, the thing is there are several good brands that make sunscreen over SPF50, Hence, in this post we will share the list of best high SPF sunscreens. Other than the high SPF 50, these sunscreens are also broad spectrum sunscreens which means they protect the skin from different UV rays. You can also see Best waterproof sunscreens in India
Best SPF 50 Sunscreens Brands in India
1. Neutrogena Ultra Sheer Dry Touch Sunblock – SPF 50+ PA+++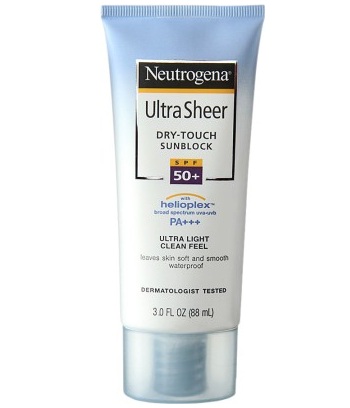 This sunscreen is one of the best sunscreens for oily skin since this has a dry touch formula which is oil free and feels light on the skin. This sunscreen has a high SPF over 50 which gives a board range of sun protection and costs 475 rupees for 88 ml bottle. The water resistant nature will give you freedom to go swimming without worrying about the sunscreen wiping off.
2. Vichy Capital Soleil Mattifying Face Fluid Dry Touch – SPF 50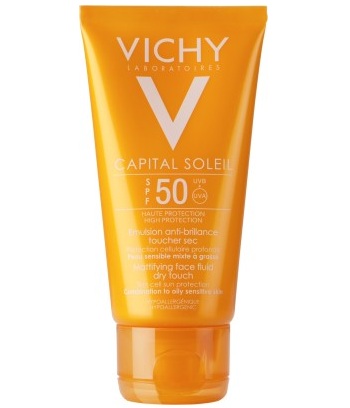 This Vichy sunscreen is also a great choice for oily combination skin since this too has a dry touch light formula. This is light and easily gets absorbed in the skin. The sunscreen is over 50 in SPF which is the key feature other than its fluid texture. If you are looking for a water resistant sunscreen then this can be taken into consideration.
3. Lotus Herbals Daily Multi-function Sunblock – SPF 70 PA+++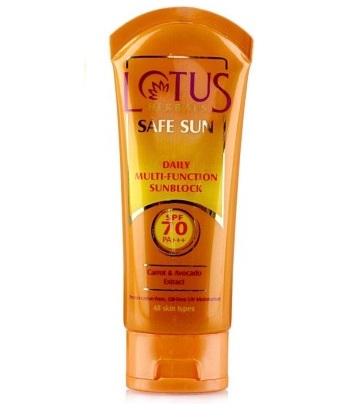 This Lotus Herbals sunscreen has SPF over 70 which a broad sun protection spectrum. This also has skin lightening features and reduce the age spots as per the claims. Its light formula can be used by all the skin types and daily.
4. Aveeno Natural Protection Broad Spectrum SPF 50 Sunscreen Lotion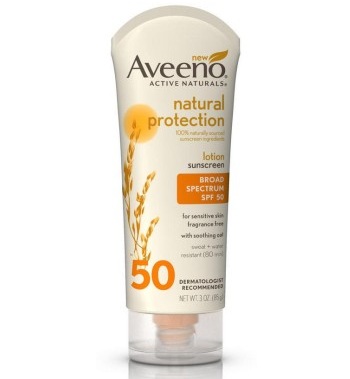 Aveeno sunscreen is over 50 in SPF and has a lotion like texture which is said to be suitable for all the skin types bit this will suit dry to normal skin more. This protects the skin against the harsh UVA and UVB rays.
5. Lotus Herbals Phyto Rx Ultra-Protect Sunblock – SPF 70 PA+++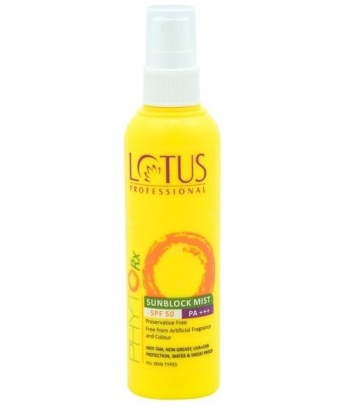 Lotus Professional Phyto Rx Ultra-Protect Sunblock has SPF 70 PA which is an extreme sun protection that shields and protects the skin from the harmful skin damaging effects of UVA and UVB sun rays.
6. Bioderma Photoderm Max Spf 50 Cream 40ml – SPF 50+ PA+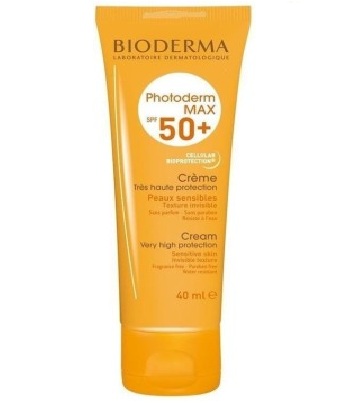 Bioderma Photoderm Max SPF 50 cream provides maximum anti-UVB efficacy and prevent sun intolerance reactions. This shields the tissue from cell damage and leaves the skin feeling comfortable and non oily. This cream spreads nicely and is water proof and photostable.
7. Lotus Herbals Safe Sun Anti-ageing Anti-tan Ultra Sun Block – SPF 100 PA+++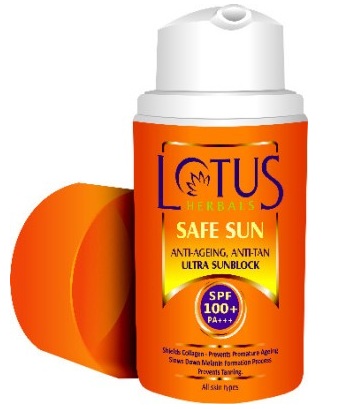 This is a very high in SPF sunscreen which is over 100 and PA+++. This has anti aging and Anti tanning benefits and gives optimum protection from the sun. This prevents from effects of UVA and UVB rays by blocking sun rays and preventing premature aging of skin cells. The natural ingredients like thyme, Licorice and Soy Protein increases the skin elasticity and improves collagen production. Licorice reduces the brown spots and gives skin whitening results too.
8. VLCC Extreme Sun Protection Cream – SPF 60 PA+++
VLCC Extreme Sun Protection Cream – SPF 60 PA+++ provide broad-spectrum UVA and UVB protection, while preventing skin darkening and aging. This has hydrating mango seed oil which moisturizes the skin and makes it supple and radiant.
9. Sebamed Multi Protection Sun Lotion – SPF 50+ PA+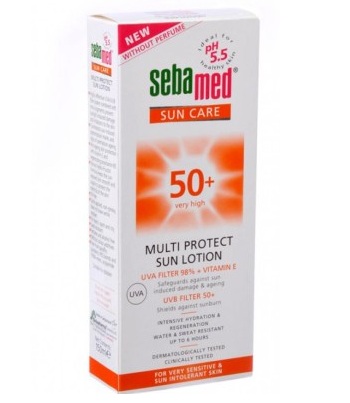 Sebamed Multi Protection Sun Lotion has high SPF 50 that can be used by men women and kids too. The lotion formula is easy to spread and is for both face and body. The price of this sunscreen with over 50 SPF is 1450 rupees for 150 ml.
10. Lakme 9 to 5 Super Mattifying Sunscreen SPF 50 PA++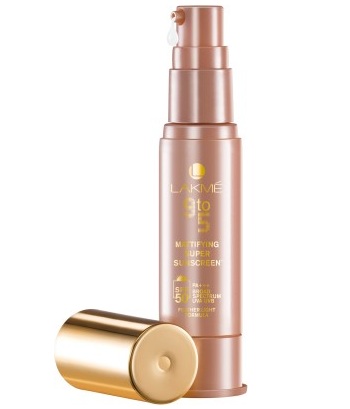 Lakme Mattyfying sunscreen has SPF 50 which gives a longer sun protection and doesn't leave the skin greasy or patchy in appearance. This is available in 2 variants for normal to dry sin and for oily to combination skin. This is for 500 rupees for 30 ml.