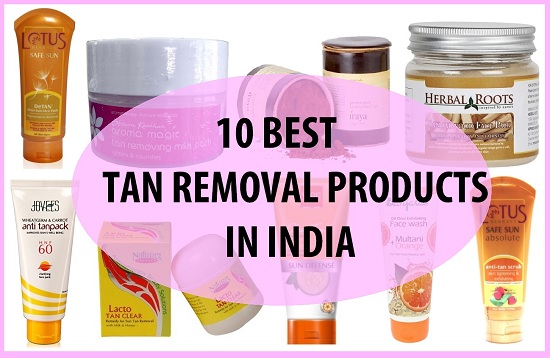 Best Tan Removal Products in India with Reviews and Price 
Are you worried about the tanning on your skin? Do you feel that your skin is getting darker day by day? This can be due to extreme exposure to the sun. Sun exposure not only will darken the skin complexion but also damages the delicate skin. Sun damage causes fine lines and wrinkles on your skin. It is quite common to get tanned and get patches during summers or when we stay outdoors mostly. When not taken care of the tan, our skin can get permanently darkened. This can also be the primary cause of the hyper-pigmentation.
10 Best Sun Tan Removal Products in India (2022)
We have earlier shared face packs and home remedies to get rid of the sun tan faster but here in this post, we have compiled a list of sun tan removal face products that are available in India. These tan removing products are mostly massage creams, anti tan creams, face scrubs or face packs that work on the outermost layer of the skin to remove or lighten the tanning and darkness.
1. Lotus Herbals Safe Sun De-Tan Face Pack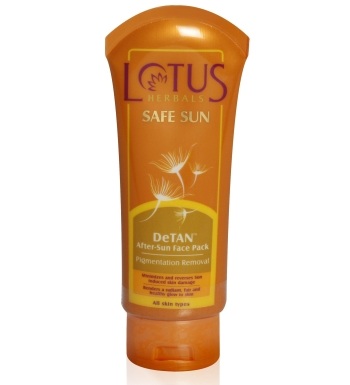 Sun rays can damage and darken the skin. This is why an anti tan face pack is important to get back the original skin color. This Lotus Herbals De-Tan face pack is formulated with licorice and dandelion extracts that effectively removes the dead skin and tan on the facial skin. This tan reducing pack makes the skin radiant and glowy when used after coming back to the sun.
Price: This facial mask for tan removal costs 325 Rs. for 100g.
2. Jovees Wheatgerm & Carrot Anti Tan Pack
Carrot and wheat germ is an great combination to get rid of the tan on the face. Carrot has AHAs which rejuvenates the dull and dark looking skin while wheat germ smoothes the skin. This is also an anti marks and anti blemish face pack. It can be applied twice in a week. Men can also use it.
Price: It costs 130 Rs. for 50 g tube pack.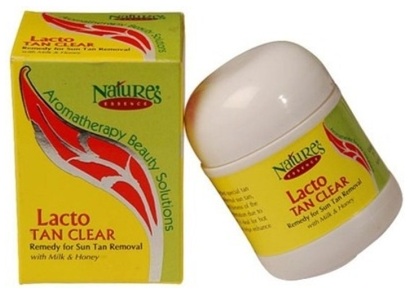 Nature's Essence Lacto Tan Clear Pack is enriched with milk proteins and honey. Both of which are good for tan removal mildly d effectively. Honey is a great sun tan removing ingredient while lactic acid in milk also does the same thing. Honey also makes the skin softer and feel nourished. It can be utilized for removal of tan on the body like on hands and legs.
Price: Nature's Lacto tan clear pack costs 165 Rs. for 100g.
See: Homemade Facial Pack for Fairness
4. Aroma Magic Tan Removing Milk Pack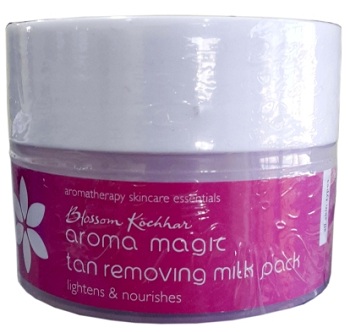 This is a tan removal facial pack which is formulated for oily skin and has the goodness of milk. Milk has lactic acid and milk protein which give radiant skin that is free from dark tan. Aroma Magic Tan removing Milk Pack is easy to use and gives benefits in lightening the sun tanning. It can be used 2 times a week.
Price: This tan removal face product costs Rs. 360 for 175 g.
5. Herbal Roots Sandalwood Face Pack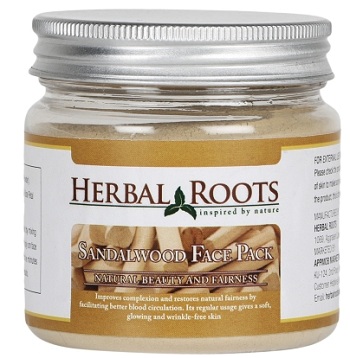 Herbal Roots Face Pack is enriched with pure sandalwood and some great antiseptic natural ingredient. Sandalwood is known to purify, cleanse and whiten the skin. Sandalwood also increases the rate at which the skin cells renew therefore the skin become smoother and lot better in the appearance. This tan removal product needs to be applied regularly to fetch the benefits of fairer skin and no sun tan. It's the best product to remove tan for boys and girls.
Price: This costs 425 Rs. for 100g.
6. Lotus Herbals Safe Sun Absolute Anti Tan Scrub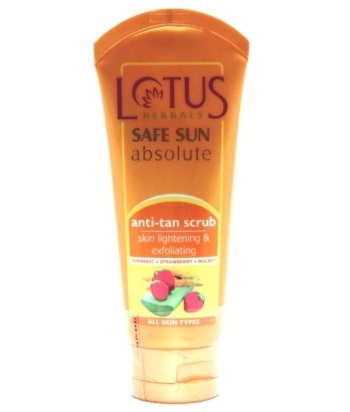 This tan removing product in India, is a gel scrub that will reduce the darkness caused by the sun tan and also brightens the skin by getting rid of the dead skin cells. This anti tan scrub protects the skin from UV rays and gently removes the tanning. This is formulated using strawberry seeds and walnut shells. You can also check our post to know about the best readymade face scrubs for tan lightening in India.
Price: Lotus Herbals Safe Sun Absolute Anti Tan Scrub for 100g for 295 Rs.
See: Face scrubs to remove sun tan at home
7. VLCC Anti Tan Facial Kit

VLCC anti tan facial kit consists of potent ingredients that lighten the blemishes and tan off your skin fast. It can be used once in 15 days to keep the effects of tan away in summers. This is combined with Ayurvedic ingredients and fruits that are highly beneficial in tanning removal. In this you will get, Oatmeal Scrub,  Melawhite Gel, Melawhite Pack, Pista Massage Cream and Melawhite Powder.
Price: VLCC Anti tan facial kit costs 345 Rs. for  50g.
8. Raaga Professional De-Tan Cream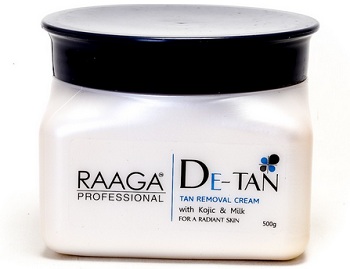 Kojic acid and milk acid are effective in decreasing the tanning and lightening the skin's natural complexion. This is a detanning cream that will soon get rid of the sun tan from the skin. This tan removal face product comes for 850 Rs. for 500g. It shall be used soon after you return home from sun exposure.
9.

Biotique Bio Papaya Revitalizing Tan-Removal Scrub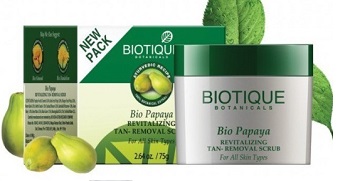 Biotique Bio papaya tan removal Scrub is for face and body. It has papaya as the key ingredients which reduce the skin darkness. Papaya and walnut extracts give flawless complexion by removing the dead and dark skin cells. It's the best tan lightening product in India from  Biotique.
Ingredients: Papita (Carica papaya), Kela (Musa sapientum), Khajoor (Phoenix dactylifera), Neem (Melia azadiradrachita), Methi (Trgonelia foenum graecum), Yasad bhasm (Zincum), Ban haldi (Curcuma aromatica), Aam beej (Magnifela indica), Bees wax, Gun acacia (Acacia arabica), Moongphali (Archis hypogea), Himalayan water.
Price:  Biotique Tan removal face scrub is for 520 Rs. for 235g.
See: Moong dal face pack for sun tan removal
10.

Bella Vita Organic De Tan Removal Face Pack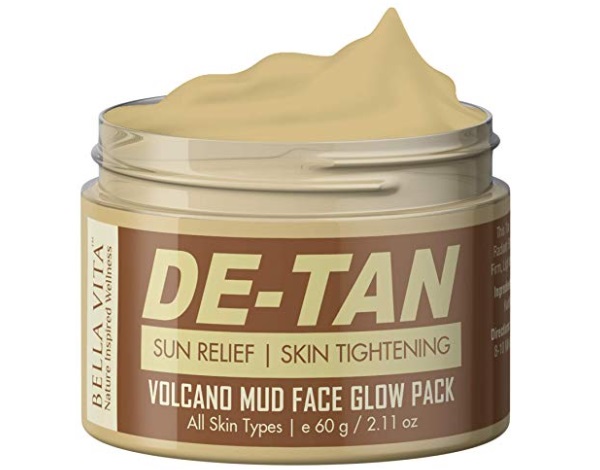 Bella Vita Tan Removal face pack has Bentonite Clay, Apricot Oil, Poppy Seed Extract, Clove Oil, Vit. E Oil, Kaolin, Aloe Vera, Grapefruit Extract, Sandalwood Powder & Glycerine. It whitens the skin and reduces the oiliness. It's the best tan lightening product for oily skin in India. It can be applied 3-4 times a week. It is paraben and sulphates free. Moreover, there are no chemicals in it. Best way to keep the tan off your skin is by using sunscreen, when you step out in the sun, Do read this post here which talks about the best sunscreens in India for everyone.
Price: Bella Vita pack for tan removal is for 495 Rs. for 50 g pack.
Other than these there are also few products that we really like to get rid of the tan like:
Himalaya Tan Removal Orange peel off mask
Himalaya Tan Removal Orange Face Scrub
Everyuth Tan Removal Cherry Face Pack
So, this was the list of the best tan removal products available in Indian market that you can try. Have you tried any of these sun tan lightening products? Which is your favorite out of these?