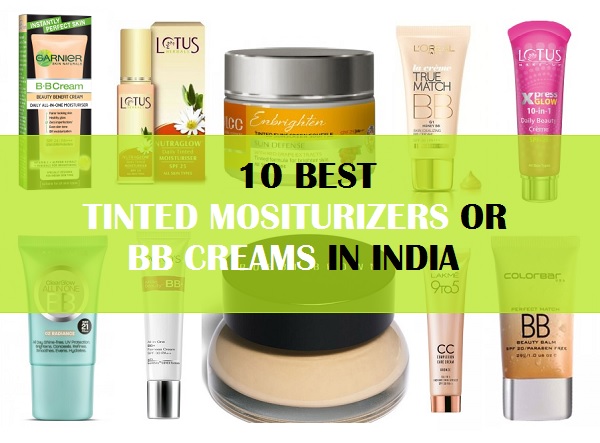 Tinted moisturizer or the BB creams, CC creams are the latest craze amongst the girls. The reason is the light weight texture and non cakey finish. These products are sheer foundations that have hydration and moisturizing properties too. Most of these will come with SPF too so you have to just apply one product on your face and it gives a better looking skin with hydration and sun protection. This is why these tinted moisturizers and skin BB creams are getting popular. College girls or the girls on budget like to use them everyday as they are inexpensive and does not give too much cakiness like the foundation. When in rush for college or work, just use one product and skin looks polished and even toned. So, are you too looking for a good tinted moisturizer or BB cream? Then,  this post can help you choose the one you prefer. We have listed the best of these BB cream products for different skin types. Let's see.
10 Top Best Tinted Moisturizers and BB creams for Dry, Oily and Combination Skin (2021)
Here is the list of best BB creams and Tinted moisturizers for the dry skin, oily skin and combination skin.
1. Ponds White Beauty Blemish Balm Fairness Cream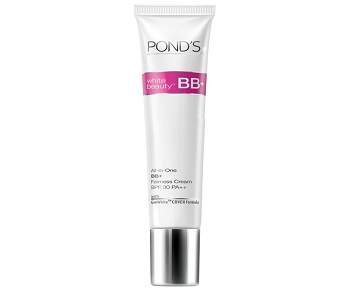 This Pond's White Beauty BB+ Cream is one of the most affordable and cheap BB cream cum tinted mosituriser. This is not the first one to get launched in India but has become really popular. It has a GenWhite formula that makes the skin even toned and fairer naturally.
The cream is also infused with the Vitamin B3 and E to give moisture and radiance. It gives a sheer coverage hence making the skin better and covers minor flaws. This is just one shade in this BB cream and it suits most of the skin types well.
It is priced at 80 rupees for a small trial pack.
2. Lotus Herbals Naturalglow Daily Tinted Moisturizer SPF 25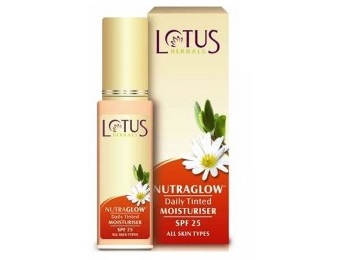 Lotus Nutraglow daily moisturizer is a very light weight tinted moisturizer that has some color or pigment that covers the imperfections of the face.
Moreover, the moisturizing feature helps to give hydration to the skin. This is slightly greasy for the oily skin. Therefore, this is better for the normal to dry skinned ones. This gets blended easily and gives a sheer nice coverage.
The moisturizer is available in multiple shade, hence you can try the one that matches you closely. This also has got SPF 24 that gives sun protection. This is for 475 rupees.
3. Maybelline Clear Glow Bright Benefit Cream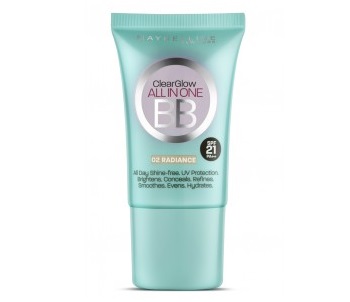 Maybelline Clear Glow BB cream was the first one to get launched in India officially and made its place since then. This BB cream has the features like moisturization, priming, sun protection, concealing and a little bit of tinted moisturizing feature as well.
This has the specialized mineral clay formula which prevents the shine on the face for up to 12 hours. Practically this is not true but as we have used this, this fares well for 4-5 hours. This Maybelline BB cream is also loaded with SPF 21.
There are 3 shades in this BB cream and this is priced at 260 rupees pack. It is suitable for all skin types and is dermatologically tested.
4. Garnier Skin Naturals BB Cream SPF 24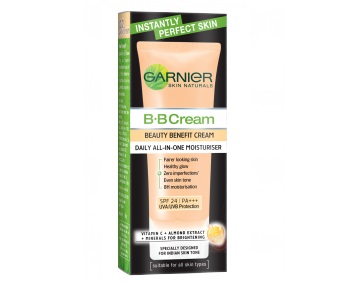 This was launched after the success of Maybelline and honestly this too is one of the popular BB creams that are good for daily wear for college girls and women who like to keep their skin base sheer. We love this too.
This is available in just one shade but the color goes well with most of the skin types. Even on the dusky girls the shade won't look ashy since it matches the skin color after the blending.
Garnier Skin Naturals BB Cream has SPF 24 and a silky lightweight texture which gets blended easily. It is rich in Vitamin C to give skin lightening s well. A small trial pack of this cream is for 79 rupees only. Well That's wonderful!!
5. Bobbi Brown Extra SPF 25 Tinted Moisturizing Balm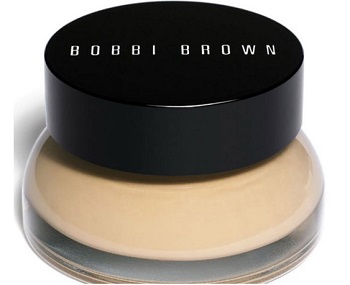 Bobbi Brown tinted Moisturizer is an alternative for foundation. It is lightweight and is rich in skin hydrating elements that moisturizes the dry skin. Basically this is a product more suitable for dry to normal skin types for daily wear. The ultra rich formula gets blended easily to impart a dewy satiny finish on the skin. So, for dehydrated skin that needs an emollient rich tinted moisturizer with sun protection. of SPF 25.
It has Argireline peptide that enhances the skin's natural collagen production. This is for 4200 rupees. The Clary sage ferment in this tinted skin moisturizer for dry skin will replenish the skin moisture balance and pH levels.
6. VLCC Enbrighten Tinted Sunscreen Souffle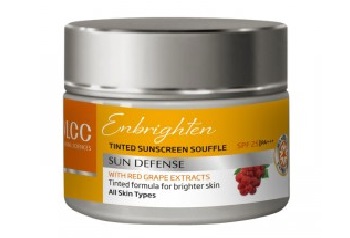 VLCC Enbrighten Tinted Sunscreen Souffle has the SPF 25. It is a light weight and water based tinted formula that minimizes the appearance of fine lines on the skin and the pores. The water based formula is suitable for all the skin types though oily skinned one will like it more.
This is also fortified with the goodness of Red Grape extracts that nourishes the skin and makes the skin lighter. This is for 395 rupees. It is basically is a light tinted sunscreen which is water based. Therefore, it can be used by oily skin every day.
7. Lakme Complexion Care Face Cream
This is a not a BB cream but a CC cream. Now honestly dearies, there is not much difference between the two. It's just that on the skin both fares the same. They are tinted moisturizers or the tinted creams that makes skin tone a bit even and brighter.
This Lakme CC Cream has the sun protection feature too so, you cans kip the sunscreen while using this if you like. Lakme cc cream can be used every day for a better than before skin and it can also be used as a base for the makeup.
This is for 275 rupees but a small 99 rupees trial pack is also available. You can get 2 shades in this cream like the Bronze for dusky to medium skin and Beige for fair to light skin.
8. L'Oreal Paris True Match BB Cream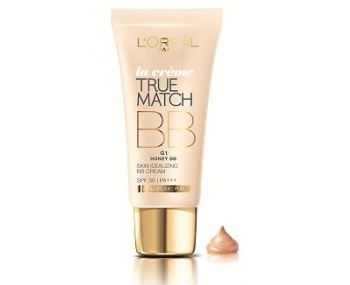 L'Oreal Paris True Match BB cream has three colors to try out like Ivory, Gold and Honey. By the names too they are clear that for which skin tone they are formulated for.
This gives color and some evenness to the skin by concealing minor flaws and the lines. This is for 655 rupees and comes in 3 different shades.
9. Lotus Herbals Xpress Glow 10 in 1 Daily Beauty Cream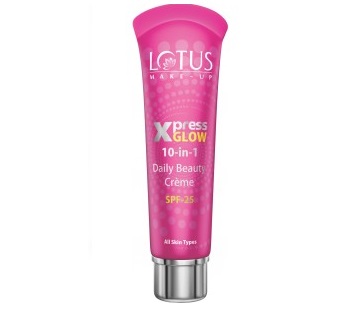 Lotus 10 in 1 Daily Beauty Cream is with SPF 25 and is rich in the moisturizing feature. It is ideal to get a semi matte skin, so, dry to normal skinned girls can try this out. You can cover the small flaws, marks blemishes on the face by using this cream. Plus this will also hydrate the skin all day long.
SPF 25 gives protection from the skin harming UVA/UVB rays. It also claims that it reduces pimples, blemishes and dark spots on the skin. Well, that's good!!You can get this for 299 rupees.
10. Colorbar Perfect Match BB Cream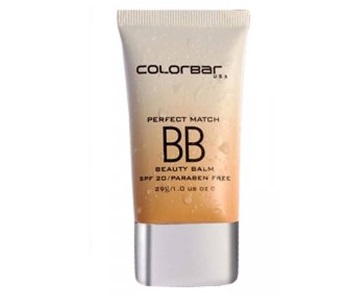 It's a multipurpose Beauty Balm cream that hydrates the skin, smoothens, hides the fine lines and corrects the skin tone by providing sheer coverage.
The cream is light weight and has a non greasy formula. The non greasy formula makes it suitable for oily to combination skin. It has botanicals and antioxidants to boost elasticity and luminosity of the skin.
The botanicals are like the apple extract, aloe vera, sandalwood, cucumber etc. So, if you need a good daily wear BB cream for oily skin with natural ingredients then this can be appropriate.
This is with SPF 20 and has broad-spectrum sun protection with paraben free formula. Price is 559 rupees and there are 2 shades to choose from.
How to Apply BB Creams or Tinted Moisturizers?
Now that we have shared the list with you, you should also know how to use these creams. There is not a hard process. the process is quite simple but it can be tricky.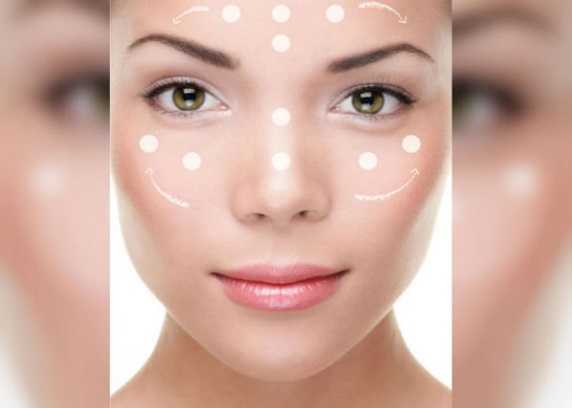 Step 1: Cleanse the face with a cleanser of your choice and pat dry the face.
Step 2: Now, take your favorite BB cream or the tinted one and scoop out a pea sized amount on the back of the hand.
Step 3: Rub with with finger and then dot this all over the face. Like 2-3  dots on the foreheads, 3-4 dots on the cheek, 1 on the nose and 1 on the chin. Also apply 2-4 dots on the neck as well.
Step 4: Now, blend it using the finger tips and rub the finger tips in circular movements. 
Step 5: Another way, is to use a big fluffy brush and rub it on the face to blend the dots.
You can also read different ways to apply BB creams