Best Under Eye Creams for Dark circles in India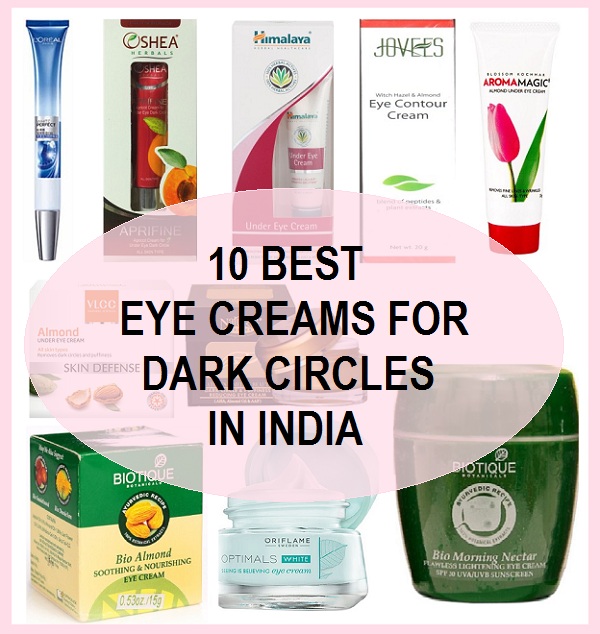 Are you worried about your dark circles and fine lines? Then you should try the under eye creams for dark circles. Dark circles can make you look aged and stressed. But these days friends, we all have some kind of eye related beauty concern like darkness, patches, shadow, puffiness etc. So, you can always try the tested home remedies like potatoes for dark circles. Having said that, it is also true that many of us are really busy to try home remedies hence for them we have compiled a list of eye creams for dark circles in India. These eye creams are formulated for curing the dark circles under the eyes and the puffiness as well. Do you know that people who use eye creams regularly experience less lines, wrinkles under the eyes. Yes this is true. Hence, you should use the best under eye treatment regularly. Let me also tell you how to apply eye cream properly. If you don't want to know then do skip and scroll down. :)
How to apply under eye creams to prevent dark circles
First of all clean your face in the morning and pat dry. Then take a little bit of the eye cream on your ring finger. Like a tiny blob and then take it on your ring finger. Now you need to rub both the ring fingers of your hands together so that equal product gets smeared on the ring fingers. Then place each ring finger on the under eye area and then massage. So, you will be massaging both the eyes with both your fingers at the same time. You can also use that a bit on your eyelids too. Repeat this in the night time as well.  Apply eye cream first and then any other cream moisturizer, day cream, night cream etc.
Top 10 Best Dark Circles Removal Creams in India (2020)
Here's the list that will help you in choosing the best product for dark circles. You just have to apply the eye brightening creams regularly at night and in the day time after washing the face.
1. VLCC Almond Under Eye Cream For Dark Circles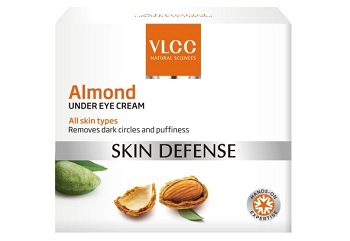 VLCC Almond Under Eye Cream is for both men and women. This cream for dark circles is rich in the herbal products like chamomile extracts, lubricating wheat germ oil, hydrating almond oil, olive oil and vitamin E. The almond oil is one of the best oils to fade the dark circles and to make the eye brighter. While the chamomile extracts will help to sooth the tired eyes. You can buy this cream for 175 rupees.
2. Biotique Bio Almond Anti Dark Circle Eye Cream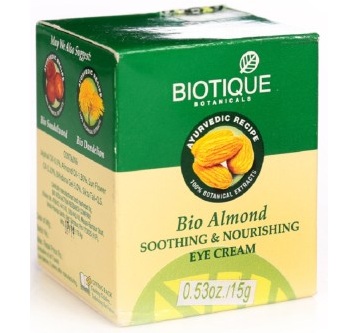 The Biotique Almond under Eye Cream is a Dark Circles eye cream and also for the Puffiness. The almond extract in this will revive the tiredness and the darkness under your eyes. This cream is priced at 185 rupees.  It will improvise the dark skin color under the eyes and also the eyes become brighter with continuous application. Moreover, this cream will also protect the delicate skin around the eyes. This cream also contains the nutmeg oil, almond oil, sunflower oil and quince seed gel to nourish and brighten the dark circles. You can also try honey for dark circles too.

3. Nature's Essence Dark Circle & Puffiness Reducing Eye Cream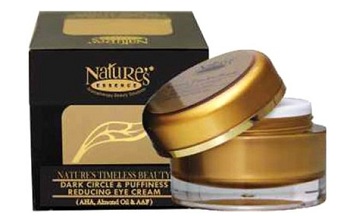 This under eye cream is the best dark circle corrector, formulated for the reduction of the dark circles and also for the shadow, puffiness that looks terrible especially when you are young. This can be bought for 155 rupees. It is suitable for all skin type and even men can try it. You can read more about the best eye creams for men in India.
4. L'Oreal Paris White Perfect Magic White Eye Cream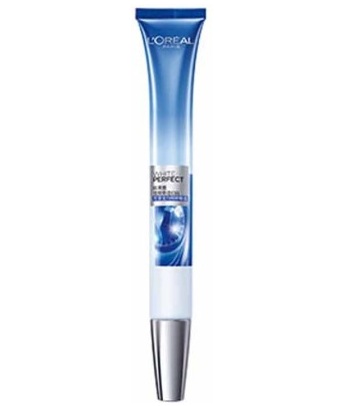 L'Oreal White Perfect Magic White Double Whitening Cream is also a good eye cream for dark circles removal and melanin production. It has magic beads that will help to tone and brighten up the eyes. This has a unique combination of the melanin reducing ingredients. This cream is for 799 rupees in India for a 15ml tube. It's basically is an eye brightening product. There is a night cream too, from this range which is also efficient in lightening the black spots and shadows around the eyes.
5. Oshea Herbals Aprifine Apricot Cream For Under Eye Dark Circle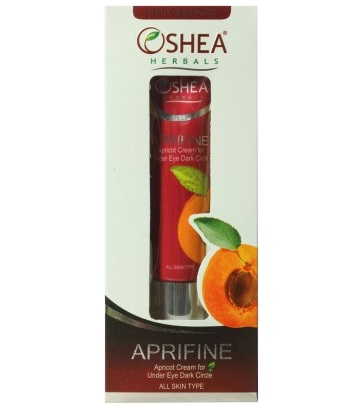 This Oshea under eye cream is made with the elements like Apricot kernel oil, chirongi, almond oil and lemon peel which helps to revive the skin and also to brighten the dark circles. This is also effective for the sensitive skin as well. Men too can use this. I used this and reviewed this too friends. This is also a good eye cream for bags under eyes. You get 35 ml for 265 rupees which is double the quantity that most of the eye creams are packaged.
6. Oriflame Optimals White Under Eye Cream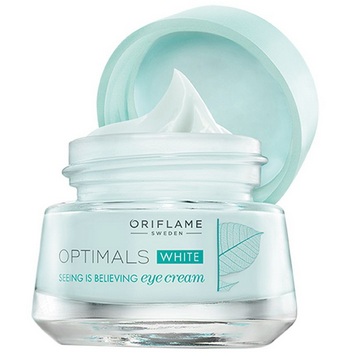 Oriflame has this under darkness treatment eye cream which is beneficial for the cure of the dark circles and puffiness that instantly lightens skin around the eyes. This also contains anti-oxidants, caffeine etc that makes the darkness lighter.  This eye cream for dark circles is prices at 550 rupees. It's also an effective and affordable product for dark eye circles.
7. Himalaya Under Eye Cream For Dark Circles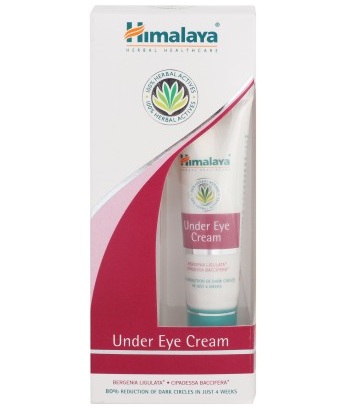 Himalaya is a big brand and there are so many products that Himalaya makes.  This will detoxify and moisturize the under eyes skin. Moreover, the cream will also prevent the wrinkles and dullness under the eyes hence the skin look toned and removes the signs of aging. It also claims to give 80% reduction in dark circles.
8. Biotique Bio Morning Nectar Lightening Eye Cream with SPF 30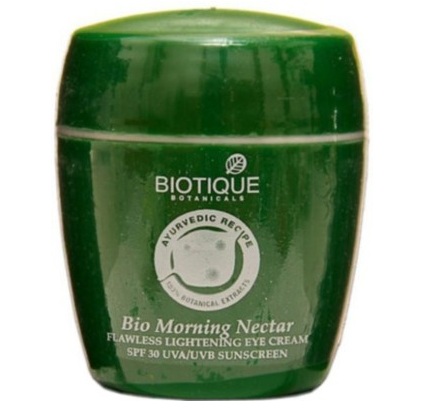 This is an eye cream from Biotique again that has SPF 30 and can be used in the day time due to the SPF. The SPF 30 will prevent the sun darkening and sun damage. Moreover, this will hydrate tone and removes the dark circles. This cream is also for 199 rupees for 25g.
9. Jovees Eye Contour Cream with Hazel & Almond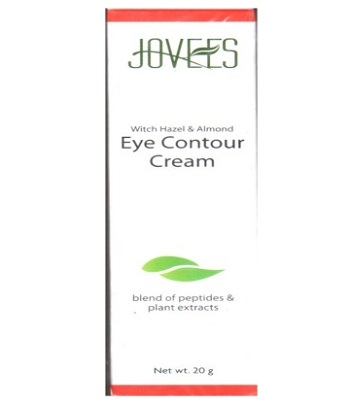 Jovees Eye Contour Cream with Hazel & Almond is blended with the Peptides, Plant derivatives and the natural herbs that gives your eye radiance and brightness hence the dark circles will be gone. This will also minimize the puffiness under the eyes. You can get this for 165 bucks for 20g pack.
10. Aroma Magic Almond Under Eye Cream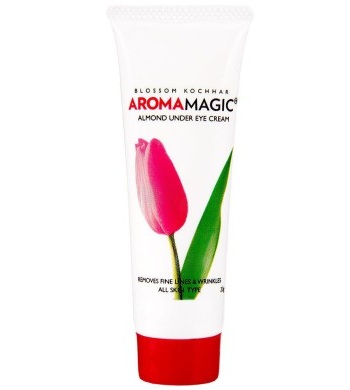 This under eye cream has the lemon Peel, almond, bach, rose oils, carrot oils, lavender oils, vitamin A and vitamin C which helps to lighten the darkness. This dark circle lightening cream is for 125 rupees.
These are the best under eye cream for dark circles in Indian market. Apply the products to get rid of dark circles twice in a day. n fact, you can also use these creams to get rid of bags under eyes.