Best VLCC Facial Kits available in India with Prices and Reviews for different skin conditions
When it comes to facial kit, I think VLCC facial kits are quite popular. They have several facial kits targeting every skin problem, like tanning, hyper pigmentation, dull skin, dry skin. Other than that VLCC also have jewel facial kit like the pearl, silver, gild , diamond etc. earlier in a post I have shared best VLCC skin bleach cream and in today's post at Tips and beauty blog, I will share the 10 best VLCC facial kits in India. Most of them can be tried at home so that you not only save money but also get the benefits of the facial done at home.
10 Best selling VLCC Facial Kits (2021)
Below is the list of the various facial products that VLCC makes. These kits are home facial kits that can be applied easily by going with the directions given for each one of the steps included. You must also see the different types of facial which you can try with benefits. 
1. VLCC Insta Glow Facial Kit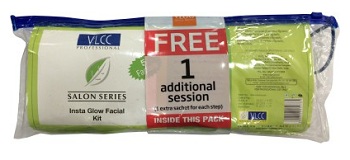 As the name suggest this VLCC facial kit target the dull skin and adds a soft glow on the face. This VLCC facial kit has the qualities to give the skin nourishment, fairness and rejuvenation, hence good for dull dry skin. This kit has 5 products like a face scrub, fairness gel, and fairness cream for massaging, Insta glow pack and a skin vitality serum to be used after the face pack.
Recommended for: All skin types
Price: Insta glow facial kit from VLCC This kit is for 530 rupees. This can be used for doing 5 facials.
2. VLCC Gold Facial Kit
Gold facial is mostly done when we are attending a wedding in the family or when you are the bride yourself. Gold gives radiance to the skin and also makes the skin glow from within. This gold kit is a single time usage kit which includes a gold scrub, gold gel and a gold massage cream with a golden peel off mask.
Ingredients : Gold ash, Aloe Vera, Sandalwood, Raisin, Turmeric, Galnut, Wheatgerm, Rose petals, Lemon Peel extracts.
Recommended for: Oily skin and dry skin but not for very sensitive skin
Price: This costs 250 for a facial kit that can be utilized for one time facial. See: Best Gold facial kits in India
3. VLCC Silver Facial Kit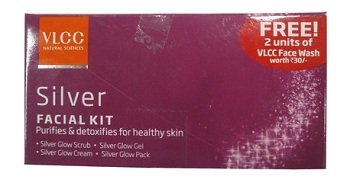 Silver is great for oily skin and it deeply refines the skin by eliminating the deep set impurities. This contains a set of 4 products like a face scrub with silver, silver glow gel, silver massage cream and a silver glow pack.
Ingredients : Silver powder, Sandalwood, Winterchery powder, Aloe vera, Orange peel extracts, Lemon peel, Licorice,
Recommended for: All skin types for detoxification of skin
Price: 250 Rupees for single time use kit
4. VLCC Diamond Facial Kit
Diamond facials are good for skin polishing and purification in a natural way. Diamond facials are mostly expensive in the beauty parlour thus getting a single time usage diamond facial kit can help to achieve the benefits at home. This will give you 4 sachets like a diamond face scrub, a diamond massage gel, diamond detox lotion and a diamond wash off face mask.
Ingredients : Diamond Bhasma, Dicaprylyl Carbonate, Jojoba Oil, Olive Oil, Glycerin, Vitamin E, Licorice, Aloe vera, Orange Peel
Recommended For: Skin purification for all skin types but not for cane prone skin
Price: This single time use VLCC facial kit of diamond will cost 330 rupees.
5. VLCC Papaya Fruit Facial Kit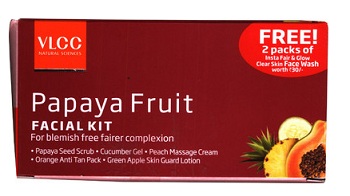 Papaya is extremely beneficial for the skin and treating the fine lines, pimple marks, dark spots and aging of skin. This is because papaya contains great enzyme papain which does all that for the skin.This removes blemishes, tightens the skin and also lightens the age spots. In this fruit facial kit you will receive a papaya face scrub, a cucumber gel, peach massage gel, orange anti tan facial pack and a green apple skin guard lotion.
Ingredients : Papaya, Cucumber, Peach, Orange, Green Apple, Aloe Vera, Watermelon, Olive Oil
Recommended for: ll skin types especially the skin with blemishes and acne marks
Price: VLCC facial kit with papaya extracts comes for 250 rupees in India
6. VLCC Anti Tan Facial Kit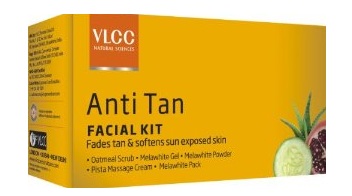 Tanning of the skin is a beauty concern that most of the women face. This anti tan facial kit has the extracts which help in clearing the sun tan and skin darkening from the face. There are 5 products like an oatmeal scrub that needs to be applied first, melawhite gel, melawhite powder, pista massage cream and melawhite face pack. All this helps in lightening the sun tanning.
Recommended For: Skin tanning removal
Price: This single use facial kit costs 230 rupees 
7. VLCC Pearl Facial Kit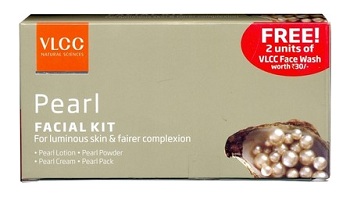 Pearls give a fairer skin complexion and the radiant skin. Pearls are known to provide glow and also lightens the skin. You will receive 4 sachets inside like a pearl lotion, pearl powder scrub, pearl massaging cream and a pearl face pack. We have used and reviewed this VLCC pearl facial kit here that you can read.
Ingredients : Honey, Pearl Oxide, Fenugreek Extracts, Sandalwood extracts, Wheat germ, Turmeric extracts, Almond Cake Powder, Sunflower Seed Extract, Grape seed
Recommended For: All skin types for getting fair glowing skin
Price: This VLCC facial kit is for 250 rupees.
8. VLCC Depigmentation Facial Kit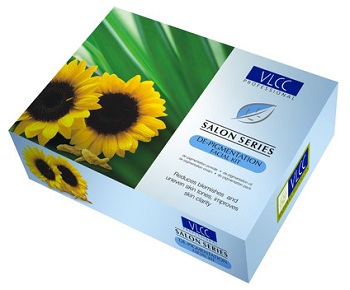 VLCC De-pigmentation facial kit that targets the skin hyper pigmentation and any darkness, patchiness. This is not available in the single or small packs because this is a salon pack which can be tried for around 4-5 times. This kit includes depigmentation oil which makes the skin clear and glowing, depigmentation powder which cleanses and purifies, depigmentation cream which nourishes the skin and does skin rejuvenation and a pack for pigmentation.
Ingredients : Clove, Long Pepper, Liquorice, Turmeric, Powders of Red Earth, Almond, Indian Gooseberry, Aloevera, Madder Root, Sunflower seed, Lemon Grass, Carrot, Cucumber, Sandal Wood
Recommended for: All skin types for pigmentation and skin darkening issues
Price: This facial kit costs 850 rupees.
9. VLCC Party Glow Facial Kit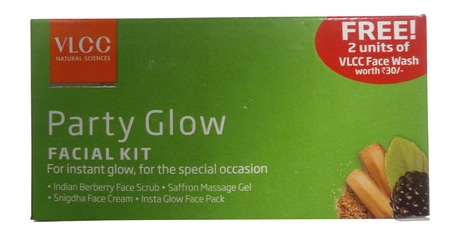 Party Glow facial kit is for glow that you wish to get before attending a party, wedding or any festivals. This restores the natural skin vitality and elasticity. The kit contains 4 products like a Indian bear berry face scrub, saffron massage gel which makes the skin glowing and fairer, a Snigdha face cream and a Insta glow face pack that further makes the skin tighter and supple.
Ingredients : Lavender, Rosemary, Dates, Papaya, Mulberry, Lemon Peel Extracts, Saffron Extracts and apple extracts
Recommended for: All skin types
Price: Party glow kit from VLCC costs rupees 200.
10. VLCC Skin Tightening Facial Kit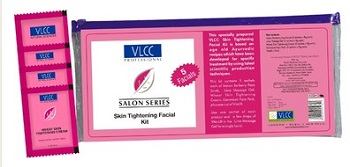 Skin tightening facial kit is appropriate for the ladies who have got mature skin. This kit is for people who have loose or sagging skin. The large kit costs 530 rupees and this can be used for 3 facials approximately. This kit repairs the skin damage by pollution, stress and dust. This tightens the pores and treats the fine lines off the face. This kit contains 5 sachets each of Indian Berberry Face Scrub, Lime Massage Gel, Wheat Skin Tightening Cream, Geranium Face Pack and a skin tightening ampule, that you have to open and apply like as face serum after you are done with the facial. 
Recommended for: Mature skin and people over 35 years of age
So, these were the 10 best VLCC facial kit that can be tried as per the skin problem. The instruction to do the facial with the kit is mentioned on every kit so that you can try that at home easily.
Recommended Articles:
Best Diamond facial kit in India