10 Best Waterproof Sunscreens in India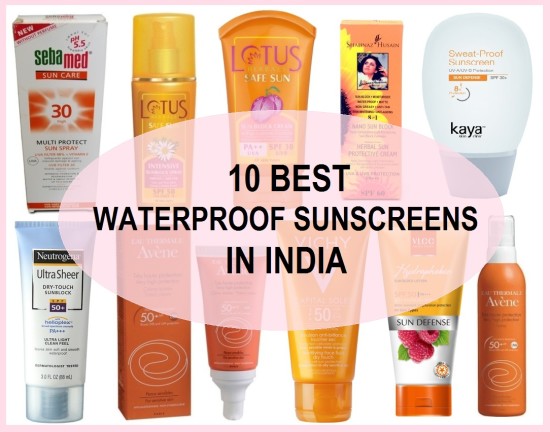 We all know the benefits of using sunscreens that they shield the skin from the harmful rays of sun which can cause skin aging, wrinkles, tanning and even skin cancer. But when we go swimming or get drenched in rain then there can be a drawback of the lotion based sunscreens since, they will get washed off. While exercising outdoors when you are most likely to sweat or for an outdoor activity in summers can have the sunscreen melt down and wipe off. So, It is important to choose the right sunscreen for the skin type and here is when waterproof sunscreens come into play. These will give you the best sun protection when you go swimming or sweat. These water proof sunscreens are basically water resistant and sweat proof hence gives sun protection for a lot longer time. If you too have been thinking of best waterproof sunscreen in India then this post will be helpful.
Top Best Waterproof Sunscreens in India (2021)

1. Lotus Herbals Safe Sun Intensive Sunblock Spray SPF 50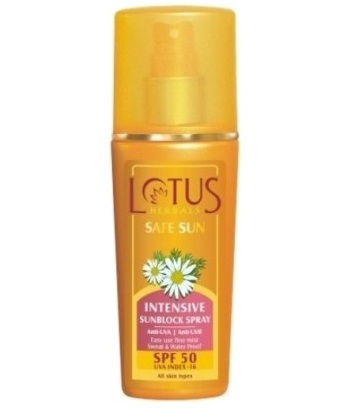 This Lotus herbals sunblock spray makes it easy to apply sun cream anywhere you wish. The water poof sunscreen has high SPF 50 which gives intense sun protection under all conditions and has chamomile that moisturizes the skin. This costs 315 rupees for 80 ml. This can be used by all the skin types.
2. Sebamed Multi Protect Sun Spray – SPF 30 PA+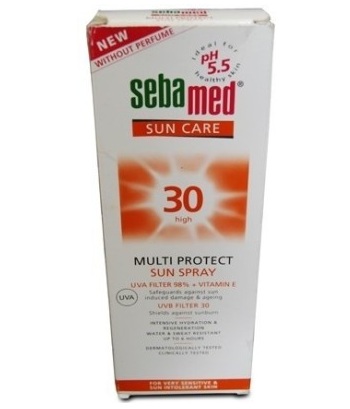 Sebamed Multi Protect Sun Spray SPF 30 provides sun protection and guards the skin against sun damage and photo aging. This is for 1129 rupees and also has a water resistant formula.
3. Avene Very High Protection Spray – SPF 50 PA+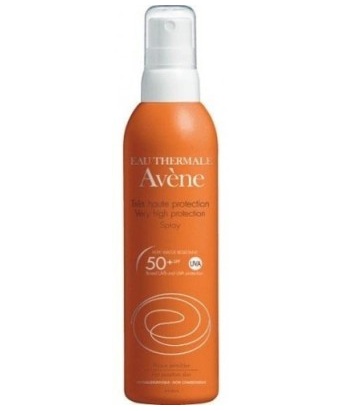 Avene Very high protection spray SPF 50 is suitable for even the sensitive skin and prevents from sun damaging, aging, wrinkles etc. This has a water resistant and sweat proof formula that shield the skin a lot longer. The spray formula is apt to reach the places where there is hard to apply the lotion based sunscreens otherwise.
4. Neutrogena Ultra Sheer Dry Touch Sunblock – SPF 50+ PA+++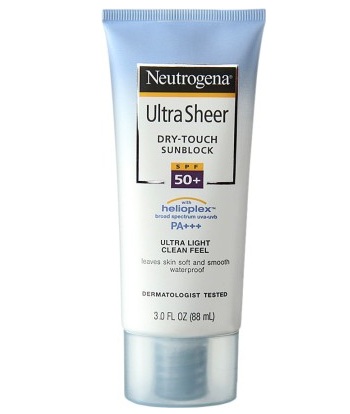 Neutrogena ultra sheer sunblock is perfect for oily to combination skin and gets easily absorbed into the skin. You can also go swimming with this since the cream is water proof and also doesn't clog the pores. This is one of th best non-oily sunlotion for humid weather.
5. Lotus Sun Block Cream – SPF 30 PA++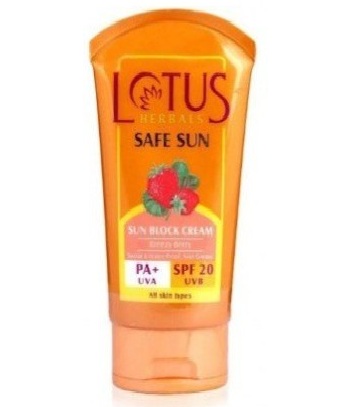 This is a waterproof sunscreen from Lotus herbals that has SPF 30 PA+++. This also has plum extracts that nourishes the skin and keep it moisturized. This lotus sunscreen can be used by both men and women for outdoors and in pools whenever we need a sunscreen that should be water resistant. 
6. Avene Very High Protection Cream – SPF 50 PA+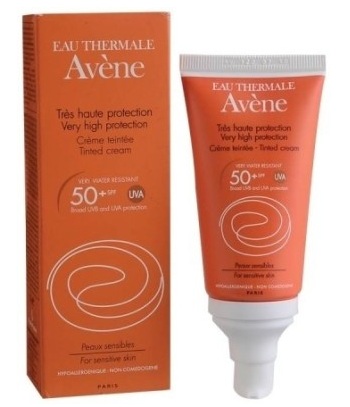 Avene Very high protection Cream SPF 50 protects skin from sun and photo damage and its cream formula is waterproof therefore, can be used to get a sun protection when you go swimming or on the beach playing a sport and likely to sweat. Using this at a beach will definitely protect the skin from UV rays.
7. Shahnaz Husain Nano Sun Block – SPF 60 PA+++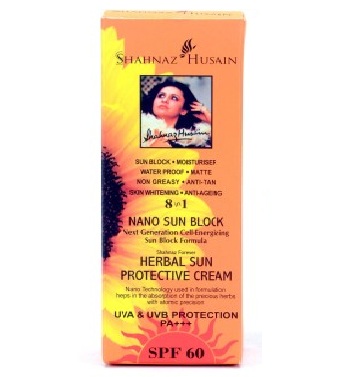 Shahnaz Husain Nano Sun Block is a very high protection sun block which gives SPF 60 protection with a broad spectrum this waterproof sunscreen is for combination skin though all the other skin types too can use this.
8. Vichy Capital Soleil Mattifying Face Fluid Dry Touch – SPF 50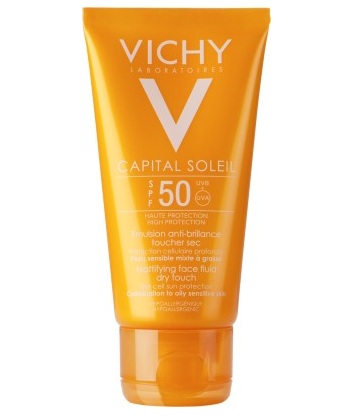 A dry touch sunscreen is apt for oily combination skin and its waterproof and sweat resistant formula gives long lasting protection from harmful rays of the sun. The mattyfying formula keeps the skin matte and non greasy unlike the regular sunscreens. This is infused with the goodness of Vichy Thermal Spa Water and cooling ingredients that leave the skin feel refresh and rejuvenated. It's waterproof nature does not get washed or wiped away when you take a splash in the pool or play in the beach. 
9. Kaya Sweat Proof Sunscreen SPF 30
Kaya Sweat Proof Sunscreen will protect the skin from UV rays and leaves it moisturized all day long up to 8 hours. The waterproof and sweat resistant nature ensures maximum and lasting protection. It blends well with no ashiness.
10. VLCC Hydrophobic Sun Block Lotion SPF 50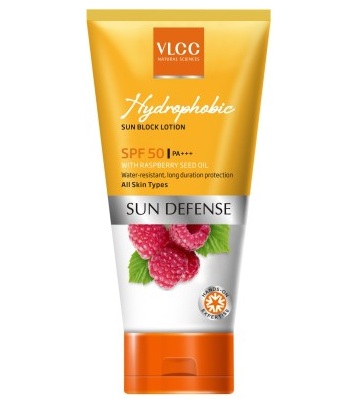 This VLCC hydrophobic sunscreen that helps you get the maximum sun protection to fight the skin problems. This gives balanced protection from UVA and UVB by reducing the harsh effects of sun. This is waterproof and sweat proof sunscreen that reduces the effects of sun rays by shielding the skin with its SPF50. This also has anti-irritant property which helps to minimize and prevent any redness, burns, tanning, itching etc.
These are the best water resistant sunscreens in India.