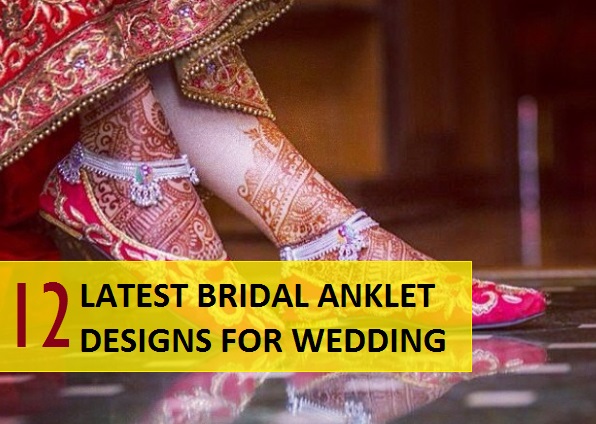 Latest Bridal Anklet designs for 2017: Anklets are a traditional piece of jewelry worn by the women since ancient times, In India even little girls will be seen wearing anklets. The metal silver is sued extensively for making anklets. It's because gold is not worn in feet as gold is a sacred metal which is only worn on the neck, head, ears etc but not on the feet. For bride too, anklets is a sign of being married and blessed with a healthy husband. These days, there are so many designs of anklets that brides-to-be can try!
From simple designs to traditional to contemporary, these days there are multiple choices for brides. Most of the anklets will have tiny gunghuroos will creates pleasing sound this is what the anklets are meant for primarily. Now, brides can choose the design of anklets based on their bridal outfits, choice, and liking.
Beautiful Bridal Anklet Designs for wedding
Here we have summed up a few appealing anklet designs for all brides-to-be. Take a look and decide which is the design, size and pattern that you liked the most for your wedding!
1. Royal Anklet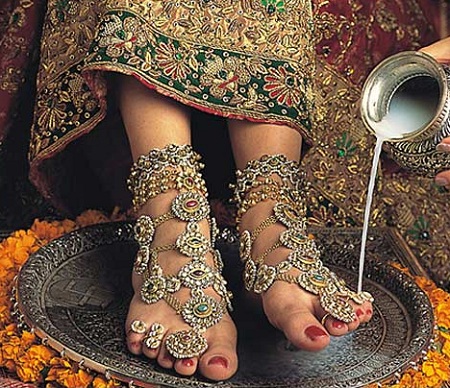 This is quite a royal design for the anklet that looks stunning. This is not for brides who wants something simple but for brides who like to keep things classy too. The small circular motifs are linked together to create this grand pattern. This has got the toe ring with it as well. The band at the anklet is also thick and covers around 2-3 inches of the ankle area.
2. Pearly anklet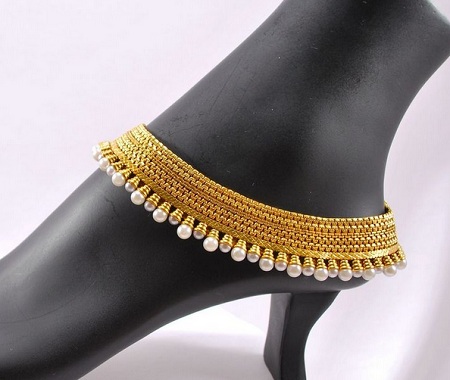 It is quite simple for the brides who likes simple things. The design is in gold but the same can be replicated in silver. The intricate band is quite thick and has pearls at the edge to give it a royal yet simple look.
3. Thick beaded anklet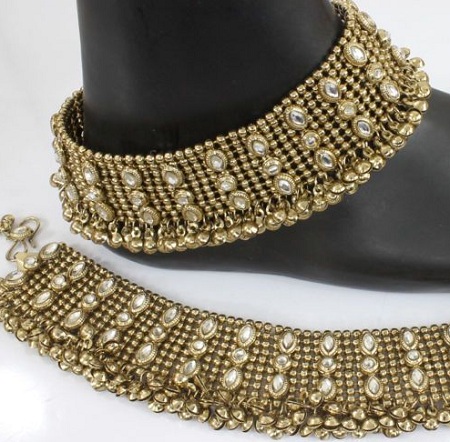 This thick anklet is made with tiny beads interlocked and attached together. This is around 2 inches in thickness hence, given a very beautiful look when worn by the brides on her henna adorned feet. The tiny trinklets are all over the lower edge to make pleasing sound while the brides walks. It would look good when the bride has beautiful feet mehendi design.
4. Simple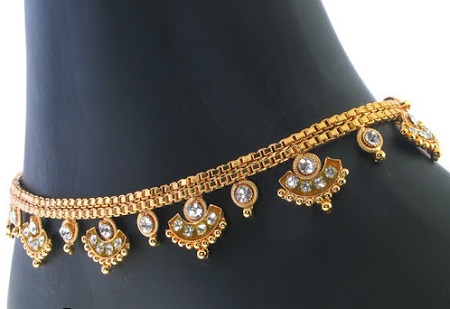 It is made with the inter winded chains along the tiny circular motifs at the lower edge. This is such a nice design for everyday as after the bridal ceremonies it gets difficult for the bride to wear the heavy anklets everyday.
5. Stylish Anklet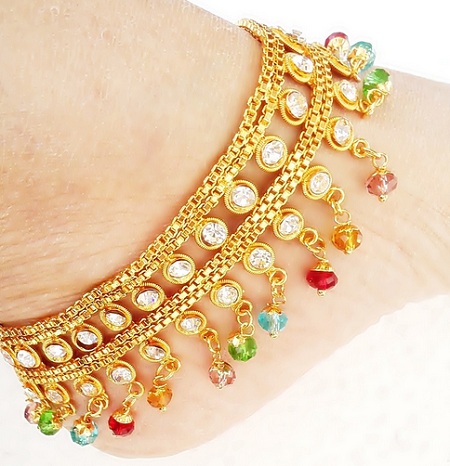 It is a two row design and the width too is quite broad. The anklet will fall till the foot area and gives a very beautiful look to the bride's feet. There are stones in-between the two rows that gives it a blingy effect. The multi colored stones at the lower line also adds color to the otherwise single toned piece of jewelry.
6. Stoned studded Anklet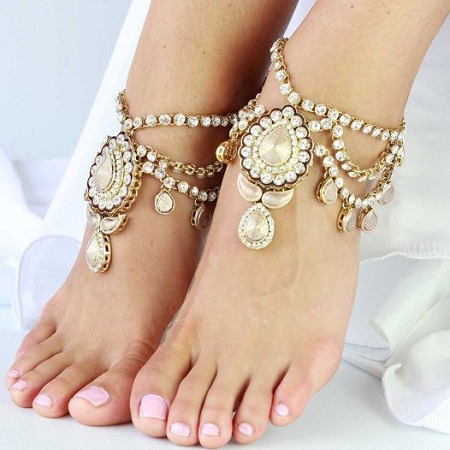 This piece of anklet resembles a necklace design and is very royal looking. It looks like from the time of Royal era where the princesses used to wear such heavy yet grand anklets. The big motif that falls on the foot is amazing. It has strings of topaz stone that circles the ankles. The tiny droplets also adds more charm to this alluring piece of anklet for brides-to-bes. It is going to look alluring with a gorgeous heavy bridal lehenga. 
7. Heavy Kundan Anklet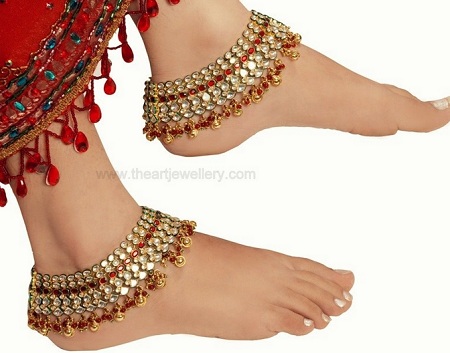 This anklet has the kundan work which is very Rajasthani inspired. The multiple layers of the kundan beads give width to this piece. There are red stones used in the second line which makes it good for brides as majority of brides choose red as their bridal wear color.
8. Floral Kundan work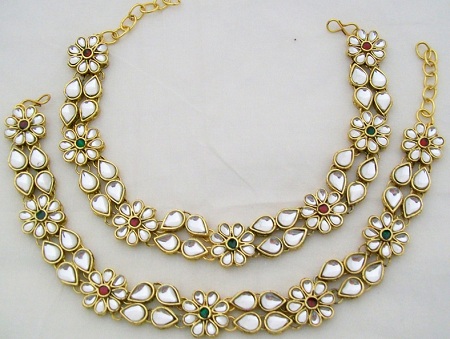 This is such a neat and simple kundan anklets. The anklets are ideal for brides who likes things striking yet elegant. This is just that. The tiny little kundan stone flowers adds feminity.
9. Beaded anklets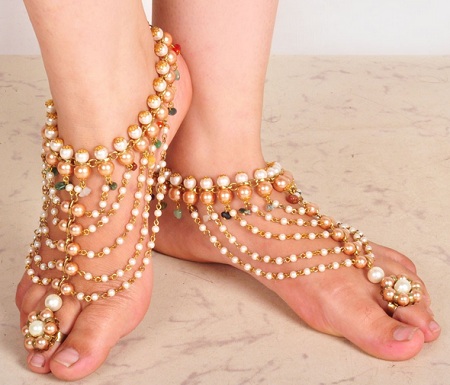 This piece will cover the entire top part of the feet and also got a toe ring to keep this anklet in place. This is purely luxurious looking bridal wedding anklet which gives a very khajuraho temple kind of vibes. The piece is not heavy to wear but is grand for sure.
10. Kundan and Pearls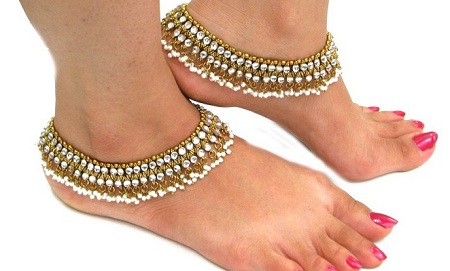 Here come this piece which will suit most of the Indian brides-to-bes as this has kundan and pearl work. It looks splendid yet not over the top.
11. Diamond and Pearl Anklet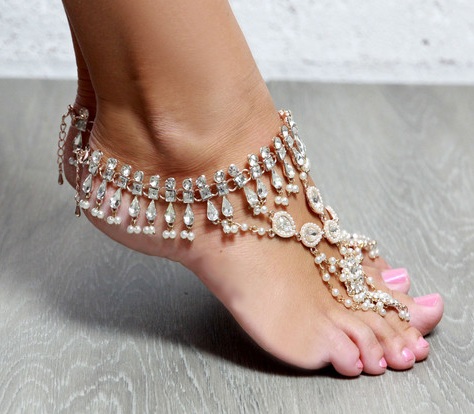 The anklet with diamond cut work looks fabulous. This signifies the modern Indian bride. The round, square and tear drop shaped diamond stones looks amazing with the pearls. Such pieces can be worn by brides who chose their lehenga to be some other color like peach, light pink etc as these will look great with those.
12. Gold anklet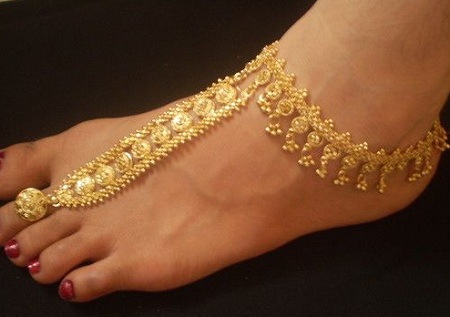 This design of anklet is very traditional and has a moderately thick anklet band with a strip that goes till the middle toes with a toe ring. This design and pattern has a South Indian vibe that is striking and elegant.
So, which is the bridal anklet design that you loved? We liked the royal and simple design for the bridal anklets. Do share in the comments.