By Ratna Balani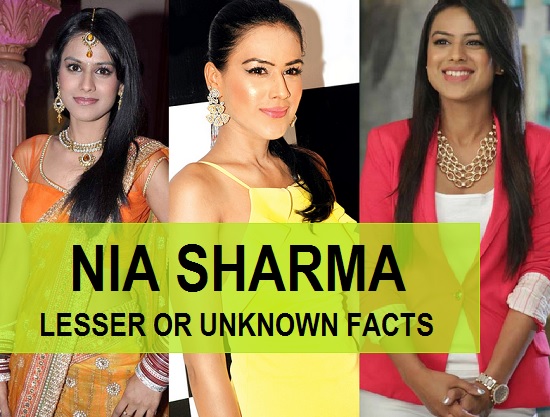 10 Lesser Known / Unknown facts about Nia Sharma: Nia Sharma, a television star who drives crazy every man with the sense of her style, beauty and seductive body. This sensational lady is really celebrated in the social media and has a large fan following. Those deep dark eyes and big smile make everyone fall for her. The stunner started her career in the field of Tellywood with her first show "Kaali".  Later on, she became favorite in the famous T.V show "Ek Hazaaro Me Meri Behna Hai".
This lady has faced failure and achieved success in her calling. The lime light and stardom of her career never affected the career and personal spirit. Today I want to share Nia's unknown facts that will surprise you.. Interested?? Then keep reading guys!
10 Lesser Known / Unknown facts about Nia Sharma
Old name: Nia Sharma's original or born name is Neha Sharma. She switched her name before recording in the Glam industry as she thought Neha is a common epithet. This new name was may be very lucky for her that completely altered her life. Isn't it?
Shopping lover: Nia is a big shopping lover, who likes to shop everyday when she is off from the work. In her interview, she revealed that her favorite stores are located in infinity mall Malad, Mumbai. Boys you can catch her there! :) Her taste of dressing is extremely stylish and elegant. This dusky beauty is always admired for her skin and sexy looks. Whether it's an Award night or any event, Nia is seen appearing stunning and attractive.
Profession: Before putting steps in the entertainment world, Nia Sharma pursued journalism as her career and did the tough work for it. She studied in JIMS (Jagan institute of management) to attain her degree. Who knew that this young lady will rock and become a global star, destiny gave her all the fortunes.
Fitness freak: Nia is a biggest health and fitness freak. She avoids all the fat foods that can result her body in weight gain. Junk food, chocolates, sweets, and butter are not consumed by her on a regular basis. However, she believes in a cheat day that keeps her going on her rigid diet plans.
Relationship status: In an interview, Nia Sharma declared that she is very much single. She feels that her career is her major priority. Currently, she is also in search of her perfect man to marry and become patched up in her personal life too. So all the handsome hunks, you still have a chance.. Rolf!
Sexiest lady: Very less of you all may know that Nia Sharma was ranked in the top 5 position as the Asia's sexiest lady by Eastern Eye. What you guys think? Isn't it a high honor for her.. Her lightly dark and tanned skin is the secret of her high beauty and killing looks.
Lifestyle and eating Habits: Nia Sharma does not believe in sweating out to stay healthy. She is a pure vegetarian person who likes to add natural things in her diet like fruits, boiled veggies, green leafy veggies. To complete her protein requirements, she eats low fat buttermilk and soya paneer (soya cheese). She is a non-alcoholic person who only drinks mocktail like 'kiss on the lips'. A sound sleep is must for her to feel fresh and stay focused towards her work.
Favorite foods: She likes to eat her mom's cooked rajma chawal, kadhi chawal, roti and veggies in her lunch time. Nia loves eating Italian, Mexican and Chinese cuisines. Hakka noodles are one of her favorite snack. She does no eat sweet dishes, but loves to eat natural ice cream in the flavor : sugar apple.
Past affairs: Nia admits that she has a relationship in her school days. She says that was an innocent love, but unfortunately it didn't last long.
Love for fitness: she can starve for days to get that slim waist and stomach. Nia can quit eating her favorite foods to induce weight loss and look stunning.