Night creams are rich in the skin hydrating ingredients as night time is the best time, when the skin heals itself and effective rejuvenation takes place. Night creams helps the skin to repair itself which is very beneficial in every skin care routine. Night cream should be used as per the skin type. Like for oily skin, a night product should be light and fairly hydrating while for dry skin, choosing rich and creamy night cream that is very hydrating would be the ideal choice. Similarly, night cream for aging skin should have Retinols, Hyaluronic acid, Alpha Hydroxy Acids and more to boost the collagen production and get anti aging skin care benefits because of which the deep wrinkles and fine lines can be minimized.
List of Best Night Creams in India for Different Skin Types in 2021
We have compiled this list of the best night creams in the market, suitable for oily skin, dry skin and sensitive skin etc.
1. Lotus Herbal Nutranite Skin Renewal Nutritive Night Cream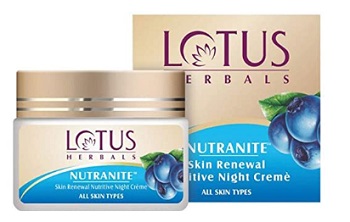 The night cream for dry skin is extremely hydrating. It works to repair the skin and reverses damage caused by UV rays, pollutants and other environmental factors during the day. When applied regularly the cream boosts skin resiliency and strengthens skin's natural defense mechanism. It promotes skin tissue regeneration and enhanced cell renewal. It's one of the best night creams at affordable prices in the market.
2. Pond's Age Miracle Wrinkle Corrector Night Cream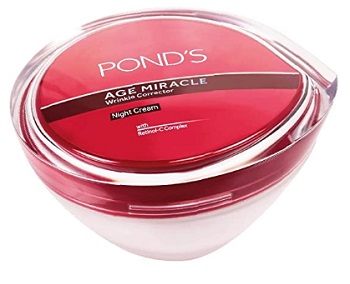 Pond's anti wrinkle night cream has powerful anti-aging retinol bio-actives that penetrate deeper in the multiple layers of the skin. This repairs the skin and plump up the sagging skin and even toned skin. It is your daily use anti-wrinkle cream, which people on their late 20s shall try. It acts within the upper layers of the skin to promote cell renewal cycle and to shed off dead skin cells faster. It's one of the best night creams for oily skin even as the formula isn't sticky but is powdery and velvety. For mature oily skin, it works well, however, all skin types can try it.
3. StBotanica Acid Brightening Night Cream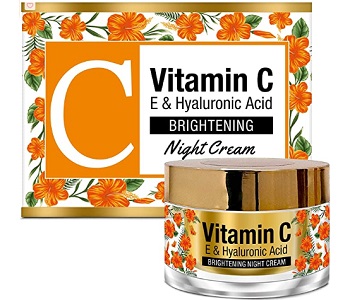 This night cream is a skin lightening and face brightening product which has the most stable and beneficial form of Vitamin C, which is "3-O-Ethyl Ascorbic Acid". It's a powerhouse of skin friendly antioxidants, known for brightening the dull and shallow skin tone and diminishing signs of sun damage like dark spots, age spots, sun spots, and hyper-pigmentation. Vitamin C also boosts skin's repair system and refines the open pores. It's the best night cream for glowing skin.
4. Olay Night Cream Total Effects 7 in 1 Anti-Ageing Night Cream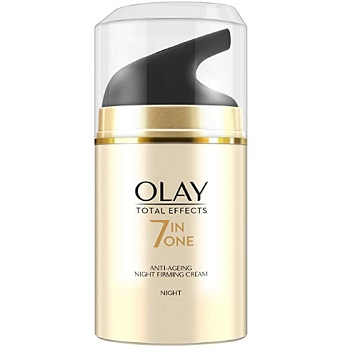 The night time moisturizer is a specially formulated night cream for daily use for mature skin. It helps fight the seven signs of skin ageing. With age skin gets sagging and starts to become loose. The Olay night cream for dry skin reduces dark patchy spots, firms and tightens the skin and also reduces the appearance of lines and wrinkles. With the regular use of this cream, it also reduces pores and makes skin glow. The product is formulated with VitaNiacin and anti-Oxidants which works in synergy to keep the facial skin younger for lot longer. The cream is appropriate for Normal to Dry and Combination Skin. It's one of the best anti aging night creams in India and also for people above 30s, it prolongs the aging process.
5. L'Oreal Paris Revitalift Moisturizing Night Cream
The L'Oreal Revitalift night cream contains pro-retinol and dermo-elastyl. These are the potential active ingredients, clinically known to reduce the appearance of deep wrinkles and lines. While supporting the skin tissues, this hydrating face cream balances the skin and leaves it supple and soft. This product gets absorbed in the skin quickly without making the surface greasy. This L'Oreal night cream for oily skin improves the dull texture of the skin. Perfect for all skin types, it can be tried by sensitive skin too. As the formula is non-sticky, it doesn't cause breakouts and allergies.
6. Himalaya Herbals Revitalizing Night Cream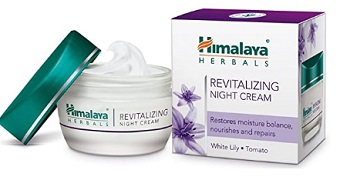 The Himalaya Herbals Revitalizing Night Cream is one of the best night creams for dry skin. It's a top rated products from this brand and a popular one. It is rich in the effective herbal extracts that combat the skin issues with regular application. This night cream for all skin types is clinically proven to reverse the daily wear and tear and damage. With the powerful and organic elements like Lemon, Wheat, Crab Apple, White Lily and Tomato, it gives health and glow to tired skin. Lemon is known for antiseptic properties while the Crab Apple has keratolytic qualities. This product helps to naturally bleach the skin and makes it lighter. Wheat and tomato relives sunburns, dark spots, damaged skin, wrinkles and dark patches.
7. Lotus Herbals White Glow Skin Whitening and Brightening Nourishing Night Crème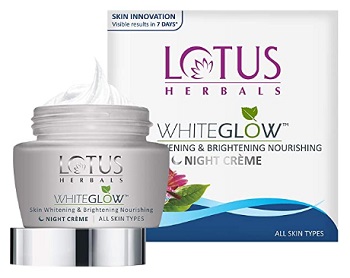 Lotus Herbals White-Glow Night cream is helpful in minimizing the pigmentation, dark patches, spots and dullness by adding glow the next morning. As the name suggests, this night cream from Lotus Herbals lightens, whitens, and brightens the skin. Its unique formula is rich in fruit and bio-active extracts to keep the skin brighter. It's one of the best night creams for fairness and lightening.
8. VLCC Specifix Brightening Night Cream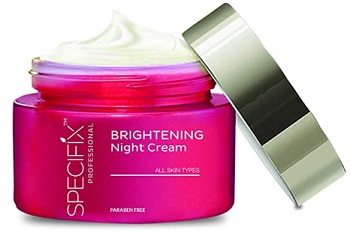 Because of the dust, dirt, exposure to UV rays and pollution skin gets dull and blemished. It can also cause pre-mature aging of skin. This super-luxurious cream has highly moisturising formula which has potent botanical ingredients. This helps to nourish, repair and renew the skin by itself overnight. Its unique anti-oxidant rich formula is enriched with exotic botanicals that restore lost moisture, reduce darkness and dullness for radiance.
9. Kaya Youth Oxy-Infusion Night Cream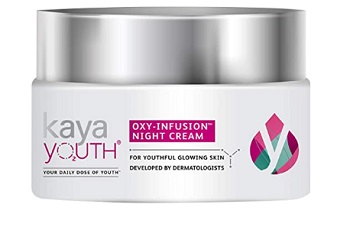 Kaya Youth Oxy-Infusion Night Cream is able to works overnight to restore and replenish skin's natural moisture. As, it's a non- oily night cream for women and men, it provides maximum nutrients to the skin and boosts the oxygen supply. It effectively removes dullness and dark spots and also repairs skin damage. It can be used by people in their 20s and even teens.
10. The Body Shop Vitamin E Nourishing Night Cream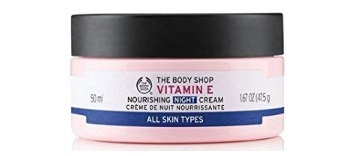 With the amazing nourishing properties of Vitamin E, the night cream is highly moisturising for dry to normal skin. In fact, vitamin E is an excellent anti-oxidant that helps prevent premature aging and skin damage from free radicals. This luxurious and antioxidant-rich night cream delivers overnight protection and rejuvenates the environmentally stressed skin. This overnight face cream is an intense night cream that promotes cell turnover and flushes out the toxins.
11. WOW Anti Aging Night Cream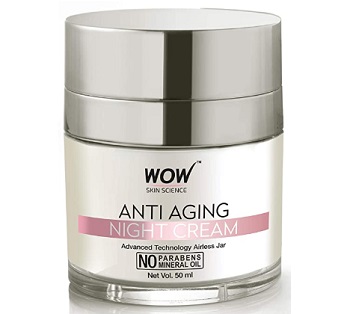 WOW anti aging night cream is made with the unique formulation, which is powered by several supremely skin reviving bio-actives. This night time face cream has aloe leaf juice, shea butter, olive oil, glycerine, hyaluronic acid and vitamins C and E. As it's free of the paraben, sulphates, chemicals and preservatives, it's a product for all skin types. This effective anti-aging and paraben free night cream works by stimulating collagen synthesis that tends to smoothen the wrinkles and deep lines on the forehead and jaw.
12. Lakmé Youth Infinity Skin Sculpting Night Creme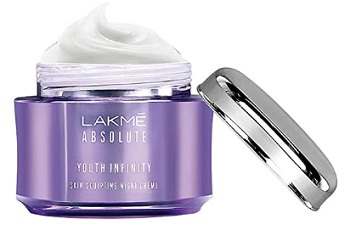 Lakme Youth Infinity night cream aids in regenerating the cell renewal rate and making the dull skin flawless and tighter. The night cream rejuvenates skin overnight, and one gets to enjoy a taut and better looking skin day after day. It is non-sticky and light. This cream also contains Niacinamide that brightens the skin. It's a dermatologically tested face cream with insta-collagen boosters, which boosts collagen synthesis rate in your skin but does not block the pores.
13. Indus Valley Organic Retexturing Night Cream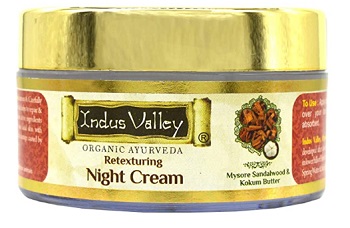 Indus Valley Retexturing night cream has Kashmiri Saffron ext., jasmine flower Ext. Aloe vera, sesame and almond oil blend with jasmine and kesar oils to relax and hydrate the skin, additional conditioning is provided by wheat germ oil a natural conditioner. The organic night cream for very dry skin will smoothen and softens the skin. It makes the skin look rejuvenated, fresh and healthy. It's one of the most hydrating night creams in the market.
14. O3+ Night Repair Cream Anti-Ageing Formula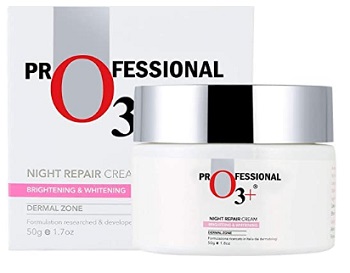 O3+ Night Repair Cream helps restore the elasticity and youthfulness of the skin, while providing a fair and radiant glow to the skin. It also provides cellular repair and makes the skin de-congested and hydrated.  The botanical and organic ingredients stimulate the self repair process of skin every night. As a result, it fades the age spots, dark spots and blemishes. It also works on the damaging effects of dirt, grime, dust and over exposure to UV radiations. The night cream is suitable for the normal to dry and pigmented skin.
15. Olay Night Cream Regenerist Deep Hydration Light Cream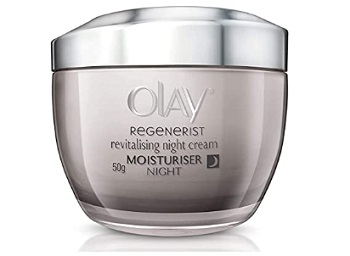 Olay Regenerist Anti-Ageing Night Cream is a deeply hydrating moisturiser product with skin-plumping formula. The night cream for aging skin firms sagging skin for a lifted and sculpted look and reduces the fine lines and wrinkles. By hydrating the skin, it improves elasticity and helps exfoliate, smoothen and revitalize the skin. Enriched with the advanced Amino-peptide Complex II, this night cream offers anti-aging ingredients gets deeper in the skin layers. It contains Hyaluronic Acid and Pentapeptides to erase the lines.
16. Plum Grape Seed and Sea Buckthorn Nurturance Night Cream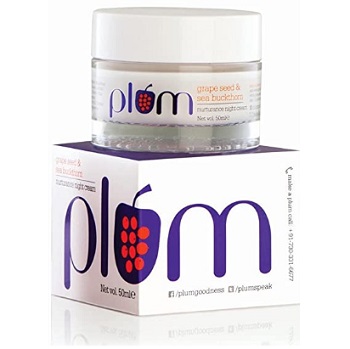 A potent combination of grape seed and sea buckthorn oil, this night cream prevents dryness from causing new lines and creases on the skin. Without being heavy or sticky on the skin, the product heals the micro-level skin damage. Grapeseed Oil is highly nutritious oil rich in polyphenols, Vitamins D, C, E and flavonoids. It's one of the best night creams to combat free radical damage. It's free of paraben, phthalates, SLS and other harmful chemicals.
17. mCaffeine Naked Detox Green Tea Night Gel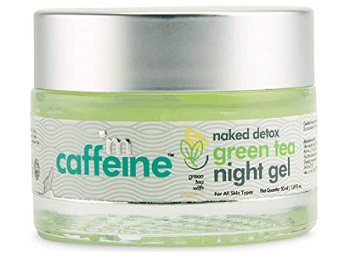 mCaffeine Detox Green Tea Night cream gel is the best gel for getting the perfect and ideal morning glow. It's the best night cream for the oily-acne prone skin types. It repairs the tired and dull skin with soothing gel formula. This is a natural moisturizer for night that targets the beauty issues like fine lines, dark spots, acne scars and pigmentation. Antioxidant-rich Green Tea extracts in this night gel eases out stress, fines lines and wrinkles. The anti-inflammatory property of green tea soothes the skin, making it ideal for normal to oily as well as dry and combination skin. The product is FDA Approved, Mineral Oil Free, Dermatologically Tested, Cruelty-Free and is free of paraben.
18. StBotanica Moroccan Argan Oil Anti Wrinkle Regenerating Night Cream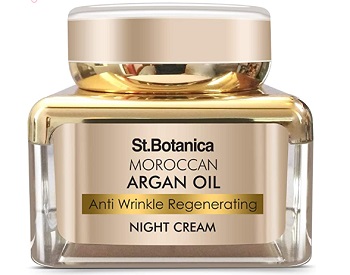 Rich with Moroccan Argan Oil, this super creamy night cream promotes healthy glowing and youthful skin. By maintain a healthy cell renewal rate, it eases the lines, wrinkles and dryness. By giving intense night long hydration, the cream helps skin claims its youthful and elastic texture. As a result, skin gets bright and clear. This very popular night cream contains anti-aging ingredients like hydrolyzed collagen, hyaluronic acid, Matrixyl 3000 and Retinol for firming and tightening the sagging skin. It's the best retinol night cream that works to ease out wrinkles.
19. Mamaearth Skin Repair Night Cream for Glowing Skin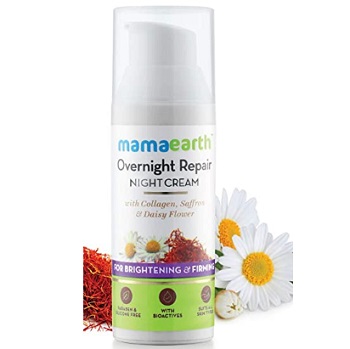 The organic skin repair night cream is made with ingredients such as Saffron and Daisy Flower extracts, that help in lightening and brightening the dull skin complexion naturally. Also, with the goodness of Collagen, it helps the skin elasticity and aids in firm skin. This night face cream is loaded with naturally moisturizing elements such as Shea Butter, Almond Oil and Olive Oil, to maintain moisture balance. Daisy Flower extracts helps in naturally exfoliating the skin and hence, reduces dark spots. It's free of Sulfates, Paraben, SLS, Mineral Oil, Petroleum, Artificial Preservatives, Colors & Fragrances.
20. Jovees Avocado Revitalising Night Cream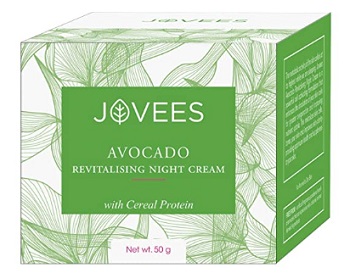 Jovees revitalising night cream is a powerful cell activating night cream for men and women. The budget friendly night cream enhances blood circulation for greater oxygenation to the skin and in improving the nutrient uptake, redefines skin clarity, revitalizes facial skin and increases its resilience for a more toned skin in the morning. It's a good night cream for normal to dry skin.