Best amla hair oils in India is the guide that we'll be talking about in this post. Amla Oil is extracted from amla fruit and is rich in so many essential vitamins and minerals. For several centuries, ancient people have utilized the benefits of amla to get stronger and longer hair. But it is also important that we apply the best amla hair oil. Indian gooseberry or amla is one of the richest sources of the Vitamin C. Hair has been a crowing beauty since decades and this is why people will use hair growth hair oils to  take care of their hair. Hair fall and hair loss can be like a curse for those who wish to get gorgeous hair. Therefore, the amla hair oil helps to boost the strength of your hair and makes them stronger.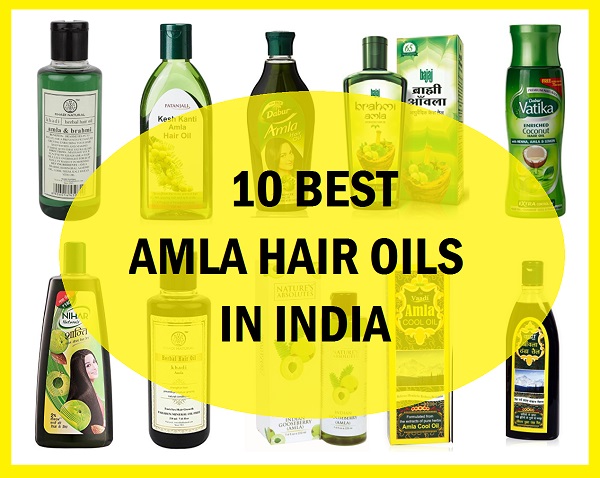 Benefits of Amla Hair Oils
Amla hair oils are rich in vitamin C and they are vital to vitalize the hair and strengthen the hair roots. Vitamin C is also an antioxidant which helps to take care of those nasty free radicals. Free radicals can also be responsible for your skin aging and falling hair prematurely. Massaging with amla hair oils also improves the blood circulation therefore, it also acts to strengthen the weaker hair roots and revitalizes the dull hair.
Our hair often get dry and damaged hair due to the current chemical styling, heat treatment etc, so the hair can get brittle and damage. Amla hair oils can help to combat this damage and make the hair beautiful again. Moreover, vitamin C and other antioxidants help to keep hair and follicles healthy by fighting off the damage causing free radicals.
10 Best Amla Hair Oils in India (2021) for Strong and Long Hair
We have compiled this list of the best amla rich hair oils in Indian market. You can get the benefits of amla with continuous use of these oils.
1. Patanjali Amla Hair Oil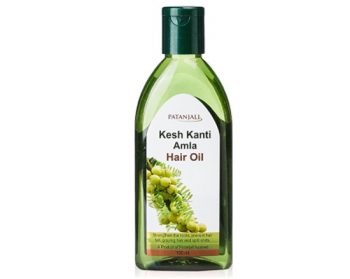 Patanjali kesh kanti amla hair oil is known to strengthen the hair roots, prevent hair fall, graying and split ends. This amla hair oil has the pure amla extracts and no mineral oil or vegetable oils. It acts as a natural conditioner to the hair so that the hair become naturally stronger and you also get lesser hair fall. Patanjali products are extremely popular and this amla hair oil can be used twice in a week for head massaging.
Price: 40 rupees for 100ml
You can also check these Best Patanjali Hair Oil in India
2. Nihar Naturals Shanti Badam Amla Hair Oil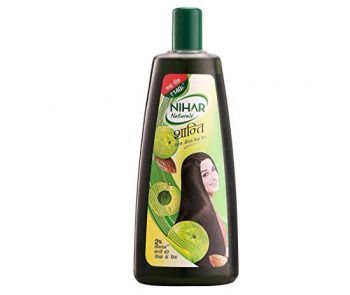 Nihar Naturals Shanti Badam Amla oil is rich in two of the most beneficial ingredients for the hair care like the amla Indian Gooseberry and badam or almonds. This oil is very inexpensive and has the vitamin C and vitamin E goodness that can make your hair lustrous and smoother.
Price: 500 ml for 149 rupees
Please also read about the Best Anti Dandruff hair Oils in India
3. Khadi Amla and Brahmi Hair Oil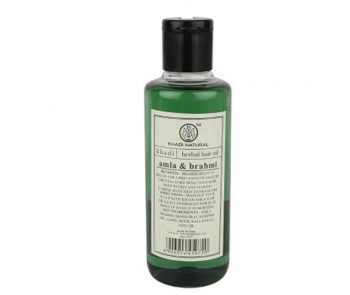 What about the amla with brahmi combination? This combination is ideal or rather beneficial for people seeking relief in hair fall and hair graying. Brahmi is one of the potential ingredients that can show benefits in the reduction of the hair graying and making the hair get black or darker again. Amla on the other hand can minimize the hair loss or hair fall. You just have to use the oil once in a day to get the benefits but if you can't use the oil on daily basis then do try and get scalp massaging once or twice in a week. Brahmi for hair has been used since ages.
Price: 110 Rupees for 210 ml
One of the most popular hair oil is Sesa, do read about Sesa Herbal Hair oil Review and its Benefits
4. Khadi Pure Amla Hair Oil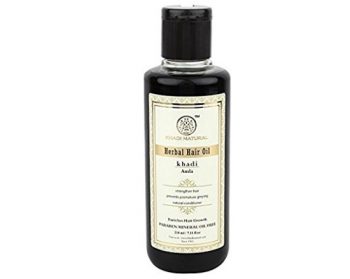 Other than the brahmi and amla oil, Khadi also makes this pure amla hair oil, So, if you need just the amla hair oil then you should definitely try this one. This contains organic amla with vitamin C power. The antioxidant rich oil is suitable for everyone and can help you combat dryness, hair damage like brittle-less and also graying of hair at an early age. It says that it is non greasy but still the oil is slightly sticky in nature. Boys too can use amla hair oils. It's the best amla hair oil in India.
Price: 210 ml for 110 rupees
5. Dabur Amla Oil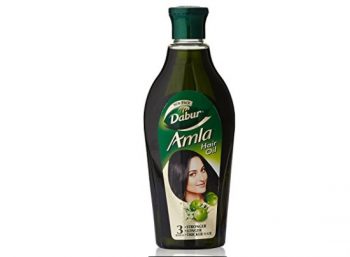 Dabur amla hair oil is by far one of the most popular amla hair oils in India. But this is also true that this oil contains vegetable oil more than the amla oil, so this is not the pure amla oil in itself. Still if you need a decent amla oil then this can be used.
Price: 275 ml for 115 rupees
6. Nature's Absolutes Amla Oil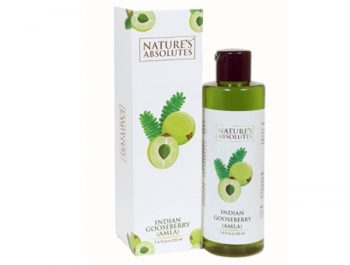 Nature's Absolutes Amla Oil is suitable for everyone to nourish and soothe the itching scalp. At times, even the kids feel the itching and scalp dryness. Hence, an amla oil like this can help to cure the itching of the scalp. The oil is effective enough to give lustrous hair when it is applied regularly, also it can promote the hair growth on thinning hair and thickens the hair growth. People who are in their middle ages and are struggling to get rid of the excessive hair fall, can seek relief with amla hair oil. 
Price: 249 rupees for 220 ml
Coconut hair oil is also beneficial, do read about the Best Coconut Hair Oils in India
7. Bajaj Brahmi Amla Hair Oil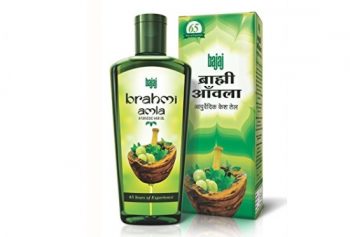 Bajaj brahmi amla hair oil is yet another popular amla oil. This not just has the regular Indian gooseberry extracts but has brahmi as well. So, as mentioned, brahmi is wonderful herb to reduce hair fall, hair loss and also darkens the white hair naturally. You may have heard that people who have got white hair in Middle Ages or even at a young age are advised to use brahmi and coconut oil paste. This is surely helpful and you won't believe how amazing and effective this can be. Anyways, so, those of you who like brahmi in your oil can try this hair oil.
Price: 150 ml for 85 rupees
If you would like to get good  hair growth, then read about this Indulekha Bringha Hair Oil Review Hopefully, it will help you.
8. Vaadi Herbals Amla Cool Oil with Brahmi and Amla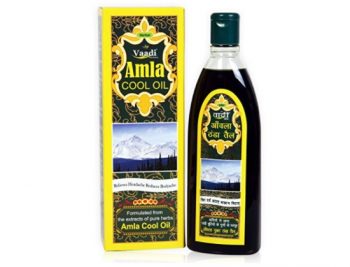 Vaadi hair oil too reaps the benefits of both amla and brahmi. This is a cooling hair oil that means when you apply this on the scalp this will give you cooling sensation and scalp gets soothed. Cooling oils are suitable or evening time application as these days due to stress and pollution the scalp and hair gets dull while the cooling oils can help you relieve stress and tension build up. So, why not try an oil like this? The scent of this oil is not as over powering like some of the other oils hence appropriate for daily use.
Price: 125 rupees for 200 ml
How to choose hair oils as per the hair type
9. Baidyanath Brahmi Amla Oil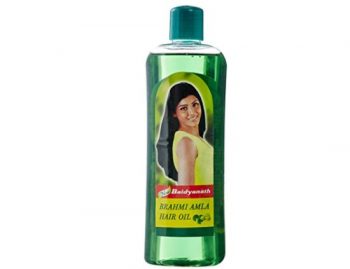 Seems like brahmi as an ingredients is one of the hottest herb to mix with amla. Yes, this oil too has brahmi and amla in it. These two natural ingredients can guarantee beautiful and lustrous mane. I have seen that Baidyanath hair oils are popular as they make organic and herbal hair care products. It has the extract of brahmi (bacopa monnleri), jatamansi (nardostachys jatamansi), amla (emblica officinalis),  sesame oil (sesamum indicum) and arachis oil. Jatamansi is quiet effective on balding or receding hairline. Moreover, this herb also shows decent results in making brittle hair smoother.
Price: 200 ml for 85 rupees
10. Dabur Vatika Hair Oil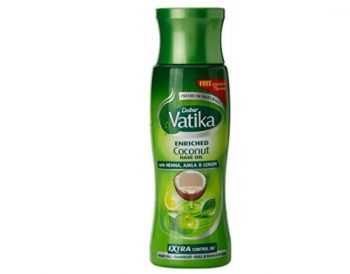 Dabur Vatika hair oil is an enriched coconut hair oil. This oil is a unique blend of coconut oil with herbs like henna, amla and lemon that is known to be very beneficial for your hair.
Price: 75 ml for 85 Rupees
So, these were the best amla hair oils in India. These are in variety of prices that you can try.