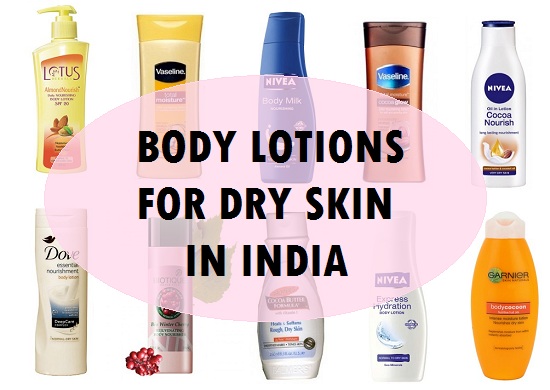 Body lotions for dry skin in India. Dry skin can be problematic as it gets scratchy, itchy and peels. My mother has dry skin and she will never forget to use body lotions as when she skips applying body lotions even in summers then her skin gets very dry, it gets itchy and scaly. This problem aggravates in winters. A lot of people have very dry body skin thus I have compiled this list of body lotion that are suitable for dry skin in winters and summers.
10 Top Best Body Lotions for Dry Skin in India for 2021
Here are body lotions meant to heal the dry skin types, from the popular brands in India that are easily available online and in the shops. It is always good to hydrate the dry skin at night since night is the time when the skin rejuvenates itself. Also check out the best winter fairness creams in Indian market. So, that your skin stays glowing fair without the dryness. 
1. Garnier Body Cocoon Intense Moisture Lotion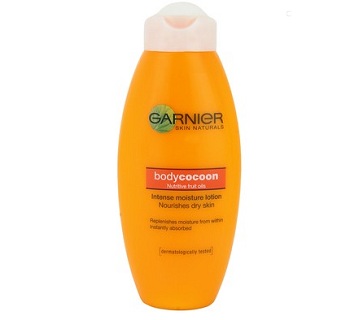 This Garnier intense body lotion for dry skin is for 110 Rupees for the 100 ml bottle and comes in a orange packaging. It heals the dry, flaky and rough skin to make it moisturized and tighter. This provides suppleness to the skin and leaves it extremely softer. It has the goodness of apricot, olives, blackcurrants etc.
2. Vaseline Total Moisture Cocoa Butter Body Lotion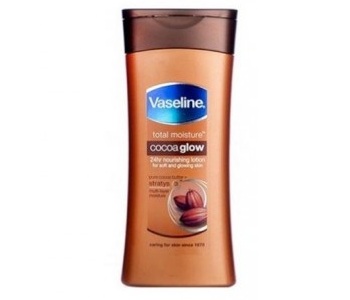 Cocoa butter is an extremely moisturizing ingredient which deeply moisturizes and nourishes. Cocoa butter body lotion for dry rough skin from Vaseline is enriched with coco butter. This can be applied at night to get a smoother skin in the morning. The pleasant smell of cocoa butter and vanilla is soothing and enchanting.
Price:
This is for 95 Rupees for 100 ml.
3. Nivea Express Hydration Body Lotion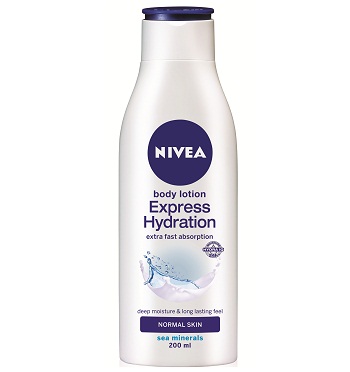 This body lotion is enriched with Hydra I.Q and Sea minerals. Its light weight formula gets absorbed in the skin very easily and gives a long lasting moisturization. This body lotion is good for summers season and for dry skin.
Price:
It comes for 170 Rupees for 200 ml.
4. Dove Essential Nourishment Body Lotion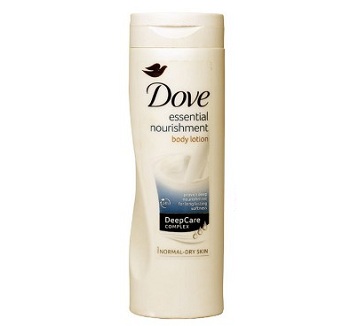 Dove has 4-5 different body lotion variants for every skin type and with different ingredients. This body lotion is formulated for the dry skin to normal skin and has deep care Complex. Moreover, the lotion is ideal for people who faces dry skin excessively. It is perfect for the dry winter season.
Price:
it is for 225 ml for 200 ml.
Best Nivea Body lotions available in India
5. Palmer's Cocoa Butter Formula with Vitamin E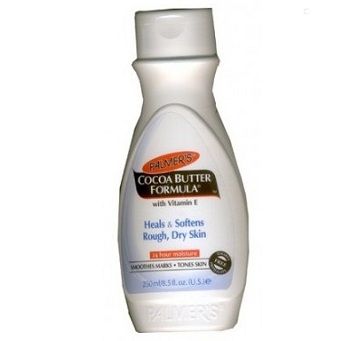 Palmer makes some great body butters and body lotions. This one has the cocoa butter and vitamin E for extra moisturization and intense hydration. This rich in emollient body lotion gives the right amount of moisture and hydration to the skin leaving it softer and dewy. This is also ideal for sensitive skin. The thick moisturizing formula helps to curb the stretchy sin in winters.
Price:
This body lotion for dry skin is for 435 rupees for 250 ml.
6. Nivea Nourishing Body Milk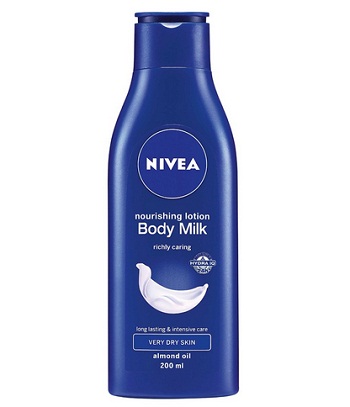 This one is my mum's favorite the bright blue packaging looks good and price too is very economical. This body milk nourishes the skin and leaves it smoother and supple. She would apply this every night and in the morning the skin feels a lot softer than not using anything. The moisturisation is good for winter season. 
Price:
This comes for 200 Rupees for 250 ml.
7. Biotique Bio Winter Cherry Body Lotion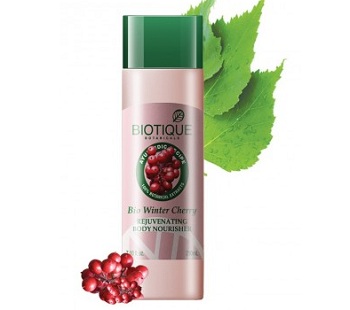 Biotique's Winter cherry body lotion has the extracts of winter cherry that makes it extremely moisturizing. Other than that it has sunflower extracts, safflower, musk root, and almond oil which enhance the moisturization of this product. All these ingredients will promote the natural elasticity of the skin and suppleness.
Price:
It is for 195 rupees
8. Vaseline Total Moisture Body Lotion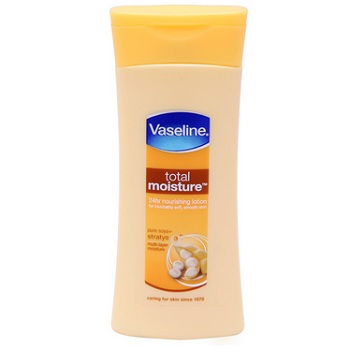 Vaseline total moisture Body Lotion allows the moisture to seal in the skin for a longer hydration that keeps the skin supple. This body lotion is a combination of minerals, Vitamins and skin conditioning moisturizers.
Price:
This dry skin body lotion is for 65 rupees for 100 ml.
9. Nivea Cocoa Nourish Body Lotion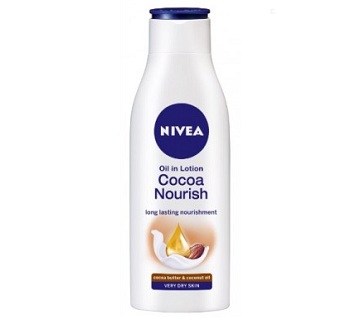 This body lotion has dual nourishment of cocoa butter and coconut oil which deep hydrates the dry skin for a smoother skin. This claims to give 24 hour moisturization to the skin and improvise the skin's texture. This body lotion for dry skin is priced at 120 Rupees for 75 ml bottle. The packaging is also good for this dry skin body lotion. 
Also see the Nivea cool sensation whitening body lotion
10. Lotus Herbals Almond Nourish Body Lotion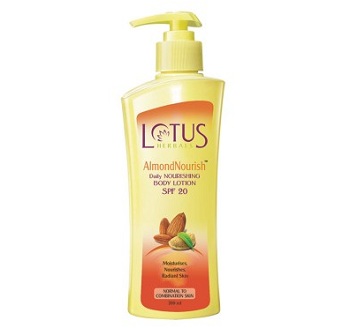 This body lotion has almond oil which is good for dry skin. It delays the aging process as it is rich in Vitamins and other minerals. This body lotion for dry skin also has SPF 20 thus can be used at the day time to get some sun protection.
Price:
This lotion is for 300ml for 230 rupees.
These were the body lotions formulated for dry skin and normal skin in India. Most of them can be used for winters too when the weather is dry and skin gets parched. 
Have you used any of these Body lotions for your dry skin? Which is your favorite?