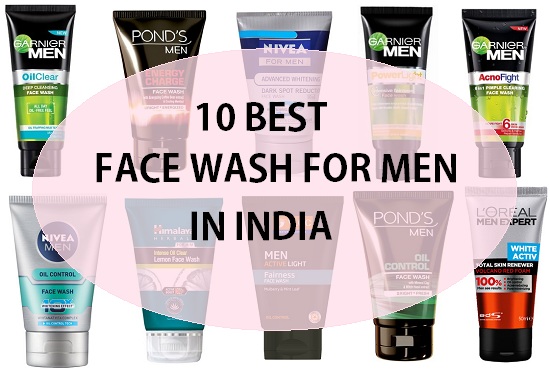 Are you looking for best face wash for men in India?This post will be helpful!! Men has different skin that than of women. Their skin is a bit rough and thicker. Most men have very oily skin which gets greasy soon and due to this the dust and dirt gets on the face which causes pimples. Then there are some men who have very dry skin which gets even drier when they go for a bike ride especially in winters. In this post, using the inputs of some men, I have compiled a list of top best face washes in India for men's skin with different concerns like dryness, acne, oiliness etc.
List of Best Face Wash for Men with Dry Skin, Oily Skin
Earlier, we have also shared the best fairness creams for men in India, now it's the cleanser for boys/men that they can try. Skin care starts with a good face wash or cleanser. Therefore, you can try a suitable face wash which should keep your pores and skin clean.
1. Garnier Men Acno Fight 6 in 1 Pimple Clearing Face Wash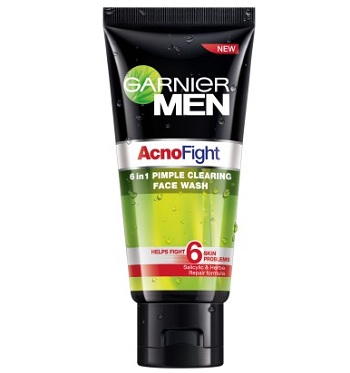 This is one of the best men's facial cleanser has Menthol goodness, Lemon Fruit Extract, glycerin etc. It tightens the large pores on the skin, lightens the marks because of the lemon extracts in it. This face wash also deep cleans the skin and the pores thus eliminate the blackheads from the face. This also takes the redness of the zits and acne.
Price:
This acne clearing face wash for men is for 170 Rupees for a tube of 100g. Buy it here
2. L'Oreal Paris Men Expert White Activ Volcano Red Foam Face Wash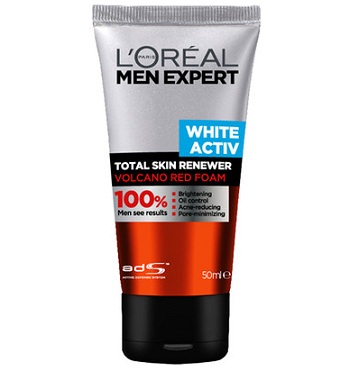 This men's face wash is a foaming face wash which cleans the facial skin deeply and takes off the impurities and dirt from the face. This L'Oreal Paris face wash for men is for 499 rupees for 100 ml which is a bit expensive thus if you can't spend that much then you can try it else other options are good too.
Just a tip: Never take too much face wash and rub too hard on the face. Just take a pea sized amount and massage for 15- 20 seconds then wash off. If you will rub for very long or take too much then the skin gets dry and further oils will come.
3. Pond's Oil Control Face wash for Men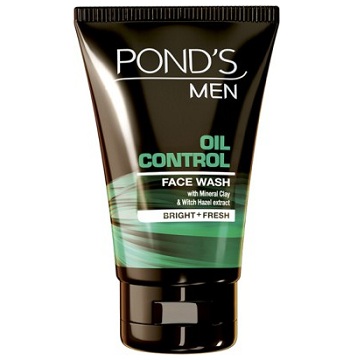 This Pond's men oil controlling face wash for men's tough skin has ingredients like witch hazel and mineral extracts. Witch hazel tightens the pores and cleans the skin. Mineral extracts in this men's face wash will reduce the appearance of pores. This facial cleanser also contains salicylic acid helps fights with pimple causing microbes. 
Price:
You can buy this face wash for 80 Rupees for 50 g small pack. Buy it Here
You should also check out our post on the best 11 Skin whitening creams in India which are suitable for men and women in India.
4. Nivea Men Oil Control 10X Face Wash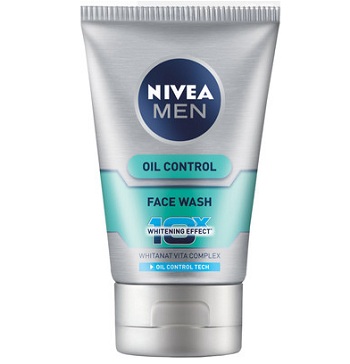 This is also a face wash for men's oily skin since it has oil controlling features. Nivea makes so many face washes and moisturisers for men. I think there are 3 Nivea face washes and this is the best Nivea face wash for men that suits most of the men. My brother tried this and after that he only used this one and the Garnier Pimple clearing one. This face wash eliminates the skin's dirt and pimple forming bacteria. This also reduces dark spots but there wasn't much difference.
Price:
The small tube of 50 g costs rupees 90 INR. Buy it Here
5. Garnier Men Power Light Intensive Fairness Face Wash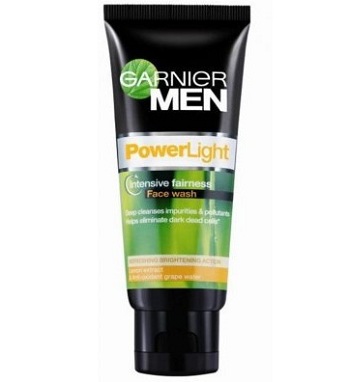 There are some men who would like to use the fairness face wash then Garnier cleanser is good. My brother used the moisturizer and this face wash both and they were good for the oily skin. This Garnier men powerlight cleanser immediately deep cleanses the skin. It contains micro- polishing beads which mildly exfoliate the skin and skin looks visibly brightened.
Price:
This face wash for men is for rupees 155 for 100 g. Buy it here
6. VLCC Men Active Light Face Wash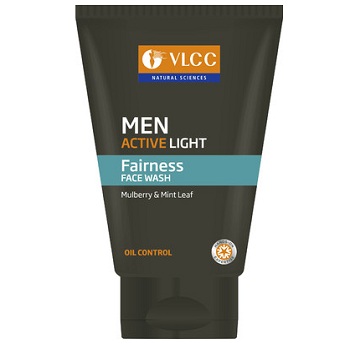 This VLCC men's face wash as the mint and mulberry extracts. Mulberry cleanses the face and hydrates it also. The mint extracts will helps to lighten the blemishes on face and tightens the pores effectively. Do you know that you can get the face moisturizer and face scrub both from this very men's range of VLCC. Do you that you can get some discounts when you buy online? or you can also get the 50 g small tube of these face washes.
Price:
This cleanser will costs you rupees 155 for 100 g. Buy it here
If you are thinking of trying fruit face was then check the Best Fruit Face wash for Men and Women
7. Himalaya Men Intense Oil Clear Lemon Face wash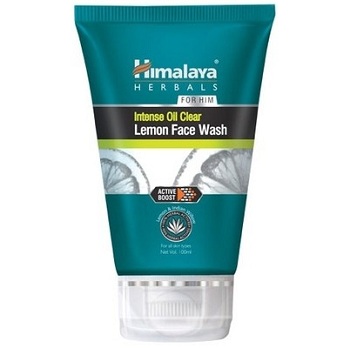 Again a face wash for oily skinned men great! Men are getting luckier as there are more and more products made for them. This face wash has liquorice which makes the skin lighter and glows. This Himalaya Men oil clear face wash is a soap free cleanser therefore, this will not make the skin greasy and controls oil for sometime. My brother also used this and he liked this too. Now, you might be thinking that how come my brother has used most of the face wash well actually as you know that I am a beauty blogger and that's why a lot of products are being sent by the company for me to try and review.
Price: 150 Rs for 100ml, Buy it Here
8. Nivea For Men Advanced Whitening Dark Spot Reduction Face wash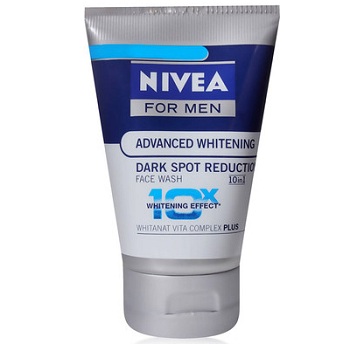 As I said there are couple of Nivea face washes and this Nivea For Men Advanced Whitening Dark Spot Reduction Face Wash has 95% more Vitamin C. We know that Vitamin C repairs skin cells layer by layer and reveals a whiter and brighter complexion. This is a whitening face wash which is good for dull men's skin. You can also try the Face Wash with Tea tree oil for pimples
Price:
This is for 95 rupees for 50 g tube. Buy this Here online
9. Pond's Men Energy Charge Face Wash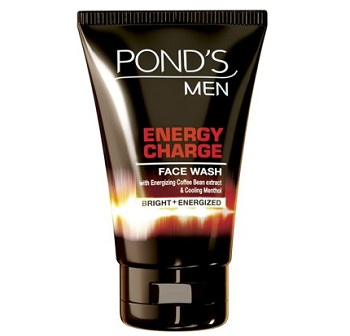 This is the second variant of the Pond's men face wash. The first variant is the green one and this is the red one. This can be tried by dry skinned men too and contains coffee beans extracts which instantly brightens the complexion and makes skin healthy looking. If you would like to use moisturisers, then this pond's men range and their own moisturisers too.
Price:
You can buy this for 85 rupees for 50 g. Buy this here
10. Garnier Men Oil Clear Deep Cleansing Face Wash
Now, here's one more Garnier face wash for men. I am also including this as this too is a great face cleanser which has great oil controlling and oil clearing feature but if you want you also use Garnier Acno Fight 6 in 1 Pimple Clearing face wash since that will protect you from pimple too but this is good for men who get very oily skin and highly secretive sebaceous glands.
Price: 95 Rupees for 50g pack. Buy it Here
Just a tip: While you come back from a bike ride, use a face cleanser to remove the dirt and grease as that will cause pimples on your face especially when you have beard or stubble then the dirt gets trapped in the facial hair which will further cause the problem for you.
These were the face wash for men with different skin type. Which one do have like?
Do check out the best face wash for Oily and Acne Prone Skin and do subscribe to my channel friends. 🙂