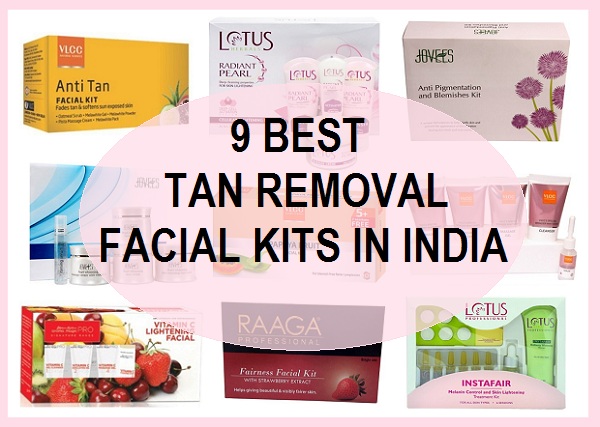 Best Facial kits for Tanning, Dark spots and Fairness in India. Hi everyone!! Friends, when you have sun tan and fairness issues then you need to take enough measures to get rid of the sun tanning and to enhance your fairness. So, are you also thinking about the sun tan removal and the dark spots, dullness on your skin? Then you should try facials to help cure the darkness.
Facials are good to make your skin tone lighter and to lighten the effects of the sun. Moreover, the sun tan can become permanent when not treated well. So let's have a look at the best anti tan facial kits or tan removal facial kits for fairness. By the way, I have also shared several home remedies that will help you lighten the tan and to whiten the skin naturally. You can also check that.
Top 10 Best Facial Kits in India for Tanning and Fairness (2021)
1. VLCC Anti Tan Facial Kit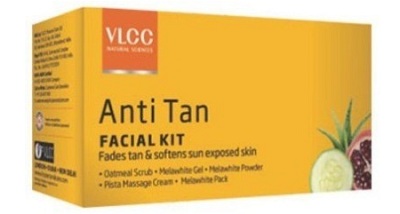 This is an excellent anti tan facial kit that we can try to cure tan. Moreover, this can be tried by men as well. VLCC Tan removal facial kit is for the increasing the natural radiance of your skin. It minimizes the effects of sun tanning and also lightens the skin. VLCC anti tan kit has five steps of facials included like oatmeal Scrub, MelawhiteGel, Melawhite Powder, Pista massage Cream and Melawhite Pack. As I mentioned, it removes the damage that has been done by the sun rays and pollution dullness as well. This is also a good home facial kit to revive your mature dull skin. All age groups can try it and is for all skin types.
2. Lotus Radiant Pearl Cellular Lightening Facial Kit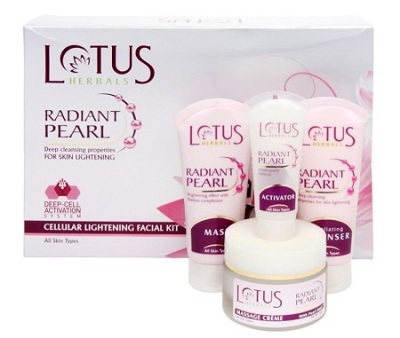 Lotus Radiant Pearl Cellular Lightening Facial Kit has Pearl Exfoliating Cleanser, Pearl Activator, Pearl Massage Cream And Pearl Mask. These steps are extremely beneficial to get healthy skin tone and to lighten the skin darkness. The creamy exfoliating cleanser has licorice, green tea extracts and pearl dust that remove deep seated pollutants and dullness. Pearl Massage cream with the goodness of pearl dust along with plant extracts is perfect for dry sensitive skin even. Using this whitening facial kit helps in achieving rejuvenates and hydrated skin. Moreover, it controls the excess melanin production and works on the dark spots. It's the best best anti tan facial kit in India for all skin types.
3. VLCC Papaya Fruit Facial Kit For Tan Removal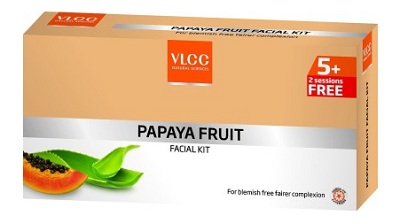 This VLCC Papaya fruit facial kit is good for tanned sensitive skin during all seasons. The home facial do-it-yourself kit is rich in skin hydrating vitamin E, which treats skin damage and sun tanning. Additionally, it contains multiple fruit extracts, known to remove tan faster. Fruits like papaya are effective to also reduce skin pigmentation and blemishes so that the skin can become even toned and flawless. Key ingredients in this kit are Papaya, Cucumber, Peach and Orange Peel. It's the best anti tan facial kit for oily skin in India. 
4. Jovees Anti Pigmentation and Blemish Kit For Detanning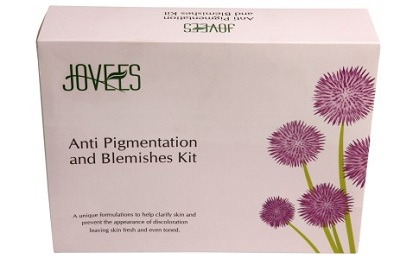 Jovees Anti Pigmentation Blemish Kit helps to fade the darkened patches, dark spots, sun spots and the freckles on your face. Moreover, this also protects your skin from harmful rays of the sun, thereby also minimizing the sun damage and sun tanning. Jovees facial kit also tones, repairs and improves the signs of aging on your facial skin. It's the best detan facial kit for all skin types. The facial kit includes steps like: Citrus And Blackberry Cleanser, Oat Veg Peel Wheat Germ With Vitamin-E Face Massage Cream, Witch Hazel And Basil Skin Toning Gel, Nutmeg And Rosemary Anti Pigmentation Blemish Face Mask, Essence Of Saffron Anti Pigmentation Blemish Cream.
5. Raaga Professional Fairness Facial Kit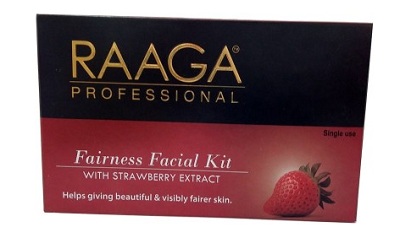 Raaga Professional Fairness Facial Kit comes with the strawberry extract. In this, fairness and tan lightening facial kit, you will get the power of fruits. It has fruits like strawberry, papaya, green apple and licorice as well. Ellagic acid is present in strawberries that clears the excessive oils and papaya lightens sun tan while inducing glow. Green apple is good for toning the skin and licorice brings fairness to your dull sun tanned skin. It is also an excellent facial kit for oily skin.

6. Jovees Pearl Whitening Kit
This Jovees Pearl Whitening Kit contains five products or facial steps that are rich in the natural ingredients to heal the tanned skin. It will also increase the fairness of dark skin. This kit helps to make the skin melanin levels low and also to keep the skin's shine intact. The skin whitening facial kit will help to rejuvenate your skin, restore its lost radiance and improve skin complexion. It includes a Face Cleanser Cum Scrub, Massage Cream with Vitamin A, Pearl Whitening Facial mask, Pearl Whitening Face Whitening Serum.
See: Turmeric facial packs for fairness and glow

7. Lotus Herbals Professional Instafair Melanin Control & Skin Lightning Facial Kit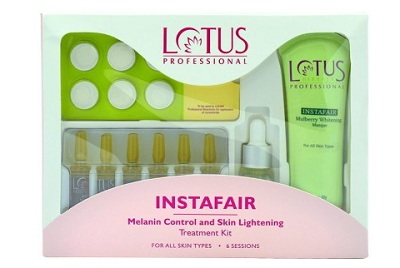 Lotus Instafair Melanin Control and Skin Lightening kit gives glow and radiance on your dusky dark skin. Additionally, the facial steps in this kit heal and rejuvenate the tanned skin faster. Skin complexion that looks shallow and dark due to sun tan can also be treated well with this facial kit. It contains the following products:
Instafair Mulberry Whitening Masque

Skin Whitening Complex

Skin Whitening Pill Mask

Skin Whitening Concentrate
The instafair mulberry whitening masque that is rich in the fruits like mulberry, rice bran, almond oil, lettuce etc which gives glow and fairness. 
You can also Read: Nature's essence bridal glow facial kit

8. Aroma Magic Vitamin C Lightening Facial Kit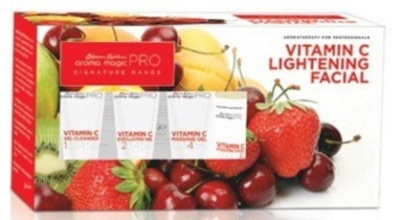 Aroma Magic Vitamin C Lightening Facial Kit is rich in vitamin C and fruit extracts. It has 6 steps of facial with products like: Vitamin C Gel Cleanser, Vitamin C Exfoliating Gel, Vitamin C Massage Cream, Vitamin C Massage Gel and Vitamin C Hydrating spray. It helps to lighten the marks and scars effectively. That is why, it's the best anti marks and tan removal facial kit for pimple prone oily skin. With one in a month use you can expect it to lighten complexion and makes the skin tone even. This is also a great anti aging facial kit considering it has the power of fruits and vitamins.

9. VLCC Gold Facial Kit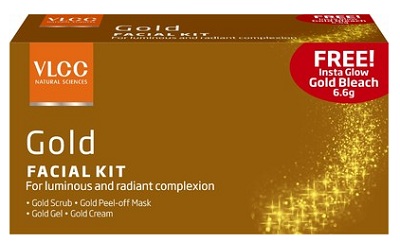 VLCC Gold Facial Kit is an effective way for all skin types to increase glow and get rid of the tan. This can also be a good at home facial anti tan kit to keep skin blemish-free. The VLCC gold kit includes Gold Scrub, Gold Cleanser, Gold Massage Cream and Gold Peel Off Mask. You can use it one in 15 days and is the best facial kit for tan removal in India.
So, these were the best facial kits for skin tanning, dark spots and fairness in India. Other than that, I'll also suggest that you follow these detanning homemade face packs and remedies to keep a check on sun tan especially, if you've to go out in the sun everyday.
Do  check our 5 Best Facial kits for oily skin in this video and please subscribe.