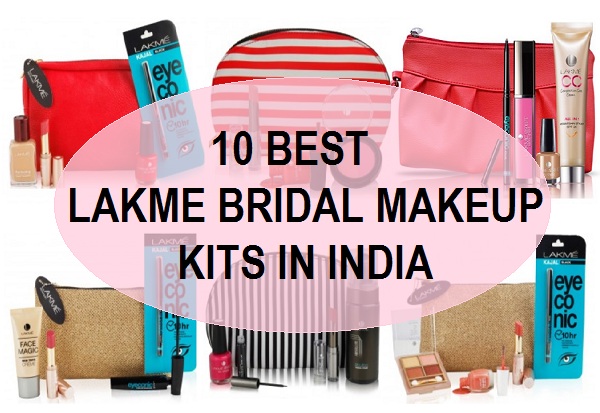 Best Lakme Bridal Makeup Kits
Lakme has become an extremely popular Indian brand ever since it was launched I still remover as a kid when Aishwarya Rai use to do advertisements for Lakme makeup products. A bridal makeup kit is extremely important for every bride as after the wedding every day you need to get ready for various functions and of course as a new bride you are bound to look your best. Do we need to say more? Makeup plays an important role so does the bridal makeup kit. So, here are some of the best Lakme bridal makeup kits that you can try. If you are not satisfied with the premade bridal kits then you can also see our post on which Lakme products to be kept in Bridal makeup kit.
Top Best Lakme Bridal Makeup Kit in India

1. Lakme Get Your Glam On Kit – Red Scarlet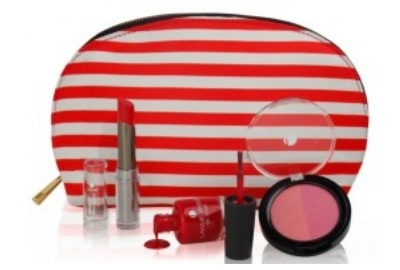 This Lakme bridal makeup kit is available in couple of variants and this variant Red scarlet has beautiful shades for a bride. This Lakme bridal kit contains Lakme Absolute Face Stylist Blush Duos Pink to give soft glow and color to your cheeks. This has lip color from Lakme Absolute Gloss Addict Lipstick in Red Delight that gives not just an incredible shine but adequate color to your lips. Red is a very bridal color that uplifts the entire bridal makeup look. This kit also contains Lakme gel nail polish in red color that completes your bridal makeup. All these come in a beautiful striped pouch. Read: how to keep your makeup smudge free all day long.

2. Lakme Party Ready Kit Ruby Result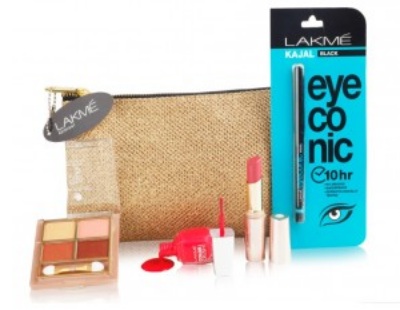 This kit includes a beautiful shimmery golden pouch and inside you will get Lakme 9 to 5 Eye shadow palette desert Rose which has some beautiful bridal colors. This also has red nail paint from Lakme true color nail paint range Lakme Eyeconic kajal for beautiful shouldering eyes along with Lakme 9 to 5 creaseless crème lipstick in ruby. This is a kit for bride who loves orangish red and reddish pinks.
3. Lakme Party Ready Kit Rose Line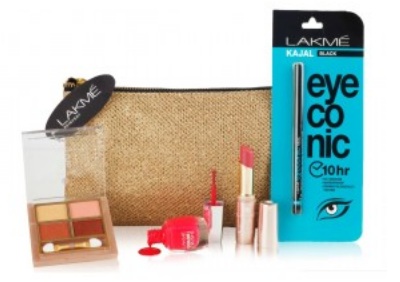 This Lakme makeup kit is also wonderful for brides who likes pinks. This has the same products as we have seen with the kit above and come with the similar sequined embellished gold pouch. The products includes Lakme eye shadow palette desert rose, Eyeconic kajal, Lakme 9 to 5 creaseless lip color in Rose line and the nail paint in the shade 21 which is a beautiful pinkish color. This can be a perfect bridal kit for post wedding looks.
4. Lakme Party Ready kit Coral Craft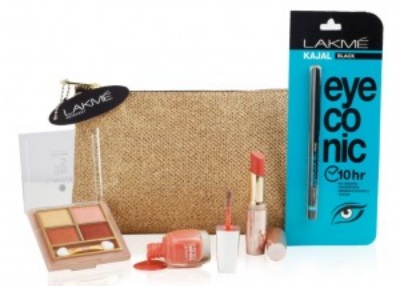 This kit also comes I am that stunning beautiful gold pouch. The product includes Lakme creaseless lipstick in coral craft, Lakme true color nail polish in no 19, Lakme 9 to 5 eye shadow quartet in desert rose. Desert Rose is for most of the bridal makeup looks. Eyeconic kajal is also there that can be used for creating smokey eyes. You can also read our post on how to create smokey eye makeup.

5. Lakme Makeup Kit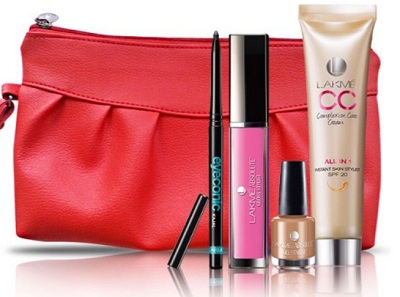 This kit comes in a red bag and the products include Lakme Absolute Gloss Stylist Lip Gloss in Neon Pink for those pouty and glossy lips in bright fuchsia color. You will also get Lakme Absolute Gel Stylist Nail Polish – Caramel Melt. The gel nail paint is long lasting and prices a beautiful finish. To give your complexion brighter and healthier look Lakme CC cream is also included along with the basic eye makeup product like Lakme Eyeconic kajal. Do you know you can also create smokey eyes with kajals, read our post on that. :)

6. Lakme Absolute Radiant Glow Kit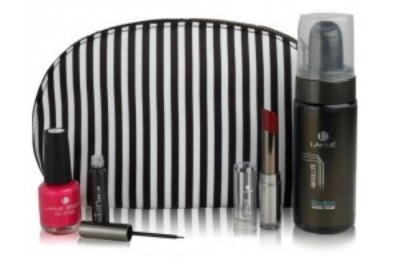 If you are a fan of Lakme absolute products then this kit is yours. You will get a black and white striped makeup pouch that encases a gel nail polish from Lakme and Lakme Absolute Gloss Addict Lip Color. Lakme Absolute Skin Gloss Facial Foam is there to make the skin squeaky clean and glossy. For the glamorous eye they have kept a Lakme Absolute Shine Liquid Eye Liner Black.
7. Lakme Get You Glam On Kit Electric Orange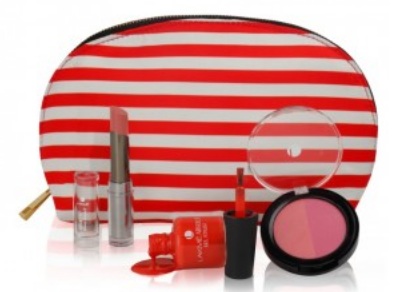 This kit is absolute for brides loving the orange hues. Range is a bright and very cheerful color. This kit has products like Dup blush, gel nail polish in Electric orange though for the lisp color they have include Lakme Absolute Gloss Addict Lip Color Nude* glow a very neutral lip color
8. Lakme 9 to 5 All Day Essential Kit – Rosy Review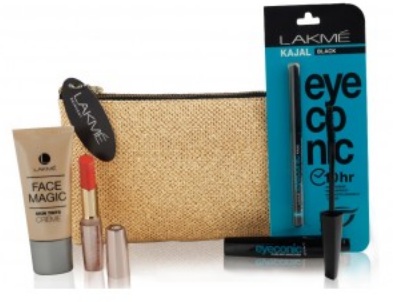 This is a kit that can be owned by any women including the soon to be brides. This makeup kit from Lakme has products like Lakme face magic skin tints crème to give a nice base to the skin. Lakme Eyeconic kajal is also present in this kit that makes your eyes look ravishing and defines them. To lengthen and thicken the lashes, this makeup essential kit has Lakme curling mascara. A makeup kit can't be complete without a lip color so in this kit, you will find the Lakme 9 to 5 Creaseless crème Lip color in a rosy shade.
9. Lakme 9 to 5 All Day Essential Kit in Coral Case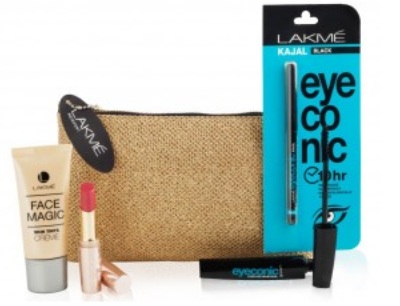 The pouch and the products are same as that of the previous kit in Rosy review but the shades are different. This coral case kit has Lakme 9 to 5 Creaseless Creme Lip Color Coral Case while all the other three products are same as you can also see in the pictures.
10. Lakme Essential Beauty kit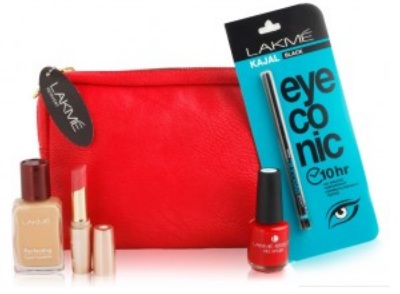 This Lakme bridal makeup kit too is enclosed in a beautiful leather like red pouch the products are Lakme radiance foundation which has been our cheap yet wonderful foundation. Lakme gel stylist nail polish in shade red, eyeconic kajal and the Lakme 9 to 5 Creaseless Creme Lip Color Rosy Review for those beautiful pinkish natural looking lips.This can be a great kit for travel beauty essentials as well.

So, these were the best Lakme bridal makeup kits from Lakme. Do you have a favorite? If yes, which one.